« Britain's Islamic fanatics target prominent British Jews | Main | Rosa Brooks Ignores Facts »
January 07, 2009
A Media Driven Perspective Versus An Expert's View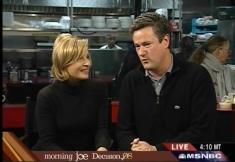 A discussion of the Gaza crisis on MSNBC's "Morning Joe" on Jan. 6, hosted by Joe Scarborough and Mika Brzezinski, demonstrates how a media-driven view of unfolding events derived in large part from images of Palestinian victims and Israeli air strikes contrasts with a more informed understanding of the conflict. The show's hosts and producers are to be commended for inviting informed guests to set the record straight. But the striking differences in views apparent in the exchange underscores concern that the narrow focus on Israeli actions prevailing in media coverage fails to convey the irresponsible behavior of Hamas or explain why Israel felt compelled to invade Gaza.


Richard Haass, former State Department Director of Policy Planning, appeared as a guest on the show along with MSNBC show hosts and commentators, Chris Matthews and Mike Barnicle. The different perspectives are evident in the tone and content of the questions asked of Haass and his responses.
Scarborough led off by asking Haass if he thought "Israel has decided it is going to keep going until it crushes Hamas..."
Haass responded that he viewed the situation differently, hoping that the US would "follow-up Israel's military gains with a diplomatic initiative."
Scarborough returned to Israeli actions, asking "Doesn't Israel, by just going after Hamas, doesn't that just radicalize the Palestinian population?" Pursuing the point further, he questions whether Palestinian moderates "are going to be undercut by these actions."
Haass ignores Scarborough's redirection, instead discussing the military gains achieved by the operation. As Haass recounts the accomplishments of the Israeli military action - the weakening of Hamas, killing of several leaders - co-host Brzezinski (the daughter of former Carter administration National Security Advisor and critic of Israel, Zbigniew Brzezinski) interjects, "550 people killed," an allusion to the Palestinian casualties.
Scarborough then comments upon the "fatigue" of the Israeli people. Haass responds with the observation that "Israel wants to live in the 21st century, a lot of people around it want to live in the 7th century. That is Israel's dilemma."
Scarborough returns to the theme of Jewish control of events, now focusing on the American response. He asks, "What is Barak Obama's greatest challenge, is it staring down AIPAC or is it disappointing Muslims across the globe by siding with Israel."
At this point, Chris Matthews responds,
"Israel is seen by most Americans as being right here. No country can permit another country to fire into its territory on a relentless basis. In this situation it is not a question of tilting towards Israel. Israel is right. Objectively right."
Haass adds, "We want Israel to be a secure prosperous Jewish democratic state."
Mike Barnicle then adds, " How do you negotiate with a group that finds it easier to deliver missiles into Israel than to deliver electricity, food and services to their own people."
Co-host Brzezinski then concludes, "That's a different way of looking at it."
It certainly is.
Posted by SS at January 7, 2009 12:52 PM
Comments
Guidelines for posting
This is a moderated blog. We will not post comments that include racism, bigotry, threats, or factually inaccurate material.
Post a comment