« A Canadian Look at an Israeli Fence | Main | Carter's New Book »
December 01, 2008
The Times of London Suggests Chabad House Jews of Mumbai Had It Coming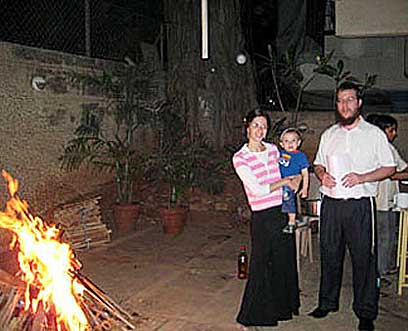 The online Times of London published an appalling statement regarding the Chabad House murders in Mumbai.

Irrelevant to the rest of the article is the inclusion of a statement attributed to one T. K. Bhat who allegedly lives near the Chabad House, outrageously suggesting that the Jews brought the attacks upon themselves.
It could be that the attitudes of the Chabad, which gives the sense of an elite club for Jews alone, is part of what provoked the terrorists to target them for the attack.
Posted by at December 1, 2008 03:45 PM
Comments
Bhat's statement is no different than those who blamed the Jews in Germany for the Holocaust. His statement makes it clear, however, that Jews can not solely rely on the government (city, state, or national) for their protection.
Posted by: ben at December 2, 2008 08:45 AM
Moishe Holzberg's rescue drew millions of Jews together around the world. Moishe's crying out for his tatie (or Ima? some news sources have it one or the other murdered parent), during the hespeds surely broke every human heart that is still beating.
What came from that man's lips - his unholy tongue- in this story- means he was ignorant about our ways. The hatred and bigotry comes from the unapologetic printing, the unspeakable lashon hara this newspaper continues to put out into the world. We can fight it in many ways: 613 ways, to be exact.
As Moishe grows up, some day he will see pictures and stories- he will know of the thousands of people that thronged to say farewell to his parents, and will be told of millions of Yiddim around the world that took on new Mitvos, lit Shabbat candles (many for the first time) and the Tehillim spoken world wide before Moishe's parents fate was known.....and after. He will learn that even millions of goyim were affected by this tragedy.
This ignorant man, and/or all other levels and forms of bigotry that are born of ignorance, are fed from the time of their mother's milk and throughout their lives- hatred and lies "l'dor v'dor" from our enemies. Those who utter such ignorant filth and those who find it appropriate in any way- to print it- will not be who or what I will hold in my thoughts and my memory. May little Moishe- may all Jews- come together now and may all those ignorant of Hashem come to know His Ways.

Posted by: Miriam Shoshana at December 9, 2008 12:53 PM
Interestingly, they've also disabled viewing comments on the article.
Posted by: Nerml at December 9, 2008 01:16 PM
Posted by: rf at December 9, 2008 04:55 PM
once an Antisemite, always an Antisemite!
Posted by: Orde Wingate at December 15, 2008 11:56 AM
Guidelines for posting
This is a moderated blog. We will not post comments that include racism, bigotry, threats, or factually inaccurate material.
Post a comment