« Israeli doctors save life of Iraqi girl | Main | Have They No Shame? Have They No Decency? »
December 16, 2008
Bad Day at the LA Times
The Los Angeles Times is not having a good day. Aside from the small ongoing matter of bankruptcy, there's the problem of an incorrect photo caption in the online edition.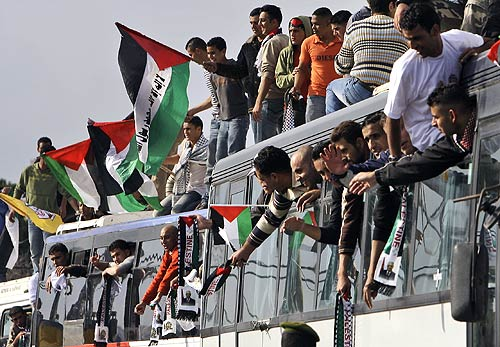 The erroneous caption reads:
Israel sent home 224 Palestinian prisoners Monday, including these men seen crossing into the Gaza Strip. (Hatem Moussa/AP)
Both the photographer and the location are incorrect. The AP sent out this photo by Kevin Frayer (not Moussa), with the original caption:
Released Palestinians prisoners [sic] and supporters celebrate after crossing the Beituniya checkpoint on the way to the West Bank city of Ramallah, Monday, Dec. 15, 2008 . . . .
Oops.
Moreover, the authors claim:
As she waited at the crossing, Saber's mother, Jamieh [Suleiman], 50, recalled the night four years ago when Israeli soldiers "took my son from our house and left the place a wreck." The young man was sentenced to six years in prison for throwing rocks and firebombs at soldiers during the Palestinian uprising that raged during the early part of this decade.
In actuality, Saber Suleiman was arrested one and a half years ago, not four years ago. A Hebrew document from the Israel Prison Service of all the prisoners released yesterday lists Saber Suleiman as number 46 (id number 944402890). He was arrested on April 12, 2007. Furthermore, he was sentenced to no more than two and half years in prison -- not six years as his mother claims. The prisons document states that his release date would have been Dec. 11, 2009.
Posted by TS at December 16, 2008 05:39 AM
Comments
I('m so upset!!! Poor poor LA Times.

Gee, I wish it was contageous and that NY Rag(Times) and Washington Post would catch it.
JP Zenger is rolling over in his grave.
Posted by: andy at December 29, 2008 07:05 PM
Guidelines for posting
This is a moderated blog. We will not post comments that include racism, bigotry, threats, or factually inaccurate material.
Post a comment