« Gaza Mourners Exploited | Main | Siegel Allows Hamas Advisor to Hang Himself »
December 30, 2008
Meet David Rolde, A Man of Peace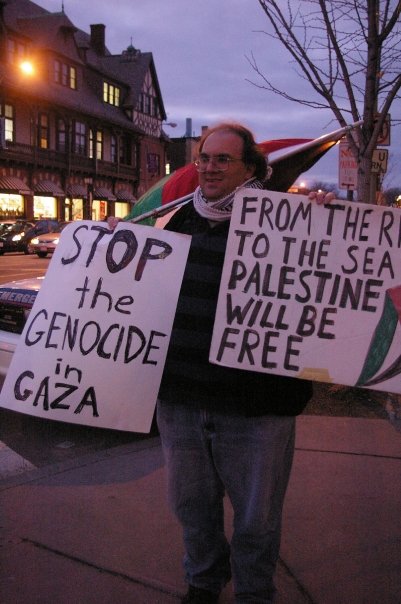 Anyone who spends any time whatsoever at rallies and demonstrations related to the Arab-Israeli conflict in the Boston area have seen the man pictured above, David Rolde.
Ostensibly, Rolde, who was photographed in Brookline on Dec. 29, 2008, is a "peace" activist who shows up to protest Israeli policies and American support for the Jewish state. Rolde is often one of the first people to show up at these protests, and among the last to leave. Other peace activists know they are at the right place when they see Rolde standing sentinel at the scene of a rally. In one respect, Rolde embodies the American ethic of hard work and reliability. By virtue of his showing up, early and often, Rolde has become a respected stalwart of the "peace" community in the Boston area.
There's just one problem. His message is not one of peace, but of open support for fascist movements that have murdered Americans, Israelis and Arabs in the Middle East. This message can be seen in the signage he carries and the chants he has uttered at public gatherings.
As readers can see from the photo displayed above, one of his messages is "From the River to the Sea Palestine Will Be Free." Anyone with the vaguest sense of the history of the Middle East understands that this phrase (which Rolde can utter in Arabic -- it's the only phrase he knows) is a call for the destruction of Israel as a Jewish state.
Rolde is also carrying a sign calling for an end to the "genocide" in Gaza. To be sure, the deaths of Palestinians in the past few days is a tragedy, but to portray these deaths as a genocide is a lie, and a contemptible one at that. It is a lie clearly motivated to justify violence against Israel, which has been under siege for the past 60 years of its existence and has been attacked from every bit of territory from which it has withdrawn in the past decade.
Rolde's chants are just as offensive. At rallies, Rolde and his friends have called for an Iraqi victory over the American occupation in Iraq and for Hamas and Hezbollah to achieve victory in their conflicts with Israel. With these chants, Rolde has expressed support for fascist movements that have killed American soldiers and murdered Israeli and Arab civilians throughout the Middle East.
Speaking with David Rolde reveals the depths of his animus. He recently exhorted a supporter of Israel that he needed "to stop being Jewish and be a human being." He also has funny ideas about the Hebrew language, asserting something along the lines that modern Hebrew is a made up language used to justify the expulsion of Arabs from Israel. (By the way, by his own admission, Rolde does not speak Hebrew.)
Despite Rolde's explicit support for fascist movements and his contempt for Israel Rolde's friends in the "peace" movement look to him for inspiration and regard him with affection, raising questions about the movement's true motives.
David Rolde, a man of peace.
Posted by dvz at December 30, 2008 01:35 PM
Comments
Just to be clear- I am a Palestinian and I fully support a two state solution with both sides living side by side in peace. I certainly do not agree with David Roldes choice of signage either.

Yet just because the 'movement' (a very lose term indeed) regards Rolde with 'affection' does not mean that their motifs should be put in question.
There are many "endearing" radicals on both sides of a very wide and diverse spectrum. One of my good friends (and fierce adversary!lol), a proud pro-Israeli activist in the Boston area introduced me to one of his friends who did not believe in the creation of a Palestinian state despite the fact that my friend fully supports a two state solution.
Nowadays, it is not enough to call oneself a pro-Israeli or pro-Palestinian activist. There are layers and layers to each moniker and great care must be taken to outline the various differences. The integrity of journalism rests upon us doing so.
Just my 0.02
Posted by: Mohammed at January 1, 2009 10:47 PM
Mohammed:
Thanks for your comments.
As it turns out, the main message from the "peace" movement in the Boston area is not support for a two-state solution but for the dismantlement of Israel as a Jewish state.
If the peace activists in the U.S. were truly supportive of the two-state solution, they would condemn Hamas' rocket attacks, which have made Israelis increasingly doubtful of a land-for-peace deal. Israel has been attacked from every bit of territory from which it has withdrawn since the 1990s.
Proponents of peace and of a two-state solution would acknowlege this reality. Do you, Mohammed?
Posted by: Dexter Van Zile at January 5, 2009 09:16 AM

i am always comfortable when David Rolde shows up at anything that is positive and morally on target. It could be worse. There could have been people of intelligence with some position of moral connectiveness. None exists with Rolde, a damaged man with little intelligence. His message does not change because that would take thought. Come again,David Rolde,you help our community to appreciate its worth.
Posted by: May Long at January 7, 2009 08:43 PM
Guidelines for posting
This is a moderated blog. We will not post comments that include racism, bigotry, threats, or factually inaccurate material.
Post a comment