« Is Gaza "Occupied" by the UN? | Main | The Arab Capital of Culture and Imad Mugniyah »
February 12, 2008
Hamas Bugs Bunny Wants to "Eat the Jews"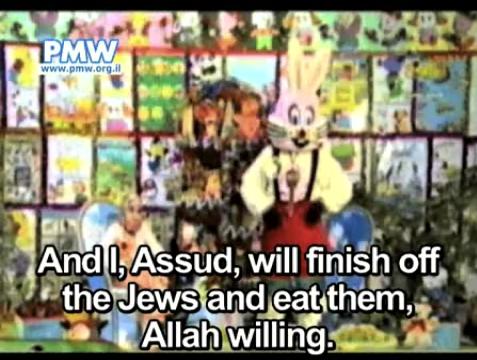 Apparently ripping off Disney characters to incite young children against Jews is passé. Now, Hamas is taking Warner Brothers characters and reinventing them as rabble rousing anti-Semites.
A Bugs Bunny clone on Hamas's television station is teaching children of his desire to "finish off the Jews and eat them."
This is a prime example of the incitement that Palestinian human rights activist Bassem Eid and Israeli democracy activist Natan Sharansky warned about in yesterday's Wall Street Journal when they referred to the use of Palestinian "media and schools to indoctrinate a generation into a culture of hatred."
You can watch the video of Bugs — I mean "Assud" — here.
Posted by at February 12, 2008 10:57 AM
Comments
I went to the YouTube site to play the "Assud" clip. What was more frightening was some of the other clips that were available on the side. Clips from Hamas or AlQuds sympathizers were very prevalent. Watching them shows the pervasive hatred towards Israel and Jews.
The only uplifting moment was Ofra Haza's performance of "Jersalem of Gold". What a difference!!!
Posted by: ben at February 12, 2008 03:25 PM
The elimination of incitement to violence against and hatred of Jews has been a cornerstone of EVERY SINGLE PEACE AGREEMENT in the past 15 years.
AND, it has been violated EVERY SINGLE DAY of EVERY SINGLE YEAR.
YET, the Palestinians say Israel violates the peace agreements.
Posted by: DrRJP at February 26, 2008 06:26 PM
Guidelines for posting
This is a moderated blog. We will not post comments that include racism, bigotry, threats, or factually inaccurate material.
Post a comment