« CNN's Scheduling Bias | Main | Washington Post Praises Israeli Terrorism Courts »
September 04, 2007
Chronicle: Hamas Abuse of Journalists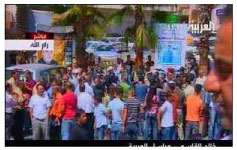 Journalists in Ramallah protest Hamas violence against journalists in Gaza (Al-Arabiya TV/Aug. 25, 2007)
In the past, we have highlighted examples of Hamas abuse of journalists in Gaza, Mousa Abu Marzook's idea of treating them "with dignity."
The Intelligence and Terrorism Information Center has compiled a list of such incidents as well as demonstrations protesting the control and mistreatment of journalists.
Posted by TS at September 4, 2007 07:54 AM
Comments
Guidelines for posting
This is a moderated blog. We will not post comments that include racism, bigotry, threats, or factually inaccurate material.
Post a comment