« Noose on IBA News Loosened | Main | Still, the Silence »
June 20, 2007
A Photo Raises Questions About Arafat's Legacy Among Palestinians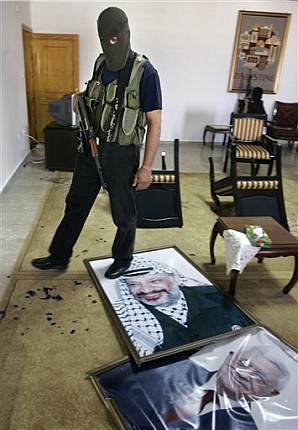 A photograph showing portraits of current Palestinian President Mahmoud Abbas and former PLO leader Yasser Arafat strewn on the floor with a Hamas militant standing on Arafat's portrait has been widely displayed in the media. While it is not surprising to see Abbas's portrait on the floor, there has been little comment about the significance of Arafat's portrait lying there as well. Accompanying the photograph is a report in the Jerusalem Post that looters raided Arafat's former home, which had been preserved as a memorial to the central icon of the Palestinian national movement.
"They stole almost everything inside the house, including Arafat's Nobel Peace Prize medal," said Ramallah-based Fatah spokesman Ahmed Abdel Rahman. "Hamas militiamen and gangsters blew up the main entrance to the house before storming it. They stole many of Arafat's documents and files, gifts he had received from world leaders and even his military outfits."
Posted by SS at June 20, 2007 12:50 PM
Comments
Guidelines for posting
This is a moderated blog. We will not post comments that include racism, bigotry, threats, or factually inaccurate material.
Post a comment