« More Letters of Resignation | Main | Simon and Schuster Changing Its Tune? »
January 14, 2007
WND: Media Ignores Abbas Incitement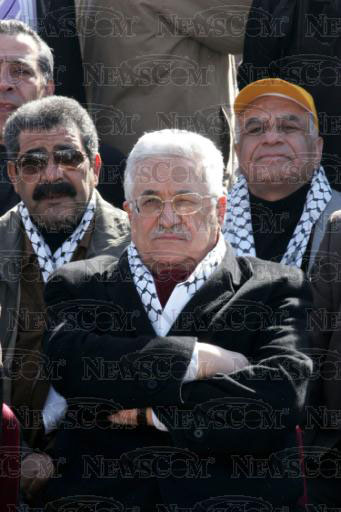 Abbas: "Raise rifles at the Israeli occupation" (Photo by Boudlal Youssef/Gamma)
WorldNetDaily reports that the media has ignored Palestinian Authority President Mahmoud Abbas' call at a huge Fatah rally to "raise rifles at the Israeli occupation." Aaron Klein writes:
Abbas went on to praise late Hamas spiritual leader Ahmed Yassin, who was assassinated by Israel in March 2004.

He also used Quranic verses to claim Jews are corrupting the world.

"The sons of Israel are mentioned as those who are corrupting humanity on earth," Abbas said during a portion of his speech in which he criticized recent Israeli anti-terror raids in the northern West Bank.

Abbas anti-Semitic remarks and his call to arms against the Jewish state were not quoted in hundreds of English-language articles reporting on today's speech or by most major Israeli dailies, which featured pieces on their websites about the Fatah commemoration ceremonies.

A widely-circulated Associated Press article, titled "Abbas calls for respect at Fatah rally," states Abbas today called for rival factions to respect each other.

The AP quotes Abbas stating, "Shooting at your brother is forbidden," but the article stops short of quoting the rest of his sentence in which he recommends Palestinians use their weapons against Israel.

The AP article was featured on such top websites at the WashingtonPost.com and CBSNews.com

Articles by other news agencies and local Israeli papers also failed to quote Abbas' anti-Israel and anti-Semitic remarks.
Posted by TS at January 14, 2007 04:06 AM
Comments
Guidelines for posting
This is a moderated blog. We will not post comments that include racism, bigotry, threats, or factually inaccurate material.
Post a comment