« Christian Leaders Condemn Palestinian Violence | Main | On Palestinian Misery and International Aid »
January 18, 2007
Judea Pearl Warns About Al Jazeera English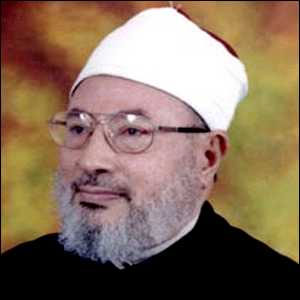 Sheik Qardawi, a host on Al Jazeera, has been blamed for inciting the beheading of two Americans in Iraq
In the International Herald Tribune today, Judea Pearl, father of slain Wall Street Journal reporter Daniel Pearl, warns that:
even if Al Jazeera English waters down its alarmist content, it should still be seen as a potential threat: it will bestow respectability upon the practices of its parent network in Qatar, which continues, among other things, to broadcast Sheik Qaradawi's teachings.
A host of the Al Jazeera program "Sharia and Life," Qaradawi defended suicide bombings against Israeli civilians, stating: "Israeli society in general is armed," and in 2002 said, "We have the 'children bomb,' and these human bombs must continue until liberation."
Other problems with Al Jazeera as Pearl sees it are:
For example, the words "terror" and "insurgency" are rarely uttered with a straight face, usually replaced with "resistance" or "struggle." The phrase "war in Iraq" is often replaced by "war on Iraq" or "war against Iraq." A suicide bombing is called a "commando attack" or, occasionally, a "paradise operation."

Al Jazeera's Web site can be less subtle. On Dec. 12, after religious leaders and heads of state all over the world condemned President Mahmoud Ahmadinejad of Iran for staging a Holocaust-denial conference in Tehran, the headline on the site read, "Ahmadinejad Praised by Participants of the Holocaust Conference in Tehran, but Condemned by Zionists in Europe."

In short, Al Jazeera's editors choreograph a worldview in which an irreconcilable struggle rages between an evil-meaning Western oppressor and its helpless, righteous Arab victims. Most worrisome, perhaps, it often reports on supposed Western conspiracies behind most Arab hardships or failings, thus fueling the sense of helplessness, humiliation and anger among Muslim youths and helping turn them into potential recruits for terrorist organizations.
Posted by TS at January 18, 2007 02:53 AM
Comments
The more the zionists beat the drum against some of the most respected and revered personlaities of America like President Jimmy Carter for speaking the "taboo", the worse the Israeli position will become. Zionists and thier sympathizer's arrogance has already made millions of American aware of the racist policies of Israel. Mr. Stein is a devout Zionist, not becuase he's Jewish but because his pledge to the Zionist societies that he belongs to. His disagreement to President Carter's couragious writing is obvious. If Mr. Steins own father speaks negatively about Israel, I'm certain he will not spare him either from his self fabricated nonsense.
Posted by: Bill Sullivan at January 20, 2007 01:49 AM
HA HA HA HAHAAHA! Yes, of course, his pledges to the Zionist societies! I also read about those in the Protocols of the Elders of Zion. Very scary stuff. Hopefully one day America will wake up and finally start behaving like Czarist Russia, Saudi Arabia and Iran, before the Jews -- I mean zionists -- take over the world!
Posted by: anthony at January 20, 2007 11:21 AM
Bill S has a unique view of American public opinion. When Carter ran against Reagan in 1980, after only 4 years in office, he lost by more popular and electoral votes than any, or almost any, incumbent president before him. Hoover may have been the exception --if there is one-- when he ran against Roosevelt in 1932 after three years of the Great Depression. Many Americans positively loathe Carter.
Posted by: Eliyahu at January 23, 2007 02:56 PM
Why not wriggle ourselves out from polemics, scriptures and their diverse interpretation and turn to what can really bring peace not, in discussions, but in practice.

Let us analyse an event with far reaching implications for the role and impact of media on future Middle East peace. Consider the attention and engagement accorded to Al Jazeera by a statesman tipped soon to lead Israel as its next president.
Shimon Peres' visit to the headquarters of Aljazeera News Channel in Doha invites us to recognise the emerging realities of region's media scene. On the launch of Aljazeera English Peres (15 Nov, '06) welcomed the new channel hoping that it may enable all to talk about peace better than its predecessors. On 29 January Peres reiterated the need to communicate with a sizeable audience by appearing in an interview programme recorded in Doha. This highest-level visit by an Israeli leader to a Middle East TV station sends out a clear message as to how seriously the newly established channel is taken in the pursuit of peace.

An Italian scholar of the Arab media, Donatella della Ratta rightly suggests that the West should seriously consider before blaming or blocking channels like Aljazeera that are in fact educating tools to inform rather than a medium providing an embedded version from a warring side. Her analysis is a wake-up call for those who believe that pouring $62 million on Al-Hurra can make the US image right in the Middle-East. Instead of making wrong choices and pursuing wrong approaches that are just goose-chasing and witch-hunting exercises US needs to befriend with the ones that capture and portray the facts professionally and far effectively.
The fact that Peres made it a point to appear on the channel reflects the significance of reaching out to an audience genuinely interested for peace in the region. This leaves cynics on the wrong foot when it comes to the realities of the Middle East. It is an hour of reckoning for critics to come out from their age of denial, dismissal and disapproval of those they dismiss on prejudice and not principles.
Another factor that merits due consideration is what the viewers in Israel prefer to see. BBC World has been dropped by Israel's satellite provider Yes TV in favor of the Al-Jazeera English. The Guardian, London dubbed it as "the first major distribution blow the corporation's international news channel has suffered since al-Jazeera's English-language service began broadcasting".
Although BBC World will still be available in Israel via cable, it will lose around 50% of its audience in the country as a result of being dropped by Yes. Al-Jazeera English signed the carriage deal with Yes in November 2006, but the damaging consequences for BBC World have only just emerged, remarked media commentator Tara Conlan.
The true proof of responsible activism is in promoting and not preventing pluralistic viewpoints.
Alternative, accurate and accountable media is what the global audiences deserve and watch groups should put their energies to ensure the availability of such options.
Posted by: viewsdissector
at February 8, 2007 08:22 AM
Guidelines for posting
This is a moderated blog. We will not post comments that include racism, bigotry, threats, or factually inaccurate material.
Post a comment