« Simon and Schuster's Accountability | Main | Dollars Flushed Down the Tunnels »
January 20, 2007
Arabs in Israel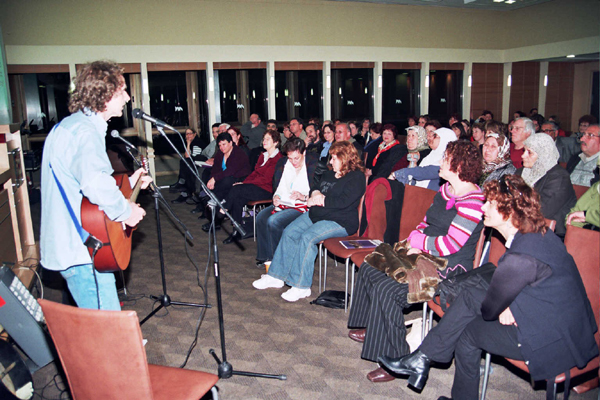 Jews and Arabs at Haifa University's Jewish-Arab Center
In today's Miami Herald, columnist Frida Ghitis writes about Israel's Arab citizens. While acknowledging that "Israeli Arabs, like minorities in many other countries, face obstacles in their path to equality," she points out that much the world has an "inaccurate image" of Israel as a racist state:
Here's something about Israel that will surprise you. After last summer's war between Israel and Hezbollah militias in Lebanon, researchers asked Israeli citizens -- Arabs and Jews -- if they would rather be citizens of another country. As one might expect after a war, patriotism was the order of the day. A huge proportion, almost 88.5 percent of Israeli Jews, said yes, Israel is the one country whose citizenship they preferred. But listen to this: Among Arab citizens of Israel, an astounding 73 percent agreed with the statement that they would rather be citizens of Israel than of any other country in the world.

That number is even more astounding because many Arabs in Israel admit they feel pressure to deny they like being Israelis. That, in fact, was the finding of a different survey. The first results came as part of a highly respected project called the Peace Index at Tel Aviv University. The second survey came from the Joint Israeli-Palestinian Public Opinion Poll. There, a majority -- 52 percent -- of Israeli Arabs agreed that, "many of the Arab citizens of Israel identify with Israel in private but refrain from expressing it in public due to social pressures."
Posted by at January 20, 2007 11:42 AM
Comments
What is the significance of this? Just because the acknowledge where they live doesn't mean they have respect for Israel.
While there are many secular arabs in Israel who have nothing against having a Jewish state next to Palestine, there are a fairly significant amount who would rather the place be turned into one state - Palestine.
Posted by: Unknown at April 4, 2009 01:50 AM
Guidelines for posting
This is a moderated blog. We will not post comments that include racism, bigotry, threats, or factually inaccurate material.
Post a comment