« Reminder: UN Resolution 1701 Calls For Release of Israelis | Main | Calame's Perspective »
September 08, 2006
Parliamentary Enquiry Finds Burgeoning Antisemitism in UK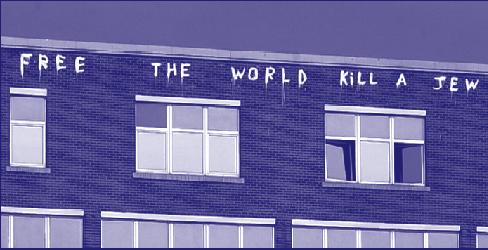 Anti-Semitic graffiti daubed on a building in Leeds, March 2004
Today an all-party parliamentary inquiry on anti-Semitism published its findings, conveying in "stark terms the problem" faced by Jews in the UK.
In a commentary piece on the Guardian Web site entitled "Antisemitism is back," Denis MacShane, who chaired the inquiry, wrote:
The conclusion is inescapable. Too many British citizens, who happened to be born Jewish, now face harassment, intimidation, and assault that is unacceptable in democratic Britain. Their synagogues are attacked. Their children jostled and insulted going to school. Their social events requiring levels of security protection that no other faith or community has to undertake.
MacShane, a member of parliament for the Labour party and a former Minister of State for Europe, also pointed out that "the Commission had 14 MPs on it. None is Jewish. None is active in Middle East politics ..."
The inquiry discusses the intimidation and harrassment Jewish students face at British universities, noting that "Jewish students have become increasingly alarmed by virulent and unbalanced attacks on the state of Israel." Discourse on the Middle East is "manipulated and used as a vehicle for anti-Jewish language and themes."
According to Mr. MacShane, there is a double-standard at work in the barrage of critical coverage of Israeli policies and measures while other regimes commit far more egregious acts and receive little or no negative coverage.
He also explained that
the report cites the increasing acceptance of notorious antisemitic images as a particularly worrying sign. In the 1930s, the language was of the Jewish "cabal." Today, it is the Jewish "lobby" that is all-powerful. The demonisation of Jews was meant to have died in 1945. Alas it did not.
"I cannot stand silent when I see anti-semitism back in 21st century Britain," MacShane added.
In the piece, MacShane also commented on the Guardian and its readers.
He questioned the Guardian's coverage of the report ...
why was the Guardian's coverage of our report quite as titchy as it was? The other broadsheets gave it full whack but it was a surprise to me that the Guardian reduced an important report based on a year's parliamentary work to a tiny news story.
... and wryly noted that "emails are pouring into my parliamentary inbox denouncing Israel in terms that will be familiar to all readers of ... [the] Guardian comment pages."
Read the full report here.
Posted by SS at September 8, 2006 10:50 AM
Comments
Guidelines for posting
This is a moderated blog. We will not post comments that include racism, bigotry, threats, or factually inaccurate material.
Post a comment