« Homegrown Hatred | Main | MisUNderstanding »
September 17, 2006
Hilarious Headlines on Irish Radio
"You can't make up something this funny," remarked one observer about a headline Thursday found on the site of Ireland's public broadcaster. The headline read:
Amnesty Slams Israeli Human Rights Violations
What's so funny about that? Read the accompanying story to find out.
It seems that editors have since caught on. The headline now reads: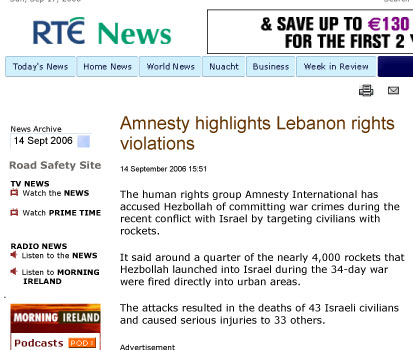 Notice that the headline writer made an extra special effort to alter (ie soften) the headline accordingly. When Israel is supposedly the rights violator, Amnesty "slams" the country. When Hezbollah is the violator, Amnesty merely "highlights" Lebanon.
(Hat tip: Barry R.)
Posted by TS at September 17, 2006 04:37 AM
Comments
Yes, he removed the word "Human" from the title and referance to "international law" too.
Posted by: Jack at September 17, 2006 08:26 AM
Guidelines for posting
This is a moderated blog. We will not post comments that include racism, bigotry, threats, or factually inaccurate material.
Post a comment