« Guardian Editor Reverses Cause and Effect | Main | Double Standards in Russia and the New York Times »
July 07, 2006
A Revealing Look at Palestinian Casualties
This morning's news reports from Gaza help shed some light on why Palestinian children or civilians are occasionally hurt in clashes between Israeli troops and Palestinian gunmen affiliated with terrorist groups.
As a report by the Washington Post's Scott Wilson reveals, Palestinian youth are sometimes coerced into combat roles by Hamas gunmen:
In a shared room on the hospital's fourth floor, Wissam al-Sheik Khalil recovered from a bullet wound to his hip. Khalil, a 16-year-old with an adolescent's wispy mustache, said Hamas gunmen forced him to carry an explosive charge across a street watched by Israeli soldiers.

"As soon as I picked up the box I was hit," he said.
Moreover, the report makes clear, Palestinian children freely mingle among combatants carrying grenade launchers and attacking tanks. Some children even participate in aggressive activities right in the middle of this war zone:
More and more gunmen appeared along the dirt roads crisscrossing the neighborhood, some drawing rifles and rocket-propelled grenade launchers from bags. One of them dashed along the white walls with a grenade launcher, popping off a shot at an Israeli tank and sprinting into the garage of a nearby home to reload. A cheer of "God is greatest" arose from a pack of children who had assembled to throw stones at the tanks.
And Palestinian combatants base themselves from population centers even despite the protests of the residents:
An elderly woman appeared in the street, shouting at the [Palestinian] gunmen to stop their preparations. She was pushed aside.
Another report, by Reuters' Luke Baker, also highlighted the problem:
Asked if they would learn from the death of 19-year-old Mohammed Maher Shahine, killed while watching Thursday's fighting as Israel stepped up an offensive in the strip, the boys answered almost with one voice.

"No. We want to be martyrs too," they said, seemingly oblivious to the danger of following around bands of gunmen as they battle more powerful Israeli troops, who are backed by tanks and helicopters.

"What is there to learn?" asked Jamal Shahine, 42, a cousin of the deceased as dozens of relatives gathered under a mourning tent. "All these boys just want to fight." ...

During Thursday's clashes, which came as Israeli troops battled to build a buffer zone to prevent the rocket fire, small children followed Palestinian fighters at every turn, greatly increasing the risk of civilian casualties.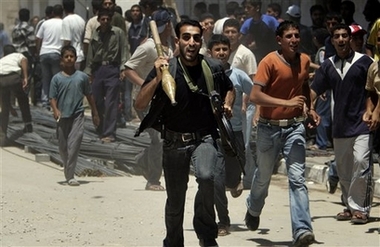 Posted by at July 7, 2006 10:36 AM
Comments
Guidelines for posting
This is a moderated blog. We will not post comments that include racism, bigotry, threats, or factually inaccurate material.
Post a comment