« Baroness Blames Suicide Bombing in Iraq on Israel | Main | Baltimore Sun Editorial Almost Hits Bull's-Eye »
June 28, 2006
Hamas (Still) Rejects Israel
A good report on BBC's Web site reveals that Hamas's views on Israel haven't changed:
The BBC's James Reynolds in Gaza says that the central point of the joint manifesto is the creation of a Palestinian state on the West Bank and the Gaza Strip.

Traditionally that is one half of a two-state solution, but the existing drafts of the deal make no mention of the second half of this solution - the state of Israel.

This omission is deliberate, our correspondent says.

While some have argued that this means Hamas tacitly accepts Israel's right to exist, it is becoming clear that that is not how Hamas sees it.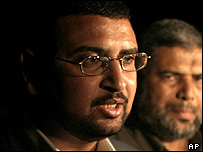 Hamas spokesman Sami Abu Zuhri said "The document included a clear clause referring to the non-recognition of the legitimacy of [Israel]"
Posted by at June 28, 2006 11:59 AM
Comments
Guidelines for posting
This is a moderated blog. We will not post comments that include racism, bigotry, threats, or factually inaccurate material.
Post a comment