« May 2006 | Main | July 2006 »
June 29, 2006
Prisoners' Document Called For Palestinian Kidnapping?
Why have none in the media entertained the premise that the Palestinian prisoners' document allows, or even encouraged, the Palestinian attack this week in which killed several Israelis were killed and one was kidnapped?
Many news organizations have been quick to extrapolate from Hamas's endorsement of the document that the terror group has "implicitly" or "effectively" accepted Israel's right to exist, even after this premise has been proven false by a number of Hamas leaders who explain that the group still rejects Israel's right to exist. See details here, here, and here.
Although much of the media seemed eager to glean from the document any signs of Hamas moderation, apparently none have extrapolated that the document encouraged this week's attack--even though this interpretation seems much more likely than the disproven one suggesting Hamas moderation.
The document, which calls for "focusing" terror attacks on the West Bank but not limiting attacks the the disputed land, states that "Liberation of the prisoners and detainees is a sacred national duty that must be assumed by ... all resistance forces." Being that the Palestinians are looking to exchange the kidnapped Israeli for Palestinian prisoners, it seems that the attackers were merely following the supposedly "moderate" prisoners' document.
Posted by at 08:57 AM | Comments (0)
Times Ignores Palestinian, Israeli Sources; Blames Israel
Two Palestinians were killed yesterday in Khan Yunis in an incident that both Palestinian and Israeli sources blame on Palestinian explosives. The New York Times, however, blames "an unexploded Israeli shell."
Voice of Palestine radio in Ramallah reported in Arabic yesterday at 13:00 gmt : "Two citizens, including an infant, were martyred and seven others were wounded in an internal explosion in a house in Khan Yunis a short while ago.� The BBC Worldwide Monitoring, which provided the translation, then paraphrased:
The announcer-read report is followed by an interview with Adi al-Za'nun, radio correspondent in Gaza. Al-Za'nun says the "martyrs� are "one-year-old Maysam Iyad Mas'ud and her cousin Qasim Muhammad Mas'ud, 23.� Al-Za'nun cites eyewitnesses as saying that the explosion occurred while a member of the family was "carrying a grenade� which exploded inside the house.
Likewise, an AFP article yesterday, headlined "Accidental grenade explosion kills two Palestinians,� states:
Two Palestinians were killed and another seven, including a baby, wounded when a grenade accidentally exploded in the southern Gaza Strip on Wednesday, medical and security sources said.

Family members were playing with a grenade in the town of Khan Yunis when it exploded, killing 23-year-old Qassem Massud and his one-year-old niece, Maissam, the sources said.
Ha'aretz had a slightly different version, blaming the death on a Palestinian Qassam, as opposed to a grenade, but there, too, no information supported the Times' claim that an unexploded Israeli shell at fault. Amos Harel, Yuval Azoulay and Aluf Benn report:
Meanwhile, a 26-year-old Hamas activist was killed in an explosion in his Khan Yunis home yesterday. A 9-month-old girl was also killed, and the man's mother was seriously injured. The explosion apparently occurred while the man was putting together a Qassam rocket.
CAMERA has contacted the New York Times to ask for substantiation that an Israeli shell is at fault for these deaths. If none is available, a correction is in order. Stay tuned.
Posted by TS at 04:30 AM | Comments (0)
June 28, 2006
Baltimore Sun Editorial Almost Hits Bull's-Eye
The Baltimore Sun has published a solid, informative editorial on the Middle East, "Meddlesome Iran,� (June 26). The commentary is noteworthy not only on its own, but because — as CAMERA has pointed out repeatedly during the past four years — Sun editorials on Arab-Israeli matters, in particular, have been not only frequent but also frequently superficial, self-contradictory, and erroneous.
"Meddlesome Iran� hits the target three times. It:
* Correctly highlights the recent report of Gen. George W. Casey Jr., America's top military commander in Iraq, which stresses "Iran's duplicitous dealings� including apparently stepped-up support for anti-U.S., anti-Iraqi government terrorists;
* Properly casts doubt on Iran's nuclear research programs, which the mullahs claim is for domestic energy production but which, for some reason, they hid from international inspectors for 18 years while periodically declaring that Israel should be wiped off the map and that one nuclear bomb might be enough;
* Refers directly to Iran's support of various terrorist groups. The observation is not clouded by referring to Hezbollah in Lebanon as a "militia,� or its members as "militants.�
Although "Meddlesome Iran� is far above many other Sun editorials on the region, in hitting the target it still missed the bull's-eye. That's because while it named Hezbollah as an Iranian-supported terrorist group, it never mentions Palestinian Islamic Jihad or Hamas, the groups responsible for suicide bombings and other terrorist attacks that have murdered hundreds of Israelis and wounded thousands more. Palestinian Islamic Jihad has been identified as a recipient of Iranian financial and other support for some time. More recently Hamas too reportedly has been getting cash and other aid from Tehran.
Perhaps when the target of Iranian "meddling� is Israel, not Iraq, The Sun loses focus. Seeing the Arab conflict with Israel primarily through the filter of Palestinian victimhood — without understanding that it's largely self-imposed — may explain focus problems. In any case, "Meddlesome Iran� is a welcomed change, and should be recognized as such. It wouldn't hurt to drop a line to Dianne Donovan, [email protected], editorial page editor, and Paul Moore, [email protected], reader's editor.
--- Joshua Fishman, CAMERA Washington research intern; Eric Rozenman, Washington Director
Posted by ER at 05:14 PM | Comments (0)
Hamas (Still) Rejects Israel
A good report on BBC's Web site reveals that Hamas's views on Israel haven't changed:
The BBC's James Reynolds in Gaza says that the central point of the joint manifesto is the creation of a Palestinian state on the West Bank and the Gaza Strip.

Traditionally that is one half of a two-state solution, but the existing drafts of the deal make no mention of the second half of this solution - the state of Israel.

This omission is deliberate, our correspondent says.

While some have argued that this means Hamas tacitly accepts Israel's right to exist, it is becoming clear that that is not how Hamas sees it.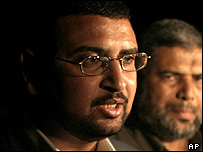 Hamas spokesman Sami Abu Zuhri said "The document included a clear clause referring to the non-recognition of the legitimacy of [Israel]"
Posted by at 11:59 AM | Comments (0)
June 23, 2006
Baroness Blames Suicide Bombing in Iraq on Israel
A letter by Baroness Jenny Tonge published on June 8th in the British Independent showcases the witless irrationality that characterizes discourse among a certain element in British society concerning the Middle East conflicts.
Tonge, a Liberal Democrat MP in the House of Lords, blames Israel's security wall for Palestinian suicide bombings in Iraq, writing,
"It should come as no surprise to anyone that suicide bombers in Iraq are Palestinians. Israel's security wall is forcing them to export themselves to another arena to fight in this ridiculous "war" against terrorism being waged by the donkeys who lead us in the West." ("Roots of suicide bombing in Iraq")
Ms. Tonge, who once confessed that were she living in the same situation as Palestinians she would consider being a suicide bomber herself, is deeply disturbed that the "wall" (actually mostly a fence) has made it so difficult for Palestinian terrorists to murder Jews that they must now satisfy their compulsion to kill in Iraq.
Tonge's suggestion that Israel's barrier causes suicide bombings in Iraq is, of course, pure nonsense. The vast majority of suicide bombers in Iraq are not Palestinian. Most are Saudis, with significant representations of Syrians, Iraqis and Kuwaitis—countries without any Israeli wall.
She then fulminates against Israel's "brutal occupation," describing it as the root cause of Osama bin Laden's terrorism, apparently unaware that Palestine was at most a peripheral concern to him.
According to Baroness Tonge, fear of being labeled an anti-semite inhibits opposition to the US policy in the Middle East. The only solution possibility to resolving the conflict in the Middle East is for "someone in power" to "restore Palestine." This leaves an uncomfortable question for Ms. Tonge — restore Palestine to what? Since there has never been a Palestinian state, does she favor reinstating the British Mandate or the Ottoman Empire? Or does she simply mean getting rid of the Jews there?
One can only be relieved that power in Britain does not reside among the likes of Jenny Tonge.
Posted by SS at 02:55 PM | Comments (0)
On "Silly" Editorials
In the Global Research in International Affairs E-Blog, Barry Rubin asks: "Are the editorial writers of America's leading newspapers biased, silly or stupid about the Arab-Israeli conflict?"
Here is his answer.
Posted by at 11:33 AM | Comments (0)
June 21, 2006
HRW's Garlasco Backtracks on Backtracking
Our last entry points to a Jerusalem Post article in which Human Rights Watch's Marc Garlasco says the IDF did a "competent job" in investigating the Gaza beach explosion, contradicting early assertions by Garlasco and his organization.
Strangely, Garlasco now appears to be backtracking on his earlier backtracking, again maligning the IDF's inquiry:
An investigation that refuses to look at contradictory evidence can hardly be considered credible,� said Marc Garlasco, senior military analyst at Human Rights Watch. "The IDF's partisan approach highlights the need for an independent, international investigation.
Meanwhile, the Jerusalem Post reports,
Head of the commission Maj.-Gen. Meir Klifi said the two pieces of shrapnel retrieved from two Palestinians wounded in the explosion that killed seven and currently undergoing treatment at Soroka Hospital in Beersheba did not come from a 155 mm shell, the type of ordnance used by the IDF earlier that day in attacks on Kassam launch sites.
Posted by at 06:35 PM | Comments (1)
June 19, 2006
HRW's Expert Backtracks on Gaza Explosion
Many of the critics who have expressed doubts about Israel's investigation into the Gaza beach explosion have pointed to a separate investigation by Human Rights Watch (HRW) and the group's researcher Marc Garlasco. According to HRW, that investigation "strongly suggests Israeli artillery fire was to blame." The organization added that Israeli internal investigations "have generally fallen short of international standards for thorough and impartial investigations."
Although Israel found that the beach explosion well occurred after their shells were fired, Garalasco has repeatedly attributed the explosion to Israeli shells fired at the time of the explosion.
According to an HRW press release: "'The likelihood that the Ghalya family was killed by an explosive other than one of the shells fired by the IDF is remote,' said Marc Garlasco."
The New York Times reported that, according to Garlasco, "the crater size, the shrapnel and the location of injuries on the bodies all pointed to ''a shell dropping from the sky, not explosives under the sand.'" Similar assertions by Garlasco were quoted in a number of other newspapers. (These include reports in the highly partisan British Guardian and Independent newspapers, respectively entitled "Guardian investigation casts doubt on Israeli claim that army was not to blame" and "Revealed: the shrapnel evidence that points to Israel's guilt.")
But now, according to the Jerusalem Post, Garlasco is backtracking on his assertion that the explosion was caused by a falling shell, and contradicting HRW's assertions that Israeli investigations are not professional.
The Post reports:
Human Rights Watch conceded Monday night for the first time since the incident that it could not contradict the IDF's exonerating findings. ...

Following the three-hour meeting, described by both sides as cordial and pleasant, Garlasco praised the IDF's professional investigation into the blast, which he said was most likely caused by unexploded Israeli ordnance left laying on the beach, a possibility also raised by [IDF Maj.-Gen. Meir Klifi, who headed Israel's inquiry into the blast,] and his team. ...

Lucy Mair - head of the HRW's Jerusalem office - said Klifi's team had conducted a thorough and professional investigation of the incident and made "a good assessment" when ruling out the possibility that an errant IDF shell had killed the seven Palestinians on the Gaza beach.
Read the article here.
Posted by at 06:00 PM | Comments (0)
Baltimore Sun Editorials: In a Rut and Still Digging
Baltimore Sun Israeli-Palestinian editorials are consistently superficial, illogical and self-contradictory. The latest installment, "Divided, they fall� (June 16), echoing "A reprieve for Palestinians,� (May 11) extends the pattern. Among other things, The Sun claims that:

* "Palestinians voted [Hamas] into office to reform government, not dismantle it.�
Cleaning up the corrupt, inept Fatah-led Palestinian Authority was not Hamas' only campaign pledge. Another was to continue "resistance� (terrorism) against Israel. Hamas (Islamic Resistance Movement) and Fatah (Movement for the Liberation of Palestine) campaigners argued over which group deserved more credit for the violence that they claimed drove Israel from the Gaza Strip last year. Voters knew that Hamas' charter calls for the destruction of Israel.
* Violence between Hamas and Fatah partisans in the Gaza Strip and Palestinian rocket attacks on adjacent Israeli territory "is threatening to ... ensnare Israel in a cycle of attacks and retribution that enflamed [Sic.] the region in the past.�
What inflamed the region was Palestinian rejection of a West Bank and Gaza Strip country. What "ensnared� Israel was not a no-fault "cycle of attacks and retribution� but the Arabs' escalation of terrorism. Failure of the PA to end such terrorism, as required by previous agreements, has compelled Israel to launch counter-terrorism operations. The Sun refuses to acknowledge cause-and-effect.
* PA President Mahmoud "Abbas' call for a national referendum on statehood, as proposed by a coalition of Palestinian militants imprisoned in Israel, remains the best vehicle yet to forge a consensus among the groups. A vote for statehood also would give Palestinians a platform to press for renewed talks with Israel.�
The Sun's "coalition of imprisoned militants� — terrorist leaders responsible for many murders — had started breaking up by the time the editorial was published. Former U.S. Arab-Israeli negotiator Aaron David Miller pointed out, two days before The Sun's editorial ("Abbas comeback plan is a dead end,� The Los Angeles Times), that "the prisoners' document endorses armed resistance [terrorism] in the West Bank and Gaza, urges Palestinians to free prisoners by any means and gives preeminence to the Palestinian right of return.� Miller says the document "reopens vital questions about Israel's right to exist and about Palestinian endorsement of terrorism and violence that should have been laid to rest by now.�
* "... The year-long, Hamas-initiated cease-fire has reduced attacks inside Israel.�
The number of attempted attacks, in particular by Islamic Jihad and Fatah's al-Aqsa Martyrs Brigades, remained high. What reduced the carnage primarily was Israeli counter-terrorism. This included targeted killings of terrorist operatives and leaders, and construction of the West Bank security barrier. Hamas in office has not tried to restrain the other groups and may have helped fund them.
* "Most Palestinians favor a two-state solution to the Israeli-Palestinian conflict, which implicitly [emphasis added] means recognition of the Jewish state.� In that case, how to explain the failure of the 1993 Oslo process and rejection of the Israeli-U.S. 2000 and 2001 offers of a state in exchange for peace? What appears to be required is explicit endorsement of Israel's legitimacy as a Jewish state (not recognition of Israel's existence) and honesty about the "right of return� for "Palestinian refugees� to Israel (www.camera.org, Middle East Issues, Palestinian Refugees, "No Right of Return,� April 26, 2004).
Throughout, the tone of "Divided, they fall� is one of The Sun declaiming from on high, informing Abbas and the PA's prime minister, Hamas' Ismail Haniyeh what they "must� do. It presumes to tell Israel what its interests are and Palestinian Arabs what they believe. It sanitizes Hamas terrorists as "the group's armed wing.� Like so many of its predecessors on Israeli-Arab matters, this Sun editorial is not only futile, it's also foolish.

Posted by ER at 05:09 PM | Comments (0)
June 15, 2006
Presbyterian Urges Church to Be Fair to Israel & End Divestment
Jim Roberts, Chairman of the Committee to End Divestment Now, has written an informative and powerful Op-ed for the Wall Street Journal about the recent policies and actions of the Presbyterian Church (USA). He notes that:
My denomination, once revered as an icon of socially progressive thinking, is now tainted by perceptions of anti-Semitism and naive support of Islamic terrorists.
He points out that the problems and suffering of the Palestinians
cannot be blamed on democracy, capitalism or even current Israeli policies. They suffer most from the excesses created by their own preachers of hate and generations of corrupt and dysfunctional leadership...This year, Presbyterian commissioners voting at General Assembly can steer the Presbyterian ship back on a prudent path, which begins with reversing the divestment course charted two years ago.
ACTION ITEMS
* Please write a letter to the editor commenting on the issues raised in the op-ed and/or commending Jim Roberts for his important work.
* Please publicize Jim Roberts' Op-Ed. He has concisely summarized and exposed for scrutiny the extreme and unfair agenda of not just the Presbyterian Church, but many such anti-Israel groups. URL for this op-ed is: http://www.enddivestment.com/latestnews.html and then click on article title.
* Write a letter of appreciation to Jim Roberts: [email protected]
Turn Left at the Presbyterian Church
By JIM ROBERTS
June 15, 2006; Page A14
Mr. Roberts is chairman of the Committee to End Divestment Now.
BIRMINGHAM, Ala. -- A growing number of Presbyterians are engaged in a battle for the future of the Presbyterian Church (USA). Over the past two years, this denomination -- my denomination -- has taken a turn toward radicalism that threatens to tarnish a once-proud institution. At issue is the Presbyterian Church's decision in 2004 "to initiate a process of phased, selective divestment in multinational corporations operating in Israel." The fallout was immediate, painful and damaging.
Not only are a handful of church leaders taking positions that are highly unpopular in the pews, they are doing so with heavy-handed, top-down measures, actions that run contrary to long-honored traditions. Not surprisingly, the church is experiencing problems with declining membership and dwindling financial support -- due in large part to widespread frustration over the direction the leadership has taken. Instead of developing policies to unite us, the leadership is sowing seeds for further defections by large numbers.
My denomination, once revered as an icon of socially progressive thinking, is now tainted by perceptions of anti-Semitism and naive support of Islamic terrorists. The Presbyterian bureaucracy seems unwilling to confront difficult problems in Africa and the Middle East that do not fit its hard-line, pro-Palestinian political viewpoint. Interfaith relations with Jewish friends are also in shambles after decades of efforts by Presbyterians to reach out and create healthy working relationships based on mutual respect.
* * *
How did the church fall so far so fast? In June 2004, with scant attention and without fair debate, the leadership foisted a divestment resolution on an unsuspecting church. While the action was likened to similar divestment from South Africa under apartheid in the 1980s, attempts to draw analogies between that country then and Israel now are factually indefensible. Only a few months later in the fall of 2004, senior church leaders were among a contingent that met with Hezbollah in Lebanon and praised them -- the same international terrorist organization that has killed thousands, including Americans, without remorse over several decades, and that receives major funding from Iran.
The church also funds fiercely pro-Palestinian committees, sends representatives to Palestinian advocacy conferences, and has written obsequious congratulatory letters to the terrorist leaders of Hamas on their recent election victory. Simultaneously, the church remains remarkably docile on profoundly serious issues such as genocide in Darfur, the Iranian nuclear buildup and mistreatment of Christians in communist and Muslim countries.
Presbyterian delegates also take leadership roles in organizations that blame the U.S. and capitalism in general for most of the world's catastrophes. The 2004 manifesto of the World Alliance of Reformed Churches, for instance, went on about America's "imperialism," "domination" and "massive threats to life." And the Presbyterian Church's 2004 Stony Point Declaration was a similar self-parody, noting that "our nation . . . pursues global empire, backed by unprecedented military supremacy. Its un-qualified commitment to economic growth through a global, capitalist economic system has not served God's purposes of justice, peace, community and the integrity of creation, but has enriched the corporate ruling class . . . [creating] monstrous inequality and massive suffering."
Instead of admitting in 2006 that the Middle East has changed dramatically since 2004 -- the rise of a land-for-peace consensus in Israel, the election of Hamas to the Palestinian government, and the equally (if not more) disastrous election of Mahmoud Ahmadinejad in Iran -- the Presbyterian Church clings stubbornly to flawed policies that are now all the more embarrassing. Some leaders continued as late as a few months ago to attend world-wide church meetings to encourage divestment among other churches. This they attempt while simultaneously downplaying and trying to isolate a groundswell of objections within our own church. What the leadership now faces are nearly two dozen formal requests from regional Presbyteries across America to change or terminate our divestment policy. At the very least, a large majority agrees that we need to abandon divestment as a hostile action against Israel in favor of "investment" in Israeli and Palestinian groups that are working as bridge-builders for peace.
Most people also agree that, with Hamas now in power in the Palestinian territories, Presbyterians need to clearly and unequivocally denounce Hamas's longstanding call for the destruction of Israel in its charter, and to demand that Hamas stop its many hateful indoctrination practices against Jewish people.
Key Presbyterian church leaders, however, are balking at considering such necessary action. Many now have a huge personal and professional investment in the Palestinian political agenda and the cause of divestment from Israel. Some leaders seem to savor the global attention such advocacy has brought them. They cannot admit that they have politicized our church in ways that prevent healing and salvation.
Today, we Presbyterians begin our national General Assembly in Birmingham, Ala. The problem is that the leadership appears to be working overtime to come up with parliamentary and other maneuvers to stop the anti-divestment movement. At the 11th hour, for example, the worried leadership proposed that a new task force be created to "study" the divestment "option." The plan would populate the task force with supporters of divestment and would preserve divestment momentum while the task force works through the summer of 2008.
This helplessly transparent scheme, if adopted by General Assembly, would override the overtures from Presbyterians, putting them on hold and delaying a clear up-or-down vote on divestment for at least another two years. It would, however, allow other denominations to continue to cite the 2004 divestment resolution as justification for their own actions.
With such efforts, the church leadership hopes to preserve their stature -- along with their failed vision for the church. The vast majority of Presbyterians long for our church to return to its core purpose: to help nourish a closer relationship with our Savior. Instead, the leadership is forcing many of us to spend countless hours trying to rescue the church from those who hew to terrorist liberation politics.
Those of us who oppose divestment are not unqualified supporters of Israel nor insensitive to the plight of Palestinians. We believe that this country and our church need a wise and well-funded program to provide more aid to those suffering in the Palestinian territories, Darfur and elsewhere. However, the problems these societies are facing cannot be blamed on democracy, capitalism or even current Israeli policies. They suffer most from the excesses created by their own preachers of hate and generations of corrupt and dysfunctional leadership.
This year, Presbyterian commissioners voting at General Assembly can steer the Presbyterian ship back on a prudent path, which begins with reversing the divestment course charted two years ago.
Mr. Roberts is chairman of the Committee to End Divestment Now. URL for this article: http://www.enddivestment.com/latestnews.html and then click on article title.
Copyright 2006 Dow Jones & Company, Inc. All Rights Reserved

Posted by LG at 10:39 PM | Comments (1)
June 14, 2006
Reuters—Remember Camp David?
Reuters news agency is reporting today that
Palestinians have long suspected that Israeli military clampdowns during a more than 5-year-old Palestinian revolt are at least partly aimed at curbing their independence aspirations.
Reuters doesn't give Israelis an opportunity to respond to this Palestinian charge; but it should be quite clear to the news agency, even without Israeli comment, that Israel's "military clampdowns" are meant to defend the country from Palestinian violence, and not to "curb" Palestinian independence. It should be clear because those "clampdowns" began only weeks after the Palestinians were offered independence at Camp David. In fact, even as the Israeli military was forced to "clamp down" in response to the Palestinian violence that accompanied Arafat's rejection of the Camp David offer, Israeli Prime Minister Ehud Barak endorsed an even more generous offer of Palestinian statehood during negotiations at Taba.
Israel wasn't "curbing" Palestinian independence aspirations—it was offering the Palestinians their first ever independent state.
Posted by at 05:10 PM | Comments (0)
June 13, 2006
Questions About the Gaza Explosion
CAMERA has criticized the media for reacting to Friday's Gaza explosion in which 7 Palestinians were killed in much the same way as it reacted to the Mohammed Al Dura incident in September 2000--with complete acceptance of Palestinian accusations of Israeli responsibility. It is looking more and more likely that the explosion was caused by a Palestinian mine.
And how about the video that was played and replayed on Arab news stations several times an hour? Stills from the video and clips have appeared on TV stations and newspapers around the world. The video by the Ramattan news agency showing an inconsolable young girl wailing as she discovers her dead father raises its own questions--like how was a news agency at the scene within seconds to follow the daughter across the sand and capture her grief upon finding her dead father, why does no one seems to console the child, including the photographer, why is there is no evidence of a crater or blood near the bodies? Were the bodies moved, was the girl asked to reenact her discovery for the camera, was the video staged? Palestinian Media Watch has already demonstrated that the clips aired on official Palestinian Authority TV have been edited and falsified by including unrelated video of an Israeli missile boat firing at Gaza earlier in the day, creating the impression of Israeli responsibility. Al Jazeera similarly includes scenes of the supposed Israeli "strike". Yet some are accepting these inserted clips of an Israeli missile boat as the direct cause of the deaths.

Richard Landes posts in his Augean Stables blog similar questions about the authenticity of the video and compares it to that of the iconic image of Mohammed Al Dura.
* There is no evidence of a blast, no crater, not even a disturbance of the sand which has the characteristic patterns of wind-wrought waviness uninterrupted either by a blast or cleaning up from the blast.

* The bodies are evacuated from an area where various items one would have expected to have been blown away by an explosion — flip-flops, beach chairs, clothing — are strewn around.

* Very little blood is visible anywhere. The child's body is dark and may be charred, but there are no other signs of burning on the material on either side of him. The disposition of bodies does not seem to accord with an explosion. Perhaps they are in a secondary arrangement, ready for loading on the ambulances.
Read the entire post here.
Posted by rh at 01:55 PM | Comments (0)
Human and Truth Casualties on 443
Ha'aretz has a follow up story today about east Jerusalem Arab Marwan Abed Shweika "who was killed in Sunday's shooting attack on Highway 443." But, wait a minute. According to Ha'aretz, Highway 443 is a "Jews only" road, a claim which the paper's publisher has vigorously defended.
Posted by TS at 06:48 AM | Comments (0)
June 05, 2006
Ha'aretz Settles in Defamation Lawsuit
Arutz 7 reports that some Israeli media, including Ha'aretz, have been sued by Hebron residents about whom they made false claims. The incident goes back to a Supreme Court ruling that several Hebron families be removed from a disputed building pending investigation into the matter. The Jewish buyers have a sales deed they say proves their legal ownership of the building while the Arab sellers say the deed is a forgery.
Several Israeli media had their own version of the events. They reported that the Supreme Court had ruled against the Jews of Hevron and that the purchase papers were in fact forged. For this, they will now pay between 13,000 and 15,000 shekels each to the families, and will publish a public apology.

Long-time Hevron resident Orit Strook, a spokesperson for the Jewish community there, said that the false reports by two of Israel's largest newspapers, Yediot Acharonot and Haaretz, "denied what the Supreme Court ruled, and violated journalistic ethical guidelines as well as the laws of slander, causing harm to those who purchased the building and populated it."

Strook noted that it was specifically not the reporters' fault, but rather that of the editors: "The reporters for both papers submitted accurate reports, but the editors are the ones who publicized the false information: In Yediot in the form of a headline, and in Haaretz in the form of an editorial."

Ha'aretz has a history of publishing false or misleading information, particularly when it portrays Israelis in a bad light. It is appropriate that its editors be made to apologize for disseminating inaccurate information.
Posted by rh at 12:10 PM | Comments (0)
June 03, 2006
"Homemade" Rockets
It seems that some news outlets—the LA Times, Chicago Tribune and (especially) the Associated Press, to name just a few—won't refer to the deadly Qassam rockets fired relentlessly towards Israeli towns without making sure to point out that these weapons are "homemade." It almost seems as if Palestinian terrorists are delivering apple pies rather than explosives that have taken the lives of Israeli children (such as two-year-old Dorit Aniso and four-year-old Yuval Abebeh) and numerous other civilians.
CNN's in-depth look at these rockets—made in modest weapons workshops, not in anyone's "home"—paints a much clearer picture.
CNN's Ben Wedeman notes:
We were on our way to see a rocket workshop run by the Al Aqsa Martyrs Brigades, the armed wing of the Fatah movement. ...

This was where aluminum was melted down then poured into molds for the nozzle of the rocket, the tip and the other parts. ...

This group makes three kinds of rockets: The biggest is the so-called Aqsa 103 has a maximum range of 14 kilometers, or 8.5 miles, and carries 6 kilograms of TNT.

With one of his comrades, Ahmed showed us packets of iron shards they pack into rocket warheads for extra lethal effect.

One of these missiles recently slammed into a school classroom in the nearby Israeli town of Sderot, a frequent target of the militants. The students were in another room at prayer at the time and no one was injured. Their teacher, for good reason, called it a miracle.

Ahmed was proud -- not ashamed -- that his missile had hit the school. These are not men who agonize over the morality of violence. ...

Since the start of the second intifada in September 2000, Palestinian groups have fired more than 5,000 rockets into Israel, or into Gaza settlements before the Jews left. Those missiles killed 13 civilians and two soldiers.
Posted by at 11:50 PM | Comments (0)