« AP Amplifies Tunisian Falsehood | Main | AP Still Displays Selective Vision »
September 21, 2005
Christians Protest Persecution by Muslims
Although it is from earlier in the month, this piece in the Telegraph [London] is worth noting for any who might have missed it:
Christians in the Holy Land have handed a dossier detailing incidents of violence and intimidation by Muslim extremists to Church leaders in Jerusalem, one of whom said it was time for Christians to "raise our voices" against the sectarian violence.
Read the rest here.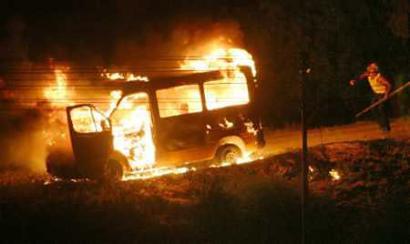 A car burns during Christian-Muslim clashes outside Bethlehem
Posted by at September 21, 2005 11:07 AM
Comments
Guidelines for posting
This is a moderated blog. We will not post comments that include racism, bigotry, threats, or factually inaccurate material.
Post a comment