« Christians Protest Persecution by Muslims | Main | AP's Road Map Amnesia Crosses Borders »
September 21, 2005
AP Still Displays Selective Vision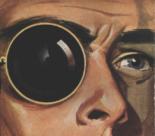 The Associated Press seems to have selective vision when it comes to the Road Map peace plan. In report after report, AP ignores Palestinian violations while emphasizing Israeli obligations.
In the latest example, a Sept. 21 dispatch by Mark Lavie, the reporter notes the continued existence of Palestinian terrorist groups; the "large quantities of weapons" being smuggled into the Gaza Strip; Hamas' call for continued attacks on Israeli targets in the West Bank; "several large rallies featuring [Hamas and Islamic Jihad] gunmen firing in the air"; and the stated refusal of Hamas to give up its weapons. Although each item on this list represents a violation of Palestinian obligations under the road map, Lavie does not once mention the plan or the violations.
Only later in the article does Lavie get around to mentioning the peace plan—not once, but twice. What spurs Lavie's sudden recall of the document? The reporter is discussing possible Israeli violations. Referring to a claim by former Gaza settlers that they had government permission to relocate at an old military base in the West Bank—a claim refuted by Israeli officials—Lavie notes:
Shirat Hayam evacuees said they would move to Maskiyot in the northern Jordan River valley, now a military school. That would violate Israeli pledges not to set up new settlements in the West Bank, contained in the internationally backed "road map" peace plan and promises to the U.S.

However, Ron Sheckner, a Defense Ministry official, denied that permission has been given. "No one got a promise about this," he said, adding that Israel would only expand existing settlements - also a violation of the "road map."
AP's code of ethics calls for "impartial treatment of issues." What went wrong?

Posted by at September 21, 2005 03:46 PM
Comments
Guidelines for posting
This is a moderated blog. We will not post comments that include racism, bigotry, threats, or factually inaccurate material.
Post a comment