« Boston Globe Criticizes Divestment | Main | French Journalist Kidnapped »
August 15, 2005
Two Views of the Gaza Disengagement
An Israeli army officer comforting a Gaza settler evicted from his home
The Gaza disengagement, heart-wrenching to Israelis whatever their opinion of the decision itself, has divided the country and its advocates. Below are two different perspectives on the disengagement from Gaza. The first is a pro-Likud editorial in the New York Sun, which supports Israeli Prime Minister Ariel Sharon's judgement and the second is by Middle East scholar Daniel Pipes who opposes the decision.
The New York Sun editorialist views Sharon's decision to remove Israelis from Gaza as a necessary decision made by an experienced statesman:
The real world, however, is not always just, and even those with a just cause cannot always have all that is justly theirs - or have it when they want it. This is where the craft of statesmanship comes in: how and where to draw the lines, how and when to make one's stand, when to fight, when to negotiate, when to retreat.
Daniel Pipes views the decision by Sharon to remove Israeli citizens from Gaza as "as one of the worst errors ever made by a democracy." He criticizes Sharon for "reneging on his promises, betraying his supporters, and inflicting lasting damage on Israeli public life" and posits:
The harm will be three-fold: within Israel, in relations with the Palestinians, and internationally.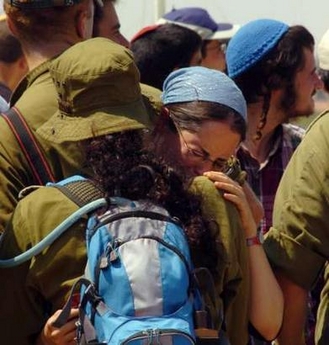 An Israeli soldier embraces Gaza settler evicted from home.
Israeli soldiers weep with Jewish settler as Gaza synagogue is dismantled.
The New York Times editorial, on the other hand, barely offers Sharon a half-hearted pat. Instead, it criticizes Israel for its "bankrupt" settlement policy, while gingerly admonishing Palestinian "militants" not to be "troublemakers" and "unneccessarily provoke" during the Israeli pullout. CAMERA has repeatedly documented the Times' editorial bias.
See: The Message at the New York Times: Blame the Victim
Editorial Double Standard Regarding Counterterrorism
The New York Times'Knee-Jerk Editorial Bias
New York Times Editorial: Sharon is Bad. Abbas is Good.
New York Times' Anti-Israel Bias in Editorials As Bad As Ever
Posted by rh at August 15, 2005 03:49 PM
Comments
Guidelines for posting
This is a moderated blog. We will not post comments that include racism, bigotry, threats, or factually inaccurate material.
Post a comment