« Rocket Strategy | Main | Gaza News: Where Is It? »
August 03, 2005
Sderot's 'Settlers'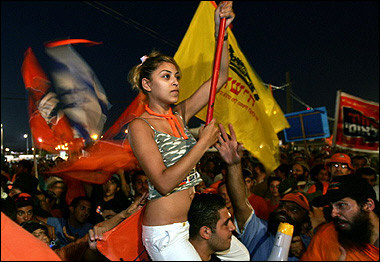 Israeli disengagement opponents gather in Sderot. Photo by AFP
AP correspondent Ravi Nessman, reporting from Sderot, could use a briefing from his Gaza colleague. In an article yesterday, reprinted today in the Los Angeles Times, he wrote:
Palestinians fired rockets Tuesday at thousands of Israeli settlers protesting the upcoming Gaza Strip withdrawal, but missed . . .

Witnesses said militants fired three rockets at the demonstration in the Israeli town of Sderot.
The thousands of Israelis in Sderot protesting the Gaza pullout weren't only "settlers"--they came from all over Israel.
Ironically, while the AP reporter on the scene at Sderot misreported this fact, AP's Gaza correspondent got it right. In reports today and yesterday, Ibrahim Barzak variously referred to the demonstrators as a "large gathering of Israeli pullout opponents" and "thousands of opponents of the planned Israeli withdrawal from Gaza."
Posted by TS at August 3, 2005 01:50 PM
Comments
Guidelines for posting
This is a moderated blog. We will not post comments that include racism, bigotry, threats, or factually inaccurate material.
Post a comment