« Martin Fletcher's "Dopey" Comments | Main | AP's Warped Rendition of History »
August 19, 2005
Palestinian "Militiamen" Celebrate Israeli Pullout from Gaza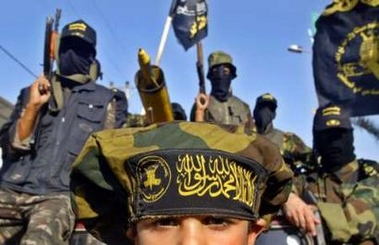 Armed Palestinians from Islamic Jihad celebrate Israeli pullout from Gaza
Palestinian "militiamen" have reacted to the Gaza disengagement. From Islamic Jihad:
Hundreds of militiamen from Islamic Jihad marched in formation and fired in the air at a rally on a Gaza City beach, while a flotilla of boats flying the organization's black flags circled in the water.

"Our enemy should understand that the state of Palestine is not just Gaza, it stretches from the river to the sea," said Abu Walid, a senior military commander in Islamic Jihad, as 300 men masked in black balaclavas prayed on the beach, then rehearsed with rifles and grenade launchers. "The Palestinians now have the momentum to seize all of Israel."
And from Hamas:
Asked about Hamas's future plans, Zahar said: "Neither the liberation of the Gaza Strip, nor the liberation of the West Bank or even Jerusalem will suffice us. Hamas will pursue the armed struggle until the liberation of all our lands. We don't recognize the state of Israel or its right to hold onto one inch of Palestine. Palestine is an Islamic land belonging to all the Muslims."
Islamic Jihad training in the Gaza Strip, Aug. 13, 2005
Posted by CameraBlog at August 19, 2005 02:51 PM
Comments
SKiperring a boat has constantly been a dream of mine, enjoyed reading your website.
Posted by: Mark Silence at May 26, 2010 03:50 PM
Guidelines for posting
This is a moderated blog. We will not post comments that include racism, bigotry, threats, or factually inaccurate material.
Post a comment