« What About the "Martyrs"? | Main | Palestinian Cleric Calls on Muslims to Wage Violent Jihad Against Israel »
August 22, 2005
AP Suddenly Notices People Playing to TV Cameras
An Associated Press dispatch today, headlined "Israeli army, settlers fighting media war as they battle to dominate public opinion," notes:
As Israeli soldiers dragged Jewish settlers from their homes, one settler walked in front of about a dozen television cameras and began wailing "How could they do this? This the land of Israel." When the cameras were turned off, he stopped crying and walked away.

Another family invited a television crew into their homes and then insisted that soldiers drag them out.

There's no question that settlers were genuinely grieving over the loss of their homes, their livelihood and their dreams. But they were also keenly aware that their struggle was being broadcast across the world ...
It is interesting that the AP has suddenly discovered people being "keenly aware" of the camera — when it is Israelis who are aware.
The wire service never seemed too concerned with allegations that play-acting for the cameras has long been a staple of the Palestinian PR war. Even the authenticity of the infamous footage of Muhammed al-Dura hiding behind his father amid a hail of bullets has aroused doubts.
Other media outlets have taken note, including the New York Times and International Herald Tribune which have quoted Boston University professor Richard Landes saying:
"I came to the realization that Palestinian cameramen, especially when there are no Westerners around, engage in the systematic staging of action scenes," he said, calling the footage Pallywood cinema.
James Fallows, writing in the Atlantic Monthly, described some of these suspicious scenes...
At one dramatic moment a Palestinian man dives forward clutching his leg, as if shot in the thigh. An ambulance somehow arrives to collect him exactly two seconds later, before he has stopped rolling from the momentum of his fall. Another man is loaded into an ambulance—and, in footage from a different TV camera, appears to jump out of it again some minutes later.
... as did Denis Jeambar, editor of the French news magazine L'Expresse, who said he saw
young Palestinians are performing for the television cameras. They fall and when they think that no one is around, they get up.
AP appears to have never taken notice of "Pallywood." But when an Israeli is allegedly acting for a camera, it gets headline coverage.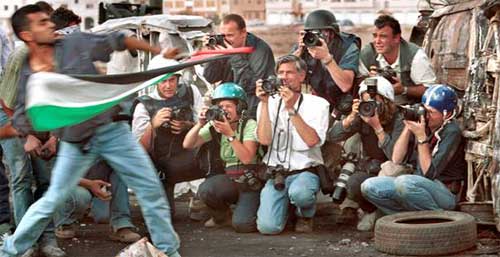 Posted by at August 22, 2005 06:43 PM
Comments
Everyone should promote the short funny doc film, Pallywood which offers visual proof that is tough to dismiss.
(I nearly fell off my chair laughing when the supposidly killed Palistinian fell off the platform and had to climb back on... TWICE!)
Posted by: Jordan Ravka at September 26, 2005 03:38 AM
Well done. Have you sent any of your material to the British media? If you have not, you should!
Posted by: Ilana Rosen at September 27, 2005 03:32 PM
Guidelines for posting
This is a moderated blog. We will not post comments that include racism, bigotry, threats, or factually inaccurate material.
Post a comment