« Palestinian Incitement Ignored by Media Except... | Main | AP Finally Covers (Palestinian Response to) Anti-Semitic Sermon »
May 19, 2005
Bogus CAIR Report Exposed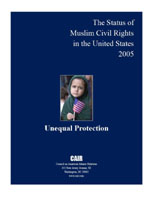 Media outlets are citing without question the findings of a report by the Council on American-Islamic Relations (CAIR). The report, Unequal Protection: The Status of Muslim Civil Rights in the United States 2005, alleges that hate crimes against Muslims have increased dramatically in recent years.
It made headlines in the New York Times, the Washington Post, and the Los Angeles Times. But, as Daniel Pipes and Sandra Chadha revealed in a FrontPageMagazine.com article, many of the alleged incidents are not all as CAIR represents them. They write, for example:

1. CAIR cites the July 9, 2004 case of apparent at a Muslim-owned grocery store in Everett, Washington. But investigators quickly determined that Mirza Akram, the store's operator, staged the arson to avoid meeting his scheduled payments and to collect on an insurance policy. . . .

2. CAIR also states that "a Muslim-owned market was burned down in Texas" on August 6, 2004. But already a month later, the owner was arrested for having set fire to his own business. . . .

3. CAIR lists the March 2005 lawsuit filed by the Salmi family for the firebombing of their family van as one example of a hate crime reports it received in 2004. However, the crime named in the lawsuit occurred in March 2003, was already reported by CAIR in 2003, and should not have been tabulated again in the 2004 report.

4. CAIR reports that "a home-made bomb exploded outside of the Champions Mosque in the Houston suburb of Spring, Texas," staking its claim on eyewitness reports that on July 4, 2004, "two white males" were seen placing the bomb. We inquired about the incidents and found that Spring's sheriff department could not locate any police files about an explosion. Further inquiries to the mosque and an e-mail to CAIR both went unanswered. There is scant evidence that any crime even occured.
Pipes and Chadha wonder:
[W]hy do journalists report the results of CAIR's surveyes--as though it came from a source without a viewpoint bias, as though past studies had been reliable, as though its polls are scientific, as though it has not been party to threats against an American Muslim dissident. . . and as though it is not named as a defendant in 9/11 terror lawsuit.
Why, indeed?
Posted by TS at May 19, 2005 04:32 AM