« Major Lapse at Reuters | Main | Modi'in Not in Israel?? »
April 17, 2005
Editor's Note: Shalom Denies Allegation
The International Herald Tribune printed the following Editor's Note today noting that Israeli Foreign Minister denied allegations reported earlier that he was responsible for an embarrassing political leak:
An article on March 26 about increased American displeasure with Israel's intention to expand a West Bank settlement near Jerusalem reported on a leak of confidential remarks by Daniel C. Kurtzer, the U.S. ambassador.

The remarks were seen as embarrassing to Prime Minister Ariel Sharon because they suggested that Sharon and President George W. Bush had never reached an understanding on Israeli retention of large settlement blocks on the West Bank, which had been regarded as an important political accomplishment of Sharon.

The article quoted unidentified American officials and a senior adviser to Sharon as saying the leak was part of an effort by Foreign Minister Silvan Shalom, a rival to Sharon in the Likud party, to undermine him. The article should have noted that the New York Times tried unsuccessfully to reach Shalom and his aides by telephone for comment on the allegation. Shalom denied the allegation on March 27.
An almost identical Editor's Note ran Friday in the Times for the March 26 article by New York Times Jerusalem bureau chief Steven Erlanger.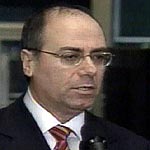 Pictured above: Silvan Shalom
Posted by TS at April 17, 2005 02:39 AM