October 08, 2015
Lazy Sensationalist Journalism Exposed
On September 22, 2015 Salon.com, an internet news-current events magazine, emblazoned on its front page the following
The problem was this incident had already been exposed as a staged "Pallywood" production three weeks earlier. The actors, children from the Tamimi family, have appeared in a series of staged videotaped incidents in which they intentionally provoke Israeli soldiers through aggressive behavior, such as biting. CAMERA has documented the Tamimi provocations. The little girl, Ahed Tamimi, shown as the victim of the bullying Israeli soldier, has earned the epithet, Shirley Temper, for her behavior.
Noticing that news items on the event quickly disappeared from British newspapers, CAMERA's British news monitor UK Media Watch on September 1 quoted Israeli news source YNET's observation that "even the British media – at the forefront of delegitimization efforts against the Jewish state – may be tiring of the transparent efforts by Palestinian activists to manipulate their coverage of the region."
Yet three weeks after the rest of the media had caught on to the ruse, lazy editors at Salon.com, apparently unaware the story had already been debunked, featured it as their main story.
Posted by SS at 03:11 PM | Comments (0)
"Moderate" Palestinian Authority Pays Convicted and Imprisoned Hamas Terrorists
Under the leadership of President Mahmoud Abbas the Palestinian Authority gives money to convicted murderers.

Documents obtained by Israel Radio on Oct. 6, 2015 show that the Palestinian Authority (PA) has been paying imprisoned terrorists, including those belonging to rival Hamas—the U.S.-listed terrorist organization that rules the Gaza Strip.
According to The Jerusalem Post, "most of those receiving PA money are members of Hamas who were behind some of the bloodiest terror attacks in Israeli history, from the second intifada" ("Documents reveal Palestinian Authority paying convicted Hamas terrorists," October 6). All terrorists receiving money from the PA—routinely referred to by some press and policymakers as "moderate"—are serving time in Israeli maximum-security prisons. Among those receiving compensation for their deeds are Hamas bomb maker Abdullah Barghouti and Ibrahim Hamad, the top Hamas official in the West Bank.
Shortly after the January 2006 Palestinian legislative council elections in which Hamas defeated the Fatah movement, the U.S. Congress passed legislation prohibiting any taxpayer money from aiding a Palestinian government in which terrorists were given a role. In 2007, in a "five-day war" Hamas ousted Fatah from the Gaza Strip, leaving the Palestinian Authority split between Hamas rule in Gaza and Fatah control over West Bank Arabs. The years since have seen many futile attempts at PA unity governments between Fatah and Hamas.
The Post notes that "Barghouti and Hamad were involved in some of the worst suicide bombings of the second intifada, including the bombings at a cafeteria at the Hebrew University in Jerusalem… the Sbarro restaurant bombing in Jerusalem… and a nightclub bombing in Rishon Lezion."
Documents show that Barghouti and Hamad receive $66,000 and $53,000 respectively, in U.S. dollars (USD). By contrast, according to figures from The World Bank, the gross national income per capita of West Bank and Gaza Palestinians is $3,060 USD.
Similar to the amounts some Hamas members receive, PA security service figures also receive "salaries" for committing terror attacks during the second intifada.
The second intifada was planned in advance by PA officials under the direction of then-PA President Yasser Arafat. Lasting from 2000 until 2005, the uprising took more than 1,000 Israeli and 4,000 Palestinian lives. 70 percent of Israelis killed were non-combatants; most Palestinians killed were armed participants. Arafat privately planned the attacks while publicly engaging in U.S.-led talks with Israel for a two-state solution as part of the 1993 Oslo accords process, which created the PA and brought it foreign aid money.
That intifada erupted following PA incitement over false claims of Jewish designs on the al-Aqsa mosque.
Arafat's successor, current PA president and Fatah movement head Mahmoud Abbas, has used the specter of Hamas making gains with West Bank Palestinians to maintain international aid and support from Western countries, some of whom perceive Abbas and the PA to be more moderate than the theocratic Hamas.
As CAMERA has noted, Abbas formally annulled Oslo and negotiations with Israel in a Sept. 30, 2015 speech to the U.N. General Assembly ("Abbas in U.N. Wonderland; Media Miss Cheshire Cat," October 2). In the weeks leading up to that speech, Abbas—like Arafat and other Palestinian Arab leaders before him—used the "al-Aqsa libel" to incite violence ("Incitement over Temple Mount Leads to Palestinian Violence, Again," September 16).
Since Oslo, the PA, while claiming to seek peace, has received billions of dollars in aid—and been accused by many Palestinian Arabs, including former PA officials, of embezzling much of it ("Leaked documents raise anger over Palestinian corruption," Ynet News, Aug. 12, 2015).
Now the world, presumably including the U.S. Congress, is reminded about how the PA spends donor aid.
Posted by SD at 02:42 PM | Comments (0)
Erroneous LA Times Downplays Har Nof Atrocity
Oct. 9 Update: LA Times Corrects Caption Which Downplayed Har Nof Atrocity
An erroneous Los Angeles Times photo caption Tuesday (Oct. 6) minimizes a 2014 Palestinian attack in a Jerusalem synagogue in which the assailants killed five Israelis, four of them in prayer, along with a policeman who came to assist.
The caption states:
A relative of Ghassan abu Jamal, who was killed last year after attacking a religious school in Jerusalem, at the family home in East Jerusalem demolished by Israel.
Ghassan abu Jamal's attack was not on a "religious school." It was on four Jews engaged in their morning prayers in a Jerusalem synagogue, along with a Druze police officer who came to the scene to try to halt the murderous rampage. Abu Jamal, along with his another Palestinian attacker, brutally murdered the five Israelis. As The Los Angeles Times reported at the time:


Two attackers brandishing weapons including a handgun and a meat cleaver burst into the synagogue early Tuesday, killing four worshipers -- three of them with American citizenship, including a prominent rabbi, and the fourth a British national. As police officers converged on the scene within minutes, the assailants shot at least one of them before being slain. The officer later died, Israeli media reported.
CAMERA has contacted editors to request a correction. Stay tuned for an update.
Posted by TS at 04:03 AM | Comments (0)
October 06, 2015
AP Reporter Highlights State Department Double Standard on 'Collateral Damage'
Associated Press (AP) correspondent Matt Lee highlighted seeming hypocrisy from the U.S. State Department in an Oct. 5, 2015 press briefing. Lee asked State Department deputy spokesperson Mark Toner whether his agency was "appalled" at the result of an October 3 U.S. airstrike that targeted Taliban terrorists in the Afghan city of Kunduz. The U.S. attack accidentally killed at least 19 people in a hospital run by the international non-profit organization Doctors Without Borders.
The AP correspondent pointed out that the State Department used that exact terminology—"appalled"—to describe an Aug. 4, 2014 Israeli bombing aimed at Palestinian terrorists near (or possibly in) an United Nations Relief and Works Agency (UNRWA) school in the Gaza Strip. That strike—similar to its U.S. successor—was meant to target terrorists, in that instance Hamas members responsible for attacking Israeli civilians and soldiers during the 2014 Israel-Hamas war. The Israeli airstrike accidentally took the lives of 10 civilians—like others whom Hamas frequently used as "human shields" to deter Israeli counterattacks.
In July 2014, an inspection by UNRWA found its own facilities to be housing missiles and other weapons used by Gazan terrorist groups in the Strip, including Hamas ("20 missiles found in UN-run school in Gaza," Times of Israel, July 17, 2014).
Lee quoted to Toner his department's statement after that August 2014 bombing, noting that at the time State asserted, "The United States is appalled by today's disgraceful shelling outside an UNRWA school in Rafah…the coordinates of the school…have been repeatedly communicated to the Israeli Defense Forces…Israel must do more to meet its own standards and avoid civilian casualties."
In particular, Lee emphasized the State Department's own pronouncement that "the suspicion that militants are operating nearby does not justify strikes that put at risk the lives of so many innocent civilians." The AP correspondent observed that these U.S. condemnations were issued prior to calling for an investigation. He then wondered if "the suspicion that militants are operating nearby a site like this, which is a school, that that suspicion does not justify strikes that put at risk the lives of innocent civilians? Is that still the Administration's position?"
Not answering Lee's question, Toner said Kunduz was "an active combat zone" and the U.S. takes "every measure possible and would encourage any government in the world to take any measure possible…to avoid civilian casualties."
The AP reporter noted that Doctors Without Borders claims to have given U.S. forces operating in Afghanistan advanced notice of its local coordinates "much in the same way the IDF had been given the coordinates of the school in Rafah."
Toner asked that Lee "give me a pass if we wait for the investigation" of Kunduz "to run its course."
Israel received no such "pass" for the Rafah bombing, which received widespread U.S. media coverage immediately after the attack. A Lexis-Nexis search reveals that The New York Times alone featured six stories (averaging 1,000 words each) and ran two Op-Ed columns—within the three weeks after the August 4 incident.
By contrast, Saudi airstrikes in July 2015 in the Yemeni city of Mukha—part of the ongoing Iranian-Saudi war in Yemen—hit residential compounds, killing at least 63 people—and received significantly less coverage in the weeks following. The New York Times mentioned the event only as an aside to a 322-word brief ("Saudi Forces Agree to Halt in Yemen War," July 26). To the extent that Mukha airstrikes were noted by other major U.S. media outlets such as USA Today, the Baltimore Sun and The Washington Post, the reporting consisted entirely of briefs.
It seems that Saudi airstrikes got virtual "passes," like those State asked of AP, from the media as well.
A transcript of the October 5 State Department press conference can be found here.—Sean Durns
Posted by SD at 04:53 PM | Comments (0)
October 05, 2015
Misinformation and Selective Outrage from a Land Called Holy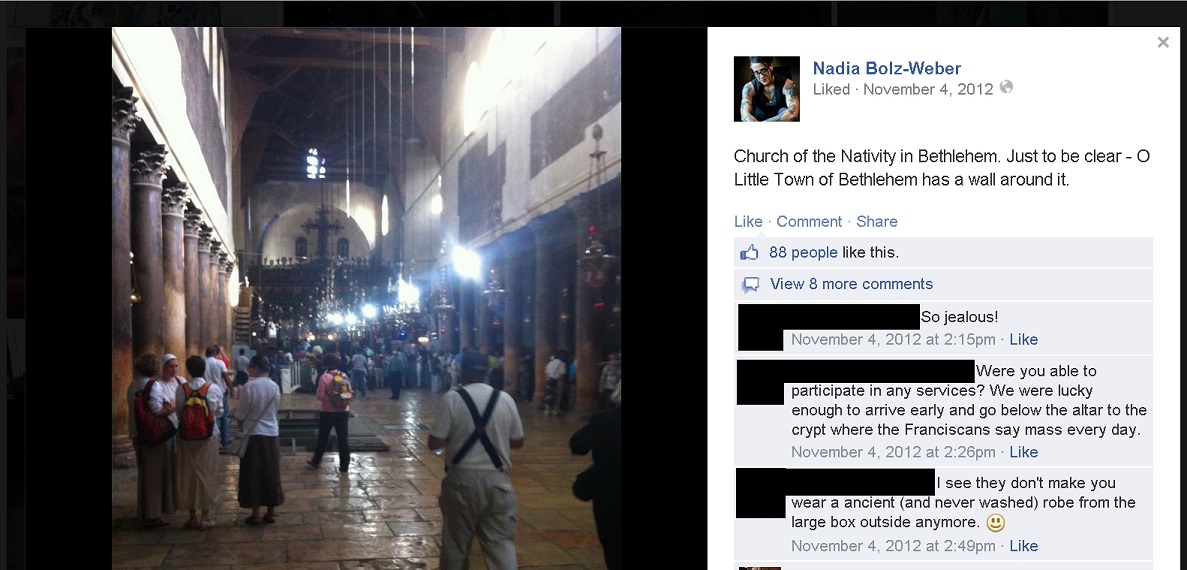 In 2012, Lutheran Pastor Nadia Bolz-Weber visited the Church of the Nativity in Bethlehem and misinformed her followers on Facebook, telling them that a wall completely surrounds the city.
Phrases like "O Little Town of Bethlehem" and "the Holy Land" are used to increase the drama and tension when talking about the ongoing conflict between Israel and the Palestinians. The fact that the conflict takes place in locations mentioned in the Bible makes the violence seem so much worse than it does if the conflict was taking place somewhere else in the Middle East or in the rest of the world. The Holy Land has a multiplier effect on the amount of attention directed toward the Arab-Israeli conflict.
It also has a multiplier effect on the contempt directed toward the Jewish state and its inhabitants. The rubric of the Holy Land is used to judge and condemn Israel much more often than the Palestinians. Peace activists portray Israel's security barrier as a blot on the Holy Land. Cartoonists regularly draw pictures of Mary and Joseph being unable to getting into the city of Bethlehem to give birth to baby Jesus because of the security barrier. Very rarely however, is the Holy Land or the phrase "O Little Town of Bethlehem" used to highlight the violence perpetrated by Palestinians or the corruption of the Palestinian Authority.
CAMERA researcher Dexter Van Zile highlights how Palestinian Christians have made effective use of this strategy in a piece published at The Commentator on October 3, 2015. The article, titled "The unholy abuse of the Holy Land," begins as follows:
Continue reading "Misinformation and Selective Outrage from a Land Called Holy"
Posted by dvz at 11:52 AM | Comments (0)
October 01, 2015
Where's the Coverage? Repressive Kingdom of Saudi Arabia to Head Key UN Human Rights Panel

Last month, UN Watch reported that Saudi Arabia will chair an important panel of the United Nations Human Rights Council. First of all, yes, Saudi Arabia --one of the world's worst human rights violators-- is ON the UN Human Rights Council. And, yes, now it will CHAIR a panel that selects top officials who shape international human rights standards and report on violations worldwide.
UN Watch executive director Hillel Neuer said, "It is scandalous that the UN chose a country that has beheaded more people this year than ISIS to be head of a key human rights panel."
And though this development is indeed scandalous, judging by the dearth of media coverage of this matter, it is seemingly not newsworthy.
Other than blog posts on The Washington Post site and in Real Clear Politics and an opinion piece on The Daily Beast, there has been media silence. None of the major news outlets felt their readers and viewers should be made aware.
Just to put this in context, Saudi Arabia will be a powerful leader of the UN Human Rights Council, the same body that regularly condemns the democratic state of Israel, while the theocratic kingdom is set to behead and then crucify the body of a pro-democracy activist arrested at the age of seventeen.
Perhaps it would be too much to expect global condemnation and outrage. But at the very least, one must ask… Where's the coverage?

Posted by SC at 03:07 PM | Comments (0)
Life-Threatening Stone-Throwing Dangerously Played Down
In coverage of new policies in response an upsurge in Palestinian violence, Reuters quoted Israeli Prime Minister Benjamin Netanyahu, "The Security Cabinet unanimously adopted a series of measures within the framework of our fight against stone throwers, petrol bombs and flares."
The article goes on to say:
The Israeli human rights group B'Tselem lists 12 Palestinian minors who were shot and killed by Israeli forces during protests and clashes in the West Bank in 2014. In at least four of those incidents, Israel said the youngsters had been throwing rocks or petrol bombs, according to B'Tselem.
Beyond the well-documented mischaracterization of B'Tselem as a "human rights group," media coverage of this particular issue positions the violence as little more than children acting out, grossly underestimating the danger inherent in these violent attacks, which often include Molotov cocktails and explosive devices. While sometimes the perpetrators are the "youngsters" Reuters considers them, they are regularly teenagers and adults who are the same age, if not older, than the IDF forces attempting to stop them.
On numerous occasions, CAMERA has documented the true life-threatening nature of these attacks. Recently, one man died after he crashed his car in a desperate attempt to escape a rock-flinging crowd, a couple described the terror of being encircled by Palestinians wielding stones with the intention to kill them and their five-month old daughter, and a recently posted video reveals just one instance of Palestinian "youngsters" converging on a car and pummeling it with rocks.
צולם אתמול בירושלים , לא נגעתי

Posted by Gilad Hadari on Friday, November 7, 2014
One can imagine oneself in that car, watching as people approach and attack, knowing their goal is stoning those inside to death. Yet, the media seems to simply accept these acts as an element of Palestinian "resistance" culture.
--Rachel Frommer, CAMERA Intern
Posted by SC at 12:00 PM | Comments (0)
September 30, 2015
BDS Activist Finds Sympathetic Audience in Malaysia, Where Jews Are Hated
Anna Baltzer recently got a hero's welcome at a BDS conference in Malaysia, where anti-Semitism is rampant, child marriage is practiced and bibles are burned.
Anna Baltzer, National BDS organizer for the U.S. Campaign to End the Occupation, recently traveled to Malaysia, a nearly Jew-free country where child marriage is legal and Bibles have been burnt. According to Robert Fulford, the Malaysian government has distributed antisemitic sermons to be read in mosques, and politicians distribute copies of Henry Ford's book, The International Jew.
The so-called human rights activist went to Malaysia to promote the cause of boycotts, divestments and sanctions against the Jewish state.
Baltzer, who was introduced as a "Jewish American" was given a positive reception at the Sept. 12 event. "I'm really honored to be here," she told the audience at a pro-BDS conference organized by the anti-Israel organization Viva Palestina in Malaysia. "I've been around your country, traveling a little bit, getting to know the people, loving the food. It's been wonderful."
During her talk, Baltzer, a St. Louis resident, indicated that she found the political atmosphere in Malaysia to be more amenable to the BDS cause than the United States, where "so much of our energy is spent fighting incredible ignorance and racism that people do not understand what's happening in Palestine."
There's state-repression against pro-Palestinian activists in the U.S., Baltzer said, but "here in Malaysia, you're starting from a place where the people of Malaysia already want to support Palestine. You are way ahead in that way."
In 1994, the Malaysian government banned Schindler's List because it promoted sympathy for the Jewish people.

Continue reading "BDS Activist Finds Sympathetic Audience in Malaysia, Where Jews Are Hated"
Posted by dvz at 07:14 PM | Comments (5)
Who Are the Palestinian Mourabitat and Why is the Toronto Star Heroizing Them?
According to the Ttoronto Star blurb on a Sept. 25th article by Joshua Mitnick, the "Mourabitat" are Palestinian women who are "defending the holy site [Temple Mount] from Jewish settlers who would like to rebuild their ancient temple in place of the mosques." The headline similarly takes them at their word, heroizing them and asserting that they "show solidarity" by "defending access to the Al Aqsa mosque" while author Mitnick credulously quotes one "activist" claiming that the mourabitat are "defending the holy site from Jewish settlers who would like to rebuild their ancient temple in place of the mosques."
Perhaps the newspaper's journalists should watch the mourabitat in action in this video filmed and posted on You Tube by one of their supporters. The victims here are neither "settlers" nor are they trying to enter the Al Aqsa mosque.on the Temple Mount. They are a Hassidic father and his young sons trying to make their way to the Western Wall on the first day of the Jewish festival of Sukkot. :According to a subsequent interview with the father about his ordeal, he was not only yelled at, but spat at and physically assaulted.

So much for the bogus claims of defending Muslim holy sites from marauding Jews.
Posted by RH at 03:27 PM | Comments (0)
Analyst: Palestinian Leadership Faces "Dangerous" Generational Crisis
Palestinian Authority (PA) leadership faces a "dangerous generational crisis" according to Grant Rumley, a specialist on Palestinian and Jordanian politics at the Washington D.C.-based think tank, Foundation for Defense of Democracies. Writing in Business Insider, Rumley argues there is growing and visible discontent within the PA over the rule of President and Fatah movement head Mahmoud Abbas ("The Palestinians are facing a dangerous generational crisis," Sept. 29, 2015).
Abbas—currently in the tenth-year of a four-year term—lacks a "clear successor or a national strategy." This is apparent, Rumley argues, as Palestinian dissent and dissatisfaction increase.
Footage of PA security forces "violently clubbing" West Bank Arabs spurred protests in refugee camps and street demonstrations against both the authority and Abbas. Abbas—similar to his predecessor Yasser Arafat—increasingly has consolidated his control over the PA, Fatah and the Palestine Liberation Organization (PLO). But the PA resident now faces growing discontent with his essentially one-man rule.
As CAMERA observed recently, a Palestinian Center for Policy and Survey poll shows a majority of West Bank (Judea and Samaria) Arabs feel the PA "has become a burden on the Palestinian people and for the first time…a majority now demands the dissolution of that authority"("Poll: Majority of Palestinians Support Another Intifada," Sept. 25, 2015).
The 80-year-old Abbas also faces internal criticism over what his critics allege to be a manipulation of PLO bylaws following his announcement that he and other members of the PLO's executive committee would resign to procedurally force a meeting of the PLO's legislative body, the Palestinian National Council (PNC).
Members of Fatah's legislative body, the Revolutionary Council, have been demanding that Abbas name a successor. The council, Rumley states, "is split on both a generational and an ideological level." These divisions have been exacerbated by internal arguments over Abbas' unilateral decision to exile a potential rival, Mohammed Dahlan, the PA's former head in the Gaza Strip before Hamas seized power there. Dahlan, aged 54, is representative of a younger generation seeking power in Palestinian politics.
According to FDD's Rumley:
"The debate over Dahlan and the contest over who gets nominated for the PLO executive committee will extend into Fatah's conference in November. According to Fatah's bylaws, the group is supposed to have a conference every five years in order to hold internal elections. However, the last conference was in 2009, and since the party's founding in 1965 it has only managed five other conferences. With questions surrounding Abbas's lack of a successor, his overall strategy, and the future of the party, the upcoming conference is potentially explosive."
The PA president's seeming solution to this turmoil inside and outside his ranks?
Abbas "appears set to deflect domestic criticisms by attacking Israel at the U.N. General Assembly meeting on September 30," Rumley said. There, some observers expected him to call for annulling the Oslo accords—the very agreement with Israel responsible for establishing the Palestinian Authority ("Want to Really Help Refugees?" Tablet, Sept. 24, 2015). In his speech, Abbas did just that ("Abbas: Palestine a state under occupation, no longer bound by Oslo accords," Times of Israel, Sept. 30, 2015).
Grant Rumley's article in Business Insider can be found here. His recent FDD report ("The Race to Replace Mahmoud Abbas," Sept. 3, 2015) examining possible successors to Abbas can be found here.
Posted by SD at 09:55 AM | Comments (0)
September 29, 2015
"European Advocate for Palestinian Rights" Misleads New York Times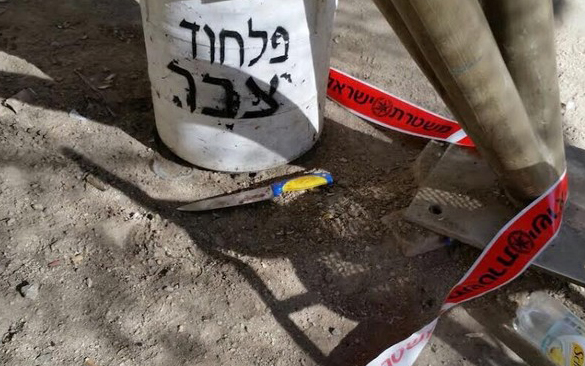 The New York Times hasn't needed much help lately skewing its reporting against Israel. Recall its recent coverage of the Israeli driver killed after his vehicle was stoned by Palestinian attackers. The Times said that the attackers, whose national background it did not specify, "pelted the road he was driving on with rocks." The road, not the car. In a follow up reference to the attack, the same reporter, Diaa Hadid, described the death as a result of an "accident."
But apparently they take help where they can get it. After a recent incident in which a Palestinian woman was shot at a checkpoint near Hebron, New York Times Hadid was able to rely on a anonymous witness described as "a European advocate for Palestinian rights" to cast doubt on Israel's contention that the woman was shot while holding a knife. According to the article's opening paragraph,
Israeli soldiers shot and killed a Palestinian woman early Tuesday at a checkpoint in Hebron in the West Bank. The Israeli military said the woman had pulled out a knife, but a European advocate for Palestinian rights, who said he had witnessed the episode, said the woman appeared to be only trying to open her purse for inspection.
Another witness quoted in the article, Fawaz Abu Aisheh, did not contradict the European witness's claim.
Israeli authorities later released a photo of the knife they say the woman, Hadeel Hashlamoun, was holding.
But Amnesty International, whose hostility toward Israel far exceeds even that of The New York Times, also spoke with Abu Aisheh. And according to the advocacy group, he said that upon being shot, the woman dropped "a knife with a brown handle that she had been holding under her niqab."
Putting aside Amnesty's predictable conclusions about excessive Israeli force — an Israeli investigation will hopefully determine whether the soldiers behaved appropriately relative to the clear danger they faced — some additional conclusions about New York Times reporting of the incident are apparent.
First, its lead witness, the European activist, was obviously wrong. Intentionally or not, he misled the newspaper, and an untold number of its readers.
Second, the newspaper did not get, or did not report, the full story from its second witness. This might be because, when questioned by The Times, he didn't want to admit what he saw, only to later decide to come clean. Or it might be because the reporter didn't do a sufficient job skeptically questioning the witness. (The only other possibilities: that that the Palestinian witness actually didn't see a knife but inexplicably decided to lie to Amnesty — extremely unlikely — or that he told the journalist about the knife and she decided not to report it — hopefully equally unlikely.)
The bottom line is that this was a journalistic failure, whether due to dishonest witnesses or other because the reporter couldn't get the essential quote that another organization managed to get. The New York Times should be concerned. And so should its readers.
Posted by GI at 03:49 PM | Comments (0)
A Tale of Two Church Fires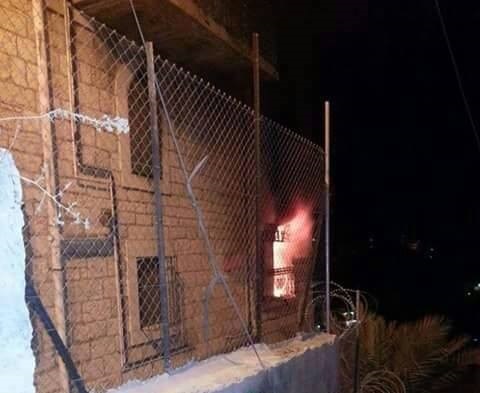 A fire at St. Charbel Monastery in Bethlehem.(Gabriel Naddaf)
The story is a familiar one. A church is set on fire and suffers extensive damage. Officials say they are investigating. The fire is an outrage, but for some reason it hasn't gotten much traction in the international media.
The fire in question took place on Sept. 26, 2015 at the St. Charbel Monastery in Bethlehem, a Maronite institution. (The Maronites are part of the Roman Catholic Church headquartered in Rome.)
Ma'an, a Palestinian news agency has published a very brief story on the fire, but for the most part, the fire has not gotten much coverage in Western media outlets. Israel National News reported that the Palestinian Authority has been "strangely silent" about the fire, and that the PA says the fire was an electrical fire.
It's an important story that calls for further coverage, but aside from an article in Asia News, which indicates that the fire was the work of Islamic fundamentalists, people interested in such things will have to go to blogs or to Facebook for more information.
On his Facebook account, Father Gabriel Naddaf, an Orthodox Priest living in Israel, issued a statement in response to the fire and the PA's silence in which he faults the PA for not condemning what he has concluded was an act of arson. "It is exactly this type of attitude by the leadership of the Palestinian Authority that encourage vandalism and terrorism against Christian sites as Palestinians extremists know that they will not be brought to justice or punished for their acts."
By way of comparison, another church fire, this one in Israel, got an extensive amount of coverage. When the Church of the Loaves and Fishes in Tagbha was set on fire in June, media outlets throughout the world covered the event.

Continue reading "A Tale of Two Church Fires"
Posted by dvz at 02:42 PM | Comments (0)
September 25, 2015
Poll: Majority of Palestinians Support Another Intifada
Fifty-seven percent of Palestinian Arabs in the West Bank and the Gaza Strip support another intifada (a violent uprising) according to a poll conducted by the Palestinian Center for Policy and Survey. Palestinian leadership planned the second, most recent intifada even before it engaged in U.S.-led peace talks with Israel at Camp David in 2000. That terror war lasted from 2000 to 2005, resulting in the deaths of more than 1,000 Israelis, mostly non-combatants and more than 2,000 Palestinian Arabs, mostly teenaged boys and young men—that is, males of military age.
The survey—conducted from Sept. 17-19, 2015—took place after Fatah (Movement for the Liberation of Palestine) head and Palestinian Authority (PA) President Mahmoud Abbas submitted his resignation to the Palestinian Liberation Organization (PLO) executive committee and called for a reconvening of the Palestinian National Council (PNC). The poll took place amid an increase in tensions and Palestinian attacks on Israelis following incitement by Abbas and PA state-run media, as CAMERA has noted ("Incitement over Temple Mount Leads to Palestinian Violence, Again," Sept. 16, 2015).
According to The Times of Israel, on Sept. 22 Abbas warned of another intifada—which he alleged Palestinian Arabs "don't want" ("Abbas warns of 'intifada risk' over Temple Mount," Sept. 22). Yet, results from this Palestinian Center survey contradict Abbas' claim.
Twenty-six percent of Palestinian respondents stated that their long-term goal should be "to conquer the state of Israel or conquer the state of Israel and kill most of the Jews." The survey polled 1,270 Palestinian Arabs, with a three percent margin of error.
Pluralities of Palestinian Arabs surveyed oppose a two-state solution, yet only 30 percent support a one-state solution in which Arabs and Israeli's "enjoy equal rights." Fifty-eight percent oppose mutual recognition of Israel as a state for Jewish people and Palestine as a second state for Palestinian people. Jordan, comprising 77 percent of the lands originally intended for the League of Nations/British Mandate for Palestine, also has a majority Palestinian Arab population.
More Palestinians polled (42 percent) feel that violence is the "most effective" means to obtain a state than non-violent resistance (24 percent) or negotiations (29 percent).
Other important trends also were highlighted in the Center's poll.
Two-thirds of West Bank Palestinians demand the resignation of Abbas from the PA and two-thirds do not believe his resignation from the PLO is real. Similar discontent with Palestinian leadership is evidenced by a decline in the popularity of Abbas' Fatah party, which has an iron grip over the Palestinian Authority in the West Bank. The Gaza Strip is ruled by Hamas (the Palestinian Islamic Resistance Movement).
Findings from the survey show that Palestinian trust in the PA is low. The Center notes "a majority believes that it [the PA] has become a burden on the Palestinian people and for the first time since we started asking, a majority now demands the dissolution of that authority."
Only 12 percent of Gazans and 31 percent of Palestinians in the West Bank evaluated their current conditions as "positive."
Perhaps related to this dissatisfaction: 79 percent of those polled perceive PA institutions to be corrupt and only 23 percent and 19 percent believe there to be press freedom in the West Bank and Gaza Strip, respectively. Thirty-one percent of West Bank Palestinians say they can criticize the PA without fear of retribution. Only 29 percent of Gazans said the same about Hamas, the U.S.-listed terror organization that has ruled Gaza since its election in 2007.
According to this survey, the individual receiving the most support to replace Abbas is Marwan Barghouti. Barghouti, the head of Fatah's Tanzim faction, is serving five life sentences plus 40 years in an Israeli prison for his role in the murders of a Greek monk in 2001 and four Israelis in 2002. He is perhaps best known for planning—in conjunction with Fatah's al-Aqsa Martyrs Brigade, a U.S.-listed terror group—over 300 terror attacks during the second intifada ("Is Fatah Moderate?" Aug. 14. 2007).
The poll by the Palestinian Center for Policy and Survey can be found here.—Sean Durns
Posted by SD at 08:51 AM | Comments (1)
September 21, 2015
English Haaretz Gets it Right on Sharon's Temple Mount Visit
In a refreshing change from an old and well-established pattern in which articles in Haaretz's English edition contain inaccurate information that doesn't appear in the Hebrew version of the very same article, today's English Op-Ed by Odeh Bisharat correctly refers to Ariel Sharon's controversial visit to the Temple Mount in 2000, while the Hebrew edition gets it wrong.
(Bisharat's apologist treatment of stone-throwing is beyond the scope of this piece.)
In English, the Op-Ed accurately describes the location of Ariel Sharon's visit to the Temple Mount plaza:
On September 29, 2000, a day after Sharon's provocative visit to the Temple Mount, the compound where the Al-Aqsa Mosque stands, seven Palestinians were killed . . .
The Hebrew edition, on the other hand, conflates the Al Aqsa Mosque, where Sharon did not visit, with the Temple Mount, also known as Noble Sanctuary, the plaza which the former prime minister did visit, and upon which Al Aqsa stands. The Hebrew incorrectly states that Sharon visited Al-Aqsa (CAMERA's translation):
On September 29, 2000, one day after Sharon's provocative to Al-Aqsa, seven Palestinians were killed. . . .
The English edition editors deserve commendation for their careful wording on a critical issue which is frequently mangled, and whose inaccurate coverage can fuel tension.
In a related matter, Haaretz editors have yet to correct, in both English and Hebrew, Amira Hass' misleading reference yesterday to "the entry of Israeli police into the Al-Aqsa Mosque" last week. In last week's incident, the Israeli police, just like Ariel Sharon in 2000, did not enter the Al-Aqsa mosque. They were on the Temple Mount, upon which the mosque stands.
The very same error has already been corrected by both The New York Times and Newsweek. CAMERA continues to urge Haaretz to likewise correct.
Posted by TS at 04:00 AM | Comments (2)
September 20, 2015
Which One of These Captions Is Not Like the Others?
Sept. 21 Update: AFP Corrects Caption: Bombed Gaza Site Was Hamas Base
Which one of these captions about destruction in the Gaza Strip yesterday resulting from an Israeli airstrike (which came after Palestinian rocket attacks on Ashkelon and Sderot) is not like the others?
The Associated Press caption states:
Palestinians look at damage caused by an Israeli airstrike on a Hamas training camp in Jabaliya, northern Gaza Strip, Saturday, Sept. 19, 2015. (AP Photo/ Khalil Hamra)
The Reuters caption states:
Palestinians look at damage at a training camp belonging to the Islamist group Hamas after it was hit by an Israeli air strike in the northern Gaza Strip September 19, 2015. Israel carried out air strikes in the Gaza Strip on Saturday after Palestinian militants there fired rockets into southern Israel. REUTERS/Mohammed Salem

From Agence France Presse:
BEIT HANUN: Palestinians look at the damage following an Israeli air strike overnight in the northern Gaza strip of Beit Hanun on September 19, 2015. Two rockets were fired into southern Israel by Palestinian militants in Gaza, causing no casualties but triggering a series of Israeli air raids. AFP PHOTO / MAHMUD HAMS
While Associated Press and Reuters responsibly note that the destruction in question was to a Hamas training camp, the influential French wire service omits that key information.
Posted by TS at 06:14 AM | Comments (0)
After International Media Corrections, Amira Hass Promotes Al Aqsa Falsehood
Days after Newsweek and The New York Times have both corrected the false claim that Israeli police last week entered the Al-Aqsa mosque, Haaretz's Amira Hass today misleads readers on the very same point. In an analysis of Mahmoud Abbas' statement that "We won't let them defile our holy places with their filthy feet," Hass writes:
The other interpretation was voice by Joint Arab List MK Ahmad Tibi: Abbas was denouncing the entry of Israeli police into the Al-Aqsa Mosque while shod, thereby desecrating the holy place and disrespecting Muslims.
Hass does not make clear to readers that while MK Tibi may have claimed that police entered the mosque, this was not the case. Indeed, the hyperlink that Haaretz provides along with the phrase "the entry of Israeli police" does not support Tibi and Abbas' claim that police entered the mosque. The hyperlink is to a Haaretz news story last week by Barak Ravid, Nir Hasson, and Jacky Khoury whose subheadline refers to Israeli forces entering the "flashpoint compound."
In addition, last week's news article, cited to supposedly support the claim that security forces entered the mosque, notes "Palestinians and Israeli police forces clashed at the Temple Mount compound," and Palestinian youth "reportedly attacked security forces from its entrance." Again, the Temple Mount compound is the plaza upon which the Al Aqsa mosque sits.
The New York Times correction about this very point appeared last Wednesday:
Likewise, Newsweek corrected:
We have contacted Haaretz editors for a correction. Stay tuned for an update.
Posted by TS at 02:43 AM | Comments (2)
September 18, 2015
Tweeting During GOP Debate, Ann Coulter Releases an Outpouring of Anti-Semitism
Conservative political pundit Ann Coulter tweeted shocking anti-Semitic comments during Wednesday night's GOP presidential debate. "How many f—ing Jews do these people think there are in the United States?" Coulter wrote, before calling out candidates who dared to mention Israel in answer to the question, "What will America look like after you are president." Her tweets echo the age-old libelous claim of surreptitious Jewish control behind the seats of government. As the debate continued, and the Republican candidates repeatedly mentioned support of Israel as a top priority of their respective platforms, Coulter tweeted that the candidates were "pandering" to their Jewish constituency and Israel.
The irony is not lost that the tweet of a regular Fox News commentator reflects the same sentiment as the Ayatollah Khamenei's, posted on his English-language Twitter handle:

Coulter's vitriolic anti-Semitic stream inspired a new hashtag #IStandWithAnn, which has been enthusiastically used by anti-Jewish, anti-Israel social media users of both high and low profile.
Though Coulter continues to attempt to explain her comments, as of this writing, she has not issued any apologies or removed the offensive tweets from her account.
--Rachel Frommer, CAMERA Intern
Posted by SC at 11:34 AM | Comments (5)
September 17, 2015
On Hamas TV, Child Wants to Become an Engineer to "Blow Up Jews"
As the school year begins in the United States and elsewhere, the "what do you want to be when you grow up?" conversation probably is occurring in thousands of classrooms, with parents and teachers encouraging children to dream of future occupations as teachers, doctors, inventors and the like. Yet, on al-Aqsa TV, a Hamas affiliate, children are encouraged to become murderers.
A clip of a Sept. 4, 2015 broadcast, translated by the Middle East Media Research Institute (MEMRI) shows several Palestinian Arab children in the Gaza Strip, being interviewed by a host for al-Aqsa TV. The children, looking no more than elementary school age, are clad in small versions of military fatigues.

The al-Aqsa host asks one child, "What do you want to be when you grow up, Muhammad?" The young boy replies that he wants to be a member of the "al-Qassam brigades"—a U.S.-listed terror group named after Sheikh Izz al din al-Qassem, a Syrian terrorist who murdered Jews and British officials in 1930's British mandate for Palestine.
Asserting that the boy's career choice is "fine," the smiling host asks another child about his aspirations. Seemingly unsatisfied with the response that the boy wants to become an "engineer," the host asks, "Why do you want to become an engineer?"
"So that I can blow up the Jews," the child responds.

Apparently relieved, the host doesn't discourage such homicidal goals, but does try to impart to the child politically correct language for murder that may be more palatable to some Western audiences. "You want to blow up the Jews? No, we want to blow up the Zionists. You mean the occupation, right? Okay, so that is why you want to become an engineer."
With prompting from the host another child then offers advice to the other children:
"Keep waging Jihad, and Allah willing, when you grow up, you will wage resistance against [murder] the Jews."
Despite being run by a U.S.-designated terrorist group Hamas, al-Aqsa TV was considered a legitimate news group as recently as two years ago by the Newseum, a Washington, D.C.-based museum that bills itself as an "interactive museum of news and journalism." The Newseum has a memorial wall that "honors fallen journalists" who died during the course of their work. As CAMERA has noted, the memorial includes deceased employees of propaganda arms of terrorist groups and dictatorial regimes such as those in Syria and Iran. Two al-Aqsa TV "journalists" are listed as well ("Newseum Discredits Itself," May 13, 2013).
Despite the Newseum's pledge to "reevalute" its standards for inclusion on the wall , over two years later it still pays tribute to fallen terrorists online. The title of journalist by extension would apparently cover the aforementioned Hamas TV host as well.
The translated clip by MEMRI can be found here.—Sean Durns
Posted by SD at 10:22 AM | Comments (0)
September 16, 2015
Newsweek's False Headline: Israeli Forces Storm Al-Aqsa
Update, 3:14 PM EST: Newsweek Corrects: Israeli Police Did Not Enter Mosque
In line with a long tradition of false media claims about Israeli leaders and troops entering the Al-Aqsa mosque, Newsweek published the following headline this week:
The accompanying article does not substantiate the headline's false claim that Israeli forces stormed the mosque. According to the article, by Jack Moore:
Israeli forces stormed Jerusalem's Al-Aqsa mosque compound as they clashed with Palestinians for the third day straight at the flashpoint site.

Dozens of Palestinians clashed with the Israeli forces around the mosque, throwing stones at police who had entered the compound and used stun grenades on protesters, according to The Times of Israel. . . .

Footage released by Al Jazeera showed Israeli riot police stormed the mosque complex on Tuesday as Palestinians throw stones towards them. Israeli police can then be seen standing on top of the roof of the Al-Aqsa compound, overlooking Jerusalem's Old City. (Emphases added.)
In other words, Moore writes, police "stormed" the mosque compound or complex, also known as the Temple Mount plaza, but did not enter the al-Aqsa Mosque itself which sits upon the plaza. Moore also cites, and links to, a Times of Israel article and Al Jazeera footage (below). Although Al Jazeera goes with the false headline ("Raw Footage: Israeli forces storm Al-Aqsa Mosque"), neither the raw footage nor the Times of Israel article supports the false headline that Israeli troops entered the mosque. The footage shows Israeli forces on the Temple Mount compound, referred to in the Newsweek article as "the mosque complex."
Police spokesman Micky Rosenfeld confirmed that Israeli police did not enter the Al-Aqsa mosque.
Stay tuned for news of a correction.
Posted by TS at 04:24 AM | Comments (0)
September 09, 2015
The New York Times Whitewashes its Complicity in Whitewashing Hitler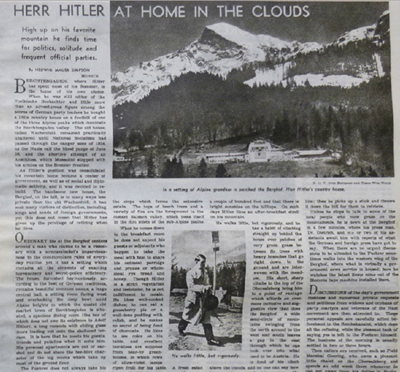 Over at our main website today, we posted an article highlighting an almost unbelievable puff piece about Adolf Hitler published in The New York Times Magazine in 1939.
That Magazine piece is perhaps the most prominent of a number of pre-war stories that, falling prey to the plan hatched by Hitler's propagandists, served to recast Hitler as a country gentleman with sophisticated tastes. Hitler's mountain home is "furnished harmoniously, according to the best of German traditions" and the Führer "is very partial to English flannels and tweeds," The Times explained. (And that's just the tip of the iceberg.)
All this is discussed in an upcoming book by University of Buffalo historian Despina Stratigakos — and in a number of recent media stories about the book release. Virtually all of those stories mention the stunning New York Times whitewash. One notable example, though, ignores the Times role in refurbishing Hitler's image. And since you've read the headline above, you know which one it is: The New York Times itself.
The newspaper reported late last month,
Before the Nazi invasion of Poland, British and American newspapers and magazines published flattering features about the interiors. The journalist and novelist William George Fitz-Gerald praised Hitler's "cozy but modest" rooms, furnished with bouquets of flowers, cactuses in majolica pots and books on "history, painting, architecture and music." Ms. Stratigakos said that her study was meant "in large part to show how dangerous those stories were."
And that's the only reference to those unnamed "newspapers and magazines." Quite a convenient omission by the New York Times

Posted by GI at 04:14 PM | Comments (2)