March 27, 2015
Kelsey Grammer Inaccurate About King Herod
Appearing on Bill O'Reilly's The O'Reilly Factor on the Fox News Channel (March 23), actor Kelsey Grammer (pictured above) promoted a forthcoming National Geographic Channel television film, "Killing Jesus," based on O'Reilly's bestseller book of the same name.
Mr. Grammer, in addition to being an accomplished actor and known to be one who genuinely cares about people, is, along with Jon Voight, among the staunchest of Israel supporters in the entertainment industry (this writer is a fan of both Grammer and Voight).
Grammer, playing the role of King Herod in the film, remarked to O'Reilly that, "I am actually a Gentile playing a Jew which is always very controversial." Instead, he would have been more accurate if he had remarked, "I am actually a Gentile playing a Gentile who played a Jew ..."
Why does this matter? Because as it is, Jews and the Jewish state receive a great deal of unfair, inaccurate bad press without viewers being misled (unintentionally or otherwise) about the New Testament villain, King Herod, the Roman client King of Judea (the territory often erroneously referred to as "first century Palestine"). Herod was not a Jew, at least certainly not in the normal sense.
According to the New Testament, Jesus was born in Bethlehem of Judea in the days of King Herod who ordered the murder of innocent children in Bethlehem. Matthew 2:16 (New King James Version): "Then Herod, when he saw that he was deceived by the wise men, was exceedingly angry; and he sent forth and put to death all the male [Jewish] children who were in Bethlehem and in all its districts, from two years old and under, according to the time which he had determined from the wise men." The wise men (Magi), from the east had traveled to Jerusalem to determine the whereabouts of the one who was born "King of the Jews." Herod, hearing of this – and hearing from priests and teachers that an eventual ruler was to be born in Bethlehem – instructed the Magi to go to Bethlehem, find the child and report back to him so that he, Herod, could worship the child (actually intending to kill him). But the Magi never returned to Herod.
Herod's original claim to being a Jew (and he generally passed himself off as one presumably for political purposes – as part of his successful currying of favor with the Roman governing bureaucracy) was based on the fact that Herod's grandfather, like many of his fellow Edomites (descendants of Esau, the firstborn son of Isaac and the twin brother of Jacob who was to become Israel), had been forcibly converted to Judaism.
Extra-biblical accounts, especially from first century CE Roman-Jewish historian Josephus, tell us of Herod's colossal building projects throughout Judea – and also of his great cruelty to his Jewish subjects and his own family. It seems that he also experienced great pain and mental and physical disorder.
So, villainous King Herod was not generally considered a Jew by Jews of his time or, for that matter, of this time. Mr. Grammer, please take notice.

Posted by MK at 06:35 PM | Comments (0)
March 26, 2015
PLO Fabricator Gets Washington Post Soapbox
In George Orwell's enduringly instructive dystopian novel, 1984, the Ministry of Truth—"war is peace," "freedom is slavery," "ignorance is strength"—functioned as the department of lies. The fictional ministry has an actual branch in the U.S. capital. It goes by the name of the Palestine Liberation Organization's Washington, D.C. delegation.
Attempting to refute the irrefutable, delegation head Maen Rashid Areikat took to The Washington Post letters to the editor section ("Palestinians seek peace and justice," March 26, 2015) to falsify facts in columnist Charles Krauthammer's indictment of Palestinian rejectionism ("No peace in our time," March 20).
Krauthammer noted that Palestinian leader Yasser Arafat rejected U.S.-Israeli offers of a West Bank and Gaza Strip state in exchange for peace in 2000 and 2001 and Mahmoud Abbas did so in 2008. Areikat claimed "there were no written offers," as if spoken proposals would not have been worth pursuing.
In fact, what came to be known as "the Clinton parameters" regarding the deals Arafat spurned at Camp David in 2000 and Taba in 2001 are well known. Likewise, Israeli Prime Minister Ehud Olmert conveyed the outlines of a "two-state solution," a map included, to Abbas in 2008—to which the latter replied, in effect, "I'll get back to you" but as Olmert wrote in a Post Op-Ed six years ago never did ("Stop Focusing on the Settlements to Achieve Peace in the Middle East," July 17, 2009).
Areikat asserted that the Palestinian side "explicitly accepted" a state in the West Bank, Gaza Strip and eastern Jerusalem on just "22 percent of historical Palestine" but Israel refused. The land originally intended for the post-World War I League of Nations' Palestine Mandate also included what is now Jordan and the Golan Heights, or more than 77 percent. Israel compromises roughly 17 percent of that territory, the West Bank and Gaza the remaining, unallocated nearly six percent. Palestinian leadership explicitly refused to agree to Israeli proposals of a West Bank and Gaza state, with its capital in eastern Jerusalem, if agreement required it to end the conflict with Israel, recognize it as a Jewish state and drop the so-called "right of return" for Palestinian Arab refugees and much-multiplied descendants.
Areikat claims that Palestinian leadership acts "responsibly" to assure rule of law in the areas it controls. That would be a surprise to democrats and other endangered species in the Gaza Strip, ruled by the terrorist Hamas (the Islamic Resistance Movement). It also would sound somewhat inaccurate to West Bank Arabs controlled by Abbas and Areikat's PA, which beats and jails critics.
The PLO's chief Washington representative objects to Krauthammer's observation that his boss, Abbas, is in the 11th year of a four-year term. According to Areikat, Abbas "called for elections three weeks before" Krauthammer's column appeared. That confirms Abbas has lacked a mandate for seven years. Calling for elections is easy, holding them—especially when one suspects, as Abbas might well, that he would lose to a challenger from Hamas or within his own Fatah movement—dangerous.
Areikat invokes Israel's "occupation" and "war-mongering" by Israel and its supporters—Krauthammer presumably among them—to explain the absence of Israeli-Palestinian peace. This when A) Israel's been out of the Gaza Strip since 2005, B) Hamas has used the Strip repeatedly as a base for terrorist bombardments of the Jewish state, C) the PA, in administering area "A" and co-administering area "B" of the West Bank with Israel has jurisdiction over more than 90 percent of the Arab population and D) what remains of Israel's post-1967 Six-Day War occupation of the disputed territories is not a violation of international law but in fact obligatory under it until peace is negotiated according to U.N. Security Council resolutions 242 and 338.
Areikat, of course, can act as his own Ministry of Propaganda to gull the gullible in promotion of "the Palestinian narrative." That's more or less his job description as head of the PLO's Washington delegation, as CAMERA has shown previously (for example, "Wall Street Journal Lets Palestinian Spokesman Deep-Six the Facts," June 13, 2012). The real question is why did The Post, which has been known to fact-check letters critical of Palestinian words and deeds, feel compelled to accommodate him?

Posted by ER at 04:21 PM | Comments (0)
The Shiite-Sunni War Expands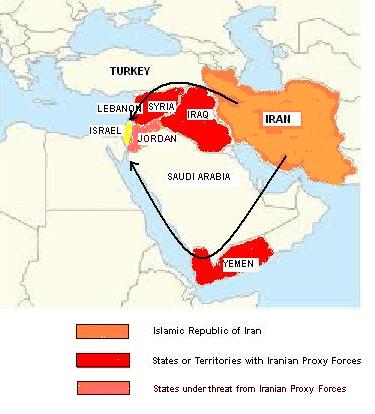 While much of the American media focuses on the Israeli elections and the fraying of U.S.- Israeli relations, the proxy war between Sunni and Shiite Muslims passed another marker on the road to a full-blown regional confrontation. Saudi Arabia has pulled together a coalition of ten Sunni Muslim regimes, including Pakistan, a non-Arab state that possesses nuclear weapons, and on March 25 initiated military action against the Iranian-backed Houthi rebels in Yemen. More than 100 Saudi aircraft reportedly conducted air strikes and Al Arabiya reports the Saudis have mobilized 150,000 troops.
Meanwhile, on March 24, a number of Middle East media sources reported the alleged comments by Iranian general, Qassem Soleimani, that Iran has the ability to control events in Jordan as it does in Lebanon and Syria. Iranian media outlets quickly denied these reports as "pure lies."
Iranian influence over Iraqi Shiite militias leading the Iraqi state's offensive against ISIS forces in the Sunni stronghold of Tikrit is widely acknowledged. The United States and other Western countries are reportedly providing air support to the Iraqi government forces (including Shiite militias) against ISIS.
So far, Turkey and Israel remain on the sidelines. But that may change as Iran and its proxies push on.
Posted by SS at 10:52 AM | Comments (0)
March 23, 2015
Reuters Botches UN Human Rights Council Story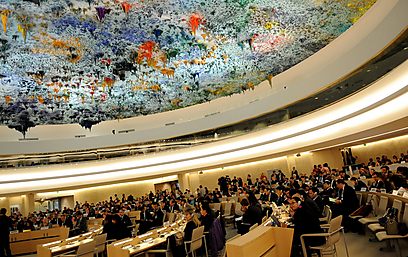 When the US representative indicated it would not take part in today's meeting United Nations Human Rights Council's semi-annual meeting on Palestine, or as UN Watch fairly describes it, Hate Israel Day, Reuters was quick to connect the dots, reporting:
The step is unprecedented at the 47-member state forum, where Washington has unfailingly defended Israel since US President Barack Obama became president in 2009.

The decision not to appear follows signals that the Obama administration is undertaking a "reassessment" of relations with the Jewish state.
The wire service, though, was a bit too quick to connect the dots. The move was not, in fact, unprecedented, nor did it portend anything bigger.
The American ambassador to the council, perhaps as a response to spin casting the US absence evidence of the threatened "reassessment," put out a statement indicating that "Our non-participation in this debate underscores our position that Item 7 lacks legitimacy, as it did last year when we also refrained from speaking." An Israeli foreign ministry source was quoted in Ynet indicating that the Jewish state requests its allies refrain from participating in the anti-Israel session.
Reuters later removed the word "unprecedented" from the language, and ultimately changed the text to note that the move was "part of a previous agreement not to speak."
"The decision not to talk since then was part of an agreement in October 2013 when Israel resumed participation in the U.N. Human Rights Council," the amended article now reads.
Reuters did not send the changes out as a "correction" even though the change was so significant that it completely reversed the premise of its initial story. In response to a question on a a Twitter discussion about the Reuters changes, one journalist suggested a correction would have been the appropriate way to go. We agree.
@GileadIni I hope so. If it had been my story, I would have pushed for a correction.

— Matt Lee (@APDiploWriter) March 24, 2015
Posted by GI at 07:45 PM | Comments (1)
March 18, 2015
Where's the Coverage? Israeli Elections Overseen by… Israeli Arab

In all the coverage of the Israeli elections, in the run-ups and the misguided projections, and in the rending of garments in the aftermath, every statement, nuance and implication has been examined, turned over, re-examined and analyzed.
Given that...
• the Palestinian Authority is greatly overdue for elections of any kind,
• Hamas' idea of elections in Gaza is throwing political opponents off roofs,
• Lebanon is now dominated by the terrorist group Hezbollah,
• Syria's rigged elections produced a victory of nearly 90% for Bashar Assad who has now butchered hundreds of thousands of his citizens,
• Iran's religious leaders select their candidates,
• Egypt's latest government took power in a military coup,
• Jordan, the Gulf States and Saudi Arabia are ruled by absolute monarchs,
• Iraq's sectarian government has produced an environment where the savage Islamic State can flourish, oppressing, enslaving and murdering thousands,
...the fact that Israel holds orderly, free and fair elections allowing citizens of all races, ethnicities, religions and political persuasions to vote, is a wonder in and of itself. But rather than celebrate this Middle Eastern miracle, the media choose to harp on any perceived flaw in the process. And there are some, since every human endeavor is flawed, so that may be fair.
That said, what the press has paid precious little attention to is the fact that the person overseeing the recent election, the Chairman of the Central Election Committee, is Supreme Court Justice Salim Joubran – an Israeli Arab.
It's quite difficult to imagine a Baha'i overseeing free and fair Iranian elections, a Yazidi overseeing Iraqi elections, or a Christian overseeing Saudi elections. Yet, an Israeli Arab oversees the Israeli elections. And in the glut of coverage over the Israeli elections, of this important fact, one must ask… Where's the coverage?
Salim Joubran, Israeli Supreme Court Justice and Central Election Committee Chariman
Posted by SC at 01:29 PM | Comments (2)
March 16, 2015
NY Times Errs on Jerusalem Arabs' Voting Rights
Diaa Hadid, The New York Times' new recruit to expand the paper's coverage of Palestinians, misleads in her article today on Israeli Arabs in the upcoming elections ("Arab Alliance Arises as Force in Israeli Elections"):
Unlike Arabs in the West Bank, Gaza Strip and East Jerusalem, Palestinian citizens of Israel have full voting rights.
Jerusalem Arabs are entitled to Israeli citizenship, which grants them full voting rights. In the last decade alone, over three thousand individuals have joined those Arabs who had already become citizens of Israel.
As The Boston Globe clarified on Feb. 4, 2003:


A Jan. 29 story on the World pages about the Israeli elections was unclear on the voting rights of Palestinians living in Jerusalem. Palestinians living there can seek Israeli citizenship and, if they obtain it, can vote in Israeli elections. If they do not become citizens, they can still vote in municipal elections.
CAMERA has contacted The Times, and a representative has responded that the error will be corrected.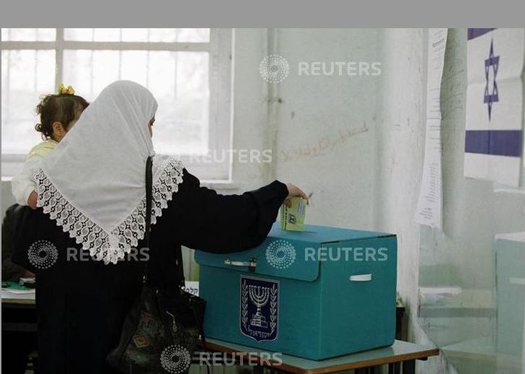 An Israeli-Arab voter drops a ballot into a ballot box during voting in East Jerusalem, February 6, 2001. Most Israeli-Arabs are expected to abstain from voting in a protest against the 13 Israeli-Arabs who were killed during the recent 'Intifada' or uprising against Israel. Ariel Sharon appeared poised for a stunning political victory over Prime Minister Ehud Barak as voters began casting ballots Tuesday in an election seen as a referendum on Israel's relationship with the Palestinians. Photo by Reuters

Update, 7:17 a.m., EST: The New York Times has issued a stealth change to the wording of its online article. The article now states:
Unlike Arabs in the West Bank, Gaza Strip and most Arab residents of East Jerusalem, Palestinian citizens of Israel have full voting rights.
There is no correction appended to the article noting the change.
March 18 Update: New York Times Corrects on Jerusalem Arabs' Voting Rights
Posted by TS at 04:43 AM | Comments (1)
March 15, 2015
Watch CAMERA Panel on UK Media, European Antisemitism
With antisemitic violence on the rise in Europe, CAMERA convened a panel discussion in Jerusalem on March 1 entitled "Framing Israel: Framing Jews: Examining the effects of UK media coverage of Israel on European antisemitism." In light of recent polling which indicates that over 80 percent of British Jews believe that biased coverage of Israel incites antisemitism, the panelists explored how UK media coverage of Israel influences attitudes towards Jews in Europe and fuels extremism.
Speakers on the panel included Professor Robert S. Wistrich, Neuberger Chair of Modern European and Jewish History at the Hebrew University Jerusalem, Head of the Vidal Sassoon International Center for the Study of Antisemitism and author of A Lethal Obsession: Antisemitism from Antiquity to the Global Jihad (2010); Lucille Cohen, former President of the Zionist Central Council and the Jewish Representative Council of Greater Manchester and representative to the Board of Deputies of British Jews; Adam Levick, managing editor of UK Media Watch (formerly CiF Watch), a CAMERA affiliate and Hadar Sela, managing editor of BBC Watch, a CAMERA affiliate.
Prof. Wistrich painted a gloomy picture for the future of the Jewish community in the UK and British society in general and warned of the prospect of a small minority of alienated young radicals undermining the stability of Jews in the UK.
Adam Levick presented examples of reports and cartoons in the British press which conveyed both overt and covert antisemitic content, with particular reference to the modern uses of the ancient antisemitic blood libel.
Hadar Sela examined what sort of standards the BBC, the world's biggest broadcaster and self-declared "standard-setter for international journalism," sets for the corporation's framing of events in Israel set.
Lucille Cohen described the reaction of the UK Jewish community to increasing antisemitism and the effects of anti-Israel bias in the media.
Moderated by Jerusalem journalist and Voice of Israel broadcaster Judy Lash-Balint, the event marked the launch of UK Media Watch, formerly CiF Watch.
Posted by TS at 07:43 AM | Comments (1)
March 11, 2015
Where's the Coverage? Israel the Best Country in the MidEast for Women

Sunday, March 8, was International Women's Day, when, according to organizers, "thousands of events are held throughout the world to inspire women and celebrate achievements."
So, it is a bit surprising, given the news media's focus on the Middle East, that there was no coverage of the fact that, according to a World Economic Forum report, Israel ranks as the best country in the Middle East for women. A Google news search turned up nearly 8.4 million stories on International Women's Day, but the press did not find this fact newsworthy.
The media did not mention that in educational attainment and health and survival, there is virtually no gender gap in Israel. They were silent on the fact that among technical and professional workers in Israel, women surpass men.
Meanwhile, how does Palestinian Authority President Mahmoud Abbas' Fatah party celebrate the achievement of women? By celebrating a female terrorist, Dalal Mughrabi, who led the Coastal Road massacre, an attack which killed 37 Israeli civilians, including 12 children, and wounded 70.
Palestinian Media Watch (PMW) reports that an image of Mughrabi with text glorifying her attack was posted by Fatah on its official Facebook page, even inflating the number of victims. PMW notes:
In 2010, the PA dedicated a square in Ramallah to Dalal Mughrabi, who led the attack, by naming it after her. That square was also chosen this year by Fatah for a public event taking place today, celebrating its killing of Israeli civilians:

"We will mark the anniversary of the heroic coastal operation (i.e., the Coastal Road massacre), which was led by Martyr (Shahida) Dalal Mughrabi, and the deaths as Martyrs of Dalal and her heroic friends, at 3:30 p.m. across from Martyr Dalal Mughrabi Square in Ramallah." [Facebook, "Fatah - The Main Page," March 10, 2015]

Palestinian Media Watch has documented that the Palestinian Authority and Fatah present Dalal Mughrabi as a role model for Palestinians, and especially for Palestinian girls, naming at least three girls' schools after her. Last year, PA TV commemorated Mughrabi by visiting one of the schools. One student said: "My life's ambition is to reach the level that the Martyr fighter Dalal Mughrabi reached."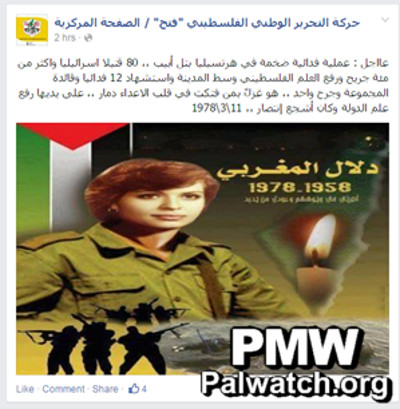 Posted text: "Urgent: A huge self-sacrificing operation (Fida'i - operation, i.e., terror attack) in Herzliya, Tel Aviv (i.e., the Coastal Road attack in 1978). 80 Israelis killed and over 100 wounded. The Palestinian flag was raised at the center of town. The commander of the cell [Dalal Mughrabi] and 12 self-sacrificing fighters (Fedayeen) died as Martyrs (Shahids), and one was wounded. She [Dalal Mughrabi] raised the flag of the [Palestinian] state, and this was the most courageous victory, March 11, 1978."
This celebration of murder also deserves media attention. And yet… Where's the coverage?

Posted by SC at 05:46 PM | Comments (0)
Will WaPo's Liz Sly Admit Error in Light of Tablet Article?
When Israeli Prime Minister Benjamin Netanyahu addressed Congress about the threat of Iran's nuclear program on March 3, 2015, Liz Sly, The Washington Post's Bureau Chief in Beirut, conveyed some misinformation to her followers on Twitter.
Sly essentially told her followers that Netanyahu told a falsehood when he attributed an antisemitic quote to Hezbollah leader Hassan Nasrallah. The quote, she indicated through a retweet and two tweets of her own, was a fabrication.
Her first foray into the controversy was a retweet of Nicolas Noe, who said the quote was fabricated in a (now corrected) article posted on his blog. In the article, Noe stated that Netanyahu used a quote from Nasrallah that was likely fabricated.
Here is the tweet Sly retweeted:
PM Netanyahu used a quote from Nasrallah that was likely fabricated http://t.co/HNwevLaEyq

— Nicholas Noe (@NoeNicholas) March 3, 2015
Continue reading "Will WaPo's Liz Sly Admit Error in Light of Tablet Article?"
Posted by dvz at 11:18 AM | Comments (1)
March 10, 2015
CNN Errs on Israel Again
During the 10 a.m. CNN news hour on March 5, 2015 in a discussion starting at 10:52 a.m. about the CNN documentary "Finding Jesus," guest Catholic priest Fr. Jim Martin, author of "Jesus, a pilgrimage," at 10:55 a.m. used the erroneous phrase "first century Palestine" in conversation with CNN's Carol Costello. Typically for CNN, Costello was either unaware of or unwilling to correct the error.
Misleading its viewers about Israel is commonplace at CNN (examples here, here, here, here and here).
The problem with the phrase "first century Palestine" is that it reinforces the false Palestinian narrative (and hence, resentment against Israel by the Palestinians and others) that the ancestors of today's Palestinian Arabs, supposedly the Philistines, preceded the Jews in the land.
The ancient Philistines warred for many years with the Israelites from their 12th century BCE home territory in what is today known as the Gaza Strip (sound familiar?). The Philistines, long gone from world history, were not Arabs. They were most closely related to the Greeks originating from Asia Minor and other Greek areas. They arrived by sea to the coastal area of Gaza adjacent to Israel. They had no physical connection whatsoever with the Arab world. The Arabs now known as "Palestinians" took that name for themselves no earlier than the 1960s. Prior to the 1960s, if Arabs in Palestine defined themselves politically or nationally, generally it was as "southern Syrians."
When and how did the land on which Jesus is said to have tread come to be known as Palestine? In the second century, the Jews fought against Roman rule for a second time. After the Romans defeated the rebellious Jews in the year 135 CE, they took away the Jewish name, Judea, and replaced it with "Palestina" (naming it for the ancient enemy of the Jews, the Philistines) to punish the Jews and to make an example of them to other peoples considering rebellion. Before that, the term "was not usually applied to Judaea, which in Roman times was still officially and commonly known by that name," as Bernard Lewis has explained ("Palestine: On the History and Geography of a Name," The International History Review, January 1, 1980). Since the name of the region was changed over a hundred years after Jesus lived there, it is obviously fallacious to refer to where Jesus lived as "first century Palestine."
As a member of the clergy, Fr. Martin must be aware of multiple verses in the New Testament that identify the place where Jesus lived as Judea. The Bible version commonly used by the American Catholic Church is the New Revised Standard Version Catholic Edition (NRSVCE). Examples from this version show that "first century Palestine" is an erroneous phrase:
• Luke 1:5: "... King Herod of Judea ..."
• Luke 2:4: "Joseph also went from the town of Nazareth in Galilee to Judea, to the city of David called Bethlehem ..."
• Luke 3:1: "...Pontius Pilate was governor of Judea ..."
Furthermore, The name "Palestine" (or any of its variants) is nowhere to be found in the New Testament.
Posted by MK at 12:37 PM | Comments (0)
Petraeus: "We Cannot Allow Them to Be on the Brink of Having a Nuclear Weapon"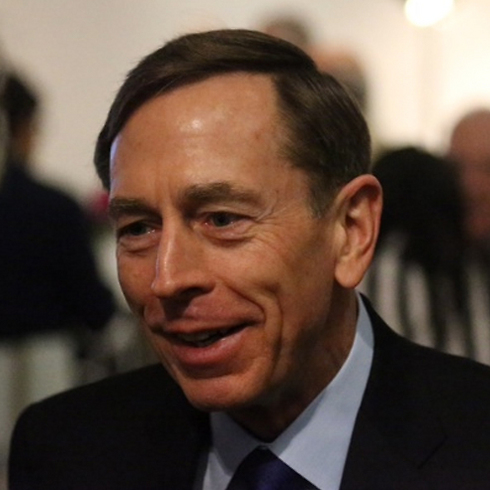 In a far-reaching interview with Ronen Bergman, correspondent for Ynet (the on-line version of the Israeli newspaper Yedioth Ahranoth), General David Petraeus expresses broad concern with where the Middle East is headed.
On the question of whether it is acceptable for Iran to be "a few turns of the screwdriver" away from having a nuclear bomb, Petraeus stated,
...based on everything we know and see about the Iranian government, we cannot allow them to be on the brink of having a nuclear weapon. For all intents and purposes, that is a distinction without a difference, including with respect to its implications for regional proliferation.
The architect of the "surge" in Iraq and former head of the CIA in the Obama administration, Petraeus agrees with the hard-line taken by Israeli Prime Minister Benjamin Netanyahu on what has to happen to the Iranian nuclear program. He asserts, "To my mind, a 'good deal' needs to bolt the door on the Iranians getting a nuclear weapon. In this respect, certainly large swaths of the program need to be dismantled or at least altered." However, he has one significant difference with Netanyahu in his assessment of the current proposed deal between the United States and Iran. According to Petraeus,
Despite the willingness of the Obama administration to meet the Iranians more than halfway, I think the prospects for a breakthrough are still less than 50-50...Ultimately, I have my doubts whether the Supreme Leader will ever agree to roll back components of the nuclear program – which is what any deal would require, even one assessed as favorable to the Iranians – and agree to accept that sanctions relief will be gradual and not immediate. But we shall see.
While lauding the "notable successes" the United States has had in the war against Al Qaeda, Petraeus remains worried about the overall situation in the Middle East. He notes,
At the same time, the adversary we face is resilient, adaptive, and determined. As core al-Qaeda has been degraded, we have seen the rise of affiliates in places like Yemen and Africa, and of offshoots like Islamic State – some of which have the potential to eclipse core al-Qaeda in their lethality.
Petraeus is not restrained in identifying the core problem.
Above all, we need to recognize that we are not just battling a monolithic organization – an entity that can be degraded and eventually destroyed – but also an ideology. It is this ideology of violent Islamist extremism that animates the followers of al-Qaeda and Islamic State, and that ultimately needs to be discredited and discarded in order for us to be successful in this conflict.
Posted by SS at 10:21 AM | Comments (0)
March 04, 2015
Politics Make Strange Bedfellows
Amidst the political storm surrounding Bibi's rousing address to the U.S. Congress yesterday, support for Prime Minister Netanyahu's remarks has come from unexpected circles.
In an Op-Ed entitled "President Obama, listen to Netanyahu on Iran," Al-Arabiya's English-language website editor, Faisal J. Abbas expressed support for Netanyahu's address to Congress:
In just a few words, Mr. Netanyahu managed to accurately summarize a clear and present danger, not just to Israel (which obviously is his concern), but to other U.S. allies in the region. What is absurd, however, is that despite this being perhaps the only thing that brings together Arabs and Israelis (as it threatens them all), the only stakeholder that seems not to realize the danger of the situation is President Obama, who is now infamous for being the latest pen-pal of the Supreme Leader of the World's biggest terrorist regime: Ayottallah Ali Khamenei (Although, the latter never seems to write back!)
Abbas is not the only Arab journalist applauding Netanyahu. A day earlier, Saudi columnist Ahmad Al-Faraj expressed similar sentiments in the Saudi daily Al-Jazirah. The column, translated by MEMRI, informed readers:
...President Obama and his administration are clearly furious. Not because Netanyahu is intervening in an important matter that Obama hopes will bring him personal glory, but because House Speaker [John Boehner] did not consult with Obama before inviting Netanyahu, and Obama considers this a breach of established protocol....the tension has never before reached this level, as reflected in statements by National Security Advisor Susan Rice, who said that Netanyahu's conduct was unacceptable and even destructive...

...Since Obama is the godfather of the prefabricated revolutions in the Arab world, and since he is the ally of political Islam, [which is] the caring mother of [all] the terrorist organizations, and since he is working to sign an agreement with Iran that will come at the expense of the U.S.'s longtime allies in the Gulf, I am very glad of Netanyahu's firm stance and [his decision] to speak against the nuclear agreement at the American Congress despite the Obama administration's anger and fury. I believe that Netanyahu's conduct will serve our interests, the people of the Gulf, much more than the foolish behavior of one of the worst American presidents.
Posted by RH at 12:04 PM | Comments (3)
AFP Rewrites Netanyahu's Speech
Netanyahu called for a "better" deal in Congress yesterday. AFP falsely claims he called for an end to talks (Photo by Amos Ben Gershom/GPO)
Days after the Gaza flooding fiasco, Agence France Presse trips up badly again in its Israel coverage.
This time, AFP flubs Prime Minister Benjamin Netanyahu's speech yesterday in Congress. An article about continuing negotiations between US Secretary of State John Kerry and Iranian Foreign Minister Javad Zarif, filed today in Switzerland, begins ("Kerry, Iran FM in new nuclear talks"):
The US and Iran ignored a passionate plea from the Israeli prime minister to ditch their nuclear negotiations. . . .
Further down, the article reiterates:
In a dramatic speech to the US Congress on Tuesday, Israeli Prime Minister Benjamin Netanyahu called on the US administration to halt the talks . . . .
In fact, Netanyahu did not urge the sides to halt or ditch their talks. Rather, he urged the US to abandon this particular "bad deal" in favor of a "better deal."
In his speech, he indicated what this better deal, which he supports, would look like:
Now we're being told that the only alternative to this bad deal is war. That's just not true. The alternative to this bad deal is a much better deal: a better deal that doesn't leave Iran with a vast nuclear infrastructure and such a short breakout time; a better deal that keeps the restrictions on Iran's nuclear program in place until Iran's aggression ends; a better deal that won't give Iran an easy path to the bomb; a better deal that Israel and its neighbors may not like, but with which we could live, literally. And no country has a greater stake -- no country has a greater stake than Israel in a good deal that peacefully removes this threat. . .

History has placed us at a fateful crossroads. We must now choose between two paths. One path leads to a bad deal that will at best curtail Iran's nuclear ambitions for a while, but it will inexorably lead to a nuclear-armed Iran whose unbridled aggression will inevitably lead to war. The second path, however difficult, could lead to a much better deal, that would prevent a nuclear-armed Iran, a nuclearized Middle East and the horrific consequences of both to all of humanity.

You don't have to read Robert Frost to know. You have to live to know that the difficult path is usually the one less traveled, but it will make all the difference for the future of my country, the security of the Middle East and the peace of the world, the peace we all desire.
Where exactly in his speech does AFP see him calling for an end to talks?


Furthermore, as reported today by AFP's own Jerusalem bureau, Netanyahu again today, upon arriving back in Israel, called for the P5+1 to negotiate a different deal which would condition the lifting of restrictions to the end of Iranian "aggression" ("Netanyahu rejects Obama criticism of Iran speech"):
"I also called on the P5+1 (world powers negotiating a nuclear deal with Iran) to insist on a deal that would link the lifting of those restrictions to Iran's ceasing its sponsorship of terrorism around the world, its aggression against its neighbours and its calls for Israel's destruction," he said on his return to Israel.
March 8 Update: After CAMERA contacted AFP on March 4 about the false claim that Netanyahu had called for an end to talks with Iran, subsequent articles dropped the erroneous wording. The later articles instead reported:
Posted by TS at 07:41 AM | Comments (3)
Haaretz Headlines, From Rock-Throwing 'Incidents' to Water-Pouring 'Attacks'
When a Haaretz English edition page-one headline last month referred to the rock-throwing attack which left a toddler permanently, gravely disabled as a "stone-throwing incident," Jerusalem Post Op-Ed editor Seth Frantzman tweeted: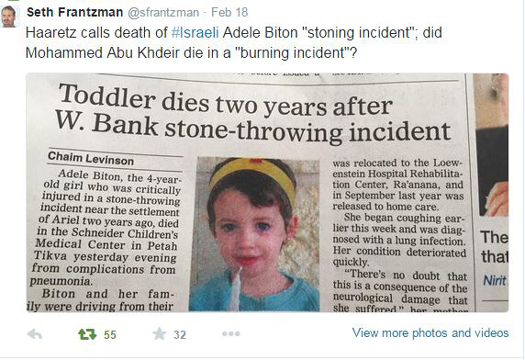 The online headline for the same article was: "Toddler dies two years after stone-throwing incident left her critically injured." (Only the subheadline online refers to the "attack which also left her mother and two sisters wounded." Emphasis added.)

The article itself also adopts the term "incident" to describe the attack which left Adele Biton permanently wounded and which apparently led to her death. It began: "Adele Biton, the 4-year-old who was critically injured in a stone-throwing incident . . ."
Frantzman's criticism is particularly relevant again in light of the front-page headline in Haaretz's English edition today about an event yesterday in which right-wing protesters dumped a cup of water on the head of MK Haneen Zoabi. The headline is: "MK Haneen Zoabi attacked by right-wingers at political panel." (Emphasis added.)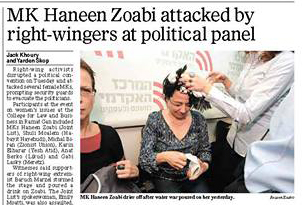 Likewise, the online headline is "MK Haneen Zoabi attacked at political panel." (Emphasis added.)

Regarding the incident targeting MK Zoabi, the article explained: "Witnesses said supporters of right-wing extremist Baruch Marzel stormed the stage and poured a drink on Zoabi." (The photo caption refers to the drink as water.)
Why is dumping water on someone's head, an act which did not cause any bodily harm, described as an "attack," but the hurling of rocks at a vehicle, which left a little girl permanently, seriously disabled labeled an "incident"?
Continue reading "Haaretz Headlines, From Rock-Throwing 'Incidents' to Water-Pouring 'Attacks'"
Posted by TS at 03:27 AM | Comments (0)
March 03, 2015
Things to Know About USA Today's "Things to Know" on Iran Talks

There are two important things to know about USA Today's "5 things to know about the U.S.-Iran nuclear talks."
1) The Feb. 28 article, by Oren Dorell, understates the number of Iranian centrifuges to which the Obama administration has agreed. The piece errs:
The U.S. wants the current number of machine -- 19,000 with 10,000 running -- reduced to under 5,000.
In fact, it has been widely reported that the U.S. is willing to accept up to 6,000 Iranian centrifuges.

For instance, The Los Angeles Times reported:
The Obama administration has agreed to allow to operate 6,000 centrifuges to enrich uranium, up from a proposed ceiling of 4,000 reported two weeks ago, as part of negotiations for a nuclear deal, according to a website approved by the Iranian government.
Eugene Robinson, who is in favor of the deal, wrote in The Washington Post last week:
Negotiators are reportedly headed toward a deal in which Iran would keep around 6,000 relatively inefficient enrichment centrifuges, limit stockpiles of potentially fissile materials and submit all its nuclear facilities to rigorous inspection.
Likewise, David Ignatius wrote, also in The Post: "The deal taking shape would likely allow Iran about 6,000 IR-1 centrifuges at Natanz."
Also, Ignatius reported in The Post on Feb. 16:
The decision to reduce the exchange of sensitive information about the Iran talks was prompted by concerns that Netanyahu's office has given Israeli journalists sensitive details of the U.S. position, including a U.S. offer to allow Iran to enrich uranium with 6,500 or more centrifuges as part of a final deal.
In addition, Rep. Ted Deutch, a ranking member of the Middle East subcommittee, said in a Feb. 25 House Committee on Foreign Affairs:
So the frustration that some have -- and when you look at a deal that may ultimately include as many as 6,000 or 7,000 centrifuges, is trying to understand why Iran would need that many since currently there is one reactor . . .
In a CNN interview with President Obama on Feb. 1, Fareed Zakaria stated:
But if you listen to what people are saying in Congress about the prospective deal. I think everyone knows where it is, somewhere in the range of 5,000 to 6,000 centrifuges, it seems almost any deal you're going to bring to this Republican Senate, they are not going to go for.
2) In a second error, the article doubled the number of years that the Obama administration has said the agreement should last, erring: "Iran has said the agreement should last fewer than 10 years, while the Obama administration has said 20."
In fact, the Obama administration has agreed to a deal which would last just 10 years. About its interview with the President yesterday, Reuters confirmed:
Iran must commit to a verifiable freeze of at least 10 years on sensitive nuclear activity for a landmark atomic deal to be reached, but the odds are still against sealing a final agreement, U.S. President Barack Obama told Reuters on Monday ("Exclusive: Obama says Iran must halt key nuclear work for at least a decade").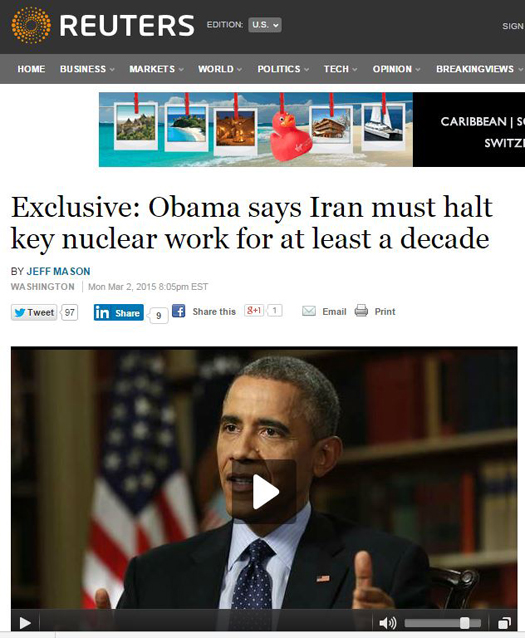 This information was available also before Dorell's Feb. 28 report.

The AP reported on Feb. 26:
Netanyahu hopes his speech will strengthen opposition to a potential nuclear deal with Iran, President Barack Obama's signature foreign policy objective. U.S. and Iranian officials reported progress in negotiations this week on a deal that would clamp down on Tehran's nuclear activities for at least 10 years but then slowly ease restrictions.
CAMERA has contacted editors to request corrections. Stay tuned for an update.
Posted by TS at 07:43 AM | Comments (0)
February 24, 2015
Moderate Rouhani or 'Moderate' Rouhani? News or Opinion?
Is Iranian President Hassan Rouhani a moderate, or a "moderate"? In The Washington Post, he can be either, and within 24 hours. It depends on whether one is reading the news or opinion pages.
In the Feb. 9, 2015 print edition, under the headline "Kerry rules out extending Iran nuclear talks without an outline of deal soon; 'Fundamental decisions' have to be made in coming weeks, he says," Post diplomatic correspondent Carol Morello wrote:
"The nuclear talks, which began a decade ago with Iran and were revived after Hassan Rouhani, a moderate [emphasis added], was elected president in 2013, have been the subject of much concern."
But in the next day's editorial, "The message of Iran's actions; The country's foreign minister hopes a jailed Post reporter is 'cleared,' but his words aren't enough" the newspaper said:
"Some analysts of Iran have speculated that the persecution of Mr. [Jacob] Rezaian [Post Tehran bureau chief] is an attempt by 'hard-liners' and their allies in the judiciary to undermine the 'moderate' [single quotation marks in original, italics added] government of President Hassan Rouhani and the nuclear negotiations being conducted by Mr. [Mohammad] Zarif [Iran's foreign minister]."
Looking at the case of its imprisoned reporter in the framework of Western negotiations with Iran about its presumptive nuclear weapons program, the newspaper wasn't certain "whether there is a power struggle in Tehran or not …"
However, one can be pretty sure Rouhani is no moderate in Western political terms. CAMERA pointed out soon after his election ("Hassan Rouhani—The Extremists' 'Moderate'," June 21, 2013) that Rouhani has a career-long record as a loyal and sometimes deceptive, brutal servant of the Islamic Revolutionary Republic's messianic founder, Ayatollah Ruhollah Khomeini and his successor as supreme leader—Iran's ultimate decision-maker—Ayatollah Ali Khamenei. That record includes apparently presiding over authorization of deadly terrorist attacks on Americans and Argentine Jews.
Rouhani, like the similarly misidentified "moderate" Mahmoud Abbas, head of the Palestinian Authority, Fatah and the Palestine Liberation Organization, appears to be a pragmatist instead. That is, in each case, someone willing to use limited, "moderated" tactics in pursuit of broad, extremist strategies. (See, for example, CAMERA's "Those Intransigent 'Moderates' of Fatah," May 6, 2014, in particular the last five paragraphs.)
In spite of Rouhani's record and The Post editorial page's doubts, Rouhani the unsubstantiated moderate reappeared in the paper's news coverage on February 19. A one-paragraph news brief, "Iran schedules 2016 parliamentary elections," said, "the vote will be a key test for moderate [emphasis added] President Hassan Rouhani, who is looking for his allies to win the majority."
The possibility that two factions of Islamic revolutionaries, one that speaks softly and the other that shouts, struggle for power under the gaze of Iran's top revolutionary, Ayatollah Khamenei, seems too subtle for the news pages.

Posted by ER at 05:01 PM | Comments (0)
Palestinian Propagandists Elicit Hate With Lies
Earlier today a number of news outlets fell for an atrocity story that blamed Israel for flooding in the Gaza Strip. The most notable outlet that fell for the story is AFP.
CAMERA contacted AFP to tell the organization that the story they broadcasted was false. In response AFP and a number of other news outlets pulled the videos of the flooding falsely blamed on Israel from their websites.
But the damage was done as was evidenced by a number of comments on a Facebook page showing a video of a flood that was falsely blamed on Israel.
Below are three screenshots of the comments that people posted in response to the false propaganda story. Some of the comments are downright antisemitic.

Continue reading "Palestinian Propagandists Elicit Hate With Lies"
Posted by dvz at 03:24 PM | Comments (0)
Where's the Coverage? Half the "Journalists" Killed in Gaza Conflict Were Actually Terrorists

A recent CAMERA article, "The Associated Press Demonstrates Its Bias Against Israel," demonstrates how the media manipulate casualty figures from the summer's Gaza conflict to unfairly indict Israel. On the other hand, when real information on Gaza casualties casts a negative light on Hamas, the press ignores it.
The Meir Amit Intelligence and Terrorism Information Center has done a study of the seventeen names provided by the Palestinian Journalists Syndicate purported to be journalists killed in Operation Protective Edge. The list was published by the Palestinian Authority's Wafa News Agency, which received it from the Hamas-controlled Gaza office of the ministry of information.
The Jerusalem Post reports:
"The study, not yet complete, found that eight out of the 17 names were operatives who belonged to Hamas and Islamic Jihad, or who worked in Hamas media outlets," the report, published Thursday, stated.

[…]

Dr. Reuven Erlich, head of the Intelligence and Terrorism Information Center, compared the operatives to Islamic State cameramen who film the beheadings of hostages.

"To call them journalists is completely absurd. The fact that there are those in the world who bought into these lies is scandalous," Erlich stated.
The fact that the casualty numbers are manipulated in every possible way to make Israel look like it is targeting civilians and journalists is indeed scandalous. And the fact that when the truth is exposed, the media neglect to report it, is journalistic malpractice. So, knowing that nearly half of the "journalists" killed were instead terrorists… Where's the coverage?

Posted by SC at 02:59 PM | Comments (0)
USA Today Re-Scoops Jerusalem Mayor's Heroics
The Washington Post reported it first, in a one-paragraph wire service news brief. The New York Times followed the next day with one sentence at the end of an online Israeli-Palestinian wrap-up that led with a fatal shooting by Israeli troops of a Palestinian man. That left the big front page color photograph and large caption, "Jerusalem Mayor Hailed As Hero; Jerusalem mayor Nir Barkat gestures as if firing a gun as he talks with Avraham Goldschmidt, 27, the victim of a stabbing attack. Barkat and his security team helped subdue the attacker" to USA Today.
Under "Jerusalem mayor wrestles Palestinian attacker in street," set in the smallest headline type it uses, The Washington Post's February 23, 2015 item read, in its entirety:
"The mayor of Jerusalem said he and his bodyguard apprehended a Palestinian who stabbed an Israeli near city hall. Nir Barkat said he was riding in his car when his entourage spotted a 'terrorist' with a knife. He said he and his bodyguard leaped from the car, the bodyguard drew a weapon, and they held the man until police arrived. He said the Israeli who was stabbed was 'lightly injured.'"
USA Today, by contrast, used its large front-page display to tease to a February 24 article on page A-3 headlined "Jerusalem mayor praised as hero; Barkat helps stop man with knife" by correspondents Michele Chabin and Jane Onyanga-Omara. The lead paragraphs said, "Mayor Nir Barkat earned plaudits Monday—and won comparisons to a superhero—for his courage in helping apprehend a man who stabbed and wounded an Israeli in the street.
"Video footage showed Barkat, 55, and his bodyguard wrestling the attacker to the ground in Tzahal Square on Sunday, then helping the victim, an ultra-Orthodox Jewish man in his 20s. The attack was near the Old City, a major tourist destination."
Among other things, the USA Today article said "it's not the first time Barkat, who has been mayor since 2008, helped victims of a terror attack in Jerusalem. Eleven years ago, he helped evacuate people from a bus targeted by terrorists, giving first aid and saving a woman's life, The Jerusalem Post reported."
Barkat also said " 'terror will not frighten us. When you look at the statistics, Jerusalem is one of the safest places in the world, safer than New York, London, [or] Paris.' "
Kudos to USA Today and a query for The Washington Post and New York Times: If an important Palestinian official and his bodyguard helped apprehend an Israeli terrorist who had just stabbed an Arab, would you have covered it the same way?
Posted by ER at 02:20 PM | Comments (0)
February 20, 2015
Alarmed By Domestic Jihadis, Der Spiegel Piece Reconsiders Israel's "Wall"
As Europe is waking up to homegrown jihadi terrorism, some are reconsidering their criticism of Israel for the measures the Jewish state took in combatting Palestinian terrorism. An opinion piece in Germany's Der Spiegel recalls that
Israel is the first democracy to have extensive experience with Islamist terrorism. Before recent attacks on our own soil, Europeans loved nothing better than scorning the Jewish state's efforts to address terror. In the future, we may need to turn to the Israelis for advice.
Author Jan Fleischhauer observes,
The new Greek finance minister once called the West Bank security fence, built by Israel to protect its people from terrorist attacks, a "concrete monster." The barrier is always a key issue when critics of the Jewish state launch into their tirades.
The jump from "outrage over the wall to sympathy for terrorism is a small one," according to Fleischhauer. He recalls,
In 2005, left-wing superstar Giannis Varoufakis said we shouldn't be surprised when Palestinians strap on explosives belts. It's the kind of thing people say whose only experience with terror are occasional blowups with the spouse at home.
But times have changed, and at least some in Europe are taking a second look at how Israel dealt with Palestinian terrorists infiltrating into Israel and slaughtering its civilians. Fleischhauer writes,
In the two years prior to the erection of the controversial border installations, Israeli authorities counted 89 attacks, with 305 deaths and 4,942 injuries -- a significant number for a country with a population of just over 8 million. The number of casualties only began to fall after the construction of the wall. It's a success story that has never been viewed as such outside of the embattled country itself.
It's too soon to say whether Fleischhauer's exposure of the lifesaving successes of Israeli measures against terrorism, rather than the usual condemnation of "the Wall" that characterizes much of the discourse among influential elements of the media in Europe, will catch on. But at least it's a start.
Posted by SS at 12:39 PM | Comments (0)