January 18, 2017
UKMW Prompts Correction to SKY News Claim on US View of Settlements
On January 15, 2017, Sky News ran a segment titled 'Two-state solution under Trump', focusing on concerns that Israeli settlement construction and the president-elect's pledge to move the US embassy from Tel Aviv to Jerusalem could "spell the end of the two-state solution".
At roughly the two-minute mark of the roughly five-minute segment, the presenter, Sky News Middle East correspondent Alex Rossi, asserts – in an effort to contextualise construction across the green line – that the US views the settlements as "illegal".  
This claim is not accurate.
The US position since the early 80s has been that settlements are "illegitimate", not "illegal". Most notably, in September, Associated Press (AP) issued a correction (following communication with CAMERA's Jerusalem office).
UKMW alerted Sky to the error in the following tweets – which we followed up with an email to the network.
Earlier today, UKMW heard back from Sky producers that they upheld the complaint and thanked UKMW for bringing the information to their attention – particularly the AP correction.  Sky deleted the video in question, and re-published it without the false information on the US view of settlements. Sky also revised the accompanying online article, and deleted the Tweets and Facebook posts linking to the original video.
The full report on the correction can be read at:
https://ukmediawatch.org/2017/01/16/ukmw-prompts-correction-to-sky-news-claim-on-us-view-of-settlements/
Posted by SS at 02:56 PM | Comments (0)
January 16, 2017
If Hamas Assaults a Journalist, Does it Even Make the News?

On. Jan. 12, 2017, Hamas, the U.S.-designated terror group that rules the Gaza Strip, assaulted an Agence France-Press (AFP) photographer and detained—at gunpoint—an Associated Press journalist. Western media outlets largely ignored the violence against members of the press.
The unidentified photographer and journalist were covering a protest in which "thousands" of Palestinians "took to the streets…to protest chronic power cuts in the Hamas-ruled Gaza Strip," the AP reported ("In Rare Demonstration, Thousands Protest Power Cuts in Gaza," Jan. 12, 2017).
Hamas blocked journalists attempting to cover the event and the AP journalist "was briefly detained at gunpoint until he handed over his mobile phones to plainclothes security men."
The Foreign Press Association, which represents international media, reported that an AFP photographer was severely beaten in the head by Hamas members after he refused to hand over his camera.
Iyad Bozom, a Hamas spokesperson, denied that that the assault happened and that a journalist had been detained at gunpoint.
In its statement on the incident, the FPA said it "condemns this violent behavior in the strongest terms, and finds it especially shocking in light of verbal promises we have received from the Hamas officials to respect the freedom of the press. We hope that Hamas will properly investigate this incident and provide an explanation and apology for this unacceptable behavior by their forces."
As CAMERA has frequently noted, Hamas is a violent terror group—and similar to its rival Fatah that rules the West Bank—it has a long history of lying and intimidating and manipulating press outlets.
What is shocking isn't that Hamas—in a despicable act—attacked members of the press, but how little press coverage the assault received. The AP, for instance, expended three sentences on this incident. Curiously, in their report on the protests, The New York Times failed to mention the attack ("With Electricity in Short Supply, 10,000 Protest in Gaza, Defying Hamas," Jan. 13, 2017).
Other major U.S. news outlets, such as The Washington Post, USA Today and The Baltimore Sun, failed to provide their own reports on either the protests or the assault on the journalists. The Post, for example, merely carried an AP dispatch and only online. It's hard to fathom a similar lack of coverage had Israeli officials assaulted a journalist or thousands of people protested in Israel.

Continue reading " If Hamas Assaults a Journalist, Does it Even Make the News?"
Posted by SD at 04:21 PM | Comments (0)
January 12, 2017
Politico's Misleading Poll on Israeli-Palestinian Conflict

A Dec. 28-29 national tracking poll of American public opinion by Politico asked misleading questions about the Israeli-Palestinian Conflict.
The survey by Morning Consult and Politico asked multiple more than 60 questions, the vast majority of which had nothing to do with the Middle East, Israel or terrorism. However, two poll questions sought to ascertain the sentiment of respondents on UNSC Res. 2334, which deemed Israeli settlements in the West Bank illegal. The resolution was passed under Chapter 6 of the U.N. Charter and is thus considered advisory; it does not create any binding obligations and its passage does not make settlements "illegal ("Res. 2334: Game Changer or Not?" CAMERA, Dec. 24, 2016)." \
Poll question 13 asked, "How much have you seen, read or heard about a recent United Nation's resolution regarding Israel settlements in certain territories, including the Palestinian territory and West Jerusalem?"
In fact, there are no Israeli "settlements"—Jewish communities—in "West Jerusalem." West Jerusalem has been under Israeli sovereignty since the Jewish state was proclaimed in 1948. The poll evidently meant "East Jerusalem" which Israel captured in the 1967 war.
Similarly, question 14 asked respondents what they thought about "Israel's creation of settlements for Jewish people in territories such as West Bank and Gaza…."
But Israel has no settlements in the Gaza Strip, which is ruled by Hamas, a U.S.-designated terrorist group whose charter calls for a Jewish genocide. In fact, in the absence of negotiations with the Palestinian Authority (PA), Israel unilaterally withdrew from Gaza in 2005.
Commendably, Politico issued a correction on January 5 that noted the two errors above. However, the conclusions of the poll had already been broadcast. For example, The Times of Israel ran a January 4 story citing the poll's conclusions, entitled "More Americans support UN resolution on Israel than oppose it." That article highlighted that "while 35% or respondents back the anti-settlements Security Council resolution and 26% reject it, a plurality of 36% holds no opinion." But given the inaccurate wording of the poll's questions, it's fair to question its results.
Moreover, it's worth asking how such factually flawed questions managed to be included in a survey conducted by a leading, major publication in the first place.
Posted by SD at 04:34 PM | Comments (0)
Iran Planned Terror Attacks Against German Pro-Israel Advocates
Ayatollah Ali Khamenei, the Supreme Ruler of Iran

The Islamic Republic of Iran planned to assassinate a German pro-Israel advocate, according to The Jerusalem Post("Iran planned terror attacks against Israel advocates in Germany," Jan. 7, 2017).
Journalist Benjamin Weinthal, citing German media reports, noted that German federal prosecutors indicted a 31-year-old Pakistani named Syed Mustafa on Jan. 2, 2017 for espionage. Mustafa, a German Aerospace Center employee, is accused of working for Iran's Revolutionary Guard Corps.
Tehran reportedly paid Mustafa to gather information on the former president of the German-Israel Friendship Society, Reinhold Robbe. West German Broadcasting (WDR) reported, "Iran's intelligence agency's goal was to assassinate." Mustafa created a "movement profile" of Robbe and collected information on the headquarters of the German-Israeli Friendship Society. German authorities called these activities a "clear indication of an assassination attempt."
In addition to his work on behalf of the German-Israel Friendship Society, Robbe is also a former German Social Democratic Party deputy and parliamentary commissioner for the country's armed forces.
The Jerusalem Post noted:
"The indictment states Mustafa had been in contact with a person from Iran's intelligence agency responsible for espionage in Europe since 2011. German media said Mustafa's espionage activity was part of a larger Iranian operation to target pro-Israel groups in France, Germany and other European countries."
Mustafa is also accused of spying on a French-Israeli professor at a business college in Paris.
In addition to Mustafa, another Pakistani suspect was arrested. The unnamed individual was later released due to insufficient evidence—but only after he reportedly scrubbed his computer server of possibly incriminating information.
WDR reported that one theory for Iran's targeting of European pro-Israel groups is a desire to retaliate in the event of an Israeli strike against Tehran's nuclear facilities.
As Weinthal highlighted, "Tehran's targeting of a German politician is the first reported case of an Iranian intelligence operation working to assassinate a government representative in the Federal Republic."
It is, however, a sign of Iran's increasingly active intelligence operations on European soil. Weinthal noted, "Iran has a vast espionage network in the country [Germany] which coordinates with its embassy in Berlin." In July 2016, a 32-year old man was sentenced to two-and-a-half years in prison for spying on Iranian dissidents in Germany.
Iran assassinated Iranian dissidents in Germany and Austria in the early 1990s and late 1980s, as CAMERA has noted (see, for example "Iranian Agent Hides in Washington Post as U.S. Prof," Sept. 8, 2015). Many of those attacks were both planned out of Iran's Berlin embassy.
Henry Kissinger, the former U.S. Secretary of State, once argued that the Islamic Republic has to decide, "Whether it is a nation or a cause." If Kissinger's dictum is true, Iran's decision seems clear.
Posted by SD at 01:59 PM | Comments (0)
January 09, 2017
Modern Languages Association Votes Down BDS Resolution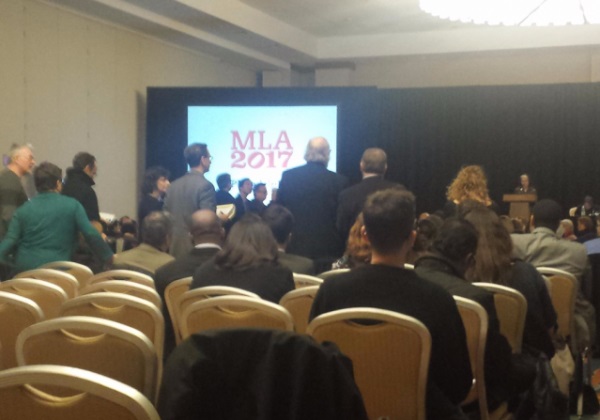 On January 5, 2017, The Modern Languages Association (MLA) has voted down a resolution calling for a boycott of Israeli academic institutions. The vote was 113 against the resolution and 79 in favor (59-41 percent margin). Moreover an anti-boycott resolution passed, with 101 voting in favor to 93 opposed. This is the second defeat of pro-boycott resolutions by academic associations notable for their leftward political orientation. Last spring the American Anthropological Association also voted down a boycott resolution.
The MLA was founded in 1883. It claims 25,000 members in over 100 countries. It "promotes the study and teaching of languages and literatures through its programs, publications, annual convention, and advocacy work."
An anonymous delegate at the MLA convention described the scene of the vote,
For the other 99% of conference attendees, on the other hand, the MLA was business as usual. The bar in the lobby of the Philadelphia Downtown Marriott was constantly packed, the atmosphere was social, festive, and gregarious. In the corridors just outside the rooms where the BDS focused sessions were taking place, you'd be hard pressed to detect that anything other than great fun. It's not clear how many of the estimated 8,000 or so conference attendees even knew, much less cared, about the drama at the Delegate Assembly this weekend.

Inside Grand Ballroom GH, where the Delegate Assembly meeting was held, you could feel the tension, but you also couldn't help but notice how empty the room was. The front half of the room, reserved for the actual delegates, was relatively full (although, given vote tallies, approximately two thirds were in attendance). The back half of the ballroom, reserved for the non-delegate audience, was strikingly vacant. A handful of activists and members of the press crowded the front two or three rows, followed by seven or eight rows of mostly empty seats.

This is the state of play at many of the BDS debates at student governments, faculty senates, and academic associations across the country.

Despite the press, the pomp, the social media storms, etc., the number of those invested is strikingly small. Yet the activist fringes constantly attempt to seize upon this apathy to hijack these associations with agendas of their own.
The defeat of the boycott resolution by an association that is situated within a political milieu in which anti-Israel activism is commonplace represents a significant setback for the BDS movement. Many MLA members commenting upon the vote indicated that they are tired of political grandstanding and want to see the association focus on issues directly relevant to their academic discipline.
The vote also reflects the hard work of academics opposed to anti-Israel resolutions. "Our work is not over with," said Cary Nelson, the Jubilee Professor of Liberal Arts and Sciences at the University of Illinois at Urbana-Champaign and the co-editor of The Case Against Academic Boycotts of Israel. Nelson said that "it will be a challenge" to garner enough votes in support of the anti-boycott resolution to meet that 10 percent threshold.
Posted by SS at 03:54 PM | Comments (0)
January 06, 2017
Global Immersion Project Ignores Incovenient Truth
On our main website, we recently posted an article about a poll of Palestinian public opinion conducted by the Palestinian Center for Policy and Survey Research headquartered in Ramallah.
The poll, which hasn't gotten much attention in the English-speaking media, offers some pretty discouraging information. It reveals that 62 percent of the respondents interviewed want to abandon the peace process as enunciated by the Oslo Accords and that 53 percent of respondents support an armed intifada against Israel.
The report also shows that more than 70 percent of the respondents want Mahmoud Abbas, President of the Palestinian Authority, to step down. Palestinians do not want Abbas as their president. This raises serious questions about the prospects for peace at least in the near term. Palestinians have apparently given up on a two-state settlement, support violence against Israel and do not support the presidency of the man Israel is supposed to negotiate with.
For one reason or another, this poll has not gotten much play in the international media, probably because it highlights the problems in Palestinian society that hinder the prospects for peace. Problems such as incitement, a refusal to acknowledge Israel's right to exist, corruption in the Palestinian Authority, and a crisis of legitimacy suffered by Mahmoud Abbas, contradict the "It's all Israel's fault" narrative that has taken root in many newsrooms and think tank offices.
Just to get a sense of how taboo the subject of Palestinian intransigence and hostility is, take a look at the image posted above. Yes, it's kind of grainy and disorienting, but it documents just how deep the denial goes.

Continue reading "Global Immersion Project Ignores Incovenient Truth"
Posted by dvz at 02:11 PM | Comments (0)
January 05, 2017
Free Speech Crackdown on the Temple Mount
The Palestinians are trying to change history by outlawing the term "Temple Mount."
First they simply denied that there had ever been any Jewish Temples on the Temple Mount.
Then they sent out media advisories to journalists telling them that the term "Temple Mount" was illegitimate.
They brought resolutions to UNESCO that verbally erased the term "Temple Mount" and described it only in Muslim terms.
And now they've cracked down on an archaeologist who used the term during a tour he guided for university students on the Temple Mount. As the Jerusalem Post reports:
Jerusalem Prize winner and Temple Mount Sifting Project cofounder Dr. Gabriel Barkay said he was guiding an interfaith group of 22 undergraduates from UCLA when he was interrupted by an Arab guard for making the seemingly innocuous reference.

"I was lecturing about the history of the Temple Mount to the students, some of whom were Muslim and Christian, and one of the Wakf guards tried to listen to my explanations, and when he heard the words 'Temple Mount,' he got upset," Barkay said.

The guard then consulted with nearby police officers stationed on the compound, who told Barkay to cease using the term for the duration of the visit.
What next? Will they burn all books that mention the Temple Mount? Destroy all historical accounts?
Read more about the battle over Jerusalem and the Temple Mount here.
Posted by RH at 01:34 PM | Comments (0)
January 04, 2017
Incomplete Headlines Mislead on Elor Azaria Shooting
After an Israeli military court today convicted Israeli soldier Elor Azaria of manslaughter for fatally shooting a wounded Palestinian assailant in Hebron last April, several media outlets published incomplete and misleading headlines, ignoring the fact that Fatah al-Sharif was an assailant while noting only that he was wounded.
Clearly, obscuring the fact that the wounded Palestinian subsequently shot dead is an assailant who just carried out an attack is a gross distortion of the facts surrounding the case. Several months ago, Presspectiva, CAMERA's Hebrew department, called out Haaretz's English edition for repeated headlines failing to identify the wounded Palestinian as an assailant while the Hebrew edition did commendably note the key fact that he was an attacker. Since then, Haaretz's English edition has significantly improved and has routinely identified the wounded Palestinian whom Azaria shot dead as an assailant.
Today, several international media outlets are guilty of publishing similarly misleading headlines. The New York Times' original headline , for instance, was: "Elor Azaria, Israeli Soldier Who Shot Wounded Palestinian, Guilty of Manslaughter."

Following CAMERA's communication with The Times, editors promptly revised the headline to reflect the fact that the Palestinian was an assailant. The amended headline reads: "Israeli Soldier Who Shot Wounded Palestinian Assailant Is Convicted of Manslaughter."
Similarly, AFP's original headline noted that al-Sharif was "prone," but ignored the fact that he was an attacker:

After CAMERA objected to the misleading headline, AFP editors implemented a marginal improvement. Instead of adding the information that the Palestinian was an attacker, they opted for less information, removing the fact that he was prone. As of press time, the most current AFP headline is:

CNN, too, originally went with the skewed headline, as the following early screen shot shows:
As of press time, CNN improved its headline, which now states:

Al Jazeera's headline likewise refers to the fact that Al-Sharif is wounded and ignores that he was an attacker: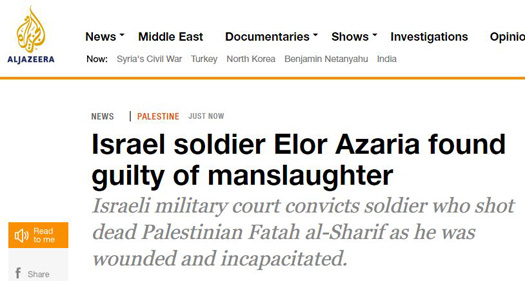 The story was much the same at The International Business Times:
In addition, CAMERA's UK Media Watch has flagged the same misleading headlines at The Guardian and The Telegraph.
Posted by TS at 06:51 AM | Comments (2)
December 28, 2016
NPR Conducts Hostile Interview with Israeli Ambassador Over UN Resolution
All Things Considered's Robert Siegel conducted a hostile interview with Israeli Ambassador Ron Dermer over Israeli criticism of the Obama Administration's alleged role in the United Nations Security Council Resolution 2334. The resolution has deemed Israel's settlements in the West Bank (Judea and Samaria) to be illegal. The U.S. acquiesced to this definition by failing to veto the vote as it usually does for one-sided resolutions unfairly targeting Israel.
Siegel injected his own opinion as fact at several junctures in the interview. Questioning Israel's decision to communicate with President-Elect Donald Trump, Siegel chides Dermer,
"You speak of appropriate channels, though. I mean, Israel is reported to have gone to Donald Trump as president-elect and urged him to call for a veto, which he did. No one sees that as appropriate channels. Do you?"
How does Siegel establish that "No one" sees that as appropriate? All we know is that he clearly doesn't.
When Dermer responds that he thinks it is inappropriate for the outgoing President to "radically change" American foreign policy in his last days in office, Siegel intones:
"but isn't that really not for Israel to decide, which - you know, there's an American president in office. He gets to exercise policy... president of the United States has powers to make foreign policy and to take actions in international bodies? That's not your business. That's just not Israel's business."
But it is Israel's business if it affects Israel. Dermer was not saying that Israel gets to decide how the President exercises his powers, he simply stated that he thought it was inappropriate.
The full transcript is included below:
Continue reading "NPR Conducts Hostile Interview with Israeli Ambassador Over UN Resolution"
Posted by SS at 03:23 PM | Comments (5)
December 25, 2016
Reuters Reduces Israeli Ties to West Bank to Biblical Claim Only
In an article yesterday ("Israel to re-assess U.N. ties after settlement resolution, says Netanyahu"), Reuters reduces Israel's claim to the West Bank to biblical only. Ignoring Israel's legal claim along with a very long historical record spanning thousands of years after the biblical period, the article misleads:
Most countries view Israeli settlement activity in the West Bank and East Jerusalem as illegal and an obstacle to peace. Israel disagrees, citing a biblical connection to the land. (Emphasis added.)

Israel's claim to the West Bank rests on international law, cultural and religious ties, and post-biblical history, including the long-term presence of Jews for thousands of years, the Balfour Declaration, the San Remo Conference, and the League of Nations decision which was never repealed, and Article 80 of the United Nations charter which upheld Article Six of the League of Nations' Palestine Mandate enabling Jewish settlement.
Indeed, the November 2015 Ministry of Foreign Affairs document "Israeli Settlements and International Law" goes into great detail about Israeli claims to the territory grounded in international law. The document notes that the Jewish presence in the territory was:


recognized as legitimate in the Mandate for Palestine adopted by the League of Nations in 1922, which provided for the establishment of a Jewish state in the Jewish people's ancient homeland.

After recognizing "the historical connection of the Jewish people with Palestine" and "the grounds for reconstituting their national home", the Mandate specifically stipulated in Article 6 as follows:

"The Administration of Palestine, while ensuring that the rights and position of other sections of the population are not prejudiced, shall facilitate Jewish immigration under suitable conditions and shall encourage, in cooperation with the Jewish Agency referred to in Article 4, close settlement by Jews on the land, including State lands not required for public use".

Some Jewish settlements, such as in Hebron, existed throughout the centuries of Ottoman rule, while settlements such as Neve Ya'acov, north of Jerusalem, the Gush Etzion bloc in southern Judea, and the communities north of the Dead Sea, were established under British Mandatory administration prior to the establishment of the State of Israel, and in accordance with the League of Nations Mandate.

Many contemporary Israeli settlements have actually been re-established on sites which were home to Jewish communities in previous generations, in an expression of the Jewish people's deep historic and abiding connection with this land - the cradle of Jewish civilization and the locus of the key events of the Hebrew Bible. A significant number are located in places where previous Jewish communities were forcibly ousted by Arab armies or militia, or slaughtered, as was the case with the ancient Jewish community of Hebron in 1929.

For more than a thousand years, the only administration which has prohibited Jewish settlement in these areas was the Jordanian occupation administration, which during the nineteen years of its rule (1948-1967) declared the sale of land to Jews a capital offense. The right of Jews to establish homes in these areas, and the private legal titles to the land which had been acquired, could not be legally invalidated by Jordanian occupation - which resulted from their illegal armed invasion of Israel in 1948 and was never recognized internationally as legitimate - and such rights and titles remain valid to this day.
These historical and legal claims relate almost entirely to historical periods thousands of years after biblical times. CAMERA has contacted Reuters to request that editors redress the egregious omission.
Dec. 28 Update: Reuters Agrees That Israel's Claims Not only Biblical, Improves Next Article
While Reuters has declined to amend the Dec. 24 article flagged in this post, the news agency did agree with CAMERA that Israel's claim to the West Bank is not limited only to biblical ties. Indeed, a Reuters' article the next day expands that Israel's claim includes "biblical and historical connections to the West Bank and Jerusalem as well as security interests" ("Israel PM, angered by anti-settlement U.N. vote, summons U.S. ambassador").

Posted by TS at 04:47 AM | Comments (4)
December 21, 2016
CAMERA Featured Letter-Writer
After CAMERA researchers highlighted the fact that an AFP reporter doubles as a Fatah politician, one of our letter-writers, Daniel H. Trigoboff, Ph.D., sent the following letter to AFP:
To The Editor,
A central policy of Agence France-Presse reads, "Truth, impartiality and plurality are Agence France-Presse's golden rules. These values guarantee rigorous, verified news, free from political or commercial influence." Unfortunately in your employment of Nasser Abu Baker, you are in violation of your own policy. This is because in addition to reporting on Palestinian affairs for you, he was a candidate for the Fatah Council, and leads a campaign to boycott Israel.
Therefore the chances his reports will be impartial and free from political bias are precisely zero. This has been reflected in numerous slanted, inaccurate, and anti-Israel falsehoods in his articles for AFP on the Israeli-Palestinian conflict.
Abu Baker has also advocated boycotting Israeli reporters, in inflammatory propaganda which has compromised their safety. As a result few Israeli reporters have safe access to Palestinian areas, which are therefore insufficiently covered in the media.
Employing Abu Baker as your reporter makes a mockery of AFP policy, and contaminates AFP news coverage with fanatical anti-Israel bias. The French Resistance journalists who founded AFP in 1944, in service of journalism uncontaminated by tyranny, would surely disapprove of Abu Baker's status in your organization. So will anyone else who values even a shred of journalistic ethics.
Daniel H. Trigoboff, Ph.D.
Posted by kabe at 07:04 PM | Comments (0)
December 20, 2016
Where's the Coverage? UN Head Admits Anti-Israel Bias
U.N. Secretary General Ban Ki-Moon

The outgoing head of the United Nations admitted in a Dec. 16, 2016 speech that his organization is biased against Israel. The remarks by U.N. Secretary General Ban Ki-moon went largely unreported by major U.S. news media outlets.
Mr. Ban told the U.N. Security Council:
"Over the last decade, I have argued that we cannot have a bias against Israel at the U.N. Decades of political maneuvering have create a disproportionate number of resolutions, reports and committees against Israel. In many cases, instead of helping the Palestinian issue, this reality has foiled the ability of the U.N. to fulfill its role effectively."
According to The Independent, a U.K.-based newspaper, Israel's Ambassador to the U.N. Danny Danon, stated that the United Nations chief "had admitted the clear truth" and his organization's hypocrisy towards the Jewish state had "broken records over the past decade ("Ban Ki-moon says UN has 'disproportionate' focus on Israel," Dec. 17)."
As CAMERA has frequently noted, the U.N. has a history of anti-Israel discrimination. According to U.N. Watch, a Geneva-based non-profit organization, in 2016 alone, the U.N. General Assembly passed more than 20 resolutions singling out the Jewish state for opprobrium. This, in a year in which the Islamic State and Syrian-dictator Bashar al-Assad—supported by Iran and Security Council member Russia—have carried out mass slaughter in the Middle East.
After this admission, Mr. Ban stated, "Israel needs to understand that a democratic state which is run by the rule of law, which continues to militarily occupy the Palestinian people, will still generate criticism and calls to hold her accountable." Yet, as CAMERA noted in a March 9, 2013 Washington Times Op-Ed, Mr. Ban does not "apply a consistent legal yardstick to Arab municipalities in the Jewish state, which he does not denounce as illegal."
Clear-cut occupations such as Morocco's conquest of the Western Sahara, China's takeover of Tibet, and Turkey's seizure of Northern Cyprus, among others, are often given short shift by the U.N. and the media ("Hypocrisy is Thy Name, Blaming Israel Thy Game," CAMERA, Aug. 19, 2014).
Mr. Ban's brief moment of candor—delivered as he completes his final term as U.N. Secretary General—was refreshing. However, his knee jerk response to follow it by singling Israel out was, unfortunately, more of the same.
Posted by SD at 12:32 PM | Comments (0)
December 19, 2016
Reuters Captions: Israeli Troops Kill Palestinian During Clashes
Dec. 20 UPDATE: Reuters Amends Captions: Palestinian Killed During Violent Clashes
Reuters photo captions about Ahmed Al-Remawi omit the fact that the Palestinian was killed Sunday during violent clashes, limiting information about the circumstances surrounding his death to the fact that the "Palestinian Health Ministry said [he] was shot and killed by Israeli forces on Sunday."
Given the minimal information, uninformed readers could reasonably conclude that unprovoked Israeli forces shot Remawi Sunday as he did nothing more than sit and drink coffee. (Reports conflict about his age, said to be either 19 or 23.)
But both Israeli and Palestinian sources agree that a mob of Palestinians was violently clashing with Israeli troops, throwing stones, when Remawi was killed. Haaretz reported:
According to the IDF, some 50 Palestinians were involved in the clash, some of whom threw stones at Israeli security forces. A Border Police officer was wounded. The army said that the forces responded to the stone-throwing with riot control measures and with shooting in the air.
Examples of the incomplete Reuters captions follow:
Mourners carry the body of Palestinian Ahmed al-Remawi, who Palestinian Health Ministry said was shot and killed by Israeli forces on Sunday, during his funeral in the West Bank village of Beit Rima near Ramallah December 18, 2016. REUTERS/Mohamad Torokman

Relatives of Palestinian Ahmed al-Remawi, who Palestinian Health Ministry said was shot and killed by Israeli forces on Sunday, mourn during his funeral in the West Bank village of Beit Rima near Ramallah December 18, 2016. REUTERS/Mohamad Torokman

Relatives mourn as people carry the body of Palestinian Ahmed al-Remawi, who Palestinian Health Ministry said was shot and killed by Israeli forces on Sunday, during his funeral in the West Bank village of Beit Rima near Ramallah December 18, 2016. REUTERS/Mohamad Torokman
Continue reading "Reuters Captions: Israeli Troops Kill Palestinian During Clashes"
Posted by TS at 07:21 AM | Comments (0)
After Correction, ABC Repeats Error on Settlements
Dec. 20 UPDATE: For Second Time, ABC Corrects: US Does Not View Settlements as 'Illegal'
After correcting the very same error in an Associated Press story which appeared last month on its website, ABC News once again wrongly reports that "the United States considers Jewish settlements illegal" ("Donald Trump's Pick for US Ambassador to Israel Signals Changes in US Policy"). A screen shot of the Dec. 17 erroneous claim by ABC's Elizabeth McLaughlin follows:

The Associated Press correction which CAMERA prompted in November on the identical topic subsequently appeared in countless AP clients, ABC News among them.
The AP correction which appeared Nov. 21 on ABC's news site stated:
In a story Nov. 16 about Israel's settlement policy, The Associated Press reported erroneously that the United States considers Israeli settlement construction in the West Bank to be illegal. While the United States opposes settlement construction, it does not take a position on its legality. Instead, it says that settlements are "illegitimate," ''corrosive to the cause of peace" and "raise serious questions about Israel's ultimate commitment to a peaceful negotiated settlement with the Palestinians." Most of the international community views the settlements as illegal.

Since the Reagan administration, which explicitly said it did not believe the settlements were illegal, U.S. administrations have instead characterized the settlements as an obstacle to peace and illegitimate. The current U.S. government, and numerous preceding American administrations, have not characterized the settlements as "illegal."
CAMERA has contacted editors to request that ABC correct for the second time the incorrect claim the United States considers Israeli settlements illegal.
Posted by TS at 02:37 AM | Comments (1)
December 18, 2016
AFP, MSNBC Also Err on 'Palestinian Land'
In addition to NPR, this weekend Agence France Presse and MSNBC also incorrectly identify the disputed West Bank as "Palestinian land."
Using partisan language, AFP today refers to some Israelis who "view Trump's victory as an opportunity to expand settlements in the West Bank, Palestinian land occupied by Israel for nearly 50 years" ("Israelis look past anti-Semitism after Trump win," emphasis added.)
On Dec. 16, NBC's Katy Tur, reporting on Andrea Mitchell Report, also tripped up on the tendentious claim that the disputed West Bank is "Palestinian land."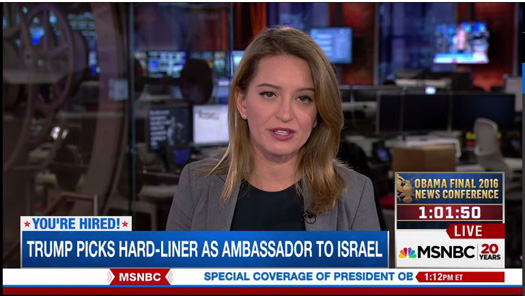 Just over four minutes into her report, Tur defines "settlers" for listeners as "Jews who are settling their homes in the West Bank which is, has been, Palestinian."
Identifying the land as "Palestinian" completely endorses one side's political claims over the other side's claims in what is, in reality, an unresolved dispute. (Given AFP's employment of reporter Nasser Abu Baker, who leads the boycott against Israeli journalists and recently ran for the Fatah Revolutionary Council, in a gross conflict of interest and violation of journalistic ethics, the agency's unabashed bias regarding the so-called "Palestinian land" is hardly surprising, though certainly not excusable.)
But as a 2014 Washington Post correction, prompted by CAMERA, noted, the "Israeli-occupied territories are disputed lands that Palestinians want for a future Palestinian state."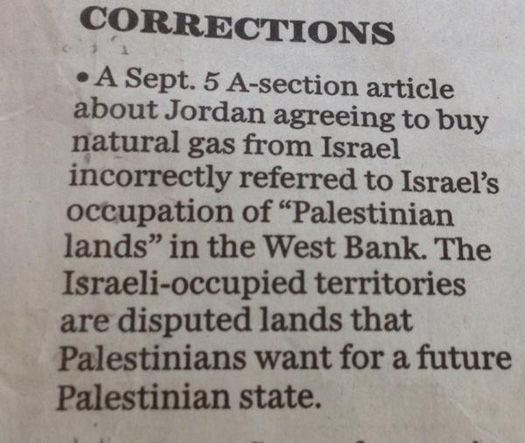 Continue reading "AFP, MSNBC Also Err on 'Palestinian Land'"
Posted by TS at 04:34 AM | Comments (0)
December 15, 2016
A Puzzling Omission at Politico
John Bolton

A recent Politico article about the possible nomination of former U.S. Ambassador John Bolton to a top spot in the incoming Trump administration's State Department ("Trump's flirtation with Bolton sends shivers through Senate," Dec. 14, 2016) painTs the diplomat as a man with radical views. The report, by Nahal Toosi and Madeline Conway, omitted crucial history on the Arab-Israeli conflict.
Toosi and Conway wrote:
"Bolton is deeply pro-Israel, so much so that that he's suggested forgetting the idea of creating a Palestinian state. Instead, he's argued for placing the Gaza Strip under Egyptian control and handing the West Bank to Jordan."
Politico implied that this is an unreasonable idea. However, the paper failed to inform their readers that Jordan occupied the West Bank from 1948 until 1967 and Egypt occupied the Gaza Strip from 1948 until 1967. It is also important to note that neither the Gaza Strip nor the West Bank have ever belonged to a Palestinian state, and that the status of these territories remains disputed. The West Bank, historically called Judea and Samaria until Jordan seized the land during the 1948 Arab-Israeli war, was part of the initial Palestine Mandate that allowed for the reestablishment of a Jewish state.
Rather than painting Bolton as a radical, the reporters could have informed readers of some of the history of the territories and note that Bolton was merely offering a different solution than what has been favored for the last 25 years.
For instance, the article could have recounted that the idea of a sovereign Palestinian state only became official U.S. policy under President George W. Bush and that other solutions have long been considered.
Palestinian limited self-rule of the West Bank and the Gaza Strip was facilitated by the Oslo process of the 1990s, which, among other things, stipulated that Palestinian leaders must recognize Israel, refrain from terror attacks and inciting anti-Jewish violence, and resolve outstanding issues in bilateral negotiations with Israel. Instead, the Palestinians leaders broke all of these promises.
In other words, it would have been more accurate for Politico to write that Bolton argued for returning the Gaza Strip to Egyptian control and returning the West Bank back to Jordan both of which had previously occupied it.
Similarly, it should have been incumbent upon the paper to note that although Bolton has expressed misgivings about recognizing a Palestinian state due, in part, to Palestinian rejectionism and terrorism, Palestinian leaders themselves have, on numerous occasions, rejected the opportunity to have a state if it meant living side by side, in peace, with a Jewish nation.
Under these circumstances, Bolton's views are not radical, although they do differ from the model favored over the past 25 years.

Posted by SD at 10:35 AM | Comments (5)
December 10, 2016
Sen. George Mitchell's Head-Scratcher on C-SPAN About Israeli-Palestinian Conflict
This assertion by George Mitchell (Democrat) – former U.S. diplomat (Israeli-Palestinian conflict) and Senate Majority Leader – was stated 17 minutes into an hour-long interview aired on the C-SPAN BookTV "After Words" program. It was in connection with admonishing Israel's government to wait no longer to make a peace agreement with the Palestinian Authority (PA) led by Mahmoud Abbas.
The program was recorded on Nov. 16, 2016 but not aired until Dec. 3, 2016. It was repeated on subsequent days.
Interviewer Jane Harman, former Member of Congress, now president and CEO of the Woodrow Wilson Center, spoke with Mitchell about his new book, "A Path to Peace: A Brief History of Israeli-Palestinian Negotiations and a Way Forward in the Middle East." The conversation was generally unremarkable except notably for the assertion cited here. Except for the fact that Harman here represented C-SPAN, whose record concerning Israel is generally one of journalistic malpractice, it would have been surprising that the former ranking member of the House Intelligence Committee failed to challenge the highly dubious assertion.
When have the Palestinian authorities renounced violence and accepted Israel's existence as a Jewish state? Acceptance of Israel's existence other than as a Jewish state is a non-sequitor. Furthermore, while most of the 22 Arab Muslim countries treat non-Muslim citizens as second-class ones, Israel has never seen a contradiction between its Jewishness and the need to respect and protect non-Jewish minorities. Under Israeli law, all (including Arab minorities) are provided full civil rights. Indeed, Israel is one of the few places in the Middle East where Arab women may vote in local and national elections.
Palestinian public opinion polling shows consistent large majority opposition to Israel's existence as a Jewish state while approving of terrorism against the Jewish state. A recent example of this is a December 2015 poll conducted by the Palestinian Center for Policy and Survey Research (PCPSR).
Recurring violence has been incited by longstanding and relentless anti-Israel and anti-Jewish invective from the Palestinian media, mosques and schools. Recent Palestinian violence – a year-long spate of stabbings, shootings and car rammings – has been fueled by daily Palestinian incitement against Jews by PA officials who honor terrorists and praise their acts of violence. The most recent wave of terror began around the time that an incendiary declaration was broadcast to Palestinians by PA controlled media.
Among the sources reporting on this matter was The Wall Street Journal on Oct. 18, 2015: "Mr. Abbas, the PA president, said the following on Palestinian television on Sept. 16: 'We welcome every drop of blood spilled in Jerusalem. This is pure blood, clean blood, blood on its way to Allah. With the help of Allah, every martyr will be in heaven, and every wounded will get his reward.'"
Palestinian Authority President Abbas has insisted that the recent Palestinian terror attacks against Israelis is a natural consequence of despair but the evidence shows that Palestinian incitement plays a major part in the phenomenon.
Meanwhile Israel's Prime Minister Benjamin Netanyahu awaits a meaningful response regarding negotiations from the Palestinian side while his Palestinian counterpart Abbas has repeatedly and explicitly rejected the idea of two states for two peoples. Palestinian leaders rejected U.S. and Israeli offers of two-state solutions in 2000, 2001, 2008 and spurned renewed talks on such an agreement proposed by Secretary of State John Kerry in 2014.
The PA insists on various conditions unlikely to be accepted by any Israeli government before peace negotiations can take place, including: Israel must abide by Palestinian refusal to recognize Israel as a Jewish state (evidently 22 Arab Muslim states is fine but one Jewish state is one too many) and Israel must accept a "right of return" (that does not exist in international law) for millions of Arabs (nearly all of whom have never lived in Israel) which would inevitably result in the Jewish state becoming unviable.
Questions for Mitchell, Harman and C-SPAN: What is the evidence that the PA has renounced violence against Israel? What is the evidence that the PA has accepted Israel's existence as a Jewish state? What is the evidence that the PA has opted for peace negotiations without preconditions? There being none, Mitchell's assertion has little or no basis in reality.
Posted by MK at 05:04 PM | Comments (3)
December 09, 2016
FBI: American Jews Most Targeted Minority for Hate Crimes in 2015
AEI Scholar Mark Perry

American Jews account for a shockingly disproportionate number of hate crime victims, according to 2015 FBI statistics. The Bureau defines a hate crime as "an offense against a person or property motivated in whole or in part by an offender's bias against a race, religion, disability, sexual orientation, ethnicity, or gender identity."
The FBI reported that of the 1,244 reported victims of hate crimes last year, 664, or 53.4%, were Jewish. By comparison, there were 257 victims of anti-Muslim hate crimes, or 20.7% of the total figure.
Indeed, in 2015 there were more Jewish victims of hate crimes in the U.S. than all of the other victims of religious groups combined
Yet, this conclusion is not reflected in U.S. news media coverage—or popular perception—of hate crime victims. Mark Perry, a scholar at the Washington D.C.-based think tank American Enterprise Institute (AEI), noted:
"According to a Google news search for the term 'hate crimes' along with the name of each of those three groups [Muslims, Blacks and Jews], there are 164,000 results for 'hate crimes'+black, 134,000 results for 'hate crimes' + Muslims and only 36,400 results for 'hate crimes'+Jews."
"Based on news reports," Perry stated, "you would think that blacks were 4.5 times more likely than Jews to be victim of a hate crime and that Muslims were almost 4 times more likely than Jews to be a hate crime victim." However, "adjusting for the population size of each group (42.75 million blacks, 5.7 million Jews and 3.3 million Muslims), the hate crime victimization rates last year per 100,000 population were 11.6 for Jews, 7.8 for Muslims and 4.1 for blacks… . Therefore, American Jews were nearly three times more likely than blacks to be a victim of a hate crime last year, and 1.5 times more likely than a Muslim to be a hate crime victim."
As CAMERA has noted, many U.S. news media outlets have provided coverage of anti-Muslim hate crimes. Often, the Council on American Islamic Relations (CAIR) is quoted—despite the group's history of having distorted hate crime statistics. However, hate crimes against Jews are often given short shift by the press ("The Washington Post Gets CAIR-Less, Again," CAMERA, Nov. 23, 2016). For example, The Washington Post reported CAIR's claims of an increase in anti-Muslim hate crimes in 2015 ("Attacks against Muslims hit highest mark since 2001," November 14). But The Post article omitted those against Jews in 2015.
As AEI scholar Perry pointed out:
"Based on the actual rates of hate crime victimization and the fact that Jews are so disproportionately targeted, wouldn't we have to conclude that hate crimes against Jews are routinely under-reported by the media relative to the reporting of hate crimes against blacks and Muslims?"
Posted by SD at 11:36 AM | Comments (5)
December 05, 2016
Defense One Notes Israel's Security Challenges

Israel is employing innovative methods to confront an increasingly complex security environment, according to a recent article in Defense One ("In Israel, Race to Safeguard Borders From Multi-Dimensional Threats," Nov. 28, 2016). The report, by correspondent Barbara Opall-Rome, offered a detailed and informative look at Israeli strategy that is seldom noted by other news media outlets.
Opall-Rome highlighted that Israel continues to face the danger posed by Hamas, the U.S.-designated terrorist group that rules the Gaza Strip. During its 2014 war, Hamas employed underground tunnels to attack Israelis. The reporter pointed out that:
"Since then, Israel has fast-tracked prewar development plans for a number of technological solutions aimed at detecting, mapping and operating in the subterranean environment, spending about $200 million in the process. Earlier this year, through improved operational and technological methods — most of which remain classified — Israel discovered another two tunnels reaching into its territory from Gaza."
The U.S. has been working with Israel to develop counter-tunnel technologies since 2008. In 2016, the U.S. Department of Defense received $40 million to expand the project. Israel is expected to fund an "an equal amount in cash or in kind," Defense One said.
The joint program has benefits for both sides; an anonymous U.S. defense official told Opall-Rome that terror tunnels are a problem for U.S. forces in Iraq and Afghanistan, as well.
The threats that Israel faces differ in nature. As a result, the Jewish state employs different strategies to confront them.
Israel employs border barriers in the West Bank (Judea and Samaria) and the Gaza Strip to deter terror attacks. On its northern border, Israel's concerns extend past terror tunnels and include worries over "a full assault by Lebanese-based Hezbollah or its allies." A spokesperson for the Israeli Defense Forces (IDF), Lt. Col. Peter Lerner, told Defense One:
"Up north, we view the threat differently. The topography is completely different, so what we've done on the border with Lebanon, we've created artificial cliffs that create an extremely difficult terrain for forces to easily storm into a civilian community or a military base along the border."
Lerner stated that, in addition to altering the terrain, the IDF has expanded surveillance capabilities and established quick reaction forces to immediately confront an attack. Additionally, the IDF has created an evacuation plan for the 22 civilian communities who are likely to come under direct threat from an attack by Hezbollah.
As CAMERA noted in a April 30, 2016 Times of Israel Op-Ed "Media Fails to Connect the Dots on Hezbollah's Next War," the media has often failed to note Hezbollah's growing capabilities. The Iranian-funded, U.S.-designated terror group has—in violation of several U.N. resolutions requiring the group to be disarmed—an arsenal that includes drones and more than 120,00 missiles. The group calls for Israel's destruction and intentionally targets Israeli civilians while using "human shields" as cover—a double war crime.
However, the media often fails to note Hezbollah's aims and tactics.
Defense One's report provided readers with important details about Israel's security challenges and how the country is addressing them. The article by Barbara Opall-Rome can be found here.
Posted by SD at 01:23 PM | Comments (1)
Iranian Ship Threatens U.S. Helicopter, Media MIA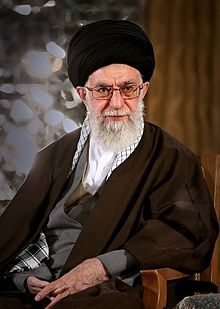 Ayatollah Ali Khamenei, the Supreme Leader of the Islamic Republic of Iran

An Iranian ship threatened a U.S. military helicopter in the Strait of Hormuz on Nov. 26, 2016. Many major U.S. news outlets have ignored the incident.
Reuters, citing two anonymous U.S. defense officials, reported that "a small Iranian Islamic Revolutionary Guard vessel pointed its weapon" at the U.S. Navy MH-60 helicopter ("Iranian vessel points weapon at U.S. helicopter: officials," Nov. 29, 2016).
"The behavior by our standards is provocative and could be seen as an escalation," the U.S. officials told Reuters.
Many in the U.S. press failed to cover the event. A Lexis-Nexis search of several U.S. print news outlets, including The Washington Post, USA Today and The Baltimore Sun, showed that the latest threatening Iranian action against the U.S. was ignored.
In the last year alone, Iran has engaged in cyberwarfare against the U.S. and threatened U.S. vessels and troops in Iraq, among other aggressive acts ("Where's the Coverage? Iran Threatens U.S. Troops," Dec. 11, 2015). Yet, the media frequently underreports or ignores Iranian belligerence, as CAMERA has noted (see, for example "Iran Increases Cyber attacks Against the United States; Where's the Coverage?" Nov. 30, 2015).

Posted by SD at 09:34 AM | Comments (0)