September 01, 2015
Jerusalem Tel Aviv Post Won't Correct Op-Ed Misidentifying Israel's Capital
The Jerusalem Post, the former flagship English language Israeli newspaper, located in Jerusalem since before Israel's founding, has refused to correct an Op-Ed which misidentifies Tel Aviv as Israel's capital.
The Post's decision not to correct the reference to Tel Aviv as Israel's capital is especially noteworthy given the fact that leading international media outlets such as The Los Angeles Times and The Washington Post have commendably corrected the identical error in both Op-Eds and news articles in recent years.
Thus, in a Jan. 15, 2015 Los Angeles Times Op-Ed, Kenneth Roth, the head of Human Rights Watch, used the common journalistic practice of referring to a nation's capital by naming its capital as shorthand for its government, erring:
In Washington, Ottawa, Paris and London, as well as in Tel Aviv, the response [to the Palestinians' move to join the International Criminal Court] has ranged from discouraging to condemnatory.
Los Angeles Times editors immediately agreed that a correction was in order, and commendably ran the following on Jan. 22:
Likewise, in March 2014, The Washington Post prominently corrected a news article which, using the same shorthand, misidentified Tel Aviv as Israel's capital:


Monitor Global Outlook, a research and intelligence service of The Christian Science Monitor, also corrected the very same shorthand error -- citing Tel Aviv instead of Jerusalem, thereby incorrectly denoting Israel's capital -- in 2014.
Here in Jerusalem, where neither a global outlook, nor research, nor intelligence, is needed to determine that Jerusalem is Israel's capital. Nevertheless, a The Jerusalem Post editor has declined to correct the Aug. 26 Op-Ed by Ramy Aziz, which states:
Other than Saudi Arabia and Egypt, there is no one more aware of the coming danger and more capable of meeting the challenge than Tel Aviv.
A source at The Post maintains: "It doesn't say Tel Aviv is the capital of Israel."
See also: "Who Knows How to Correct: Al Jazeera or The Jerusalem Post?"
Posted by TS at 06:14 AM | Comments (0)
Leading Israeli News Outlet Covers UK Media Watch Feature on Nabi Saleh Row
Cross posted at CAMERA's UK Media Watch
On Sunday, we posted about the latest "Pallywood" production from the Palestinian town of Nabi Saleh "where photographers gather every Friday to document repetitious scenes of…activists clashing with Israeli soldiers" and where protesters place their children in danger to score propaganda points. (The term "Pallywood" refers to the staging of scenes by Palestinian journalists in order to present the Palestinians as hapless victims of Israeli aggression.) We noted that the most popular Pallywood child star, known as "Shirley Temper" (aka Ahed Tamimi), revived her role as the symbol of Palestinian "resistance" on Friday, when she was seen biting the hand of an Israeli soldier who had detained a young rock-thrower during protests.
However, unlike in previous productions, the British media wasn't completely acquiescent to the desired Pallywood script. We noted that two major papers radically changed course and revised or deleted their initially sympathetic coverage. One other site known far and wide for their anti-Israel coverage, The Guardian, decided not to cover the story at all. This, we argued, represented an extremely significant development in the context of the extraordinarily biased coverage of the region in the UK media.
Today, our analysis of media coverage of the incident was featured in the Israeli paper Yedioth Ahronoth (the country's second most popular newspaper).
Yedioth highlights our analysis, as well as the graphics we used showing the changing headline at The Daily Mail and the completely deleted story at The Telegraph.
Here's a CAMERA translation of the first paragraph of the Yedioth article:
The international media sets a new trend: An altercation last Friday in Nabi Saleh north of Ramallah, between a Golani fighter who detained an 11-year-old boy suspected of throwing stones and female members of the boy's family, resulted in highly problematic coverage for Israel's image in the international media. But according to the pro-Israel site UK Media Watch, which monitors and analyzes coverage of Israel in the British media, coverage of the incident changed following claims that the Tamimi family, which was involved in the incident, and especially the girl who was photographed biting the soldier, is a known serial provocateur of Israeli soldiers for the benefit of journalists' cameras.
Yedioth goes on to agree with our main take-away regarding The Daily Mail and Telegraph retreats, and Guardian non-coverage: that even the British media – at the forefront of delegitimization efforts against the Jewish state – may be tiring of the transparent efforts by Palestinian activists to manipulate their coverage of the region.
Posted by TS at 03:26 AM | Comments (0)
August 31, 2015
Washington Post Ignores Reality in Gaza
Washington Post reporting on Gaza Strip's small middle, or perhaps better, upper middle class by William Booth ("A parallel reality in Gaza," Aug. 24, 2015) attempts to highlight an incongruity evidenced amid post-war recovery in the territory. The Strip is ruled by Hamas, a U.S.-listed terror group. But in one important regard Booth, the Post Jerusalem bureau chief, highlights the newspaper's too frequent failure to explore in depth important observations mentioned only in passing. This failure can lead readers' to infer Israeli responsibility for problems more accurately the result of Palestinian actions.
The article begins by noting that "media images beamed from the Gaza Strip rightly focus on the territory's abundant miseries," which include "bombed-out neighborhoods." But The Post then details what the report calls "the Gaza outside the war photographer's frame."
The paper asserts that Gaza City, while having "the highest unemployment rate in the world," is also home to "personal trainers, medium-rare steaks, law school degrees and decent salaries." The Post describes clubs, a struggling luxury car dealership, a "$100-a-month" newly opened and "air-conditioned sports club," a soon-to-debut sushi bar—even a reopened five-star hotel.
In detail, the paper chronicles the prices, opportunities and travails of what it presents as the "small, tough, aspirational middle class" of Gaza City. The Post describes the economic "revival" as "jarring" when compared with areas that remain unreconstructed following last summer's Hamas-initiated war.
Yet, one reason such inequality is "jarring" lies with the government that has ruled the Gaza Strip since its election in 2006—an election The Post ignores by asserting that Hamas simply "took control of the coastal strip." It did oust its Fatah movement partner in the Palestinian Authority from Gaza in a "five-day war" in 207, but won a majority of seats in the Palestinian Legislative Council the year before.
The Post says "not a single one of the 18,000 homes destroyed in last summer's war is habitable. Reconstruction moves at a glacial pace. Black market cement is the currency of the realm." These sentences describing reconstruction efforts resemble the description given in an August 22 New York Times article ("One year after war, people of gaza still sit among ruins").
However, unlike The Post, The New York Times reported that not only does 37,000 tons of cement sit unused in Gaza warehouses, cement and other reconstruction materials are being used by Hamas to construct tunnels to attack Israelis. The Times said "Mr. Hassaina [Mofeed M. Al Hassaina, Gaza-based minister of housing and public works], other Palestinian leaders and United Nations representative all said that Israel has done its part in reasonable time and had allowed cement into Gaza. The unmentioned 800-pound gorilla in The Post's feature is Hamas' priority, preparation for renewed aggression against Israel, not reconstruction and not the economy.
The newspaper fails to remind readers of this despite editorializing that an Israeli TV news report was "snarky" for asking if guests arrived at the Gaza resort hotel by tunnel. Similarly, while mentioning an "Israeli blockade, with…tight restrictions on travel and trade" that The Post claims has "squeezed" Gaza's middle class, it omits mention of the more stringent Egyptian blockade of Gaza. By contrast, The New York Times observes that the Egyptian blockade—and delay of reconstruction material by the Palestinian Authority—reflect concerns over how Hamas will use those materials.
The New York Times also says that Arab countries have failed to meet their promised aid for Gaza reconstruction. Qatar has only "provided $6 million of a pledged $50 million to rebuild 1,0000 homes." Kuwait, which "has promised $75 million," has failed to deliver any funds. In its coverage, The Post omits these important facts that The Times reported.
The Post did give readers an interesting look at a relatively unexamined part of the Gaza Strip. But if failed to pursue questions it implicitly raised. Yes, Gaza's middle class maybe small and struggling, but still seeking opportunities to enjoy itself and relieve the stress of life in the Strip. No, sluggish reconstruction—like the original destruction itself—is not primarily Israel's responsibility. Those bucks stop on the desk of Hamas and its supporters.—Sean Durns
Posted by ER at 04:16 PM | Comments (0)
August 27, 2015
CAMERA Rebuts Zogby Op-Ed in The Hill
(The CAMERA Op-Ed below was posted on The Hill newspaper's Congress Blog on Aug. 27, 2015 in response to an omission-laden commentary by Arab-American Institute head James Zogby. Zogby alleged a pattern of discrimination by Israeli immigration authorities against Arab Americans. The Hill serves members of Congress, staff, policy analysts, lobbyists and others.)
James Zobgy's recent commentary "US passports scoffed at by Israel; US stands by" (Aug. 24) misleads readers through omissions. Zogby, the founder and President of the Arab-American Institute, falsely asserts that "in the past year Israel has continued…their practice of discriminating against persons of Arab descent" and cites the stories of what he implies to be two disinterested parties to advance this allegation.
The author cites two specific individuals who he claims were detained, interrogated and denied entry into Israel at Ben Gurion International airport—and relies exclusively on their accounts to allege mistreatment. Zogby identifies the two men, George Khoury and Habib Joudeh as simply "American citizens of Palestinian descent."
Yet, Joudeh, identified only as a "pharmacist" by Zogyby, has been the vice president of the Arab American Association of New York since 1994. The director of that association, Linda Sarsour, has falsely accused Israel of ethnic cleansing and has dismissed reports of attacks by terror group al-Qaeda as conspiracy theories.
George Khoury—identified only as a "professor" and "deacon at his church"—is an anti-Israel activist who has previously alleged that as a nation, the Jewish state commits crimes "daily." By failing to disclose the background, biases and associations of the two men, but uncritically recounting their unsubstantiated allegations, the author misleads readers.
Zogby also claims that "because both men were of Palestinian descent, Israel would not honor their U.S. passports or recognize the men as American citizens. Both were told they had to acquire Palestinian IDs and then, as Palestinians enter the West Bank." However, for identifying the men as Palestinian Arabs and not as American citizens, it's not Israel that Zogby should be faulting. It's the Palestinian Authority.
According to Article 5 of the Palestinian National Charter those who were born in what is today land governed by the Palestinian Authority—as both Joudeh and Khoury were—are Palestinian. Apparently Israeli officials were following a definition made by the Palestinian National Charter. Unless Zogby is advocating that American officials should nullify Palestinian laws, rules for entry for those defined as Palestinian are well-known and publicly available.
Israel—similar to most other countries—has laws and procedures that stipulate points of entry. Unless individuals are approved in advance and special permission granted, entry to Israel for those classified as Palestinian Arabs is through the Allenby Bridge border crossing.
That two men with unmentioned histories of anti-Israel advocacy attempted to subvert long-standing, well-publicized procedures and cross into Israel illegally instead of by the Allenby Bridge crossing—as thousands of others have done—seems to indicate a purposeful attempt to create an anti-Israel narrative.
As for Zogby's claim that Israel discriminates against "persons of Arab descent" in general, it overlooks that the last national elections in Israel were overseen by an Israeli Arab and that Arab citizens in Israel have increased their representation in Israel's parliament, the Knesset. Israeli Arabs have sat on Israel's Supreme Court and been appointed to cabinet-level positions. Arab citizens in Israel, a minority, have vastly greater social, economic and political rights than in most Arab countries, rights equal to those of the Jewish majority. By way of contrast, the small populations of Jews remaining in Arab countries have no such comparable rights, often in law, always in practice.
The numerous omissions in the author's commentary indicate an agenda that, without essential context, leaves readers ill-informed.
Durns is Media Assistant for the Washington D.C. office of CAMERA—the 65,000 member Committee for Accuracy in Middle East Reporting in America
—Sean Durns

Posted by ER at 03:20 PM | Comments (1)
Like a Bourbon: Palestinian Leader Questions Holocaust
Palestinian Authority (PA) President Mahmoud Abbas questioned the Holocaust while nevertheless comparing Israelis to the Nazi regime that murdered millions of Jews in an Aug. 23, 2015 speech.
In remarks broadcast on official PA television, Abbas told a group of Polish journalists visiting Ramallah: "They [Jews] say they made sacrifices in World War II—we respect what they say." As Palestinian Media Watch notes in their report on the Fatah leader's comments, Abbas with that wording presents the Holocaust as "something Jews say" happened.
The PA president and Fatah movement head then proceeded to compare the world's sole Jewish state—reestablished in the wake of the Holocaust and that has provided refuge to millions of Jews who faced antisemitism in other lands—to Adolf Hitler's Nazi regime:
"They [Israel] should not treat us the way they were treated [by the Nazis]. We must not be a victim of the victim. I did not do anything bad to him."
Abbas was born in 1935 in British Mandatory Palestine. The genocide of European Jewry took place between 1939 and 1945. However, Abbas has sanctioned terrorist attacks against Israelis and helped finance the 1972 Munich Olympic Games massacre that killed 11 Israeli athletes, one of whom was also an American citizen. As Palestinian Liberation Organization leader Yasser Arafat's right-hand man for decades, Abbas was complicit in PLO terrorism generally.
Often described by U.S. and some Israeli officials as a peace partner, Abbas in his comments also ignored the role that Palestinian Arab leadership played during World War II. Before Arafat, the most notable representative of Palestinian Arab nationalism was Haj Amin al-Husseini, the grand mufti of Jerusalem.
During World War II, al-Husseini was forced by the Allies to flee to Berlin for having supported Hitler and the Axis powers. The mufti personally met with Hitler in November, 1941 and thanked the Nazi leader, stating: "The Arabs were Germany's natural friends because they had the same enemies as had Germany, namely…the Jews."
"The objectives of my fight are clear," the Mufti wrote in his diary after the meeting. "Primarily, I am fighting the Jews without respite, and this fight includes the fight against the Jewish National Home in Palestine" (The Siege: The Saga of Israel and Zionism, Conor O'Brien, 1986).
Yugoslavia later sought to indict al-Husseini as a war criminal for his role in recruiting Muslim volunteers into the ranks of Hitler's SS, who went on to murder Jews in Croatia and Hungary.
The next generation of Palestinian leaders, led by Arafat, would transition from working with Hitler to being clients of the Soviet Union and its communist-bloc satellites. It was under Soviet sponsorship that Abbas, then a mid-ranking PLO emissary, completed his Ph.D. from the Oriental College in Moscow.
Abbas appears to be rehashing allegations from his Soviet-era dissertation charging Zionist collaboration in Nazi persecution of European Jews and revisionist denigration as to the scope of the Holocaust.
That work, later published as a book, was entitled "The Other Side: the Secret Relationship Between Nazism and Zionism," as CAMERA has previously documented ("Where's the Coverage? Abbas is No Angel," May 20, 2015). In it, Abbas claimed the figure of six million murdered Jews in the Holocaust to be a "fantastic lie" and a "myth"—statements he would try to distance himself from after being elected PA head.
Characterizing anti-Zionist, rejectionist Palestinian Arab leadership in the 1930's and 40's, the usually sympathetic head of the Arab Legion, British General Sir John Glubb, once remarked, "Like the Bourbons, [they] have learnt and forgotten nothing in the past 10 years" (The Road to Jerusalem: Glubb Pasha, Palestine and the Jews, Benny Morris, 2003).
It seems little has changed.
The Palestinian Media Watch report on Abbas' remarks can be found here.—Sean Durns
Posted by ER at 02:21 PM | Comments (0)
August 26, 2015
Daily Beast Refuses to Correct Its Incorrect Headline

In our article about a State Department official and The Washington Post fabricating Israeli praise for the nuclear deal with Iran, we briefly mentioned an inaccurate Daily Beast headline. We wanted to update you on where things stand with that.
That headline, above a piece by Jonathan Alter about Israel's former Shin Bet chief Ami Ayalon, stated, "Ex-Intel Chief: Iran Deal Good for Israel."
The problem is, Ayalon has explicitly noted that he doesn't believe the agreement is good. "I think the deal is bad," he told the Jerusalem Post. This means, contrary to the headline, the former security official actually believes the deal is "not good" (also Ayalon's words), even if he begrudgingly backs the deal because "it is the best plan currently on the table."
The Daily Beast is aware of what Ayalon has actually said. We brought it to the attention of editors. But it nonetheless has refused to correct its distorted headline.

Posted by GI at 04:17 PM | Comments (1)
Radio Free Europe Flacks for Iranian Terrorist Commander
U.S. tax-payer funded Radio Free Europe (RFE) recently echoed Iranian propaganda meant to show the commander of the Islamic Revolutionary Guard Corps (IRGC) Quds (Jerusalem) Force, Maj. Gen. Qassem Soleimani, in a favorable light. Soleimani has led Quds Force—designated a terrorist entity by the U.S. government—subversion and aggression in Yemen, Syria, Iraq and Lebanon.
Entitled "Wanted for Terrorism, Commander of Iran's Quds Force is Actually Kind and Emotional, Brother Says" (Aug. 25, 2015), an article on RFE's website appears as part of the Persian Letters blog. The blog describes itself as offering "a window into Iranian politics and society…bringing under-reported stories, insights, and analysis, as well as guest Iranian bloggers" including "clerics, anarchists, feminists, Basij members, to bus drivers."
RFE was created by the U.S. government to help win the Cold War by countering Soviet propaganda. That it would pass off accounts from members of a paramilitary organization, the Basij, controlled by the mullahs and used to suppress regime critics is disturbing. That it fails to challenge a work of hagiography originally presented as fact by an Iranian state-run outlet, Fars News, about Soleimani, a U.S.-listed terrorist and murderer of U.S. service personnel and non-combatants defies description.
RFE acknowledges that Soleimani is a "wanted man" who has been "linked to support for terrorism," and was sanctioned in 2012 for his "alleged role in an assassination plot against the Saudi ambassador in Washington." After calling Fars News Agency a "Persian-language news outlets affiliated with the powerful IRGC," the U.S. broadcasting agency proceeds to uncritically repeat its Soleimani puff piece.
RFE briefly mentions that "the Fars interview appeared to be part of Iran's efforts to boost the IRGC commander's profile and portray him as a selfless national hero who plays an instrumental role in the volatile Middle East." Writing in The Weekly Standard, Lee Smith, a senior fellow at the D.C.-based Hudson Institute, observed that Tehran's efforts to give the Quds Force leader publicity are meant to impress upon the "Obama White House" that if they "want anything done in the Middle East, you'll have to go through Iran and you'll have to deal with Qassem Suleimani." ("The Iranian Regime's Mr. Fix It," June 30, 2014)
The U.S.-broadcasting organization, while including its qualifications, nevertheless provides free media for a terrorist once called by retired U.S. General and former CIA Director David Petraeus a "truly evil figure." Petraeus' description stems in part from the Quds Force's role in setting up Iranian factories to manufacture deadly roadside bombs called EFPs (explosively formed projectiles). These are estimated to have caused the deaths of up to 1,000 U.S. soldiers in Iraq and Afghanistan.
Soleimani's deeds and Petraeus' categorization contrast sharply with the article posted by RFE. It repeats family member descriptions of the terrorist as "a serious person, but very kind and emotional."
Soleimani's brother, Sohrab Soleimani, mentions "Qassem has a [belt] in karate, he used to work as a fitness coach in a bodybuilding club." In addition to recounting the murderer's fitness regimen, his brother explains that the Quds force commander "loves the children of the martyrs [Iranians and IRGC members killed] so much that sometimes his own children become jealous."
Sohrab notes that the Quds Force leader's globe-trotting terrorist activities often keep him from his family, leaving him "little time to devote to his own life, yet his attention for his [family and friends] has not diminished." In RFE's words: "[Sohrab] Soleimani also said that his older brother has always made sure that his close relatives did not take the wrong path in life."
RFE failed to portray Soleimani accurately—as a ruthless terrorist leader responsible for countless combatant and non-combatant deaths as part of Iran's drive for regional dominance and international influence. It did not challenge the propaganda of a theocratic, totalitarian government but rather disseminated it. It thereby failed to fulfill its mandate of providing news, information, and analysis to countries "where the free flow of information is either banned by government authorities or not fully developed." And it did so at American taxpayer expense and oppressed Iranians' need for truth, not propaganda, about their rulers.—Sean Durns
Posted by ER at 02:29 PM | Comments (0)
August 25, 2015
New York Times Publishes Notoriously Dishonest Palestinian Propagandist
The New York Times' opinion page has become a forum for those who like to vent their bile against Israel. Some are pro-Palestinian activists who welcome an international platform from which to air their grievances against the Jewish state, while others are far-left Israelis who prefer to condemn their leaders and society before a global audience. The New York Times eagerly obliges both.
There is no one, apparently, who is considered too unreliable for the NYT's opinion pages, as long as they are criticizing Israel. Most recently, the NYT website and international edition carried an-Op-Ed by Mohammed Omer, a Palestinian propagandist whose dishonesty has been repeatedly exposed. (See ""New Statesman Publishes Falsehoods by Palestinian Propagandist" and "Mohammed Omer Levels Unsubstantiated and Contradictory Allegations Against Israel." )
Describing Omer as an "independent journalist in Gaza," the NYT avoids mentioning that his articles find placement in such publications as the Palestine Chronicle, New Statesman, the Washington Report on Middle East Affairs, and other radical or fringe publications that do not much care about the accuracy of his claims.
In his NYT online Op-Ed, " Gaza, Gulag on the Mediterranean" which also appeared under the headline "Gaza One Year On, Still in Ruins" in the International New York Times on Aug. 25, Omer trots out the same old tired and refuted clichés that are so popular among anti-Israel propagandists: "Israel continues to block sufficient reconstruction materials from entering Gaza," "The Israeli military, despite its withdrawal in 2005, remains the de facto occupying power in Gaza," Palestinians in Gaza are "locked in an open-air prison", and so on. Of course, nothing is mentioned about Hamas' reconstruction of its arsenals and infrastructure in Gaza, and of course, nothing about the rockets lobbed into Israel from Gaza.
Omer also adds some head-scratching new ones: Palestinian society is "diverse," "Christians have always been integral to it. And Palestinians embrace interaction with people from other cultures."
In direct refutation to Omer's claim, a 2012 article by Palestinian reporter Khaled Abu Toameh describes how Christians in the Gaza Strip are being kidnapped and forced to convert to Islam.
Another questionable new assertion by Omer is that the numbers of Palestinians in Gaza who are "attracted to the Jihadist ideology" are "extremely low".
Elder of Ziyon has demonstrated how disingenuous Omer's claim is by "pretending that Hamas and Islamic Jihad are not jihadist groups." As Elder points out:
No matter that Hamas' Al Qassam Brigades attracted 26,000 youths to its summer camps this summer to learn - jihad. The head of military training in these camps calls himself "Abu Jihad." Press releases from the Qassam Brigades end off with "JIhad victory or martyrdom."

Not to mention that the idea that Islamic Jihad isn't a jihadist group would be funny if it wasn't for the fact that the NYT accepts this propaganda as legitimate.
The New York Times has reached a new low. In its quest for more anti-Israel material for their Op-Ed pages, its editors have stooped to publish a Palestinian propagandist who is known as much for his dishonesty as for his anti-Israel activism.
Posted by RH at 06:03 PM | Comments (1)
August 24, 2015
CEO of Embrace the Middle East Responds Evasively
Jeremy Moodey, CEO of the British Charity Embrace the Middle East, has issued an evasive response to criticism directed his way by CAMERA researcher Dexter Van Zile.
He issued his response in an entry posted on the charity's website on Friday, August 21, 2015.
In the post, Moodey reports that he was accused of using photos in a simplistic way to confirm his own prejudices about the Arab-Israeli conflict, a charge he denies.
At issue are two photos, one he posted on Embrace the Middle East's blog in 2012 and another he posted on Twitter on Aug. 17, 2015.
Continue reading " CEO of Embrace the Middle East Responds Evasively"
Posted by dvz at 01:26 PM | Comments (0)
August 20, 2015
Is This Tree Really Being Destroyed? Or Replanted?
Jeremy Moodey, the CEO of the British Charity Embrace the Middle East, is very quick to condemn Israel. His antipathy toward Israel is documented in part here.
Predictably, Moodey's Twitter feed is filled with a number of links to anti-Israel polemics and propaganda, but one Tweet, posted on August 17, 2015 is worthy of closer scrutiny.
Moodey's Tweet accuses Israel of "demolishing" an ancient olive tree in Bethlehem
But is that what's really going on in the photo he Tweeted?
Continue reading "Is This Tree Really Being Destroyed? Or Replanted?"
Posted by dvz at 05:08 PM | Comments (0)
August 19, 2015
Palestinian Document Retreats from Peace Process Vows; Where's the Coverage?
Now that negotiations between the United States, the United Kingdom, France, Russia, China, and Germany with Iran over its presumed nuclear weapons program have been completed, some commentators and politicians have anticipated renewed U.S. involvement in Palestinian-Israel diplomacy. But a position paper submitted by head Palestinian negotiator Saeb Erekat to Palestinian Authority leaders on June 18, 2015 suggests a retreat from previous commitments to end terrorism and support a two-state solution.
According to a July 1 analysis of Erekat's paper by Lt. Col. Jonathan D. Halevi (Israel Defense Forces, Ret.), now with the Jerusalem Center for Public Affairs, the main points include:
1. Annulling Palestinian Liberation Organization (PLO's) recognition of Israel;

2. Insisting on the "right to return" of Palestinian "refugees" along with their descendants to Israel;
3. Strategic cooperation with Hamas and Islamic Jihad by integrating them into the PLO's institutions;
4. Waging an all-out "peaceful and popular struggle" against Israel (defined by Palestinian leadership as local terror attacks), coupled with a legal battle against Israel in the international arena aimed at constraining Israel's ability to defend itself against Palestinian terror; and
5. A diplomatic campaign to recruit international support to coerce an Israeli withdrawal to the pre-1967 armistice lines.
CAMERA has pointed out both Western news media's reliance on Erekat as a source and the Palestinian negotiator's tenuous acquaintance with facts. See, for example "Saeb Erekat—Highly Visible, Highly Unreliable," March 3, 2015
Halevi's analysis, "The Palestinian Leadership's Regression in the Peace Process" based on what Erekat proposed to his peers, not statements to Western reporters, offers an important perspective on relations between Israel and the Palestinian leaders. Halevi's interpretation is informed and provocative. It should have been the subject of significant reporting. It was not. Where was the coverage? —Rosie Lenoff, Research Intern

Posted by ER at 12:30 PM | Comments (0)
After barring Matisyahu, Sunsplash Apology Cites BDS "Coercion," "Threats."
Make what you will of the apology by Rototom Sunsplash, organizers of the Spanish reggae festival that directed anti-Semitic demands at Jewish singer Matisyahu before ultimately barring him from performing.
Whether or not the apology is sincere or sufficient, at least one passage in their statement rings true:
Rototom Sunplash admits that it made a mistake, due to the boycott and the campaign of pressure, coercion and threats employed by the BDS País Valencià because it was perceived that the normal functioning of the festival could be threatened.
This description of coercion and threats matches similar accounts by artists who been prior targets of bullying at the hands of BDS extremists. As we've noted here in the past, Italian author Umberto Eco called their ideas "absolutely crazy" and "fundamentally racist"; Irish writer Gerard Donovan referred to them as "idiots" who try to bully and cajole and are guilty of "outright intimidation"; the band Dervish was intimidated by what it described as their "avalanche of negativity", "venom" and "hatred"; and jazz musicians Erik Truffaz, Jack Terrasson and their manager Christophe Deghelt slammed the "sheer harassment" and "blatant denigration" at the hands of "intellectually dishonest" activists motivated by
"intolerance" and "pathological hatred."
Matisyahu criticized Sunsplash for singling him out, as a Jew, in order to "coerce" him into political statements. And they certainly deserve to be held accountable for their decision, however temporary, to join forces with the bigoted BDS activists. But considering BDS's well-documented history, there is no reason to doubt the organizers' account that they, too, were the subjects of "pressure, coercion and threats."

Posted by GI at 09:56 AM | Comments (1)
August 18, 2015
Rabbis Urge Support for Iran Nuclear Treaty, Meanwhile Iran Threatens Inspectors
Two items reported in the news today provide evidence of the vast chasm separating those who champion the nuclear deal with Iran and those who see the deal as clearing the path for Iran's ascendance to the status of nuclear weapons power and regional hegemon.
The first item is the release of a letter signed by 340 American rabbis urging support for the Iranian nuclear deal. The signators include more than a smattering of fringe radicals. The letter was organized by Ameinu, an organization that bills itself as representing liberal values and a progressive Israel.
Among signators is a strong presence of those whose ideological orientation would be at home at a J Street conclave. There are those who have shown no hesitation cavorting with fringe extremists of Jewish Voice for Peace [JVP], a cultish group that routinely shows up at the most virulent anti-Israel demonstrations and has been described by the ADL as propounding the "complete rejection of Israel."
While among the signators were many rabbis who do not espouse radical agendas, they need to consider the impact of signing a statement that contradicts the overwhelming opinion of Israelis who feel most immediately threatened by Iran and lends respectibility to groups like J Street and Jewish Voice for Peace whose political agenda is hostile to Israel.
There is, for example, Arthur Waskow, who welcomed JVP as part of the "spectrum" of acceptable Jewish groups, telling a friendly interviewer from Tikkun magazine "I sort of feel attracted to its tone and method." Unsurprisingly, the founder of Tikkun magazine, former 60s radical turned rabbi, Michael Lerner, is also a signator.
Some signators have received support from the New Israel Fund [NIF], a controversial organization that has come under severe criticism in Israel for funding the "lawfare" campaign to isolate Israel and criminalize its leaders. NIF funds anti-Zionist groups like Breaking the Silence that travel the world spreading harmful lies about the Jewish State.
The signators also can be found in droves on petitions that come down hard on Israel but are mostly silent on Palestinian hatred and the horrific violence it engenders. For example, many of the names on a petition called "Jewish Solidarity with the People of Gaza," are also found on the Iran Deal letter. The Gaza petition called for unconditional negotiations with Hamas. It says nothing about terrorism or Hamas's responsibility for the plight of Gaza, but remonstrates, "As Jews and people of conscience, we can no longer stand idly by Israel's collective punishment of the Palestinian people in Gaza."
Undoubtedly, further scrutiny of the 340 signators would reveal much more troubling activity and beliefs out of step with the majority of American Jews.
The second item, provided by Adam Kredo, correspondent for the Washington Free Beacon, reports on a threat issued by the spokesman for Iran's Atomic Energy Organization [AEOI] to harm International Atomic Energy Agency Director Yukiya Amano if he reveals the contents of secret side deals between Iran and the agency. It will be interesting to see how, or even if, this explicit threat from an Iranian official is covered by the mainstream media, especially by those organizations supporting the proposed nuclear agreement.
Posted by SS at 12:20 PM | Comments (1)
August 17, 2015
Is it Certain That Iran Aims to Eliminate Israel's Jews?
While it's uncertain how long Iran's current leadership will remain in power, it is certain that this leadership is fanatically determined to eliminate the Jews in Israel. Among evidence supporting this view is one item generally overlooked: The very name of the regime's elite "Quds Force."
Iran's venerated Ayatollah Ruhollah Khomeini, the father of its Islamic revolution, is credited with naming the organization. Khomeini's "founding vision [was] the eradication of Zionism [as] an inevitable precondition for redeeming contemporary Islam" (The Nuclear Deal: No Pause in Iran's Vow to Destroy Israel, by Michael Segall, Aug. 16, 2015, Jerusalem Center for Public Affairs). According to Segall , Khomeini's obsession "keeps guiding the current generation of Iran's religious, political and military establishment. To him the destruction of Zionism was an axiom never to be questioned or strayed from and an objective to be perpetually and actively pursued. According to this vision, Israel should be fought as part of a protracted global struggle between Islam and the West, which 'planted intentionally the Zionist Entity in the heart of Islamic World.' "
In the Islamic world, Jerusalem, Israel's ancient and modern capital, is most commonly known by a word transliterated as "Al-Quds" meaning "The Holy" or "the holy Sanctuary." Al-Quds is an Arabic phrase that may reflect the earlier Hebrew beit ha-Mikdash, or "the holy house"— the First and Second Temples.
The Quds Force operates as Iran's military special forces arm. Any of countless other names could have been applied to the unit if not for Tehran's central obsession, elimination of the Jewish state of Israel — Allah's Force, Allah's Commandos, perhaps the Warriors of Ali (Shiite Islam's original martyr) or something similar.

Jerusalem (or any variation of the word) is not mentioned anywhere in Islam's holy book (attributed to Islam's prophet, Mohammed or Muhammad), the Quran (Koran). The phrase transliterated as "Al-Quds," mentioned several times in the Quran, is taken in the Islamic world to refer specifically to the Al-Aqsa mosque located on Jerusalem's Temple Mount. Temple Mount is the site of the ancient Jewish Holy Temples of Israel mentioned prominently in the Hebrew Bible and Christian New Testament. Al-Aqsa was constructed in 711 C.E. after the Islamic conquest, on the remains of the Byzantine Church of St. Mary of Justinian.

How important is the Quds Force? A news item currently reports the defiance of an international travel ban by the head of the organization, Qassem Souleimani, in traveling to Russia to discuss the delivery to Iran of surface-to-air missiles and other weapons. Such missiles could help protect Iran's presumed nuclear armaments facilities.
Quds Force reports directly to the Supreme Leader of Iran, Ayatollah Ali Khamenei. Khamenei, Ayatollah Khomeini's successor as Iran's ultimate boss, who recently published a book called Palestine on the destruction of Israel.
Posted by MK at 05:02 PM | Comments (0)
Supporters Flog Dated Poll as Proof of American Jewish Support for Iran Deal
Commentary presented as fact in The Washington Post by Professors Todd Gitlin and Steven M. Cohen misleads readers through omissions, distortions, and a lack of context ("The Jewish leaders who don't speak for American Jews," Aug. 16, 2015). The authors use a dated poll from The Los Angeles Jewish Journal to claim that a majority of American Jews support the Iran nuclear deal reached July 14 between the United States, Russia, France, China, United Kingdom, Germany and the Islamic Republic over the latter's purported nuclear program.
A closer examination reveals significant problems with their presentation.
Gitlin and Cohen assert that a majority of American Jews support the Iran nuclear deal in its current form. They make this assertion based on a July 16-20 Jewish Journal survey, conducted mere days after the agreement was reached, purporting to show 63 percent of American Jews favoring the deal. However, other more recent polls indicate that as the particulars of the agreement have become more well-known, American Jews increasingly oppose it. This is similar to the rest of the American public.

A week after The Jewish Journal poll, The Israel Project—referred to only briefly by the professors—conducted a poll showing 51 percent of respondents opposed the deal. Further indication of this trend can be seen in a July 30-August 4 Quinnipiac University opinion survey showing 53 percent of New York Jewish voters opposed the deal.

Dismissing or ignoring more recent polls while citing as proof of Jewish majority support a poll conducted in the first week after the deal was announced—before controversial details were more widely reported—is misleading at best and disingenuous at worst.
The authors correctly noted that most major Jewish organizations oppose the deal. They explain away this contradiction to their claim of majority backing within the Jewish community by making the unsubstantiated claim that these organizations are not truly representative of American Jews. They point to the Conference of Presidents of Major American Jewish Organizations denial of membership to J Street. But J Street seems to be the sole Jewish organization, self-described as pro-Israel but whose lobbying has been mostly pro-Palestinian, supporting the deal in its current form.
Yet, Gitlin and Cohen fail to mention that the reason for J Street's exclusion may be the not-so thinly veiled anti-Israel character of some of the group's alliances and backers. The latter includes a member of J Street's board who has argued that Israel should not exist, the former partnership with the National Iranian American Council, an anti-Iran sanctions outfit whose researcher, Beheshteh Farsheshani, has falsely asserted "Israel spends our money on terrorism, war, fear, racism."
The professors also omit that affiliated members of Jewish organizations—akin to "likely voter" categories in other politically oriented polls versus the general public—tend to be more involved and better informed regarding subjects of concern to the organized Jewish community, such as the Iran nuclear deal, than those with no affiliation or, in the specific case of the Jewish Journal poll, do not identify as religiously Jewish. Instead, they assert that differences in support can be explained by affluence of those affluent contributors polled. This overlooks that pro-deal organizations like J Street have received much of their funding from affluent contributors. Billionaire anti-Israel investor George Soros was a primary source of funding for J Street, a fact founder Jeremy Ben Ami initially denied.
By flogging a poll already overtaken by events—and explaining away its inconsistencies through omissions and canards, Gitlin and Cohen mislead Post readers both on the opinions of American Jews more likely to be informed and active on the Iran nuclear deal and on the representative nature of major Jewish organizations.
Are most black Americans members of the NAACP or the Urban League? No. Does The Post consider those organizations representative of African-Americans? Yes. Please drop the double standard when it comes to American Jews.—Sean Durns

Posted by ER at 04:28 PM | Comments (1)
USA Today Overplays Anti-Palestinian Attacks, Underplays Anti-Israeli Violence
USA Today correspondent Shira Rubin falsely equated anti-Israeli violence with anti-Palestinian violence in her article "Israel cracks down on Jewish extremists in West Bank." (Aug. 6, 2015). Immediately, on Aug. 6 CAMERA requested a correction that would more accurately reflect the disparity in the amount of attacks by Palestinians in the West Bank and those of Israeli settlers. The unpublished letter to the editor listed below was sent following the newspaper's refusal to issue a correction.
"Dear Editor:

Shira Rubin's article 'Israel cracks down on Jewish extremists in West Bank' (Aug. 6) claims that 'Jewish settlers and Palestinians have long engaged in tit-for-tat violence [emphasis added].' However, suggesting that violence between the two groups is comparable is not borne out by figures from the pro-Palestinian advocacy group B'Tselem showing that from 2000-2011, Israeli civilians were murdered by Palestinians nine times more than the other way around. Twenty-three Palestinian Arabs were killed by Jewish settlers in circumstances that were not independently confirmed whereas in that same period 215 Jewish civilians were murdered by Arabs in the West Bank. If violent but not fatal attacks by Palestinian Arabs against Israeli Jews and planned or attempted strikes against Jews aborted by Israeli security forces were also included, the fallacy of the 'tit-for-tat' comparison would be even clearer.
Sean Durns
Media Assistant, Committee for Accuracy in Middle East Reporting in America
Washington D.C."
—Sean Durns
Posted by ER at 02:56 PM | Comments (0)
New York Times: Reporter For Jewish Paper Finds No Anti-Israel Plot in Iran
Photograph of Iranian protester killed by the Iranian regime's Basij thugs.

The New York Times published a piece on August 13, 2015 conveying the report by a journalist from an "American Jewish pro-Israel publication" that "found little evidence to suggest that Iran wanted to destroy Israel, as widely asserted by critics of the Iranian nuclear agreement."
The journalist, Larry Cohler-Esses, is the assistant managing editor for news at The Forward, a Jewish newspaper that trends left and has been known to feature the views of anti-Zionist Jews. Cohler-Esses paints a relatively benign picture of Iran. In an interview with the Times' Rick Gladstone he stated, "Far from the stereotype of a fascist Islamic state, I found a dynamic push-and-pull between a theocratic government and its often reluctant and resisting people." Although he found "no one had anything warm to say about the Jewish state" when "pressed as to whether it was Israel's policies or its very existence to which they objected, several were adamant: It's Israel's policies."
What is missing here is factual context and intellectual integrity. It is as if Cohler-Esses and the New York Times operate in a vacuum, devoid of historical awareness or even common sense.
Concerning the metaphor of "push-and-pull" between the Iranian government and its people, there seems to be a lot of pushing, not much pulling. Here is some context from the last "free" elections Iran had:
Human rights campaigners say anecdotal evidence suggests the number of demonstrators killed in clashes with government forces after last month's poll was far higher than the official death toll of 20 and may amount to a "massacre". (July 16, 2009 by the Guardian, a leftist, anti-Israel newspaper)
The United States Institute of Peace published a report on the Green Movement that opposed the theocratic regime that recounts the widespread torture and killing of political activists.
Radio Free Europe published accounts of the regime murdering hundreds of Iranians demonstrating for political freedom.
But it is the contention that it is Israel's policies not its existence that the Iranian leadership objects to that is most dishonest. The evidence of the genocidal intent of the Iranian regime is vast and overwhelming. One tweet from the Ayatollah Khamenei will suffice. On July 23, 2014, the Supreme Leader tweeted, "This barbaric, wolflike & infanticidal regime of #Israel which spares no crime has no cure but to be annihilated." The Ayatollah's prescription suggests that his objections to Israel run deeper than just policy complaints.
Gladstone's piece on Cohler-Esses recalls the epithet "useful idiots" often attributed to Vladimir Lenin, but more likely coined during the terror regime of Joseph Stalin.
In a piece recounting a BBC interview with Doris Lessing, herself a self-admitted youthful "useful idiot," Professor Donald Rayfield author of Stalin and his Hangmen, provides a working definition of the term:
The phrase (useful idiots) seems to have been around for about 70 years. It's someone who doesn't think they're an idiot, who thinks they're highly intelligent but is so easily persuaded by flattery from people in power that they're prepared to sacrifice their principles and allow themselves to be duped, or even just to lie, for the sake of advantage.
The term was used in the context of western intellectuals and journalists who served as apologists for the brutal Soviet regime and helped conceal its enormous crimes.
The Times puff piece on Iran is part of this long and unsavory tradition. Among the most famous examples comes from New York Times itself. As famine engulfed the Ukraine in 1932 and 1933, the Times star reporter, William Duranty posted dispatches, dutifully published by the Times, with titles like "Russians, Hungry But Not Starving" and "Soviet Industry Shows Big Gains." Although he admitted food was scarce and disease due to hunger had taken a toll, he saw no one starving and impressed upon readers that such claims were exaggerations.
Duranty received a Pulitzer prize for his reporting. Maybe Gladstone and Cohler-Esses have similar aspirations. Or maybe they're just clueless.
Duranty claims to have not seen those who died from starvation, although it is suspected by many that he did know and intentionally concealed this information. But a conservatively estimated 3 million perished in what most credible historians regard as a man-made famine imposed on the Ukrainian peasants and others in order to break their will to resist the Communist regime's absolute control.
Similarly, Cohler-Esses may not have seen the terror imposed on Iranian citizens or the psychopathic hatred of Israel, but it is irresponsible of him - and the Times - to present such a naive and deceptive piece, especially since its timing indicates that it was intended to sway the political debate over the nuclear agreement that is vehemently opposed by Israel and its supporters.
The times have changed, but apparently the Times has not.
Posted by SS at 01:58 PM | Comments (1)
August 14, 2015
Former Joint Chiefs Chair Cites Iran Deal's "Deadly Consequences"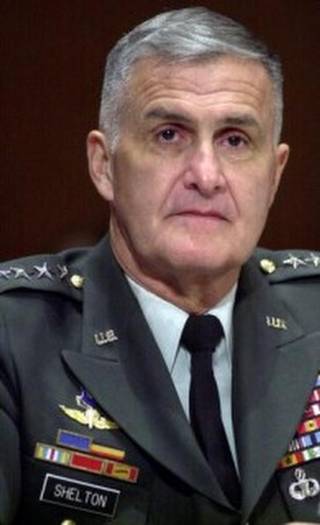 In an Op-Ed in the Miami Herald, Gen. Hugh Shelton, former chairman of the Joint Chiefs of Staff, expresses his opposition to the Joint Comprehensive Plan of Action (JCPOA), the proposed "Iran deal" negotiated between the U.S., Great Britain, France, Germany, Russia, China and Iran.
Gen. Shelton writes:
The main opposition, the National Council of Resistance of Iran (NCRI), and its many supporters in Western countries — myself included —understand that a regime that can't be trusted with the lives of its own people can't be trusted with a weak nuclear deal. The deadly consequences of such an agreement will not come 10 years from now when Iran has the acknowledged ability to launch a nuclear weapon; they will come as soon as the current regime is granted legitimacy on the international stage and gains economic or political leverage over democratic nations, which will happen as soon as their coffers are filled with unfrozen assets and the oil flows unfettered.

If the administration can't be bothered with the voice of the over 75 million Iranians, there is no shortage of American former officials, military officers, and academics who can attest to the power and legitimacy of the Iranian people and opposition working towards democracy. Former CIA Director James Woolsey, former FBI Director Louis Freeh, former Homeland Security Secretary Tom Ridge, former Attorney General Michael Mukasey and retired General George Casey are among them. All are men of unimpeachable integrity.

President Obama would do well to heed the serious, thoughtful and constructive criticisms about the nuclear deal.
Posted by SC at 04:11 PM | Comments (2)
August 13, 2015
Global Post Omits Key Facts While 'Interviewing' Iran's Jews
USA Today featured reporting by Peabody award-winning reporter and GlobalPost special correspondent Reese Erlich ("Iran's Jewish community gets behind nuclear deal with U.S.," August 7, 2015) that omitted key details on the treatment of Jews in the Islamic Republic of Iran. By uncritically relaying comments of a people under surveillance and failing to fully note the threats they face, the article misleads readers.
Interviewing Jews in Tehran, Erlich asserts that "most Iranian Jews strongly disagree with Israeli Prime Minister Benjamin Netanyahu" over his objections to the agreement between the United States, Germany, Russia, France, China, the United Kingdom and Iran over the latter's purported nuclear program. The reporter bases his claims on responses from individuals in the "city's small Jewish community" he interviewed.
But, why is Iran's Jewish community now so "small"?
Erlich briefly mentions that "over 100,000 Jews lived in Iran prior to the 1979 revolution, but many left right afterward"—leaving a population of only 12,000 to 30,000. Not only does he fail to account for the discrepant estimates of the current Jewish population, he fails to elaborate why so many Jews fled—in some instances perilously over mountains and desert—and why those who remain might be reluctant to publicly identify themselves as "Zionists."
After taking power in 1979 and ushering in the Islamic Revolution, some wealthy Iranian-Jews found themselves put on show trials. The first private citizen to be executed by tribunal was Habib Elghanian, an Iranian Jew who stood accused of "economic imperialism" and contacts "with Israel and Zionism." As Moment Magazine noted, "his real crime was that he had failed to follow established custom for Jews and maintain a low profile." ("How Jew-Friendly Persia Became Anti-Semetic Iran," Nov. 2006)
This relevant background may have something to do with why Iranian Jews stressed to Erlich that they "consider themselves Jews but not Zionists." Not only does Erlich fail to provide context, he also uncritically notes the comments of an Iranian Jew who tells him, "There (is) no need for guards in front of our synagogues." This omits that one possible reason is the iron fist of the regime, which suppresses all sectors of society and uses controlled violence for its own ends. The brutal suppression of peaceful protests in 2009 over the disputed re-election of President Mahmoud Ahmadinejad is perhaps the most conspicuous example of Iran's enforced police state conformity.
In other words, a reporter was granted access to the dwindling members of a Jewish community suppressed since the 1979 Islamic Revolution that brought the mullahs to power and—not surprisingly—they stated publically that they support the nuclear deal and that conditions in their community are just fine. One can imagine—in a country that persecuted other minorities, the baha'i's for example—what would have happened to Jews quoted by Global Post/USA Today if they expressed anything but support for the theocratic government.
The annals of journalism record other instances of reporters failing to appreciate the nature of the leaders and regimes they covered. Dispatches from The Nation journalist Lincoln Steffens in 1919 infamously lauded the "imagination" of dictator Vladimir Lenin and were filled with testimonies from people throughout Russia supporting the newly-created Soviet Union and what was a rapidly decreasing crime rate —while failing to note the brutal means used to stabilize and support the regime
Outlet—i.e. Kansas City Star journalist Edgar Snow—whose exclusive access during China's civil war in the 1930's to Chinese Communists and their leader Mao Zedong, but not the opposing Chinese Nationalists whom he privately disdained—led the reporter to look past despotic tendencies already in evidence. Instead he wrote approvingly of future mass murderer Mao and his Communists as "agrarian reformers" who sought peace.
Similarly, New York Times reporter Herbert Matthews—labeled by biographer Anthony DePalma as "the man who invented Fidel"—was granted access to rebel and future Cuban dictator Fidel Castro. Matthews claimed in 1959 that the future Communist leader was "not only not a Communist, he is decidedly anti-Communist."
Perhaps most infamously, exclusive access to another of the twentieth centuries largest mass murderers—Soviet dictator Josef Stalin—led to New York Times reporter Walter Duranty becoming an apologist both for Stalin's show trials against regime opponents and his forced starvation of Ukrainian peasants.
Erlich—who previously wrote an article with actor and counterculture iconoclast Peter Coyote referring to the terrorist-supporting regime of Syrian dictator Bashar al Assad as a possible "ally"—would have better served Global Post and USA Today readers by disclosing in greater detail the history of Iranian Jews under the mullahs. Had he provided more context—instead of transcribing statements uncritically—readers would have been much better informed.—Sean Durns
Posted by ER at 03:07 PM | Comments (0)
Former NPR Reporter Asserts False Israeli-Palestinian Equivalence
Author Kai Bird's review in The Washington Post of former National Public Radio (NPR) correspondent Sandy Tolan's book The Lemon Tree ("The Middle East: A Land of Two Peoples," June 25, 2006) failed to note the false Israeli-Palestinian equivalence that drove the narrative of Tolan's book. In a July 9, 2006 letter published by The Post, CAMERA observed:
"Kai Bird's review of Sandy Tolan's The Lemon Tree: An Arab, a Jew, and the Heart of the Middle East (Book World, June 25), refers to two people. One is a Palestinian who 'cannot relinquish U.N. General Assembly Resolution 194', which resolves that 'the refugees wishing to return to their homes and live in peace with their neighbors should be permitted to do so.' The other is an Israeli who 'cannot accept that measure, which she believes means bartering with the Jewish character of the Israeli state.'
Resolution 194 (adopted in 1948) recommended 'at the earliest practicable date' the return of refugees who intended to live in peace with their neighbors in what became Israel in 1948, or their resettlement in Arab countries and compensation for damages or loss of property. The Palestine Conciliation Commission was instructed 'to facilitate the repatriation, resettlement and economic and social rehabilitation of the refugees.' But the 'earliest practicable date' never arrived. The Arab states, expecting to win the war they had begun by violating U.N. General Assembly Resolution 181 (which called in 1947 for the partition of British-ruled Palestine into a Jewish state and an Arab one), voted against Resolution 194. The refugees and their hosts rejected resettlement and compensation. Later, having lost, the Arabs began claiming that Resolution 194 had established a 'right of return' to homes inside Israel proper. The central figures in Tolan's book remain symbolic, but in fact the Palestinian holds nothing to 'relinquish' and the Israeli is not obligated to 'accept' or 'barter.'
ERIC ROZENMAN
Washington Director, Committee for Accuracy in Middle East Reporting in America
Washington, D.C."
CAMERA has previously documented biased reporting by Tolan ("NPR Bias Triggers New CAMERA Action," Sep. 1998). The former correspondent, now an Associate Professor at the University of Southern California's Annenberg School for Communication and Journalism, seems to have continued to take the Palestinian narrative. His most recent book, Children of the Stone, focuses on Palestinian participants in the First Intifada who became musicians.
An April 28, 2015 talk by Tolan at Zaytuna College in Berkeley, California to promote his new book was co-sponsored by supporters of the anti-Israel boycott, divestment, and sanctions movement Jewish Voice for Peace and American Muslims for Palestine (AMP). AMP was created in 2005 from the Islamic Association of Palestine—a propaganda arm of United States listed terror group Hamas. The Anti-Defamation League has noted AMP "seeks to delegitimize and demonize the Jewish state."—Eric Rozenman

Posted by ER at 01:27 PM | Comments (1)