April 24, 2014
Iran Elected to UN Commission to Protect Women After Scheduling Execution of Raped Woman
On April 14, Ahmed Shaheed, UN Special Rapporteur on Human Rights in Iran, reported on the case of an Iranian woman who was scheduled to be executed for killing in self-defense an Iranian Intelligence Ministry official who she claimed lured her to his apartment and sexually assaulted her. Shaheed demanded that

The Iranian authorities should review her case and refer it back to court for a re-trial, ensuring that the defendant due process rights guaranteed under both Iranian law and international law,The Iranian authorities should review her case and refer it back to court for a re-trial, ensuring that the defendant due process rights guaranteed under both Iranian law and international law,
This case follows a well documented history of incidents in Iran of women being stoned to death under government auspices.
An article in the Daily Telegraph on May 30, 2013, reports on Iranian progress in human rights. The Iranian regime passed a law allowing for the hanging of adulterous women instead of burying them up to their necks and stoning them to death as was previously the punishment. Men are given a better chance. According to the Telegraph article, they are only buried up to their waists and if they can free themselves they can avoid being stoned to death.

On April 29, 2014, Iran won a coveted post on a committee in the United Nations Economics and Social Council charged with protecting women's rights. The appointment has received minimal coverage in the media. An internet search on the morning of April 24 revealed, so far, only an article in the Canada Free Press discussing the topic in any detail.
While alternate media like the Canada Free Press draw attention to such stories, The New York Times meanwhile publishes an Op-Ed in its April 13 edition "Are Iran and Israel Trading Places?" suggesting that Iran is liberalizing and Israel becoming a theocracy. The Times Op-Ed brazenly states, "One is liberalizing while the other is flirting with theocracy." Right.
Posted by SS at 10:03 AM | Comments (0)
April 23, 2014
Where's the Coverage? Videos Prove Arab Violence against Jews NOT Because of Israel

It seems as though "peace talks" between Israel and the Palestinian Authority have hit another stumbling block – or completely fallen apart perhaps – as Mahmoud Abbas' Fatah party has entered into an agreement with the terrorist organization Hamas to form a Palestinian unity government.
The Wall Street Journal notes:
Wednesday's declaration wasn't the first time the two sides have vowed to unite and follows past agreements that eventually fell apart over bickering.

But the timing of the announcement, however uncertain its outcome, was certain to complicate peace negotiations with Israel. Hamas is pledged to Israel's destruction.
In fact, Hamas aims to kill all Jews everywhere, "no matter how long it takes." Arab animosity toward and terrorism against Jews is nothing new. As CAMERA has previously reported:
Arab violence against Jews is often alleged to have begun with the establishment of the State of Israel in 1948 or as a result of Israel's capture in 1967 of territories occupied by Jordan. But even before the Mandate for Palestine was assigned to Great Britain by the Allies at the San Remo Conference (April 1920) and endorsed by the League of Nations (July 1922), Palestinian Arabs were carrying out organized attacks against Jewish communities in Palestine.
CAMERA details the infamous 1929 massacre in Hebron:
According to Dutch-Canadian journalist Pierre Van Passen who was in Palestine at the time, fabricated pictures of Muslim holy sites in ruins were handed out to Hebron Arabs as they were leaving their mosques on Friday, August 23, 1929. The captions on the pictures claimed that the Dome of the Rock was bombed by the Zionists. That evening, armed Arabs broke into the Yeshiva (Talmudic academy) and murdered the lone student they found. The following day, an enraged Arab mob wielding knives, axes, and iron bars destroyed the Yeshiva and slaughtered the rest of the students there. A delegation of Jewish residents on their way to the police station was lynched by an Arab mob. The mob then proceeded to massacre Hebron's Jews — both Sephardi and Ashkenazi — who had lived peacefully with their Arab neighbors for years. With only one British officer supervising, the Arab police made no attempt to prevent the massacre.

The head of Hebron's Ashkenazi community, Rabbi Ya'akov Slonim, had been on good terms with his Arab colleagues and offered his home as a refuge to Hebron's Jews, believing that they would be spared. But the mob broke in and killed the Rabbi, members of his family and all those assembled there. Van Passen gave the following account, revealing an attempted cover-up by British officials:

What occurred in the upper chambers of Slonim's house could be seen when we found the twelve-foot-high ceiling splashed with blood. The rooms looked like a slaughterhouse. When I visited the place in the company of Captain Marek Schwartz, a former Austrian artillery officer, Mr. Abraham Goldberg of New York, and Mr. Ernst Davies, correspondent of the old Berliner Tageblatt, the blood stood in a huge pool on the slightly sagging stone floor of the house. Clocks, crockery, tables and windows had been smashed to smithereens. Of the unlooted articles, not a single item had been left intact except a large black-and-white photograph of Dr. Theodore Herzl, the founder of political Zionism. Around the picture's frame the murderers had draped the blood-drenched underwear of a woman.

We stood silently contemplating the scene of slaughter when the door was flung open by a British solder with fixed bayonet. In strolled Mr. Keith-Roach, governor of the Jaffa district, followed by a colonel of the Green Howards battalion of the King's African Rifles. They took a hasty glance around that awful room, and Mr. Roach remarked to his companion, "Shall we have lunch now or drive to Jerusalem first?"

In Jerusalem the Government published a refutation of the rumors that the dead Jews of Hebron had been tortured before they had their throats slit. This made me rush back to that city accompanied by two medical men, Dr. Dantziger and Dr. Ticho. I intended to gather up the severed sexual organs and the cut-off women's breasts we had seen lying scattered over the floor and in the beds. But when we came to Hebron a telephone call from Jerusalem had ordered our access barred to the Slonim house. [Van Passen, Pierre, Days of Our Years, Hillman-Curl, Inc., New York 1939]

In total, sixty-seven Jews were killed and 60 were wounded. The Jewish community in Hebron was destroyed.
In the last week, British Pathé has released thousands of videos from its archives, including some newsreels relating to Palestine under the British mandate. Here, American Jews in 1929 are so concerned about their brothers and sisters in Palestine that a reported 35,000 marched in front of the British consulate in New York City demanding protection for them:
And in Jerusalem, nervous Jews erect makeshift barriers and patrol the streets to protect themselves:
Though the video declares that the arrival of British troops meant that "the situation is well in hand," this was not the case. There were many other incidents of anti-Jewish violence predating the establishment of the state of Israel.
These videos are a treasure trove of new evidence to an old reality: Arab terrorism against Jews in the land of Israel is not about occupation, settlements, the contours of future borders or refugees. It is not even about the existence of a Palestinian state. Arab terrorism against Jews is about the existence of a Jewish presence and it has been for ages. So… Where's the coverage?

Posted by SC at 07:24 PM | Comments (0)
National Post Columnist Lauds Scarlett Johansson
National Post of Canada Columnist Robert Fulford seems to have grasped something that the organizers of the Celebrate Israel Parade, New York City's Jewish Community Relations Council and United Jewish Federation, apparently have not yet comprehended; the BDS movement is anti-Semitic. Fulford wonders why it is that so many people don't recognize the obvious, or don't want to.
He observes,
In devising their purposes the BDS campaigners have never shown even the beginning of a sense of proportion. It's remarkable that the world needs a 29-year-old movie star to point this out.
Fulford notices that,

Like the great majority of Americans in the film industry, Johansson is a liberal Democrat. She took part in the last three presidential elections and raised money for Barack Obama.
But according to Fulford, Johansson apparently possesses a quality that most in her crowd lack.
Unlike many who fall into that category, she also thinks for herself.

The May issue of Vanity Fair carries a cover story about Johansson. The author of the piece, Lili Anolik, asked her how she explains why she has been viciously criticized for the SodaStream ads. Johansson answered, "There's a lot of anti-Semitism out there."
Posted by SS at 10:15 AM | Comments (0)
April 17, 2014
Misinformation and Moral Stupidity from World Council of Churches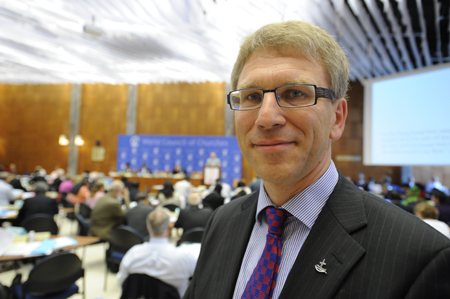 WCC General Secretary Rev. Dr Olav Fykse Tveit
The World Council of Churches has a long history of inciting hostility toward Israel. It has demonized Israel while remaining relatively silent about the misdeeds of its Arab and Muslim adversaries, even when these adversaries are responsible for murdering and oppressing Christians in the Middle East. For some background about the WCC's antipathy toward the Jewish state (and tendency to appease totalitarian countries and political movements, go here).
For people who know the WCC's feckless history when dealing with issues related to Israel, it's hard to be surprised at the pronouncements that come out of the organization's headquarters in Geneva.
But today, April 17, 2014, the WCC issued a statement that is a surprise.
The statement, signed by the WCC's General Secretary, Rev. Dr. Olav Fyske Tveit, expresses "solidarity with the nearly 5000 Palestinian men, women and children languishing in Israeli prisons." The statement says that this decision will disrupt "an already fragile peace process," and that it has "deepened heartache for many families, relatives, friends and indeed, the entire Palestinian people."
Predictably, Tveit offered no gesture indicating that he understood the suffering and heartache that some of these prisoners, especially those convicted of murder and terrorism, have caused to Israelis.
But that's no surprise. While the people who organized the WCC did express some shock over the Holocaust in the 1940s, the organization has always been more bothered by Israeli efforts to defend Jewish lives than it has been by attempts to end them.
The statement also expresses disappointment that Israel cancelled a hoped-for release of prisoners who had been in jail since before the Oslo Agreement of 1993.
But that's no surprise either. The organization has always had a soft-spot for "liberation" movements no matter how violent or totalitarian.
The surprise comes when the statement declares "Some prisoners have been in Israeli jails since 1948."
With this statement, Tveit indirectly asserts that there are Palestinians who have been in Israeli jails for the past 66 years!
Now that's a surprise!
But surprise, surprise it's not true.

Continue reading "Misinformation and Moral Stupidity from World Council of Churches"
Posted by dvz at 03:58 PM | Comments (0)
Syrian Rebel Leader Speaks of Peace With Israel

Since the outbreak of the "Arab Spring", examples of influential regional figures offering a balanced and flexible perspective of the Israeli-Arab conflict have emerged. These more moderate voices in the region contrast with an opposing trend among Western academics, particularly in humanities disciplines, who rigidly adhere to a Marxist-derived ideological fantasy that is detached from both historical reality and the existing situation in the Middle East.
An example of a more flexible balanced approach was revealed on March 19, 2014 by MEMRI, the Israeli group that monitors Arab language media. MEMRI posted a video of Syrian rebel leader Kamal Al-Labwani on Syrian Orient TV. Labwani was asked by a skeptical interviewer about his views on Israel. The following is a portion of the exchange:
I am opposed to the dogmatic mentality that classifies all Shiites, all Jews, and so on as our eternal enemies. Since the Battle of Khaybar and until the establishment of Israel, we lived together with the Jews, and there was no war. The problem began with the entity that they established as a result of WWII. This problem can be resolved another way, not like that. The proof is that the Arab countries made peace with [Israel]. We would not be the first. We would be the last.

But Israel has genuine fears about its security. If we realize that and allow Israel to feel secure in its Sunni surroundings – after all, it is Arab Sunni land that Israel has taken – and if we make Israel feel more welcome, it may yet give up its hostile mentality which is the cause for the destruction.…

Interviewer: Is it really in the interest of Israel to see the Syrian people live in prosperity and democracy? Israel thinks about the long term. It must know that after a period of reconstruction, the Syrian people will return to its principal cause.

Kamal Al-Labwani: You insist on thinking that Israel's raison d'etre is to kill the Arabs.

Interviewer: Israel has expansionist goals.

Kamal Al-Labwani: Not true. The people of Israel fled persecution in the Nazi Holocaust, and they want to live in peace.

Interviewer: But this peace at our expense. You talk with such sympathy to Israel… Israel occupied land that does not belong to it.

Kamal Al-Labwani: That's true. But so did Germany. We too massacred one another. We too massacred one another. When we conquered Homs, we drove its people out. What the Lebanese are doing…

Interviewer: Does one crime justify another?

Kamal Al-Labwani: Such is life, such is history. This is a people that fled persecution and the Holocaust, and came to this region. They were exploited by colonialism, which prevented them from going anywhere else. We have not dealt with the issue rationally. Let me tell you, it is in our interest today to engage in a peace process. Instead of letting the displaced Palestinians continue to suffer…

Interviewer: Even if the [Jewish] people were displaced and suffered, they found their peace and quiet by conquering the land of other people…

Kamal Al-Labwani: True, but the Arabs had also come and conquered this land. Such is history. People never stay put. The Armenians came, the Circassians, came, the Turks left, and the Ottoman Turks came, and now the Safavids are coming… " The land belongs to Allah, and He gives it to whoever He wills of his servants." Nobody has a historical right to a piece of land. Historical right is a Nazi, racist, French, German concept, which has caused problems all over the world.

"He gives the land to whomever He will of His servants." After 40 years, the statute of limitation applies to all these crimes. A person who was born in Israel and whose parents came and did all those things – are you going to hold him responsible for what his forefathers did? Long ago, the Sunnis and Shiites had a dispute, and eventually Hussein was killed. Am I supposed to pay the price today? Does that make any sense?
If only the academics who signed the ASA boycott petition or the numerous anti-Israel agitators dispersed throughout academia were able to overcome their ideological fantasies and deal with the history and contemporary reality of the conflict as honestly as this Syrian leader has.
Posted by SS at 11:01 AM | Comments (0)
April 16, 2014
Where's the Coverage? PA Official's Doublespeak

On the way to a family Passover seder near Hebron, Baruch Mizrachi was shot dead by a terrorist sniper and his wife and son were wounded. It is unclear whether or not Palestinian Authority President Mahmoud Abbas has condemned this heinous act.
According to The Jerusalem Post:
Contrary to the accounts of the meeting in Ramallah of Israeli [opposition] members of Knesset Horowitz and Bar, Palestinian Authority spokesman Nabil Abu Rudaineh says Abbas has not condemned Passover eve killing of Baruch Mizrachi.
But it is clear that another high-ranking PA official has condemned the terrorist act. According to Artuz Sheva:
PA Minister of Religious Affairs Mahmoud Al-Habbash met with Israeli journalists and condemned the murder on IDF Radio.

"This Israeli who was murdered, it hurts [. . .] we condemn the killing of any person," Al-Habbash stated. "The principle of killing and violence is completely unacceptable."
But wait, Palestinian Media Watch reports that, on official PA television:
Just two weeks ago, this same Al-Habbash defended and honored all Palestinian terrorists who are in Israeli prisons:

"All the Palestinian prisoners who protected [our] land, honor and homeland are prisoners of freedom; they are prisoners of war. They are not criminals, will never be and have never been. Their hands committed no crime. They were defending themselves. They are an inseparable part of this national Palestinian movement and one of its authentic elements."
That doesn't sound like much of a condemnation of terrorism. In fact, Al-Habbash has made a number of troubling statements in the past including glorifying terrorists, calling for jihad in Jerusalem, and alleging that Israel intends to destroy the Al-Aqsa mosque in order to build the Jewish "alleged Temple."
You may also recall that CAMERA previously posted that Al-Habbash admitted that peace talks are nothing but a ploy, using as a "model" an instance where Mohammad concluded a peace treaty and then came back and breached it through violence.
A high ranking PA official says one thing to Israelis and the opposite to Palestinians. He calls for sham peace talks. And yet, the media is silent on this duplicity. Where's the coverage?
Watch a video of PA President Mahmoud Abbas applauding after Al-Habbash says, "I don't think that there is anyone who doesn't know where Jihad is supposed to take place… Jerusalem is the direction, Jerusalem is the address.
Posted by SC at 07:48 PM | Comments (2)
April 09, 2014
Where's the Coverage? NY Times Wrong on Hitler, Wrong to this Day

If you have noticed that the New York Times news pages are slanted against Israel, you have probably also noticed the predominantly anti-Israel voices given a platform on the editorial pages. CAMERA has. CAMERA is undertaking a campaign to inform the public about The Times' anti-Israel bias and how the newspaper omits key information and misrepresents facts.
Unfortunately, The New York Times has been wrong for decades. On December 20, 1924, the newspaper ran this article:
It goes without saying that Hitler was absolutely not "tamed by prison." However, Times readers did not get a full picture of how wrong this assessment was because, as historian Laurel Leff proved in her book, "Buried by The Times," the newspaper downplayed the horrors of the Holocaust by printing stories on little-read back pages, running items without headlines and burying key facts within larger articles. Failing to give proper weight to arguably the most important news story of the twentieth century is clearly wrong.
And Times wrongness continues to this day. CAMERA's six-month study of The New York Times details how the newspaper treats Israel with a harsher standard, omits context, and shows a clear preference for the Palestinian narrative. As for the opinion pages, The New York Observer recently ran a story quoting current and former Times reporters savaging the pundits, particularly Tom Friedman:
…One current Times staffer said, "It really isn't about politics, because I land more to the left than I do to the right. I just find it …"

He paused for a long time before continuing and then, unprompted, returned to Mr. Friedman. "I just think it's bad, and nobody is acknowledging that they suck, but everybody in the newsroom knows it, and we really are embarrassed by what goes on with Friedman. I mean anybody who knows anything about most of what he's writing about understands that he's, like, literally mailing it in from wherever he is on the globe. He's a travel reporter. A joke. The guy gets $75,000 for speeches and probably charges the paper for his first-class airfare."

Another former Times writer, someone who has gone on to great success elsewhere, expressed similar contempt (and even used the word "embarrass") and says it's longstanding.

"I think the editorials are viewed by most reporters as largely irrelevant, and there's not a lot of respect for the editorial page. The editorials are dull, and that's a cardinal sin. They aren't getting any less dull. As for the columnists, Friedman is the worst. He hasn't had an original thought in 20 years; he's an embarrassment. He's perceived as an idiot who has been wrong about every major issue for 20 years…"
If you read Friedman's column on Sunday you know that some things never change. The Times was wrong on Hitler and is wrong today on Israel. As for a balanced and contextual assessment of Israel-related issues, in The New York Times… Where's the coverage?
You can watch a lecture by Laurel Leff by clicking here or watch a shorter presentation by Hunter College High School student Anna Blech:
Posted by SC at 09:11 PM | Comments (2)
Brandeis Caves to CAIR, Hirsi Ali Responds
Ayaan Hirsi Ali
Brandeis University has announced it's rescinding an honorary degree that was to be given to Somali-born Ayaan Hirsi Ali, best-selling author and human rights activist. Hirsi Ali participated in CAMERA's 17th Annual Gala Dinner on April 6 as keynote speaker.
Capitulating to a campaign by CAIR (Council on American Islamic Relations) and voluble student and faculty protests, Brandeis President Frederick Lawrence issued the statement withdrawing the honor. CAIR is an unindicted co-conspirator in a terrorism funding case involving Hamas.
Hirsi Ali has received numerous awards previously, including in 2006 as recipient of the American Jewish Committee's Moral Courage Award.
Hirsi Ali issued the following statement in response to the Brandeis action:
Yesterday Brandeis University decided to withdraw an honorary degree they were to confer upon me next month during their Commencement exercises. I wish to dissociate myself from the university's statement, which implies that I was in any way consulted about this decision. On the contrary, I was completely shocked when President Frederick Lawrence called me — just a few hours before issuing a public statement — to say that such a decision had been made.

When Brandeis approached me with the offer of an honorary degree, I accepted partly because of the institution's distinguished history; it was founded in 1948, in the wake of World War II and the Holocaust, as a co-educational, nonsectarian university at a time when many American universities still imposed rigid admission quotas on Jewish students. I assumed that Brandeis intended to honor me for my work as a defender of the rights of women against abuses that are often religious in origin. For over a decade, I have spoken out against such practices as female genital mutilation, so-called "honor killings," and applications of Sharia Law that justify such forms of domestic abuse as wife beating or child beating. Part of my work has been to question the role of Islam in legitimizing such abhorrent practices. So I was not surprised when my usual critics, notably the Council of American-Islamic Relations (CAIR), protested against my being honored in this way.

What did surprise me was the behavior of Brandeis. Having spent many months planning for me to speak to its students at Commencement, the university yesterday announced that it could not "overlook certain of my past statements," which it had not previously been aware of. Yet my critics have long specialized in selective quotation — lines from interviews taken out of context — designed to misrepresent me and my work. It is scarcely credible that Brandeis did not know this when they initially offered me the degree.

What was initially intended as an honor has now devolved into a moment of shaming. Yet the slur on my reputation is not the worst aspect of this episode. More deplorable is that an institution set up on the basis of religious freedom should today so deeply betray its own founding principles. The "spirit of free expression" referred to in the Brandeis statement has been stifled here, as my critics have achieved their objective of preventing me from addressing the graduating Class of 2014. Neither Brandeis nor my critics knew or even inquired as to what I might say. They simply wanted me to be silenced. I regret that very much.

Not content with a public disavowal, Brandeis has invited me "to join us on campus in the future to engage in a dialogue about these important issues." Sadly, in words and deeds, the university has already spoken its piece. I have no wish to "engage" in such one-sided dialogue. I can only wish the Class of 2014 the best of luck — and hope that they will go forth to be better advocates for free expression and free thought than their alma mater.

I take this opportunity to thank all those who have supported me and my work on behalf of oppressed woman and girls everywhere.
Posted by AL at 05:33 PM | Comments (20)
Prodromou Ignores Christian Safety and Freedom in Israel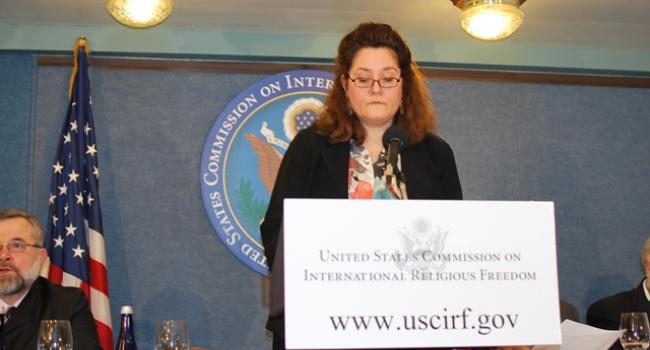 Dr. Elizabeth Prodromou, Assistant Professor at Boston University, Visiting Professor at Tufts University, and former vice chair of the US Commission on International Religious Freedom, wrongly identified Israel as one of the countries in the Middle East where Christians are persecuted and the survival of Christianity is in danger.
Dr. Prodromou (photograph above) did this during a presentation titled "Myth Busting and Reality Checking," which she gave at a conference in Brookline, Mass., on March 28, 2014.
During her talk, Prodromou stated that the current persecution and cleansing of Christians in Syria reflects broader realities in the Middle East, including Israel and the Palestinian Authority.
In an ironic twist considering the title of her talk, she presented as "myth" the reality that Israel protects Christians and that Israel is the only country in the Middle East where Christianity is growing.

Continue reading "Prodromou Ignores Christian Safety and Freedom in Israel"
Posted by dvz at 03:52 PM | Comments (5)
April 02, 2014
The New Yorker Equates Israel's Annexation of Jerusalem with Nazi Anschluss
The New Yorker likes to insert into its articles digs at Israel. Another one popped up in the introduction to a piece on the Russian annexation of Crimea. George Packer writes,
Annexation has an ugly sound, owing to an unhappy past. The term describes, among other tragedies, Saddam Hussein's attempt, in 1990, to swallow Kuwait whole, as the nineteenth province of Iraq; Indonesia's invasion, in 1975, of East Timor; Morocco's absorption, the same year, of Western Sahara; and Israel's declaration, after the 1967 war, of East Jerusalem as part of a united capital. The German word for it is Anschluss. Like most coerced unions, annexations come wreathed in clouds of lofty, dishonest language—key themes are popular will, historic grievance, divine providence—but they almost always happen at the end of a gun.
The magazine has a reputation for skillful writing, but not so much for accuracy or for making sound historical analogies, especially when it comes to Israel.
With the exception of Israel, the annexations Packer lists - by Iraq, Indonesia, Morocco and Germany - share common traits; they were unprovoked acts of aggression ordered by authoritarian rulers. Israel's annexation of east Jerusalem was the result of a defensive war fought by a democratic state responding to aggression committed by Jordan. That's a big difference.
There are other differences too. Some of the annexations involved territories on which the annexers had dubious historical claims. There is no reasonable doubt about the connection of the Jewish people to Jerusalem. Furthermore, the city had only been divided for 19 years as a result of Jordanian aggression in 1948.
But the fact that Packer lumps together these distinctly different events, each with its own historical context, is of no importance to The New Yorker. All that matters is that it sounds clever and allows the smug writers at the magazine to take another swipe at Israel.

Posted by SS at 01:55 PM | Comments (5)
April 01, 2014
Where's the Coverage? Palestinian Official Admits "Blackmailing" Israel for Release of Terrorists

The Washington Post reported:
U.S. Secretary of State John F. Kerry is canceling a planned trip to Ramallah on Wednesday to meet with Palestinian Authority President Mahmoud Abbas amid new threats from the Palestinian leader to circumvent U.S.-backed peace talks with Israel.

Kerry had planned to make an emergency trip to Abbas's West Bank headquarters in hopes of announcing a breakthrough, according to a senior State Department official.

An official familiar with the talks had said earlier Tuesday that negotiators were discussing in broad outline a plan that would require Israel to slow settlement construction and release hundreds of Palestinian prisoners. The Palestinians would in turn agree not to pursue recognition of a Palestinian state or other redress through the United Nations in order to keep alive the hope for a solution negotiated between the two sides.
But this is evidently not to be. As The Times of Israel wrote:
In an apparent breach of understandings with the US and Israel, and with a proposed agreement to extend peace talks awaiting a Palestinian response, Palestinian Authority President Mahmoud Abbas on Tuesday evening signed an official appeal to join 15 UN bodies.

At a PLO meeting in Ramallah, Abbas president formally requested membership in the international organizations for the "State of Palestine."

"The Palestinian leadership has unanimously approved a decision to seek membership of 15 UN agencies and international treaties, beginning with the Fourth Geneva Convention," Abbas said on television after signing the demand.
This should come as no surprise to anyone observing – and especially conducting – the negotiations. Less than two weeks ago, the spokesman for Mahmoud Abbas' Fatah party, Ahmad Assaf, stated on official Palestinian Authority television, as translated by Palestinian Media Watch:
Our membership in the UN is also a weapon. And that's an important card. It's a weapon that's in our pocket. I didn't use it on day one. I didn't say, as soon as I got membership in the UN, that I want to go to the International Criminal Court - no. We've been waving it around for two years now: We've obtained the release of the prisoners, we blackmailed [Israel], that is, in quotation marks, and we've taken important positions because we have a card that we're waving around.
This has apparently always been the plan: pocket irreversible Israeli concessions such as the release of murdering terrorists, and then go to the United Nations and international organizations to pursue isolation, persecution and prosecution of Israel. These can hardly be seen as "good faith" negotiations. And yet, while the media lionize the released terrorists on page one, on Palestinian Authority double-dealing, they are silent. Where's the coverage?
Watch the video of Assaf's statement:
Posted by SC at 05:45 PM | Comments (0)
Contradictory Stories from Christ at the Checkpoint
CATC Conference Director Munther Isaac addresses 2014 attendees. (Dexter Van Zile)
What a difference two years can make!
At the 2012 Christ at the Checkpoint Conference, Munther Isaac, (who recently got his Ph.D. from Oxford Center for Mission Studies), told attendees that Palestinian Christians "have always enjoyed the support of the Palestinian leaders" and that they "worship with freedom and exercise [their] rights like all Palestinians."
Isaac made this statement while introducing Salaam Fayyad, who was then serving as Prime Minister of the Palestinian Authority.
Two years later, attendees heard a different story. The first night of the conference, Munir Kakish, the leader of the Council of Evangelical Churches in the Holy Land called on the Palestinian Authority to recognize Evangelical churches and accord them their civil rights. Here is what he said:
As a religious group, we are still unable to practice our basic civil rights to issue marriage certificates, register our church properties in the name of the church, or even open bank accounts to manage our churches' financial affairs.
One of these statements cannot be true.
If Christians "worship with freedom" and "exercise rights like all Palestinians," then why can't Evangelical churches open bank accounts in Palestinian society?
Posted by dvz at 02:52 PM | Comments (1)
March 31, 2014
Ha'aretz Correction on Palestinian Fatality
Ha'aretz published the following correction today on page 2: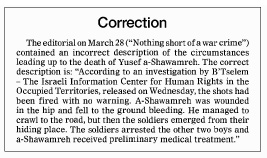 The March 28 editorial (now edited online, but without any note indicating that a change was made) had originally alleged (see below) that the soldiers had shot Shawamreh a second time, after they emerged from hiding: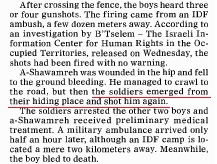 Posted by TS at 04:41 AM | Comments (0)
NY Times, Who is Demonizing?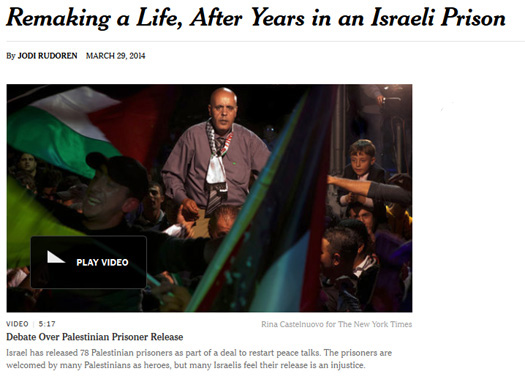 The New York Times coverage today of released Palestinian prisoners embodies all that is wrong with Times coverage of Israel and the Palestinians ("Remaking a Life, After Years in an Israeli Prison,").
About Muqdad Salah, released seven months ago after serving 24 years for the murder of 72-year-old Holocaust survivor Israel Tenenbaum, Jerusalem bureau chief Jodi Rudoren writes:
Demonized as terrorists by Israelis and lionized as freedom fighters by Palestinians, prisoners like Mr. Salah have become a flash point in the troubled peace talks . . . (Emphasis added.)
Rudoren has constructed a very neat symmetry in which two sides possess their diametrically opposed perceptions, valid or not, of the Palestinian who murdered a 72-year-old security guard.
Yes, Palestinians do lionize murderers of innocent civilians like Salah and others as "freedom fighters." But when Israelis regard the murderer of an elderly man for nationalistic reasons as a "terrorist," is this "demonization"? Or is it just calling it like it is?
Rudoren herself reports on the circumstances of the cold-blooded murder:
Israeli court records show Mr. Tenenbaum was found about 7:30 a.m. on June 14, 1993, lying on his back in a bed near the hotel bar, a pillow covering his bloodied face. According to the 29-page verdict convicting him of murder, Mr. Salah told investigators that he and another man had gone to Netanya in search of a Palestinian suspected of collaborating with Israel, and happened upon the guard.

The other man said, "Let's kill him so that we did not make the trip for nothing," the verdict quotes Mr. Salah having said. "Only when we saw the guard sleeping did we decide to kill him as a protest against the occupation."
Perhaps the newspaper, which in its news articles routinely labels Israeli leaders (but never Palestinian leaders) "shrill," "stubborn," "abrasive," "derisive," "cynical," ought to reflect on the meaning of "demonizing."
Continue reading "NY Times, Who is Demonizing?"
Posted by TS at 03:09 AM | Comments (3)
March 26, 2014
Munther Isaac Tells Antisemitic Joke at CATC Peacemaking Conference, Gets Laugh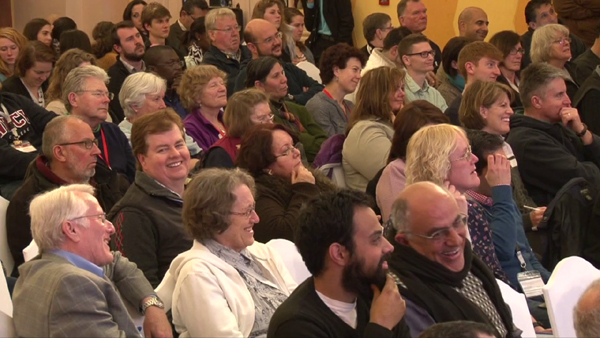 The audience at Christ at the Checkpoint, held in Bethlehem during the second week of March 2014, responds to a joke about Jews and money told by Palestinian Christian Munther Isaac. (Screenshot.)
Munther Isaac is a clever and well-educated man who did a very stupid thing at the Christ at the Checkpoint Conference that took place in Bethlehem a couple of weeks ago.
He told an antisemitic joke that, sickeningly enough, elicited laughter from Evangelical Protestants in attendance at the conference. The joke is easy to follow for people who know their New Testament.
What is most astonishing is that Munther's joke, and the audience's response, is all there for people to see on video here. (The joke is told at about 17 minutes and 20 seconds into the video.)
Here's the set up.
Isaac, a Palestinian Christian and CATC conference organizer who is about to receive his Ph.D. from the Oxford Center for Mission Studies, spoke on the night of Thursday, March 13, 2014, the second to last day of the conference. The scripture he was using in his talk was the parable of the Good Samaritan (Luke 10:29-37), which tells the story of a man being robbed and left for dead by the side of the road.
Continue reading "Munther Isaac Tells Antisemitic Joke at CATC Peacemaking Conference, Gets Laugh"
Posted by dvz at 04:28 PM | Comments (8)
March 25, 2014
Jimmy Carter, History and the Jewish State
Former President Jimmy Carter is apparently confused about the Israeli demand for Palestinian recognition of Israel as the Jewish state. And the historical record seems to elude him as well. The Associated Press reports on an interview with President Carter:
Various Israeli politicians have been declaring the "two-state" solution of a separate Palestinian and Israeli nations dead, and many are demanding that the Palestinians and Arabs formally recognize Israel as a Jewish state in order to discuss the Palestinian issue.

"I don't see how the Palestinians or the Arab world can accept that premise, that Israel is an exclusively Jewish state," Carter said.

"This has never been put forward in any of the negotiations in which I was involved as president, or any president, before (Benjamin) Netanyahu became prime minister this time. And now it has been put into the forefront of consideration," he added.

About a fourth of Israel's people are Arab or other non-Jewish citizens.

"Israel can claim 'We are a Jewish state.' I don't think the Arab countries will contradict that Jewish statement. But to force the Arab people to say that all the Arab people that they have in Israel have to be Jews, I think that's going too far," Carter said.
Both President Clinton and President George W. Bush have encountered the Israeli demand for Palestinian recognition of Israel as a Jewish state put forward by the administrations of three Israeli prime ministers prior to Netanyahu.
First, a few days ago, American negotiator Dennis Ross noted that the Israeli demand for Palestinian recognition of Israel as the Jewish state came up during and immediately following the Camp David negotiations. Later, in 2003, Prime Minister Ariel Sharon listed Palestinian recognition of the Jewish state as his sixth reservation to President Bush's Mideast "road map." Finally, during the Annapolis talks in 2007 under Prime Minister Ehud Olmert, the Israelis again raised the issue with President Bush.
Likewise, the presumption that recognition of Israel as the Jewish state is tantamount to an "exclusively Jewish state" is equally baseless.
Posted by TS at 07:48 AM | Comments (3)
March 24, 2014
Dennis Ross Comment Highlights NY Times Error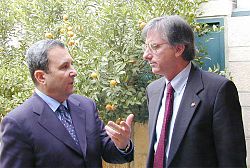 While The New York Times refuses to correct factual errors that appeared in an Op-Ed by former Palestinian official Ali Jarbawi, a former senior US official has provided even more evidence that the newspaper published patently false assertions.
Jarbawi claimed in his Op-Ed that Israel's demand to be recognized as a Jewish state "did not exist in past talks; in fact, it didn't exist until the thought occurred to Prime Minister Benjamin Netanyahu."

This is flatly inaccurate, as CAMERA has pointed out. Israel's call for recognition as a Jewish state was appended as an Israeli reservation to the Road Map peace plan in 2003. It was raised, and argued over, during talks between high level Israeli and Palestinian negotiators in 2007. It has been discussed in internal Palestinian memoranda.
And according to a report in Commentary, former chief US negotiator Dennis Ross suggested a few days ago that those claiming Netanyahu was the first to raise the issue in peace talks are lying. (His language was just slightly more diplomatic.)
About Israel's call for recognition as a Jewish state, Ross said,
When I hear it said that this is the first time this issue has been raised – the people who say that think that no one knows history. Now maybe it's true that most people don't know history. But they should never say it to me. When we were at Camp David, this issue was raised. In the period after Camp David, before we did the Clinton Parameters, this issue was raised. This issue has been raised for obvious reasons. From the Israeli standpoint, there is a need to know that the Palestinians are committed to two states, meaning in fact that one state is Palestinian and one is the state of the Jewish people. They need to know the Palestinians are not about two states, one Palestinian and one bi-national.
Jarbawi is one of those who apparently thinks that "no one knows history." Or perhaps he knows he can count on The New York Times to help him rewrite it.
Posted by GI at 12:22 PM | Comments (0)
March 23, 2014
Touring the Israeli-Palestinian Conundrum with the NYT (Updated)
March 24 update: The New York Times has updated its post so that it no longer describes Tel Aviv as Israel's capital.

With alluring photographs and intriguing itineraries, The New York Times urges travelers to join its Times Journeys abroad: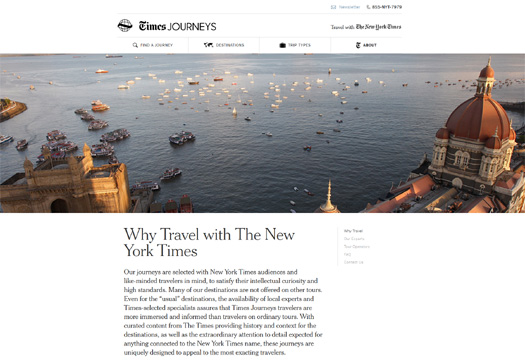 Given The Times' troubling record on the Israeli-Palestinian conflict, including inconsistent reporting standards and uncorrected errors, the paper's promise of "curated content from The Times providing history and context for the destinations" is cause for concern when it comes to The Times' trip to Israel and the West Bank.
Indeed, already in Day 1 of the itinerary for the "The Israeli-Palestinian Conundrum," The Times' notoriously factually-challenged coverage makes an appearance:
Yesterday, The Washington Post commendably published a timely correction on the very same topic, making clear that Jerusalem, not Tel Aviv, is Israel's capital.
Will The Times follow The Post's lead and set the record straight? Even if it does, it's probably not realistic to hope that trip participants can expect more accurate "history and context" than that delivered up on a routine basis at the "Paper of Record."
Posted by TS at 05:02 AM | Comments (1)
March 13, 2014
Israeli Hospitals Treat Syrian Victims of Civil War
The Christian Science Monitor published a feature article on March 12, 2014, "Enemies, no, patients, say Israeli doctors treating Syrians," describing the lifesaving treatment provided to wounded and ill Syrians at Western Galilee Hospital in Nahariya. In less than a year, 220 Syrians, a third of them children, have been treated at the Israeli hospital, mainly for injuries sustained in the Syrian civil war.
What is so extraordinary about this humanitarian effort is that Israel is technically at war with Syria.
The article establishes,
"Israel has a tradition of offering humanitarian assistance in war zones and natural disasters around the world, even where it is not particularly welcome. But treating Syrians, whose country is still officially at war with Israel, is not only a logistical miracle but an extraordinary exercise in humanity trumping hate."

This Israeli humanitarian effort contrasts with the media's frequent showcasing of the empty moral preening of so-called humanitarian groups like Amnesty International, that recently published yet another lengthy report filled with dubious accusations against Israel and academic groups like the American Studies Association who advocate boycotts of the Jewish state and its scholars. Like peacocks flashing their colorful feathers, these groups parade their so-called moral indignation to garner attention, but contribute nothing positive for either Arabs or Jews.
Meanwhile, the Israeli medical staff at Western Galilee Hospital expend time, resources and sweat to alleviate the suffering of their Arab neighbors. The Christian Science Monitor is to be commended for providing tangible evidence of the humanitarian impulse to its readers.
Posted by SS at 01:48 PM | Comments (3)
March 12, 2014
Where's the Coverage? "Jews Have Not Taken Anything by Force"

In 1936, a national leader wrote a letter. This is an excerpt:
…The situation of the Jews in Palestine being the strongest and most concrete proof of the importance of the religious problem among the Muslim Arabs toward anyone who does not belong to Islam. Those good Jews, who have brought to the Muslim Arabs civilization and peace, and have spread wealth and prosperity to the land of Palestine, have not hurt anyone and have not taken anything by force, and nevertheless the Muslims have declared holy war against them and have not hesitated to slaughter their children and their women despite the fact that England is in Palestine and France is in Syria. Therefore a black future awaits the Jews and the other minorities if the Mandate is cancelled and Muslim Syria is unified with Muslim Palestine. This union is the ultimate goal of the Muslim Arabs…
Who wrote this?
Suleiman Assad, the grandfather of Syria's dictator Bashir al Assad, father of the previous dictator Hafez al Assad.
He and other Alawite leaders wrote to the Foreign Minister of France, asking the French not to end the mandate of Syria because they feared being massacred as a religious minority.
The letter sits today in the French Foreign Ministry.
Posted by SC at 06:31 PM | Comments (2)