October 22, 2014
After Suspected Terror Attack Against Israelis, Early AP Headline Reported: "Israeli Police Shoot Man in East Jerusalem."
A three-month-old in Israel is in critical condition and at least 7 others were wounded when an car slammed into an Israeli train station in a suspected terror attack. (Video here — warning, shows from a distance a car hitting people.) The driver of the car was subsequently shot by Israeli police, reportedly as he tried to flee the scene.
The Associated Press ran an initial report on the incident with the headline, "Israeli police shoot man in east Jerusalem."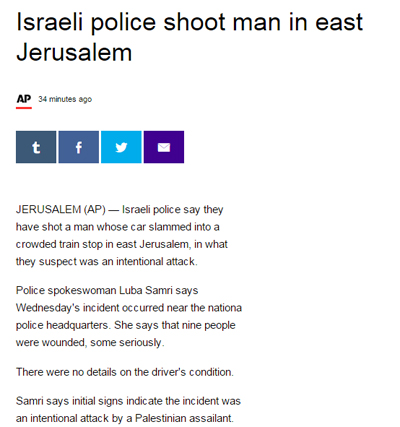 As you can see in the screen shot above, there were clearly enough details available at the time, even with the news still in the hazy "breaking" stage, that the inappropriate and misleading headline should never have appeared on the story. The story opened by noting that a driver "slammed into a crowded train stop" and was thought to be a "terror attack."
Nearly an hour after AP's first report, it published a second one, containing virtually no new information, with the more appropriate headline, "Car slams into east Jerusalem train station."
Posted by GI at 12:25 PM | Comments (1)
October 20, 2014
How Max Blumenthal Lies About Israel
Moments ago, we posted an item about anti-Israel activist David Sheen's brazen mistranslation of Benjamin Netanyahu, a lie he used to shamefully draw an analogy between the Israeli prime minister and the Nazis.
Not to be outdone, fellow extremist Max Blumenthal is likewise spreading blatant lies on Twitter about Israeli prime ministers:
@damianjread he made those remarks to Molodet activists.

— Max Blumenthal (@MaxBlumenthal) October 18, 2014
The comment was made in support of, and in elaboration of, another Twitter user's claim that Ariel Sharon had said:
It is the duty of Israeli leaders to explain to public opinion, clearly and courageously, a certain number of facts that are forgotten with time.

The first is that there is no Zionism, colonialism, or Jewish state without the eviction of the Arabs or the expropriation of their land.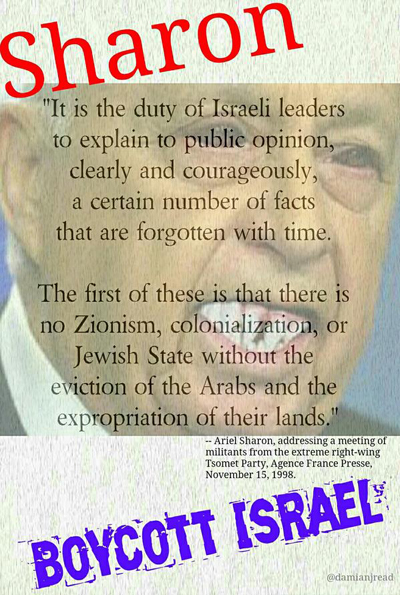 The classy image Blumenthal approvingly commented on, which appears above, claims the quote was reported by wire service Agence France Press on November 15, 1998. When Blumenthal was asked on Twitter to provide substantiation for the quote, he remained silent. When Twitter users informed him that the quote appeared to be a hoax, he again failed to reply, and did not delete or amend his tweet.
As Anthony Julius reported several years ago pointed out on the (now defunct) Z-Word blog, the quote
is taken from an op-ed column in the Israeli daily newspaper Yediot Ahronot of July 4 1972. At the time, Ariel Sharon was head of the IDF's southern command. Even given Israel's relatively open political culture, it would have been surprising to find him publicly calling for the eviction of Arabs from their homes and for the expropriation of their land.

He did not do so (though it is common enough in anti-Zionist discourse falsely to attribute blood-curdling statements to him). Yeshayahu Ben-Porat, a journalist and commentator, in fact wrote the words. In the column from which the quotation has been taken, Ben-Porat called on the government to recognise honestly the implications of occupation.
Nurit Baytch, who had quickly raised doubts about the false quote, noticed that the Twitter user Max Blumenthal supported has previously spread anti-Semitism on Twitter — for example, an image in which Facebook is hilariously described as "Nosebook" and its Jewish founder was depicted as an octopus with a long hook nose.
Posted by GI at 03:26 PM | Comments (2)
October 17, 2014
How David Sheen Lies About Israel
David Sheen is an anti-Israel extremist who often lectures to American college students about the supposed evils of the Jewish state. He was a speaker, for example, at last weekend's Open Hillel conference at Harvard.
With Sheen's participation, Open Hillel has shown that it's open to people who peddle brazen falsehoods about the Jewish state. Just one day after he spoke to the students, Sheen took to Twitter to lie about Israel's prime minister and compare him to the Nazis.
Just as Nazis compared Jews to vermin to incite racism against them, Netanyahu compares non-Jewish Africans to ebola http://t.co/n9eIcim9jN

— David Sheen (@davidsheen) October 13, 2014
Sheen appears to substantiate his shocking allegation with a URL. But the link would be unhelpful to most of his Twitter followers — the article it leads to is in Hebrew, a language Israel-haters don't generally know how to read. And that's what Sheen was counting on. Indeed, when a Twitter user challenged Sheen's allegation, he responded by mocking the user's use of Google Translate:
@johnmknox it says it in the headline of the article, but you would not know that because you don't read Hebrew & require Google translate

— David Sheen (@davidsheen) October 13, 2014
But the Twitter user was right, of course. Neither in the headline nor anywhere else in the article does Netanyahu, Nazi-like, "compare" Africans to a disease. He was simply discussing Israel's efforts to keep Israelis safe from Ebola (yes, the same conversation leaders in every country across the world is having) and pointing out that Israel's tight border controls, a result of the country's struggle with terrorism and illegal immigration, also serve to protect the country from the epidemic.
The headline, which notwithstanding its quotation marks appears to be a paraphrase of the Israeli leader and not a direct quote (it does not appear in the body of the article), states: "Netanyahu: 'As part of the struggle against infiltrators and terror — we will prevent the entry of Eblola into Israel.'"
The article is introduced by a second passage in quotation marks that again appears to be a paraphrase: "Netanyahu: 'As part of the struggle against infiltrators and terror — we will work to prevent Ebola.'"
Those both appear to be summaries of the actual quote, which appears in the body of the article and the embedded video. Netanyahu says:
The state of Israel is preparing to stop, as much as possible, the entry of people with Ebola into its borders. This is part of the effort we're making in order to defend the borders in general, from illegal infiltrators or from terror.

We are talking about a global epidemic. We are cooperating with other countries. In addition to guarding our borders, we are also taking a number of steps in order to isolate the sick, if they arrive, and also of course to treat them in our healthcare network.

We hope there will not be a need for this, but we are prepared for all possibilities.
Sheen, whose specialty is finding extremist and racist Israelis and broadcasting them to the world as if they represent the entire country, is now casting himself as an expert on "Israeli incitement" to those who don't and don't have the language skills to fact-check him.
Come hear me speak about Israeli incitement today at 11 AM at FSU at Strozier Library in Scholar's Common Room #0005A http://t.co/djp7fGXYkt

— David Sheen (@davidsheen) October 20, 2014
This week I'll present on Israeli incitement at 4 Florida colleges: Today @FIU, tomorrow @USouthFlorida, Friday @UCF & Sunday Florida State

— David Sheen (@davidsheen) October 15, 2014
It must be easy to lecture about Israeli incitement when you're so willing to lie to your audience.
Posted by GI at 04:35 PM | Comments (4)
New York Times Story Covers Up Hamas Destruction of Gaza Antiquities
A story in yesterday's New York Times deals with threats to Gaza's ancient artifacts — or at least, some threats.
Although the story relays the charge that Israel fired missiles into a museum during fighting in 2008, purportedly damaging several ancient pots and other artifacts, it says nothing about Hamas's bulldozing of portions of Gaza's ancient harbor. The harbor is a UNESCO heritage site. According to Al Monitor,
Earlier last month, amid overwhelming criticism from public figures and nongovernmental organizations, the military wing of the Islamic movement of Hamas, Izz ad-Din al-Qassam Brigades, bulldozed a part of the ancient Anthedon Harbor in northern Gaza along the Mediterranean Sea. The Brigades damaged the harbor in order to expand its military training zone, which was initially opened on the location in 2002, according to Ejla.
Why did the author, freelance reporter Kate Shuttleworth, ignore the terrorist group's assault on Gaza antiquities in an article meant to be about threats to antiquities?
When asked about this on Twitter, Shuttleworth declined to comment.
Hi @K8Shuttleworth -- was the destruction of the harbor, a 3000-year-old UNESCO heritage site, not worth a mention? @CAMERAorg @nytimes

— Gilead Ini (@GileadIni) October 17, 2014
In a related mystery, the author's use of the passive voice makes it unclear how the pots and jars said to have been "damaged" by Israel were later "destroyed." Shuttleworth states:
During the 2008 war, Mr. Khoudary said, Israeli tanks were stationed 300 meters from the hotel and missiles were fired into the museum. Ancient treasures were damaged in the attacks, include sun-dried clay pots and wine jars, mud-brick wall fragments and Egyptian alabaster plates, some 5,500 years old.

"We were so lucky, our loss was so limited," he said. "Others had lost all their factories and all their houses were totally destroyed."

The damaged items were later destroyed. When Mr. Khoudary was asked why he decided not to keep them on display, his face at first turned somber, and then he laughed. "We have to show encouraging things, something positive," he said.
So how, exactly, were they later destroyed, and at whose hands? Was it Israel? Hamas? Did Khoudary, the sympathetically treated subject of the piece, throw them away, something which surely should be called out in this story about threats to antiquities? Most of all, why did editors leave the vague and confusing sentence in place instead of asking Shuttleworth to clarify?
Also, it's unclear what is the meaning of "The damaged items were later destroyed." Could you explain? @K8Shuttleworth @CAMERAorg @nytimes

— Gilead Ini (@GileadIni) October 17, 2014
Posted by GI at 12:14 PM | Comments (0)
October 15, 2014
Where's the coverage? U.N. Report Shows Gaza Damaged Limited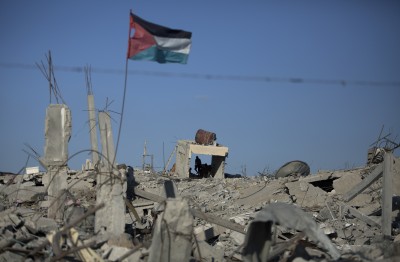 During last summer's Operation Protective Edge, news reports often highlighted claims of noncombatant casualties made by Palestinian sources or agencies relying on such sources. They also emphasized damage Israel inflicted on housing and other Gaza Strip infrastructure during its war against Hamas and its allies in the Gaza Strip.
Such reports frequently missed the fact that many of those casualties were not civilians, for example, as indicated three weeks in the 50 days of fighting by CAMERA's senior analyst Steve Stotsky ("How Hamas Wields Gaza's Casualties as Propaganda," TIME, July 29, 2014)
Another analysis, this one by the U.N. Office of Coordination of Humanitarian Affairs, also was missed or ignored by much of the media. The United Nations, of course, is a font of anti-Israel activity, and one must sift through hyperbole in the Humanitarian Affairs office report about "unprecedented" destruction, but data it contains support Israel's contention that it targeted Hamas in a restrained manner.
According to a review of the study, done for the Web site www.israellycool.com:
"It now becomes very clear that most of the damage was caused to 5 locations right on the border with Israel. The rest of the Gaza Strip was, for the most part, undamaged. The main population areas of Gaza City, Jabaliya, Khan Yunes, Rafah and Deir el-Balah were disproportionately undamaged.
"If we do a rough estimate of the damage area, it is once again clear the vast majority of the Gaza Strip was unscathed. With a fairly generous estimation that a damage point has a 25 meter radius — the footprint of a house, or the blast radius of a bomb — the total damage area of the 12,433 impacts was in the order of 15 KM2. The land area of the Gaza strip is 360 Km2. In other words, less than 5 percent of the land was affected" ("Assessing the UN's OCHA 'Gaza Crisis Atlas 2014' Report," Israellycool, Aug. 24, 2014).
Where was the coverage of such basic information? During the July-August war scores of pictures of Palestinian casualties and damaged or destroyed buildings ran in The Washington Post ("More than 100 Palestinians dead in worse day of Gaza conflict; Israel denies soldier captured," July 24, 2014), New York Times ("Civilian or Not? New Fight in Tallying the Dead From the Gaza Conflict," Aug. 5, 2014) and Chicago Tribune ("100 Palestinians, 13 Israelis killed in bloody Gaza fighting", July 20, 2014), among others.
Yet, The Post, N.Y. Times, Tribune and many other outlets did not undertake their own analysis of the report the U.N. Office of Coordination of Humanitarian Affairs. This, despite the fact that coverage of the fighting during the summer promoted heightened anti-Israel and, as exemplified by murderous slogans chanted at pro-Palestinian rallies in Europe, antisemitic behavior.
So, Israel's intensive attacks against Hamas, Palestinian Islamic Jihad and other terrorist groups in the Gaza Strip left 95 percent of the territory unscathed. Where was the coverage?—by Ziv Kaufman.

Posted by ER at 02:38 PM | Comments (0)
October 08, 2014
Where's the Coverage? Israeli Innovation Tackles Ebola

As the first person diagnosed with Ebola in the United States has passed away, it is not surprising that a search of Google News for "Ebola" will turn up roughly 32 million hits. But very little of the coverage mentions Israel's leading role in battling this deadly disease.
Only the Israeli and Jewish press mention virologist Dr. Leslie Lobel and his fellow researchers at Ben Gurion University, despite the fact that, as The Times of Israel reports, they "are partnering with the US military and the Uganda Virus Research Institute to devise a way of conferring long-term immunity against the disease." Lobel has been traveling to Africa to research a cure for a dozen years. Media--? Crickets.
Israel Today writes:
Israel has dispatched medical teams to Sierra Leone and Cameroon to train local doctors on how to better combat the Ebola outbreak. Sierra Leone has also requested medication for treating the symptoms of Ebola, and Israel has reportedly promised to provide.
Meanwhile, over 5,000 people in the affected areas of Africa have downloaded a new smartphone app, "About Ebola," developed on the Israeli platform "Snapp." According to Israeli press reports, the app:
...is providing medical workers in the field with what is turning out to be one of their most effective tools available for preventing the alarming spread of Ebola in the villages of in West Africa. Using the Snapp platform, it took volunteers only about three days to build a mobile app that provides information on what Ebola is, what to do if symptoms associated with Ebola appear, and how to avoid catching it in the first place.

Most important, said Asaf Kindler of Snapp — the platform is so easy to use that it was a simple matter for volunteers to reprogram for the languages used by villagers in the back-country villages of Liberia, Sierra Leone, and other affected countries – languages like Jola, Krio, Liberian English, and Wolof.
While millions of people are concerned with Ebola and the press is rightly covering many aspects of the story, one is conspicuously underplayed — Israel's leading role in fighting the outbreak and curing the disease. Where's the coverage?
Posted by SC at 06:03 PM | Comments (2)
October 06, 2014
Abbas' 'Dangerous Grandstanding' Nailed by Washington Post

The Washington Post criticized Palestinian leader Mahmoud Abbas for the tactics editorial ("Dangerous grandstanding", Sept. 30, 2014) displayed in his United Nations address.
"…Mr. Abbas delivered a bridge-burning speech to the U.N. General Assembly … mendaciously accusing Israel of 'a new war of genocide' and declaring that a return to negotiations was 'impossible.' "
Impossible is what Abbas seemed to be making of any potential peace agreement with Israel. His accusations and distortions echoed the rhetoric sometimes employed by his predecessor, Palestinian Liberation Organization Chairman Yasser Arafat. Arafat, of course, rejected two-state proposals made by U.S. President Bill Clinton and Israeli Prime Minister Ehud Barack in 2000 and 2001, resorting instead to the terrorism of the second intifada. Of Abbas, The Post editorial noted:
"…he has now rejected platforms for a settlement on two occasions from two U.S. presidents [George W. Bush and Barack Obama]. He persists in grandstanding gestures that he must know will only delay the serious negotiations that must precede the creation of a Palestinian state …"
The Post lamented Abbas' rejection of Palestinian-Israeli negotiations as the path to a two-state peace agreement and his intention to have Israel investigated for alleged war crimes by the International Criminal Court.
Other commentary in addition to The Washington Post's took note of Abbas' bridge-burning. Dror Eydar in Israel Hayom, quoted Abbas, noting that "toward the end of his speech, this so-called moderate partner asserted that what had caused terrorism in our region was — get ready — international leniency toward Israel. He then discussed the Islamic State group [also known as the Islamic State in the Levant or the Islamic State in Iraq and Syria], saying: 'Confronting the terrorism that plagues our region by groups such as ISIL and others that have no basis whatsoever in the tolerant Islamic religion or with humanity and are committing brutal and heinous atrocities requires much more than military confrontation. ... It requires, in this context and as a priority, bringing an end to the Israeli occupation of our country, which constitutes in its practices and perpetuation, an abhorrent form of state terrorism and a breeding ground for incitement, tension, and hatred' " ("Abbas incites and we're to blame?", Sept. 29, 2014)
Eydar concluded Abbas "juxtaposed the Islamic State with a much more loathsome entity — the State of Israel, which, according to the moderate partner, is a 'terrorist state' and a 'breeding ground for incitement, tension, and hatred,' and is actually more dangerous than the beheading Islamists. This sentiment is present throughout the entire speech."
Too often news and commentary of Abbas and his Fatah movement describe them as "relative moderates" compared to Hamas. This may be accurate as far as it goes, but as the propaganda and incitement of Abbas' General Assembly speech indicate, it doesn't go far enough. Kudos to The Washington Post and Israel Hayom for pointing that out to readers. by Ziv Kaufman.
Posted by ER at 02:51 PM | Comments (1)
September 29, 2014
To Slam Israel, a New York Times Op-Ed Deceives Its Readers
Was a famous Israeli comedian fired because she said she felt bad about innocent Palestinian deaths during the recent round of fighting between Hamas and Israel? That's what The New York Times would have you believe.
A recent Op-Ed in that newspaper seeks to convince Americans that Israel is engaged in "aggressive silencing of anyone who voices disapproval of Israeli policies or expresses empathy with Palestinians." Yes, such hyperbole from the Israeli political fringe is not uncommon in the pages of The Times. After all, this is the same newspaper that has cited as a credible source an activist who openly celebrated the death of Israelis.
And yes, the larger idea that Israelis can't speak their minds is absurd. As CAMERA's Tamar Sternthal points out, dissent is alive and well in Israel, perhaps more so than in most other countries.
But what about the comedian? Here's how the New York Times Op-Ed contributor, Mairav Zonszein, put it: "In an interview during the Gaza war, the popular comedian Orna Banai said she felt terrible that Palestinian women and children were being killed — she was subsequently fired from her position as spokeswoman for an Israeli cruise ship operator."
The cause and the effect are plain for all to see. Banai was fired because she feels bad about the loss of innocent Palestinian lives. Israelis don't tolerate dissent, or even empathy.
Except it is not true, and New York Times readers are being severely misled. The cruise ship operator, Mano, announced it would no longer use Banai in its advertisements on July 20. This was only after the comedian made controversial and insulting statements aimed at her fellow Israelis, which went far beyond mere expressions of sympathy for innocent Palestinian casualties.
Banai said she would not join those who said "let the IDF win" in its operation to put a stop to Palestinian rockets. More insultingly to the average Israeli, to whom Mano intended her to sell cruise tickets, the comedian said that "most" people in her country are "driven by hatred and narrow-mindedness," and expressed shame at being a part of the people of Israel.
A few days later, as the Palestinian rockets continued to rain down on Israel, Mano announced on Facebook that it would no longer be using Banai. The first sentence of the announcement seemed to be a direct response to Banai's damaging expression of embarrassment and her equivocation about an IDF victory. "We wish all residents of Israel, which we are so proud and happy to be a part of, better and quieter days."
It's beyond the scope of this piece to comment on whether Mano should have severed its relationship with the comedian. But of course it makes perfect sense from a marketing perspective. And it seems obvious that it was marketing, and not any "silencing of dissent," that drove the cruise operator's decision.
But the bigger issue isn't marketing but media. The New York Times has severely misled its readers by concealing Banai's more controversial statements and pretending empathy for Palestinian civilians was what got her fired. They owe readers an apology, and a clarification.
Posted by GI at 05:22 PM | Comments (4)
September 23, 2014
Over a Thousand Protest the Met's Obscene Opera
As The Metropolitan Opera opened its season on Monday, September 22, over a thousand people gathered at Lincoln Center to protest the company's upcoming production of "The Death of Klinghoffer," an opera that romanticizes terrorists and maligns Jews in the guise of "art." CAMERA first made this a national issue and did not let up on The Met, even after the planned international simulcasts were canceled. Now the protests are keeping the heat on the company.
Numerous distinguished speakers addressed the crowd including former New York Governor George Pataki, former U.S. Attorney General Judge Michael Mukasey and New York Congressman Eliot Engel. Survivors of terrorism and family members of victims spoke movingly before the gathering. People of all ages and religions stood together to voice their disgust that an institution as prestigious as The Met would lend credibility to bigotry and "humanize" vicious murderers. And do not forget that The Met gets taxpayer funding to do it!
There was media coverage of the event, with The Wall Street Journal accurately reporting that "more than a thousand people protested." It is not surprising that The New York Times downplayed the protest turnout, saying that only "several hundred" participated. Of course, The Times had bemoaned the cancellation of the simulcasts in an editorial earlier in the year and recently endorsed the antisemitic production itself.
Several times during the course of the protest, the police had to move the barriers and expand further into the street to accommodate the crowd. The pictures speak for themselves.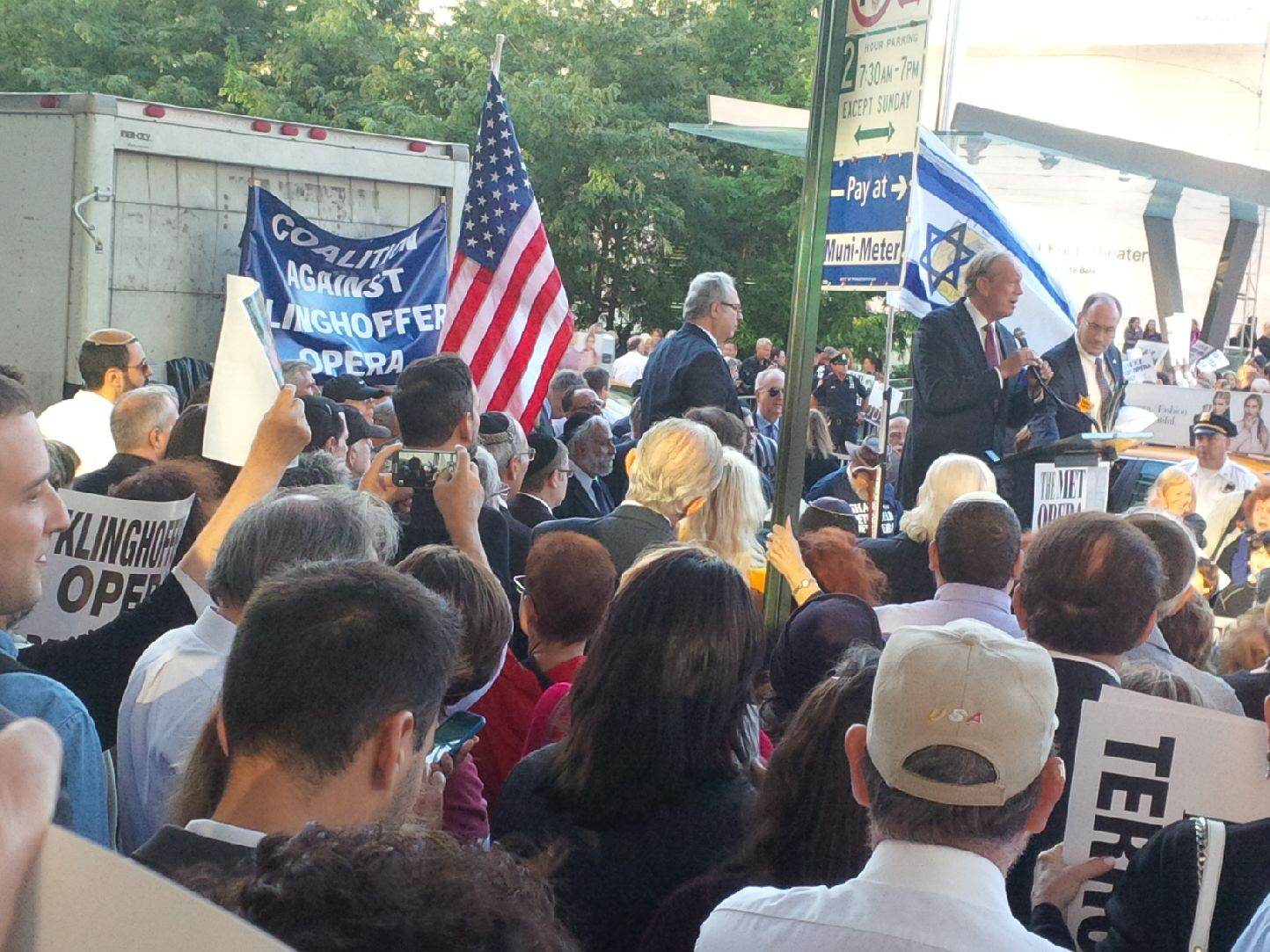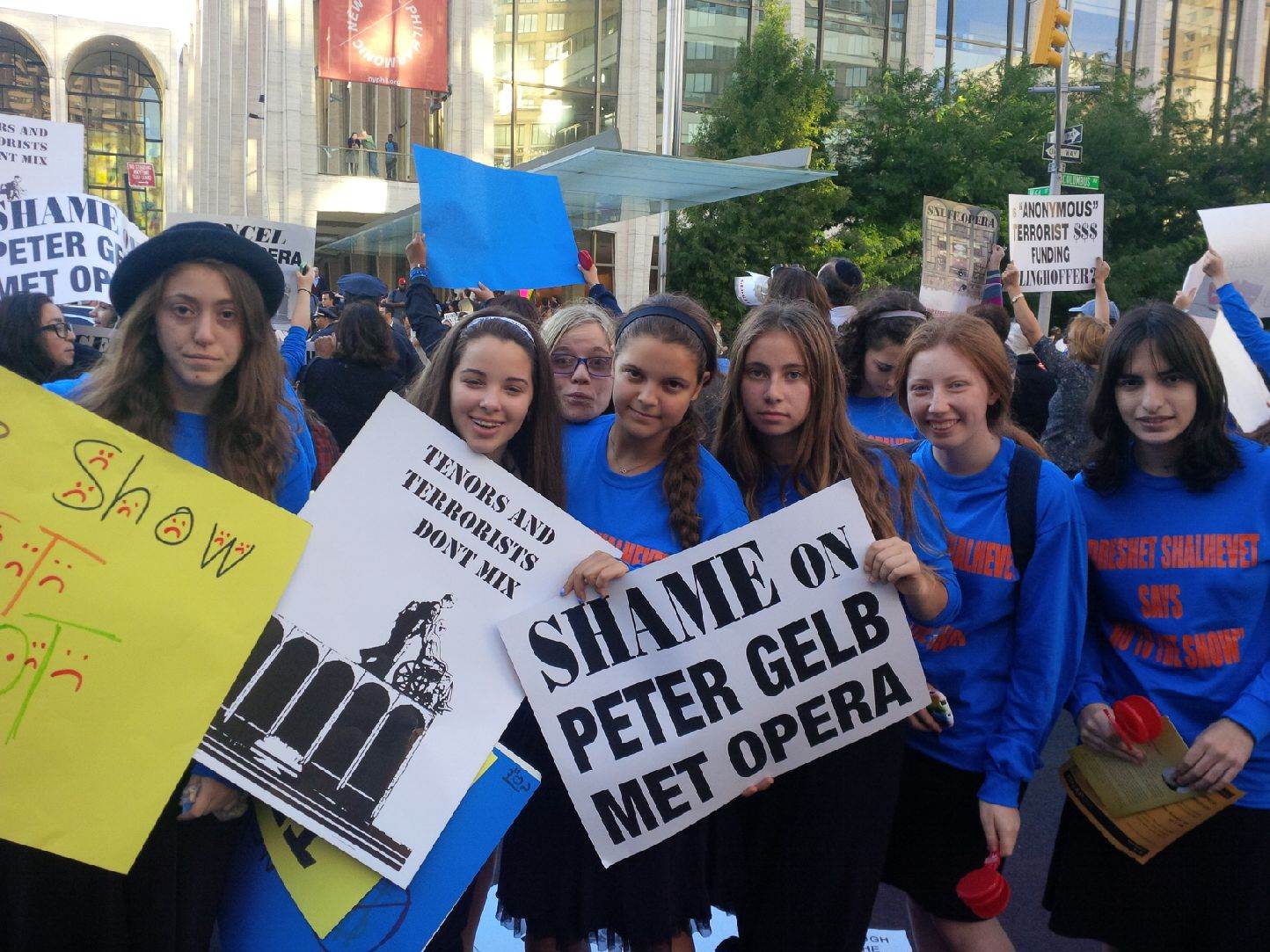 Posted by SC at 09:31 PM | Comments (4)
September 21, 2014
Ex-Haaretz Readers Walk Out of Publisher's Event
A column by Gideon Levy's during the war led to a mass cancellation
Last Friday (Sept. 12), Haaretz publisher Amos Schocken hosted an unusual meeting with more than 100 Israelis out of a reported total of 600 subscribers who recently cancelled their subscription to the daily paper. The mass cancellation was widely regarded by the Israeli media as a response to a July opinion piece by Haaretz columnist Gideon Levy attacking the morality of Israeli pilots participating in Operation Protective Edge:
I would like to meet the pilot or the operator of the drone who pushed the death button. How do you sleep at night, pilot? Did you see the pictures of the death and destruction you sowed – on television, and not just in the crosshairs? Did you see the crushed bodies, the bleeding wounded, the frightened children, the horrified women and the terrible destruction you sowed from your sophisticated plane? It's all your doing, you excellent young man.
The Seventh Eye, an Israeli media watchdog, published a detailed account of the meeting, which ended in a mass walkout by the audience.
Things started smoothly enough, with the crowd granting a warm reception to both Schocken and Haaretz Editor Aluf Benn as the two described the paper's liberal policy. Benn reassured: "We are not the United Nations, we are Israelis, we live within Israeli society, and as such we covered the events that happened to the Israeli side."
Things quickly unraveled, however, once the floor was opened to questions from the audience. The Seventh Eye reported:
Zuzovsky says he was a Haaretz subscriber for a total of 60 years, and had canceled his subscription twice – both times because of Gideon Levy. His wife, Zuzovsky said, was the widow of an Air Force pilot, and he cannot bring home a newspaper comparing her grandchildren's grandfather to murderers.
The "Seventh Eye" describes how the atmosphere in the meeting slowly devolved from a high cultured social tête-à-tête to a no holds barred tit-for-tat:
The exchanges with the publisher shattered any sense of hierarchy in the room. "No one canceled his subscription because of Nehemia Strassler," [a Haaretz economics writer] shouted someone in the hall. "Yes!" screamed other members of the audience [in agreement]. "There were those," says Schocken. "There were not! None!" one shouted back." "Let's try to keep the order," pleaded Schocken.
Another audience member announced he will not renew his subscription of 39 years until Levy apologizes. The next, who identified himself as a Haaretz reader for 35 years, announced theatrically that he will turn his back to the stage and only then speak. He is received with applause. He demanded Levy's apology as a condition to renew his subscription. Various other speakers, including ex-pilots, echoed similar sentiments to loud applause.
As members of the agitated audience left the room, those remaining heckled Schocken who admonished: "You were Haaretz subscribers, you can be 'Haaretz unsubscribers' but we can still talk like civilized people." The diminished crowd grew increasingly hostile as the publisher argued that Levy was had been proven right when he wrote a similar article in the past. Finally, Schocken gave up on the possibility of convincing many to renew their subscriptions, and the former Haaretz readers left the room.
-- Gidon Shaviv
Posted by TS at 08:01 AM | Comments (8)
Telegraph Corrects Unit 8200 Letter. AFP Doesn't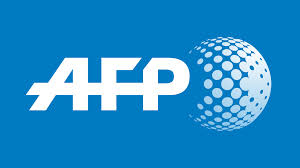 In response to communication from CiF Watch, a CAMERA affiliate, The Telegraph has commendably corrected a Agence France-Presse article it had published which wrongly referred to a protest letter written by reservists in the elite Israeli military intelligence Unit 8200.
The AFP article which appeared on The Telegraph site erred:

As noted by CiF Watch's Adam Levick, the protest letter does not at all mention "targeted assassinations."
While The Telegraph has removed the unfounded claim that the letter referred to targeted assassinations, AFP editors have once again failed to set the record straight on this straightforward factual error.
Posted by TS at 06:11 AM | Comments (0)
September 19, 2014
Israeli Tactics Greatly Reduced Gaza Civilian Casualty Rates
Israel's detractors engage in moral inversion, falsely accusing Israel of crimes and sins that the enemies of the Jewish state commit. In the recently concluded summer war of 2014 between Israel and Hamas, the usual clique of UN organizations, human rights groups and media organizations accused Israel of recklessly causing disproportionate civilian casualties in the Gaza Strip, while paying less attention to Hamas crimes against both Israeli and Palestinian civilians. Groups like Amnesty International and Human Rights Watch demanded investigations of Israel for war crimes and called for embargos against the Jewish state. But a web site that specializes in military analysis, DefenseNews, describes innovative Israeli tactics that significantly reduce civilian casualties. The article quotes Israeli Brig. Gen. Amikam Norkin, Israel Air Force chief of staff, who explained that
Protective Edge marked the first time fixed-wing fighters were used as dedicated assets to division- and brigade-level forces.

"Over the last year, we drilled in a very substantive way with the ground forces and we built a process where our fighters could attack at much closer distances … We did this hundreds of times during the operation."
The result according to Norkin was that Israel was able to far surpass

an international average of five innocents killed for each targeted terrorist. He said preliminary data from Protective Edge indicates "we're slowly closing in on numbers of one to one.
Norkin went on to explain,
"When there are residential buildings of three, four and five floors, and the civilians are already evacuated, fixed-wing precision air power is most effective. ... I'm talking laser, [joint direct-attack munitions], all of them,"
Norkin's claims received support from an American analyst of the use of air power and an Air Force general.
Ben Lambeth, a veteran air power author and analyst formerly of Santa Monica-based Rand Corp, said the response time and ranges that Israel claims to have conducted constitute a clear and possibly unprecedented achievement.
Retired US Air Force Lt. Gen. David Deptula said Israel appears to be headed in a very good direction. "Anything that reduces time, increases accuracy and drives down miss-distance is all good," he said.
Will the media cover important post-conflict analysis?
Posted by SS at 10:24 AM | Comments (0)
September 18, 2014
Washington Post Readies Palestinian-American Clan for Close-Upside Down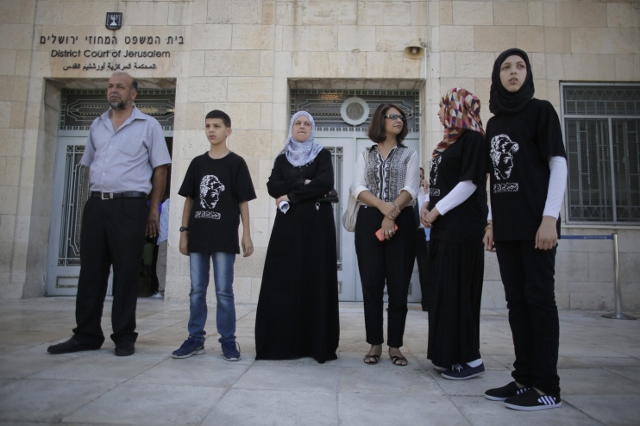 The Washington Post's report on hardships and arrests of family members of Muhammad Abu Khieder, the Palestinian Arab teenager slain in Jerusalem following the murder of three Jewish youths ("Slayings, protests, arrests vex Palestinian clan with strong U.S. ties", Sept. 2, 2014) withheld until near its conclusion key information.
Leo Rennert, a former White House correspondent and Washington bureau chief for McClatchy Newspapers, pointed out that the dispatch, by Post correspondent Anne Marie O'Connor, "paints the family's painful travails in 26 paragraphs spread over more than a half page with a headline that reads: 'Palestinian clan tested by ordeal in Jerusalem – Sprawling Abu Khieder family, which has strong U.S. ties, has endured a killing and many arrests'."
According to Rennert, "O'Connor describes in her lead 'an old and respected Palestinian clan that welcomes American cousins' to Jerusalem for family reunions. But sadly, this 'established middle-class family' now has been engulfed 'in riots, beatings and arrests.' " ("WaPo's Tolerance of Palestinian Violence", American Thinker, Sept. 5, 2014). So focused was the article on the family struggles that it almost didn't mention the reasons Israeli authorities arrested various family members. Rennert asks:
"So what gives? Why all these arrests? It's a bit of a mystery."
He observed that The Post mentioned one abu Khieder member threw firecrackers at police but did not explain why members were arrested.
As Rennert wrote: "Finally, in the 19th and 20th paragraphs, O'Connor belatedly sheds a bit more light on the throwing of rocks as she recounts that after the killing of Mohammad Abu Khieber, Palestinian 'protesters responded with rocks and Molotov cocktails.' Asks Israeli police spokesman Mickey Rosenfeld: 'Why was an American citizen involved in a full-scale riot and throwing stones, and arrested with six other students who were also wearing kefiyeh, and some of them armed with knives?'
"Which finally and much too late brings readers to the nub of all those arrests. It's the violence. But by then," Rennert suspected "most readers have long since switched to other articles in The Post's September 4 edition."
Rennert charged that The Post delayed on connecting the Khieder family to violent protests, and asserted that the paper "camouflages with all sorts of irrelevancies" its obscuring of key facts.
"Thus, the headline informs us that a Palestinian clan is enduring an ordeal, that it's a sprawling family with strong ties to the U.S., that it is enduring a 'killing and many arrests.' But no mention in a lengthy headline that the same family and other Palestinians have used violent tactics with lethal weapons to express their grief or protests."
Was The Washington Post okay with rock throwing by Palestinian Arabs at Israeli police and other security forces as a protest tactic? Rennert said that the newspaper's headline key words, "slaying, protests, arrests, vex Palestinian clan," suggested that the answer was yes. -- Ziv Kaufman

Posted by ER at 03:27 PM | Comments (1)
USA Today, not The Guardian, Gets 'State Land' Story Right
News media often refer erroneously to the West Bank as "Palestinian land" or "Palestinian territory" and Israeli acquisition or development there often get reported as "land grabs." For example:
Referring to Israel's decision to declare almost 1,000 acres adjacent to the West Bank community of Gva'ot as state land, The Guardian (U.K.) wrote, "Israel has published tenders to build 283 homes in a West Bank settlement, days after announcing its biggest land grab on occupied Palestinian territory [emphases added] for three decades." ("Israel to build 283 homes in West Bank", Sept. 5, 2014)
USA Today, by contrast, eschewed hyperbole for context. Special Correspondent Michele Chabin reported of Gva'ot and the newly-designated state land that "this community of 17 Israeli families, apartments for disabled adults, a school for disabled children, several horses and a petting zoo is accustomed to solitude. So [Rachel] Pomerantz, who rents a small prefab home here, was surprised by the sudden international attention on the settlement since … the Israeli government announced it would designate a swath of land next to Gva'ot as state-owned property."
Gva'ot is close to the 1949 Israeli-Jordanian armistice line and the adjacent 988 acres at the center of the media-diplomatic dust-up lie between it and the Gush Etzion settlement bloc just south of Jerusalem. As USA Today tells readers, "the Gush Etzion bloc's core communities [in the West bank] were founded before Israel's establishment in 1948 on land purchased by Jews in the 1920s and 1930s.
"Arab soldiers destroyed the communities when they fought against Israel's founding during the 1948 war" ("Quiet strip of land, a loud dispute", USA Today, Sept. 5, 2014)
"To Pomerantz," Chabin wrote, "the international outcry doesn't take into account Jews' religious and historical ties to the West Bank. Gva'ot appears in the Old Testament [Hebrew Bible], and 'the biblical land of Israel is inseparable from the state of Israel,' she said.
" 'On a practical level,' Pomerantz added, 'there is an acute shortage of housing, so construction is vital.' "
A picture of Pomerantz walking with her children helps personalize the story for readers.
Additionally, a map accompanying the article showed Gva'ot's location sandwiched between the Gush Etzion block and Israel proper. Most Israelis expect the block to remain part of Israel in any agreement with the Palestinian leadership. A small inset map showed tiny Israel in comparison to the rest of the Middle East. The two maps together amount to a visual commentary that perhaps there has been exaggerated international focus on Israel's designation of the adjacent land territory, about the size of four or five Midwestern farms, as state land.

The Guardian's "Palestinian territory" description contradicts the basics. Since the end of Ottoman rule in 1917 no country has been recognized as sovereign over the West Bank. It remains disputed land taken by Jordan in a war of aggression in 1948 and which Israel won in a defensive war in 1967.
U.N. Security Council Resolution 242, passed following the '67 Six Day War, required withdrawal of Israeli armed forces from some but not necessarily all territories gained in the conflict. The authors of Resolution 242, U.S. Under Secretary of State Eugene Rostow, U.S. Ambassador to the U.N. Arthur Goldberg and British Ambassador Lord Caradon made clear at the time and subsequently that Jews and Arabs had claims in the disputed territories, which included the West Bank (Judea and Samaria). Hence the need for Israeli-Palestinian negotiations.

News media err when, prematurely assuming the results of such negotiations, they mislabel the land as "Palestinian" and Jewish settlers and settlements as illegal when "close Jewish settlement on the land" west of the Jordan River is encouraged by the League of Nations' Palestine Mandate, Article 6 and perpetuated by the U.N. Charter, Chapter 12, Article 80.
USA Today 1, The Guardian 0. -- Ziv Kaufman
Posted by ER at 02:18 PM | Comments (0)
September 17, 2014
NY Daily News Photo Bias
A headline yesterday in The New York Daily News is perfectly straightforward -- "New Mortar Fire From Gaza Strikes Israel During Ceasefire" -- but photo editors nevertheless had trouble selecting an appropriate image. Though Israel had just been hit from fire from Gaza, editors selected four images of debris and devastation in the Gaza Strip, some of them from last month.
Editors did not include a single image relating to yesterday's mortar attack on Israel, or to any of the more than 4,500 rocket and mortar attacks on the Jewish state over the summer.
The headline and most prominent image follow:
In addition, a photo gallery accompanying the article includes the following three images:

A Palestinian family takes shelter amid the rubble of their destroyed house in Khan Younis.

A Palestinian family looks from the window at the rubble of the collapsed 15-story Basha Tower following early morning Israeli airstrikes on Aug. 26.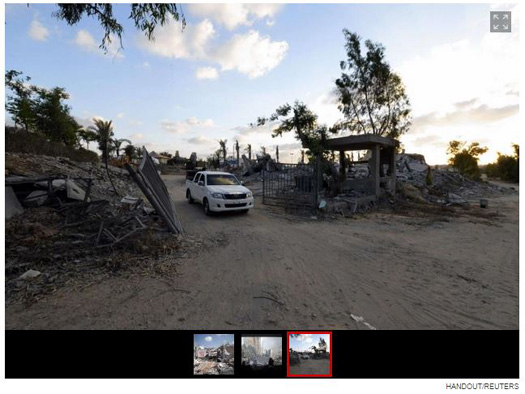 A car exits the Bisan City Zoo in the northern Gaza Strip Sept. 12.
What exactly is the newsworthiness and relevance of a car exiting a zoo in the northern Gaza Strip to a mortar attack on southern Israel?
Though photo editors may not have been able to find an image of this particular mortar attack which caused no damage or injuries in this case, there was no shortage of images of the results of rocket and mortar attacks from August.
Posted by TS at 04:18 AM | Comments (0)
In International NY Times, Palestinian Refugees Forever Young
Sept. 22 Update: New York Times Corrects Grossly Inflated Figure for Palestinian Refugees
Palestinian refugees who fled or were expelled from Israel in 1948 are forever young. Or so one must conclude based on an article in the Sept. 15 print edition of The International New York Times. Those refugees, who are now at the minimum 66 years old, are the parents of children studying in first through ninth grades in the Gaza Strip, according to The Times.
The International New York Times erred:
There are two apparent errors in this sentence.

First, it seems that the article should have stated "grandchildren or great-grandchildren of Palestinians who were expelled from or fled homes in Israel and the West Bank." Indeed, another version of the piece, which appeared in an earlier New York Times edition accurately referred to "descendants of Palestinians who were expelled from or fled homes in Israel and the West Bank."

It is impossible that the parents of students ranging from age 5 to 14 (kindergarten through ninth grade) were expelled from or fled homes in Israel in 1948.

If the parents were alive in 1948, they would have to be at least 66 years old today. Clearly, the parents of all of these elementary and middle school students are not, at a minimum, 66 years old.

The mean age of Gaza women when they first marry is 20.1. For men, the figure is 24. In other words, Gaza's parents are young, not old.

Similarly, if the parents were displaced from the West Bank in 1967, and this category is much smaller than 1948 refugees, they would have to be at a minimum 47 years old, which also seems highly unlikely, though not impossible.

Second, it is not true that 70 percent of Gaza's 1.8 million residents are "Palestinians who were expelled from or fled homes in Israel and the West Bank."

In fact, as reported by the Associated Press, of those Palestinians who were expelled or fled homes in Israel in 1948 there are now some 30,000 still alive, living around the world, not just in the Gaza Strip. So if ALL of the surviving Palestinian Arabs who fled or expelled from their homes in Israel lived in the Gaza Strip -- and they don't, they also live in the West Bank, Syria, Lebanon, Jordan and elsewhere -- then they amount to a total of 1.6 percent of the 1.8 million residents in Gaza, not 70 percent.

On previous occasions, The New York Times has corrected erroneous figures which similarly conflated those who were expelled or fled in 1948 and their millions of descendants.
CAMERA has informed The International New York Times of the editing error. Stay tuned for an update.
Posted by TS at 02:53 AM | Comments (0)
September 10, 2014
Where's the Coverage? Human Rights Expert: "U.N. Leading Global Purveyor of Antisemitism"

The World Zionist Organization reports that, during Operation Protective Edge in July, there was a nearly 400 percent increase in antisemitic incidents over the same period the previous year. As the Times of Israel reports:
During July 2014, Europe saw a 436% increase, while the US saw a 130% rise. There was a 1,200% increase in anti-Semitic acts in South America and a 600% rise in South Africa, according to the organization.
So a conference on the explosion in global antisemitism at the United Nations would be entirely appropriate. And Monday, September 8, there was one. However, not surprisingly to anyone familiar with the workings of the international body, it was not sponsored by the U.N. Instead, hundreds gathered at a meeting, "Global Anti-Semitism: A Threat to International Peace and Security," organized by the Eng Aja Eze Foundation and hosted by the Permanent Mission of Palau to the U.N. Yes, Palau!
When panelist Anne Bayefsky, director of the Touro Institute on Human Rights and the Holocaust and president of Human Rights Voices, spoke, she mined the irony of the U.N's relationship with global antisemitism:
The U.N. is not having a conference on the threat that global antisemitism poses to international peace and security. This is lunch-time. The courageous organizer, assisted by the principled representative of the small state of Palau, is independent of the U.N. The facilities are not free.

But why couldn't the U.N., founded on the ashes of the Jewish people, and presently witnessing a widespread resurgence in antisemitism, sponsor a conference on combating global antisemitism? The answer is clear: because the United Nations itself is the leading global purveyor of antisemitism.

Photo ops of the U.N. Secretary General and the U.N. High Commissioner for Human Rights at the gates of Auschwitz are not an alibi. One does not honor the memory of Jews murdered by intolerance six decades ago by inciting murderous intolerance towards the remnant of the Jewish people in the here and now.

Incitement to hate, like declaring Israel to be racist, as does the U.N. Durbin declaration, the flagship of the UN racist anti-racism program of action.

In theory the U.N. charter demands equality both of individual men and women, and of nations large and small. In reality, the U.N. mass-produces inequality for Jews and the Jewish nation.

Thirty-five percent of all resolutions and decisions ever adopted by the U.N.'s top human rights body, the Human Rights Council, that are critical of the rights records of specific states, condemn one state: Israel. That's antisemitism.

Fifty percent. Fifty percent of the emergency special sessions of the general assembly over six decades were convened to denounce Israel. No emergency special session has been called on any other state in over thirty years. That's antisemitism.

The human rights council has a fixed agenda with one item to condemn Israel at every session, and one item to consider the other 192 U.N. member states, if required. That's antisemitism.

Seventy percent of all the 2013 General Assembly resolutions criticizing specific countries for human rights abuses were about Israel. That's antisemitsm.

[…]

Modern antisemitism targets Israel's exercise of the right of self-defense because self-defense is the essence of sovereignty. Demonize and delegitimize self-defense, the plan is, and the viability of the Jewish state will be degraded.

[…]

Today, U.N. antisemitism has taken yet one more treacherous turn. The U.N. has launched a legal pogrom against the Jewish state. Hired guns posing as independent arbiters, like William Schabas, are appointed to discover what they've already found: guilty. Phony legal rules misinterpret proportionality to favor a more even number of dead Israelis. The Iron Dome worked too well. And the International Criminal Court is poised to pounce.

Serious about "never again"? Then never forget that the perversion of the legal system is how genocide begins. A legal pogrom serves as a license to kill.

The U.N. is not having a conference about combating antisemitism but we are. So let us start, let us start by combating the legal henchmen and human rights imposters at the United Nations.
While this speech and the conference were reported by some bloggers and some in the specialty, Jewish and Israeli media, major news outlets ignored both. As incidents of global antisemitism skyrocket and as the United Nations gears up to run Israel through another gauntlet of phony investigations and kangaroo courts, the conference was certainly newsworthy. And yet… Where's the coverage?
Watch Anne Bayefsky deliver her entire speech:

Posted by SC at 02:31 PM | Comments (2)
September 09, 2014
J Street Funded Representatives Oppose Iron Dome
J Street claims to be the "political home for pro-Israel, pro-peace Americans." Yet, 11 members of the U.S. House of Representatives backed by J Street recently either refused to back funding for Israel's Iron Dome short-range anti-missile system or voted against it.
"Three of the House lawmakers who voted against funding for Iron Dome—Reps. Keith Ellison (D-Minn.), Zoe Lofgren (D-Calif.), and Walter Jones (R-N.C.)—have received a combined $21,145 in this election cycle from J Street, according to publicly available Federal Election Commission (FEC) documents.
"The eight other J Street-funded lawmakers who abstained from the vote are Reps. Earl Blumenauer (D-Ore.), Susan Davis (D-Calif.), Lloyd Doggett (D-Texas), John Garamendi (D-Calif.), Jim McDermott (D-Wash.), Raul Ruiz (D-Calif.), Jackie Speier (D-Calif.), and Ed Whitfield (R-Ky.)" ("J Street in Congress Refuse to Support Iron Dome Funding for Israel", Washington Free Beacon, Aug. 21, 2014).
Members of Congress, Democrats and Republicans, overwhelmingly have supported Iron Dome. As thousands of missiles were launched from the Gaza Strip during the July-August Israel-Hamas war, Iron Dome protected three quarters of the country's civilians. Had the system not been in place, the number of noncombatants killed in Israel likely would have been much greater than the four who were slain. The response from Israel would have been much harsher, possibly leading to a wider war.
The disconnect between J Street's "pro-Israel, pro-peace" self-description and the votes of the 11 noted above caused comment.
"Pro-Israel community insiders say that this is proof that J Street cannot even convince its own people to support a vaguely pro-Israel line," The Free Beacon stated. " 'I suspect that if J Street had its druthers, its few congressional allies would have actually voted for Iron Dome funding, just to keep up appearances,' said Noah Pollak, executive director of the Emergency Committee for Israel.
" 'But J Street 's allies in Congress are genuinely dedicated to being anti-Israel, and so they're happy to take J Street money and then vote the wrong way, confident that the checks will clear,' Pollak said. 'It's embarrassing for J Street, but it's also the price of maintaining good relations with anti-Israel members of Congress.' "

J Street's "pro-Israel and pro-peace" self-portrait misleads. Working toward peace with Palestinian Arab leadership has been a goal of the Jewish state at least since the country signed the Oslo accords in 1993. Israel brought the Palestinian Liberation Organization and its leader, Yasser Arafat, to the Gaza Strip, withdrew from West Bank cities and granted Palestinian Arabs autonomy prior to a two-state solution floated by President Bill Clinton and Prime Minister Ehud Barak in 2000. Not only did Arafat reject the proposal, but he also launched an intifada that included suicide bombings and other attacks and resulted in the deaths of more than 1,000 Israelis and visitors, and 4,000 Palestinian Arabs.
Regardless of Palestinian behavior, J Street claims that "being pro-Israel doesn't require supporting every policy of its government." True, but frequently opposing policies of Israeli governments chosen by majorities of the country's voters and funding politicians who don't support break-through defense programs like Iron Dome are hard to square with pro-Israel activism.
Guilt by association can be unfair. But groups as well as individuals are known by the company they keep—and the politicians they fund. On the Hill, J Street appears to need some new pro-Israel, pro-peace friends. –Ziv Kaufman

Posted by ER at 02:33 PM | Comments (3)
September 08, 2014
Turning the Tables on Israel's Critics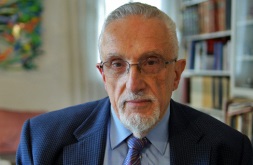 Manfred Gerstenfeld
Author, scholar and specialist in the study of campaigns demonizing Israel, Manfred Gerstenfeld seven years ago launched the ingenious blog Bad News from The Netherlands which continues to make an important point powerfully. If news media ONLY (or nearly only) report the negative stories about a nation, readers will inevitably gain the impression that nation is bad. As he describes in a September 3, 2014 Jerusalem Post column, his device was to focus on Holland where Israel is often given rough media treatment and simply to post stories in blog form every day about the shortcomings of that country, its corruption, discrimination, sloth, violence and general failure to operate as a wholesome, just society.
Begun in 2007, the Bad News blog now has 2,800 entries and reading it underscores the experience ordinary news consumers may have in reading about Israel in stridently negative and biased news outlets. However much one may hold positive views about Holland (or Israel), immersion in endless stories about misconduct has an impact.
Gerstenfeld writes:
Some foreign experts and I use the blog's items in lectures and articles both in Israel and abroad, to illustrate media bias. Its main use, however, is to be able to show experts and foreign journalists, within two minute of conversation, how the demonizing of Israel works. Many reactions I got were surprising. Irrespective of which seven negative items were up on the front page, a number of them told me that after reading this blog, the Netherlands would not be a country they would want to visit. I would argue that they knew that the blog only contains negative items. They replied that this did not matter – since as these news items are true, they would not want to go the Netherlands.

Such reactions to the blog taught me, once again, how strong the force of negative exposure is, and that it often cannot be compensated for by positive publicity, however much effort is made in that direction.
The exercise is valuable for anyone who doubts the importance of reducing, correcting and preventing distortions that may poison perceptions.
Posted by AL at 03:46 PM | Comments (0)
Is the Goal Victory or Achieving Mission Success?
Professor Asa Kasher, whose biography states that "He led the writing of the first IDF code of ethics" published a thought-provoking article in the Jewish Review of Books, "The Ethics of Protective Edge," discussing the principles guiding Israeli military activity against terrorists embedded in a civilian population.
Kasher describes competing humanitarian principles to which the IDF must adhere. He establishes at the outset that the guiding principle that "people may never be treated as mere objects or instruments" applies to "Palestinians in Gaza who pose no terrorist threat." Nonetheless, this principle is tempered by the notion that "no state should shoulder as much responsibility for the safety of enemy civilians as it does for its own people." These principles are encoded in the IDF's concept of 'purity of arms,' that is "to use the minimum force necessary to subdue the enemy."
Kasher recognizes that there are exceptions,


circumstances in which the principles of restraint and respect for human dignity in times of war might be disregarded. In his famous address to Parliament in 1940 Winston Churchill spoke of "Victory at all costs, victory in spite of all terror, victory however long and hard the road may be, for without victory there is no survival."
But he contends that the sentiments expressed by Churchill are "now obsolete, not only for ethical reasons but for strategic ones."
To illustrate the shift, he contrasts Israel's military objectives and accomplishments in 1967 - the destruction of enemy armies - with the 2006 Summer war against Hezbollah which "significantly diminished the military force of Hezbollah, but it could and actually did continue launching rockets at northern Israel for a time." According to Kasher, "In the 'new' wars of recent decades, victory has been replaced by the ideal of successfully accomplishing given missions."
Consistent with this change, "the missions of Operation Protective Edge were defined in the course of the fighting as the elimination of the threat to Israel created by the Hamas offensive tunnels and the reduction if not elimination of the threat that Hamas' rockets pose to most parts of Israel." Kasher believes the response should deter Hamas from future attacks, "only as a by-product of the operation, not one of its military ends."
He admits that contemporary Israeli doctrine goes against conventional strategic wisdom, but he defends that choice:
In The Art of War, Sun Tzu said that "if someone is victorious in battle and succeeds in attack but does not exploit the achievements, it is disastrous." This is not the spirit in which Operation Protective Edge was undertaken, for good reasons.
Kasher could have also mentioned the Israeli doctrine contradicts the advice attributed to the eminent political philosopher, Machiavelli, which reflects Sun Tzu's perspective:
People should either be caressed or crushed. If you do them minor damage they will get their revenge; but if you cripple them there is nothing they can do. If you need to injure someone, do it in such a way that you do not have to fear their vengeance.
Kasher's emphasis on mission success rather than victory ushers in a less ruthless approach to war that he calls consistent with Jewish values, although such an approach goes against the advice of the most eminent historic strategists.
Nevertheless, Kasher draws the line on how far Israel should go in avoiding harm to the enemy population when it conflicts with protecting the lives of Israeli citizen-soldiers. Kasher states,
One must bear in mind that most of the IDF combatants, in particular in the army and navy, are conscripts. As citizens in military uniform, they are entitled to ask the state, as well as the IDF and its commanders, whether they are being placed in greater jeopardy to save the lives of enemy non-combatants who have been repeatedly warned to leave the scene of battle. An affirmative answer to this question would be morally unacceptable.
Posted by SS at 11:24 AM | Comments (0)