November 20, 2017
NBC's Anachronism: Israel's 'Ongoing Occupation' of Gaza
Nov. 21 Update: NBC Corrects About 'Ongoing Occupation' of Gaza
NBC's Vivian Salama seems to be stuck some dozen years in the past. In her Nov. 15 news story ("'An open secret': Saudi Arabia and Israel get cozy"), she writes:
An Israeli-Saudi alliance would also be vastly unpopular on the Arab street given the ongoing occupation of the West Bank and Gaza. (Emphasis added.)
In 2005, Israel withdrew every last one of its citizens, both living and dead (having exhumed remains from the cemeteries), as well as all of its soldiers, from the Gaza Strip in 2005, ending its occupation of the territory.
Following the 2005 withdrawal, then Secretary of State Rice said in a May 1, 2006 briefing:
And in fact, the Israelis do not any longer occupy Gaza; it is Palestinian territory. And that is in no small part thanks to the tireless efforts of Jim Wolfensohn, who worked day and night to make certain that that could happen. (Emphasis added).
While the United Nations and Human Rights Watch regard Gaza as still occupied, Hamas' Mahmoud Zahar disagrees, stating in 2012: "Against whom could we demonstrate in the Gaza Strip? When Gaza was occupied, that model was applicable."
In addition, a number of legal scholars disagree with the NGO position that Gaza is still occupied.
Indeed, after similarly stating that Gaza is occupied, The Los Angeles Times last year commendably published the following correction, the paper's second correction on this topic: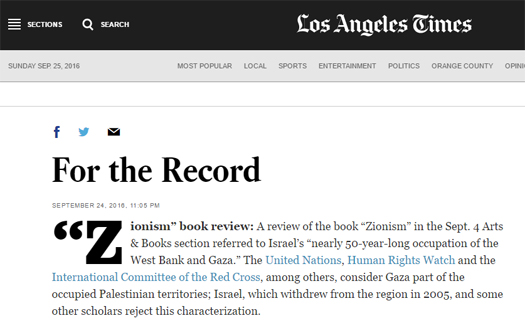 In addition, last month The Evening Standard also corrected this point.
CAMERA has contacted NBC to request a correction.
Posted by TS at 03:21 AM | Comments (0)
November 17, 2017
Where's the Coverage? Israel Offered to Help Iranian and Iraqi Earthquake Victims

An Israeli offer to assist Iranian and Iraqi earthquake victims was "immediately rebutted" by Baghdad and Tehran—and widely ignored by major U.S. news outlets.
As The Times of Israel reported on Nov. 14, 2017, Israeli Prime Minister Benjamin Netanyahu told a group of North American Jewish leaders that "Israel had offered the aid via the Red Cross, following Sunday's magnitude 7.3 quake that killed at least 530 people in Iran and several people in Iraq, and injured thousands across the region ("Israel offers quake help to Iran, Iraq, but immediately turned down")."
Netanyahu said that he saw "heartbreaking images of men and women and children buried under the rubble," prompting him to offer assistance to two countries that fail to recognize the Jewish state.
As CAMERA and others have noted, Iran routinely calls for Israel's destruction and supports terrorist groups, such as Hamas, Hezbollah and Palestinian Islamic Jihad (PIJ) that wage war against it. Yet, the Israeli Prime Minister said: "We have no quarrel with the people of Iran. Our quarrel is only with the tyrannical regime that holds them hostage and threatens our destruction. But our humanity is greater than their hatred."
Despite the devastation of the earthquake, both Iran and Iraq refused the aid, leading an official from Netanyahu's office to note: "This shows the true face of the Iranian regime."
While Iran and Iraq rejected the offer, the media rejected coverage.
Many major U.S. news outlets, including The Washington Post, USA Today and The Baltimore Sun, failed to provide a detailed report on Israel's offer. The Post did, however, republish a November 14 Associated Press brief that noted Israel's offer—but not the subsequent rejection.
The Post's failure to offer readers an original report on the subject is striking. As CAMERA has pointed out, the paper has reported on Chinese tourists purportedly being overcharged at an Israeli restaurant, among other comparably frivolous stories.
Posted by SD at 09:21 AM | Comments (0)
November 16, 2017
Tucker Carlson Allows Max Blumenthal's Anti-Israel Comments to Slide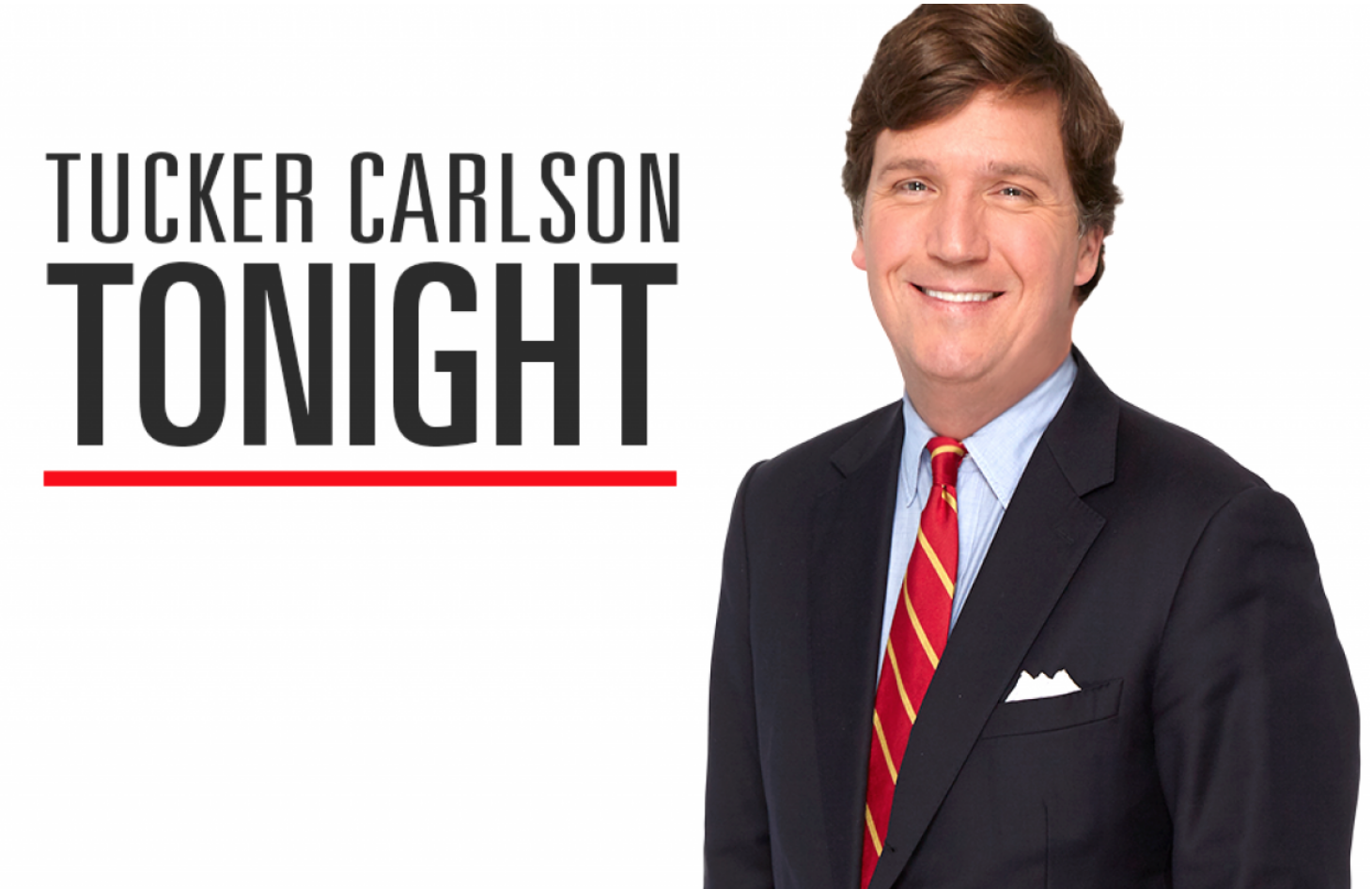 This past Tuesday, on his Fox News television show Tucker Carlson Tonight, host Tucker Carlson interviewed Max Blumenthal about the Russian government-funded cable network RT and the Trump administration's attempt to have that station register as a foreign agent. For those familiar with Blumenthal and his anti-Israel vitriol, there was nothing surprising in what he said. What was surprising, though, was that Carlson let Blumenthal's false and toxic allegations go unchallenged.
Responding to Carlson's question about why some journalists seem unconcerned about the administration's request, Blumenthal asserted that he enjoys his appearances on RT because "they let me talk about, for example, what the real sources of foreign influence are in this town, including the Israel lobby, and organizations like AIPAC, which have been promoting a humanitarian catastrophe in the Gaza strip, war on Lebanon, war on Iran, and which is not required for some reason to register as a foreign agent, and I don't know why that is."
Of course, AIPAC does not promote any of these things, and the reason it is not required to register as a foreign agent is that its leadership and members are U.S. citizens, and it doesn't take money or direction from foreign governments. Similar claims about an all-powerful "Israel lobby" have been debunked many times over. Carlson, however, did not challenge any of these assertions. After a few more softball questions, he simply replied, "Max, thank you, appreciate that analysis."
This was not the first time that Max Blumenthal (who is the son of Clinton confidante Sidney Blumenthal) has appeared on Carlson's show. After Blumenthal's July appearance, several conservative commentators criticized Carlson's decision to host him. Yet, this week, Carlson brought Blumenthal back.
Carlson might not have been so appreciative of Blumenthal's comments if he were more familiar with his guest's shaky track record. CAMERA has documented Blumenthal's falsehoods going back years. As we've written before, "Max Blumenthal has demonstrated a willingness to spread fabricated, distorted, and disavowed quotes." The Simon Wiesenthal Center included his book Goliath in its list of "Top Ten 2013 Anti-Semitic, Anti-Israel Slurs." One German newspaper even referred to Blumenthal and compatriot David Sheen as "lunatic Israel-haters" after they pursued a German politician into a bathroom.
Carlson frequently brings guests of various political persuasions to his program. He is known, however, for challenging them when he disagrees. In this case, Carlson invited onto his show a guest who is known for slandering Israel, but he was unprepared to dispute him and instead allowed his baseless comments to stand.

Posted by kabe at 01:19 PM | Comments (2)
November 14, 2017
Anti-Israel NGO Admits: Palestinian Children Commit Terror for 'Status'
A PFLP operative

The program director for Defence for Children International-Palestine (DCI-P), a Palestinian NGO, admitted in an interview that Palestinian minors commit terror attacks to enhance their societal status. The admission contradicts DCI-P's propaganda, which is often disseminated by an uncritical press.
Ayed Abu Qteish, DCI-P's accountability program director, acknowledged as much in an Oct. 11, 2017 interview on the show Personal Encounter, which is broadcast on official Palestinian Authority (PA) TV. Palestinian Media Watch (PMW), a non-profit organization that monitors Arab media in the West Bank (Judea and Samaria), the Gaza Strip and eastern Jerusalem, translated Qteish's remarks:
"There are children who, when they were in prison, told the lawyer: 'I want to be imprisoned.' The first time [the child] was imprisoned, he didn't confess, and they released him because there was no evidence to convict him in the Israeli military court. The second time, there was no evidence either. The third time, he wanted to be imprisoned so that his image wont be hurt in the eyes of his friends, even though he is actually innocent…In several cases [Palestinian children] carried out stabbing operations because of the way the public looks at them. They realized 'the best way to clear myself of this image [of helping Israel] is to participate in the resistance operations [emphasis added].'"
As CAMERA has noted, "resistance operations" is a euphemism for committing terrorist attacks.
PMW pointed out that DCI-P "has unjustifiably been accusing Israel of breaching the rights of Palestinian minors who are arrested on suspicion of committing terror attacks." PMW noted that Oteish's admission is significant because "in stark contrast to the claims of DCI-P in its campaign, it demonstrates that when Palestinian minors are arrested but the investigation ends without finding sufficient evidence, the suspect is released." Put simply: Oteish's interview highlights the hollowness of DCI-P's claims.
According to NGO Monitor, an organization that monitors non-governmental groups that are active in the Israeli-Palestinian conflict, DCI-P supports the boycott, divestment and sanctions movement (BDS), which seeks to delegitimize Israel and calls for its ends as a Jewish state.
DCI-P also has ties to the Popular Front for the Liberation of Palestine (PFLP), a U.S.-designated terrorist group. In its report on the non-profit, NGO Monitor noted that Shawan Jabarin, "an alleged PFLP activist" was a member of DCI-P's board, as were alleged PFLP affiliates Nassar Ibrahim and Dr. Majed Nasser. The board's secretary Fatima Daana is the widow of Raed Nazzal, the former commander of PFLP's Abu Ali Mustafa Brigades. One DCI-P employee, Hashem Abu Maria, was celebrated by the PFLP as a "commander" after his death in 2014.
Yet, as CAMERA highlighted in a June 15, 2016 Washington Jewish Week Op-Ed, the media and policymakers frequently omit DCI-P's anti-Israel agenda and links to the PFLP ("The Greatest Threat to Palestinian Arab Youth"). The New York Times, The Hill, and others have all broadcast DCI-P's claims, but failed to provide essential background about the organization and its aims.

Posted by SD at 11:00 AM | Comments (1)
November 13, 2017
The Washington Post's Selective Language on Israel

The Washington Post often displays two standards of language in its international coverage: one for Israel and another for the rest of the world.
Take, for example, the paper's use of the term "terrorist." Post reporting on the Israeli-Palestinian conflict shows an aversion to the word, with the less descriptive "militant" often being a preferred substitute. An Oct. 30, 2017 report "Seven Palestinian militants killed as Israel blows up tunnel from Gaza," is but one of many examples.
When he was The Post's Jerusalem bureau chief, William Booth almost exclusively relied on the term "militant" to describe members of U.S.-designated terrorist groups, such as Hamas, Palestinian Islamic Jihad, the Popular Front for the Liberation of Palestine (PFLP), among others who target Israel (see, for example "While Israel held its fire, the militant group Hamas did not," July 15, 2014). By contrast, the paper's reporters hardly—if ever—used the term "terrorist" to describe those perpetrating and planning terror against the Jewish state.
Now chief of the paper's London bureau, Booth has reported on terrorist attacks by the Islamic State in Iraq and Syria (ISIS) in Europe (see, for example "Barcelona suspect says terrorist cell planned to bomb monuments in city," Aug. 22, 2017). And now, he uses the more precise "terrorist" instead of "militant." Yet, both ISIS and Hamas, to name two examples, are U.S.-designated terrorist groups who commit terror attacks; it's unclear what difference there is beyond the fact that one is primarily engaged in the realm of the Israeli-Palestinian conflict.
The Post exhibits similar selectivity elsewhere. For example, the paper has referred to the West Bank (Judea and Samaria) and the Gaza Strip as "Palestinian territories (for example, see "A daily commute through Israel's checkpoints," May 29, 2017)." Yet, as CAMERA has informed Post staff—and as the paper acknowledged in a Sept. 5, 2014 correction that it disregards at will—"the status of the territories is disputed and no Palestinian state has ever existed." Nonetheless, the paper has shown a proclivity for, at times, inaccurately labeling the territories as "Palestinian" instead of "disputed." It has even defended doing so on the grounds that while it might not be accurate, its use is frequent ("The Washington Post: We Print 'Commonly Used' Falsehoods," CAMERA, June 12, 2017).
By contrast, the paper has no compunction using the term "disputed"—or a variant—when talking about other conflicts. In one recent example, the paper reported on Iranian-supported Iraqi forces seizing "contested areas" in what was then Kurdish-held Kirkuk ("Iraqi leader's acclaim grows after retaking of Kirkuk," Oct. 26, 2017). Elsewhere, the article referred to areas—which once belonged to Iraq but were declared in a Sept. 25, 2017 Kurdish referendum to be part of Kurdistan—as "disputed territory."
The Washington Post, along with other major news media, has also shown a selective use of adjectives when it comes to Israel. As CAMERA has noted, the paper has a recurrent practice of describing countries larger than Israel, such as Georgia, the United Arab Emirates and Jordan, among others, as "tiny" but virtually never highlights the Jewish state's size and population. If unintentionally, this minimizes the threats that Israel faces from much larger, and often hostile, countries.
"The aim of language," the French philosopher Jean-Paul Sartre once observed, is to "reveal the situation…[to] reveal it to myself and to others in order to change it." When it comes to its coverage of Israel, the language used by The Washington Post is revealing indeed.
Posted by SD at 12:46 PM | Comments (0)
New York Times Whitewashes Convicted Bomber as 'Controversial Activist'
Cross posted with updates here
Days after a New York Times arts piece about the Louvre Abu Dhabi covered up an official Emirati ban on Israeli symbols at the international Grand Slam judo tournament last month, the paper of record this week published a travel article which whitewashes convicted bomber Rasmeah Odeh as a "controversial Palestinian activist."
The Nov. 11 "Bites" New York Times food review is all about love, community organizing and social justice ("An Arab Bakery in Oalkland Full of California Love"). Rebecca Flint Marx writes:
Reem's is one of a handful of Arab bakeries in the Bay Area — but it is likely the only one where you'll find the children's book "A Is for Activist" on the shelves and an enormous mural of the controversial Palestinian activist Rasmeah Odeh on the wall.
But there is not a word about the source of Odeh's "controversy," as The Times delicately puts it. As The New York Times itself reported May 27, 2017, Odeh "was convicted in Israel of playing a role in the bombing of a supermarket that killed two civilians in 1969."
Odeh was convicted of perpetrating the bombing in which Hebrew University students Leon "Arie" Kanner, 21, and Edward Joffe, 22, were murdered. That makes her a convicted terrorist, not an "activist."

The Associated Press reported that this past September, Odeh
was deported from the United States for concealing a decades-old bombing conviction arrived in Jordan on Wednesday. . . .

Odeh didn't disclose her criminal record when applying for a U.S. visa and later for U.S. citizenship.
The depiction of a convicted bomber responsible for the killing of two civilians who was deported from the U.S. after she concealed her criminal records from authorities as a "controversial Palestinian activist" is a complete whitewash of her crime.
At the end of the article, Flint Marx dances around Odeh's conviction, still withholding the key information from readers:
While Ms. Assil's food has drawn plenty of praise, the bakery's mural has invited criticism: in late June, an online op-ed charged that Mrs. Odeh's portrayal glorified terrorism, and the bakery's Yelp page was besieged by a slew of one-star reviews. "It was really scary," Ms. Assil said of the experience, but added that it won her new allies.
By concealing Odeh's crimes and her victims, readers would have no way of knowing the reason why some might accuse restaurant owner Reem Assil of glorifying terrorism. Uninformed readers might conclude that Assil's accusers were motivated by nothing more than bigotry at worst or differing politics at best. Ignoring the real victims in this story -- Kanner and Joffe -- Flint Marx casts the purportedly social minded, loving Assil as the victim who was really scared.
In September National Geographic removed a similarly misleading mischaracterization, identifying notorious hijacker Leila Khaled as a "Palestinian activist." Khaled, like Odeh, was affiliated with the Popular Front for the Liberation of Palestine – a group designated as a terror organization by the European Union and the United States, as well as Israel and Canada.
CAMERA has contacted The Times to ask for a clarification noting that Odeh was convicted in Israel of two bombings, including one that took the life of two university students, and that she was deported from the United States for concealing her criminal record.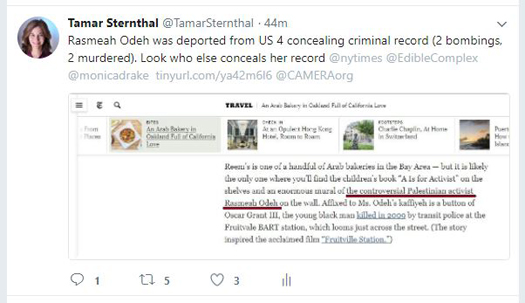 Posted by TS at 03:09 AM | Comments (1)
October 29, 2017
Tablet Fails to Clarify Alleged Knife Incident at Soccer Game
Oct. 31 Update: Tablet Corrects: Report of Israeli Soccer Fan Wielding Knife Unfounded
The Tablet has failed to clarify an article which claimed that an Israeli soccer fan stormed the field with a knife at a game in Jerusalem earlier this month when the Israeli national team lost to its Spanish rivals ("Spain ends Israel's World Cup Dreams"). The subheadline stated: "And, seeking revenge, Israel fan charges the field with a knife." In addition, the article's final sentence stated that a fan who charged the field "was carrying a knife."
Yet, according to AFP in Times of Israel ("Israeli police dismiss report of knife incident at Spanish match"):
Israeli police dismissed on Tuesday local media reports that a pitch invader who ran towards Spanish attacker Isco at a World Cup qualifier in Jerusalem was carrying a knife. . . .

Other Israeli media reported the allegation, but police and football officials denied it.

Police spokeswoman Luba Samri told AFP no knife was found inside the stadium.

A spokesman for the Israeli Football Association confirmed a fan ran toward Isco but said "no knife has been found."
Though The Tablet initially indicated that it would issue a correction, as of this writing, editors have yet to do so.
Meanwhile, Ynet, which appears to be the first media outlet to report the unconfirmed knife incident as fact, has amended a headline which stated as fact that a fan who charged the field was carrying a knife. The initial headline stated: "World Cup qualifiers: Israeli fan arrested with knife near Spanish national team player."
Following communication from CAMERA, Ynet editors slightly modified the headline, qualifying the claim that the fan carried a knife as a "report."
The article itself nevertheless still casts the unfounded knife claim as fact and ignores the police and soccer official statements that there was no knife.

Posted by TS at 06:03 AM | Comments (0)
October 27, 2017
Palestinian Authority Admits to Supporting BDS—Violating Oslo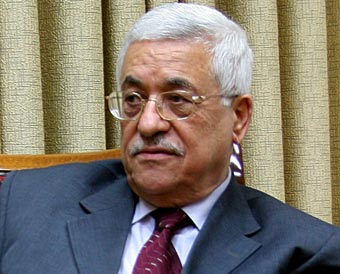 PA President Mahmoud Abbas
A top Palestinian Authority (PA) official has acknowledged that the authority supports the boycott, divestment and sanctions (BDS) movement. BDS unfairly maligns the Jewish state and denies its existence any legitimacy. The PA's support for BDS violates the Oslo accords which created the authority and from which it is funded.
In secret recordings obtained by The Washington Free Beacon, Mahmoud al-Aloul stated: "We have relations with BDS, our people work there and we have delegates there. We cooperate with BDS on all levels, and not only with the BDS, but every group whose aim is to boycott Israel, we are with. Every group working to lay siege on Israel and isolate it from the world, we are with."
Mahmoud al-Aloul is the deputy to PA President and Fatah movement head, Mahmoud Abbas. As CAMERA has highlighted, he is both an unrepentant terrorist and a likely successor to Abbas (see, for example "Backgrounder: Tanzim," Sept. 5, 2017).
Al-Aloul was recorded making these comments in March 2017—one month after he was appointed to his current position. Free Beacon reporter Rachel Frommer noted that in another audio recording, from August 2017, al-Aloul was asked by an Arabic-language news outlet if he supported BDS. The PA official responded, "Yes, of course." When asked how they do so, he said that the PA shows its support "in every way…We actively participate in the events they organize."
In a Sept. 9, 1993 letter to then-Israeli Prime Minister Yitzhak Rabin, Palestine Liberation Organization (PLO) and Fatah head, Abbas's predecessor Yasser Arafat wrote that the PLO "recognizes the right of the State of Israel to exist in peace and security." Further, "the PLO affirms that those articles of the Palestinian Covenant which deny Israel's right to exist, and the provisions of the Covenant which are inconsistent with the commitments of this letter are now inoperative and no longer valid."
That letter served as the preamble for the Oslo accords, which created the PA and allowed Palestinian leaders to return from Tunisia and have limited self-rule in the Gaza Strip and the West Bank. The PA receives U.S. and E.U. support, financial and otherwise, as a result of Oslo.
By supporting—and working with—BDS, the PA is assisting efforts to delegitimize Israel and which, as CAMERA has noted, call for the end of the Jewish state.
Rachel Frommer's Washington Free Beacon report can be found here.
Posted by SD at 01:17 PM | Comments (1)
Where's the Coverage? Hamas Visits Iran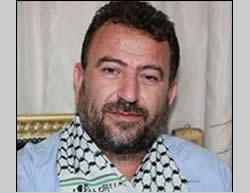 Saleh al-Arouri, the founder of the Izz ad-Din al-Qassam brigades

Top leaders from Hamas, the U.S.-designated terror group that rules the Gaza Strip, visited the Islamic Republic of Iran, in late October 2017. Hamas is currently engaged in reconciliation talks with its rival Fatah, which dominates the U.S. and E.U.-supported Palestinian Authority (PA).
Many major U.S. media outlets ignored Hamas's Iran trip—which was blasted by U.S. peace envoy Jason Greenblatt, who stated:
"Hamas, which has only brought ruin and misery to Palestinians, now begs Iran for help and again vows to destroy Israel."
Indeed, in its report on the visit of Hamas officials, such as Saleh al-Arouri, The Times of Israel noted that the terror group's decision to go to Iran violated Israel's conditions for recognizing a Hamas-PA unity government ("Hamas leader's visit to Iran defies Israel's condition for Palestinian unity," Oct. 23, 2017).
Israel has also requested that Hamas disarm and recognize the Jewish state. Hamas, however, has categorically rejected Israel's preconditions. Al-Arouri openly admitted as much, exhorting to Iranian media that "Our presence in Iran is the practical denial of the third precondition—cutting ties with Iran."
As CAMERA has highlighted, some analysts and policymakers have claimed that Hamas is becoming more "moderate." Others have asserted that reconciliation talks between the Gaza-based terror group and Fatah—both of which have called for Israel's destruction—somehow make peace with the Jewish state more likely (see, for example "Palestinian Official: Unity Deal Will Make Peace More Likely," Oct. 19, 2017, Al-Jazeera).
The Washington Post, for example, ran a story that, if implicitly, indicated Hamas-Fatah reconciliation could make peace more likely and that the U.S. and Israel were wrong not to embrace it ("Trump envoy balks at Palestinian reconciliation, insisting Hamas must disarm"). That October 19 report—published a mere two days before al-Alouri's Tehran visit—quoted several PA and Hamas officials, as well as an Israeli professor named Moshe Maoz, who asserted: "They [the U.S. and Israel] should look at the positive side of this arrangement. In a sense, it carries some promise, as it could be a good chance for Israel to negotiate with the entire Palestinian people."
For its part, Tehran has been a long-time backer of Hamas. However, Iran's support for Syrian dictator Bashar al-Assad caused fissures in the relationship since the beginning of the Syrian civil war in 2011. But now, "out of cash and isolated, Hamas is in search of backing from a major regional power, and is returning to Iran's orbit," according to terror analyst Yaakov Lappin ("Hamas Rejoins Iran's Terrorist Axis," Investigative Project on Terrorism, Oct. 26, 2017).
Lappin stated that the renewed relationship could result in Hamas benefitting from Iranian proxy Hezbollah in neighboring Lebanon, which is "now seeing the arrival of Hamas members who have set up a new command center." The next possible step could be setting up "terror cells in the West Bank [Judea and Samaria]."
Cash will once again flow from the Islamic Republic to Hamas, as will weapons and the technical know-how required to use them. Indeed, according to analyst Grant Rumley of the Washington D.C.-based think tank, Foundation for the Defense of Democracies, Hamas now says that "they've doubled the range of their rockets since the 2014 war—[which] can now reach over 160km."
Needless to say, this heightens the chance for another Israel-Hamas war. Unfortunately, this hasn't translated into increased media coverage.
A Lexis-Nexis search, however, shows that major U.S. news outlets, such as The Washington Post, USA Today and The Baltimore Sun, among others, failed to report Iranian-Hamas reconciliation. Should another conflict erupt, many readers will be ill prepared. The Post's failure to cover the story is particularly striking, as the paper ran a profile of al-Arouri on July 10, 2014— noting his role in sparking the last war ("The enigmatic Hamas leader allegedly behind the Israeli kidnappings that ignited the war").
Posted by SD at 11:45 AM | Comments (0)
October 23, 2017
Another Chapter in Yusef Daher's One-Man Propaganda War
The confined spaces of the Old City of Jerusalem present real problems for Israeli officials during celebrations of the Easter Triduum. In particular, the Church of the Holy Sepulcher and its narrow courtyard present a nightmare for officials responsible for crowd control in the Old City. Sadly, Yusef Daher, executive secretary of the Jerusalem Inter-Church Center, currently located at the Monastery of St. Anne in the Old City, uses Israel's response to these difficulties as a pretext to accuse Israeli officials of oppressing the Christian community in Jerusalem. (Photos: Dexter Van Zile)
Yusef Daher really ought to be ashamed of himself.
For at least a decade, he has used his status as executive secretary of the Jerusalem Interchurch Center — currently located in St. Anne's Monastery near the Lion's Gate of the Old City — to de-legitimize the Jewish state.
It's bad enough that Daher, a Christian, has posted images on social media that valorize Palestinian violence against Israeli civilians, but to make matters worse, he has used his status as a "Christian peacemaker" to portray legitimate Israeli security measures as a violation of religious freedom in Jerusalem. The problem is that if Israeli officials did not impose some sort of crowd control on Christian celebrations in Jerusalem, people might get killed in stampedes. It's happened in the past.
Here are the details.
Daher periodically condemns Israeli security officials for keeping a tight rein on the crowds of Christians that gather to participate in Good Friday and Easter services in the Church of the Holy Sepulcher in the Old City of Jerusalem. Sadly enough, irresponsible Christian leaders in Jerusalem have cooperated with Daher's efforts to demonize Israel.
In an article published by the Catholic News Service in April 2014, Daher complained that pilgrims intent on watching Good Friday and Easter services at the Sepulcher are kept away from the Church and are forced to watch the events on a large TV screen near Jaffa Gate. Pilgrims, Daher said, "are kept behind iron barricades as if they are in prison."
The same article quotes church leaders in Jerusalem as they accuse Israel of "tampering with the traditional celebrations and local heritage."
Daher said that Israel disrupts pilgrims on Good Friday service and that this "often disturbs people who are in prayer and creates tension." He also declared that Israeli police have acted violently against worshippers and that there have been arrests.
The article also states that "Daher noted that pilgrims are prevented from standing in the church's courtyard even though a three-meter-wide corridor would be enough for people to pass through in an emergency."

Continue reading "Another Chapter in Yusef Daher's One-Man Propaganda War"
Posted by dvz at 03:31 PM | Comments (0)
Hamas Celebrates Qatar's New UN Gig, Media MIA
Khaled Meshal

On Oct. 17, 2017, it was announced that Qatar would be appointed to the United Nations Human Rights Council (UNHRC). In a largely underreported move, Hamas, the U.S.-designated terrorist group that rules the Gaza Strip, seemed pleased with the announcement.
Hamas's official Twitter account said that "Qatar is a member in U.N. Human Rights Council after getting 155 votes." It might seem odd that a terror group would take the time to celebrate a country's appointment to a UN body ostensibly concerned with human rights.
But Qatar champions Hamas, whose charter calls for the destruction of Israel, the genocide of Jews, and which hides behind human shields while launching missiles at the Jewish state.
Jonathan Schanzer, a former terror analyst for the U.S. Treasury Department, highlighted Hamas's celebratory tweet. Schanzer, who is now the Vice President at the Foundation for the Defense of Democracies, a Washington D.C.-based think tank, has noted Qatar's support for terrorism before.
In an April 20, 2017 New York Post Op-Ed ("Time for the U.S. to stop Qatar's support for terror"), Schanzer detailed how Hamas "enjoys safe haven in Qatar and also raises plenty of cash." Noting that top Hamas official Khaled Meshal has "long operated out of Doha," the former Treasury official also pointed out that:
"Hamas military official Saleh Arouri — suspected of masterminding the kidnapping and murder of three Israeli teens, sparking the 2014 war between Hamas and Israel — is now reportedly in Qatar after being booted from Turkey."
Qatar's support for terrorism has extended to hosting members of the Taliban and a seeming unwillingness to go after terror financiers. In 2016, the U.S. Treasury Department's top terrorism-finance, Adam Szubin, said that Doha had demonstrated "a lack of political will…to effectively enforce their combating terrorist financing laws."
Qatar's support for Iran—which the U.S. State Department has listed as the top state sponsor of terrorism—has caused a publicized fissure with its fellow Gulf Arab countries who view the Islamic Republic as exporting instability (see, for example "As Persian Gulf Crisis Persists, Alarm in Washington Deepens," Sept. 17, 2017, The Washington Post). Despite this aspect, many major U.S. news outlets failed to detail Hamas's open celebration of Qatar's U.N. appointment. A Lexis-Nexis search of USA Today, The Washington Post, The Washington Times, and others, showed no mention of the tweet despite Qatar, the U.N., and Hamas being frequently covered topics.
Posted by SD at 10:57 AM | Comments (1)
The Journalists Bin Laden Could Count On

Osama bin Laden knew which journalists to feed information to when the terror chieftain wanted information disseminated in a manner useful to his aims. The al-Qaeda founder, like his terrorist counterparts in Hamas, Hezbollah and the Islamic State in Iraq and Syria (ISIS), used the media to his advantage, a new book highlights.
In their 2017 book The Exile: The Stunning Inside Story of Osama Bin Laden and Al-Qaeda in Flight, British journalists Cathy Scott-Clark and Adrian Levy interviewed top counterterrorism officials from a variety of governments, as well as Bin Laden associates and members of the terror group.
Among other things, Scott-Clark and Levy note that, from his hideout in Abbottabad, Pakistan, Bin Laden plotted in October 2010 on how best to highlight the upcoming anniversary of the Sept. 11, 2001 terror attacks perpetrated by al-Qaeda. The author's state:
"The tenth anniversary of 9/11 was coming and 'attention should be paid to start preparing for [it] now,' Osama railed. Al Qaeda needed to 'benefit from this event' and present 'our cause to the world, especially to the European people.' Atiyah [abd al-Rahman, a top AQ operative] should reach out to the right people. He [Bin Laden] suggested Ahmad Zaidan at Al Jazeera, Robert Fisk of the Independent, and the prominent Arab newspaper editor Abdel Bari Atwan, based in London [emphasis added]."
Bin Laden clarified that "jihadi media" is a "main piece of the war" and it shouldn't be "abandoned."
The journalists named by Bin Laden as preferable disseminators of his propaganda have another thing in common: They all target Israel.
As UK Media Watch, a CAMERA affiliate, has detailed, Fisk's work evidences a history of offering anti-Israel broadsides and distortions. Among other things, he has said that Hamas is more moral than Israel and conspiratorially accused the Jewish state of dragging "the West into [the] Syrian war." In one June 22, 2014 report, Fisk worried about the terror threat to the U.K. from Israeli soldiers.
Similarly, Al-Jazeera, the de-facto state news outlet for Qatar, a chief financier of Hamas and other terror groups, also has a history of making anti-Israel, and frequently antisemitic, broadcasts. And, as Levy and Scott-Clark note, one of Al-Qaeda's earliest media chiefs was Abu Walid al-Masri—a former Al-Jazeera journalist. Al-Masri even served as Al-Jazeera's Afghanistan bureau chief from 1998-2001—after he had trained in the same jihadist camps in the 1980s as future Al-Qaeda fighters. Al-Masri's son-in-law, Saif al-Adel, served as Al-Qaeda's military chief for a number of years, according to Levy and Scott-Clark.
Posted by SD at 09:48 AM | Comments (0)
October 16, 2017
Where's the Coverage? Egyptian Army Destroys Sinai Homes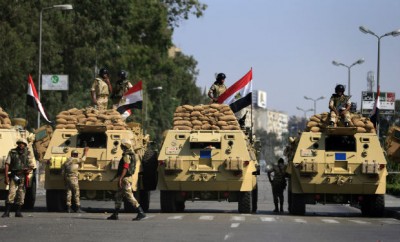 In a widely underreported move, the Egyptian Army began demolishing the homes of civilians in the city of Rafah on Oct. 4, 2017. The move, an Al-Monitor report noted, was "part of the third stage of building a border buffer zone with the Gaza Strip ("Egypt's army destroys Sinai homes to expand Gaza buffer," Oct. 11, 2017)."
The buffer line, the dispatch stated, is part of an attempt to destroy tunnels used by terrorist groups, such as Hamas, to smuggle operatives and materials between Gaza and the Sinai Peninsula. The process has been ongoing since October 2014. In its third phase, as with the preceding two, an area of 500 meters was added.
Al-Monitor claimed to have received a copy of the press statement of the governor of northern Sinai, Abdel Fattah Harhoor. Among other things, it said that the third phase of the buffer zones development was essential to "protecting Egypt's national security and countering terrorism," Al-Monitor said.
Those residents who have been displaced as a result of its construction are "facing difficulties in finding alternative housing," the paper reported. The publication added:
"Hundreds have resorted to building huts from the remains of houses and palm trees in desert areas in the surroundings of Sheikh Zuweid, Rafah and el-Arish. But their presence in these areas puts their lives at risk because there has been constant military combing and launching of random missiles between the army and the Egyptian branch of the Islamic State, Wilayat Sinai, since 2013."
During the first phase of the buffer zone's construction, displaced residents were offered compensation by the Egyptian government. At present, it's unknown if compensation of any form will be offered to those forcibly relocated during the ongoing third phase.
Egypt's decision to construct the buffer zone has been widely ignored by many major Western news outlets. A Lexis-Nexis search of major U.S. news outlets, such as The Washington Post, USA Today and The Baltimore Sun, among others, shows no mention of the recent phase and its accompanying displacement of Egyptian residents due to security concerns.
By contrast, as CAMERA has highlighted, Israeli security measures, such as the security barrier, are both well covered and frequently misreported (see here for examples and CAMERA-prompted corrections).
Posted by SD at 09:27 AM | Comments (0)
Fatah: A 'Sea of Blood' Will 'Create the State of Palestine'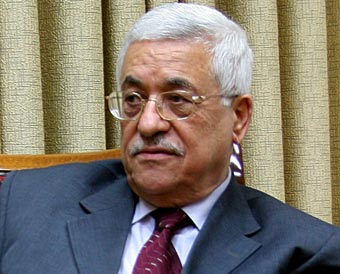 PA President Mahmoud Abbas

Fatah is the movement that dominates the Palestinian Authority (PA), the entity responsible for governing the West Bank (Judea and Samaria). Controlled by PA President Mahmoud Abbas, the movement is frequently labeled "moderate" by many news outlets. But even a cursory look at Fatah's Facebook page should dispel that myth.
According to Palestinian Media Watch (PMW), a non-profit organization that translates media in the West Bank, eastern Jerusalem and the Gaza Strip, Fatah recently authored a social media post that spelled out its objectives.
PMW noted that, in an Oct. 3, 2017 post on its official Facebook page, Fatah proclaimed:
"From the blood of the Martyrs (Shahids) we will create the State of Palestine."
Having enunciated its methods for state building, Fatah's Nablus branch offered more details in an Oc. 4, 2017, Facebook post, which stated:
"The Palestinian blood is not oil or water, but rather the salt of the earth and the gunpowder of the revolution."
Images of Palestinian "leaders," such as Fathi Shaqaqi, the founder of U.S. designated terror group Palestinian Islamic Jihad (PIJ), Ahmad Yassin, the deceased founder of Hamas, and others, accompanied the Facebook post.
As CAMERA has highlighted, Fatah's Facebook page frequently disseminates antisemitic material and exhortations to anti-Jewish violence. In March 2017, Facebook took the page down. However, it was back up within three days and Facebook had not removed "any of the terror promoting material that is regularly posted on the page," PMW noted.
Enraged at having its page briefly removed, Fatah accused Facebook of having a "blind bias in favor of the occupation."
Facebook never explained its reasons for removing—or for reinstating—Fatah's page. Less than a year later, Fatah continues to violate the social network's stated guidelines against threatening language. And it continues to make its motives and desires clear.
Posted by SD at 08:44 AM | Comments (1)
October 15, 2017
Imaginary BDS Demon Gets Haaretz Photo Editor
Oct. 17 Update: Haaretz Prints Correction on BDS Activists That Weren't
In his Oct. 13 column ("Exorcising an imaginary BDS demon"), Haaretz's David Rosenberg argues that the anti-Israel BDS (boycott, divest, sanctions) movement is an "imaginary demon." As the subheadline puts it: "Israel isn't under any threat from boycott movement, but fighting a phony BDS war is too tempting for many to pass up. Even, [sic] the U.S. Congress has been enlisted in the fight."
In addition to the U.S. Congress, it seems that a Haaretz photo editor has also been taken in by the phony BDS demon, imagining BDS activists where there are none. Thus, the photo caption accompanying the article in the print edition (page 14) stated: "Israel supporters separated by a police barrier from BDS activists at a New York parade."
But the "BDS activists" are actually anti-BDS activists, as made clear in the original Associated Press caption.

Haaretz's digital edition got it right, correctly identifying the demonstrators as anti-BDS activists.
CAMERA has contacted Haaretz to request a correction. Stay tuned for an update.
Hat tip: LDS
Posted by TS at 06:34 AM | Comments (1)
October 10, 2017
Where's the Coverage of Torture in Gaza Prisons?
Earlier this month, the online news site Al-Monitor wrote about two Palestinian human rights organizations' reporting on complaints of torture in Gaza prisons. ("Gaza activists decry rise in torture within prisons," October 1, 2017.) Al-Monitor wrote:
Human rights organizations operating in the Gaza Strip have monitored many cases of torture in Gaza prisons in 2016-17, which were described as "recurring."

After he was severely tortured, detainee Khalil Abu Harb, from Gaza City, committed suicide on Sept. 19. The Palestinian Center for Human Rights (PCHR) demanded in a Sept. 20 statement that the attorney general and decision-makers in the Gaza Strip stop what the PCHR described as a state of decay in detention centers. The PCHR demanded that they put an end to torture in prisons and abide by Palestinian law.

The Independent Commission for Human Rights (ICHR) issued its monthly report for July on Sept. 20. The ICHR noted that during July, it received 38 complaints of torture and ill-treatment in the Palestinian territories, 26 of which were in Gaza, and they included 22 complaints against the police and four against the Internal Security Service.

In its annual report for 2016, the ICHR revealed that it documented hundreds of complaints submitted by victims of torture in detention centers and prisons in the Gaza Strip that year.

PCHR's legal researcher Mohammed Abu Hashim told Al-Monitor that there is a lack of comprehensive and accurate statistics on cases of torture in prisons and detention centers, because the victims of torture are reluctant to confront the authorities. They do not trust in their ability to protect them or provide some form of compensation either by the judiciary or human rights centers.

With the help of Google Translate, CAMERA reviewed the IHCR report for July as well as the PCHR September 20 statement that Al-Monitor cited, which support the article.
The IHCR was founded in 1993 by Yasser Arafat. The PHCR has been noted for its bias against Israel and its reliance on lawfare against Israel. Yet, it has taken the step of criticizing the Hamas government of Gaza.
No mainstream American news media, however, has prominently featured this story. Palestinian suffering is only newsworthy, it seems, when Israel can be blamed.

Posted by kabe at 04:22 PM | Comments (2)
October 06, 2017
The Washington Post Belatedly Covers Hamas-Fatah Talks

The Washington Post has finally reported on recent reconciliation attempts between the two ruling Palestinian groups, Fatah and Hamas—nearly a month after they first came to public light.
In an Oct. 3, 2017 dispatch, Post reporter Sufian Taha and Jerusalem bureau chief Loveday Morris noted that Palestinian Authority (PA) Prime Minister Rami Hamdallah was visiting Hamas-ruled Gaza Strip as part of a "symbolic step toward ending a decade-long rift" with the U.S.-designated terror group. The PA is dominated by the Fatah movement, which, after losing elections in 2006, fought a brief and bloody war with Hamas in June 2007.
Tensions between the two groups have continued in the years since that conflict. However, as CAMERA has noted, many major news outlets frequently underreport Palestinian politics and rivalries. Some outlets, such as The Washington Post, devote in an inordinate amount of coverage to Israeli politics. (see, for example, "The Washington Post's Jewish Home Fixation," The Washington Jewish Week, April 26, 2017).
The Post, for instance, has offered reports on Israeli Prime Minister Benjamin Netanyahu's dog biting someone, or, under its "World Views" section, a piece on an Israeli restaurant purportedly overcharging Chinese tourists. When Palestinian affairs are covered, it's often in a manner that infantilizes them; recent Post reports have been on topics such as a Gazan field trip for schoolchildren and Palestinian pigeon ownership; implicitly portraying them as prisoners without independent agency ("For Palestinians, its Lights Out at The Washington Post," Algemeiner, June 22, 2017).
To its credit, The Post now informs readers that:
"Hamas invited Hamdallah's unity government…to take control of administering Gaza last month [emphasis added]. Hamas also its own administrative committee and said it was ready to hold elections."
This has important ramifications—and not only for Palestinian politics. As the U.S., Israel and others list Hamas as a terrorist group, what becomes of the Palestinian Authority and its composition is of extreme importance to both the region and the policies of non-regional actors, like the United States. However, this is the first Post report fully detailing efforts that have been going on since "last month."
The New York Times, Reuters and other outlets have been covering the reconciliation attempts since the beginning of September 2017. A Sept. 28, 2017 lengthy Post report on Gaza's water crisis briefly—in five sentences—noted that reconciliation attempts were under way. But, the majority of that dispatch focused on Gaza's water crisis, while omitting that by devoting reconstruction aid to terror instead of infrastructure, Hamas rulers are principally to blame.
To the detriment of its readers, The Post continues to underreport Palestinian politics.
Posted by SD at 11:36 AM | Comments (0)
(Updated) Wikipedia's Jewish Problem
Note: This post has been updated. Scroll down for information.

If anyone has any doubts that Wikipedia has a problem with the Jewish state, let them take a look at the website's list of national dances. It's a pretty straightforward list, except of course when it comes to Israel. The screenshot below shows the problem:
Continue reading "(Updated) Wikipedia's Jewish Problem"
Posted by dvz at 11:31 AM | Comments (1)
October 03, 2017
BDS Activist and Media Favorite Uses Las Vegas Tragedy to Attack Israel
Munayyer

A prominent activist in the boycott, divestment and sanctions (BDS) effort, Yousef Munayyer, used the Oct. 2, 2017 mass shooting in Las Vegas to attack Israel. Munayyer is the executive director of the U.S. Campaign for Palestinian Rights, formerly known as the U.S. Campaign to End the Israeli Occupation, a pro-BDS organization.
As CAMERA has pointed out, BDS backers call for the end of the Jewish state of Israel and seek to delegitimize it ("More distortions on Israel, The Hill, May 19, 2015).
After news of the massacre broke, the Embassy of Israel tweeted, "Our thoughts and prayers are with the victims of the #LasVegasShooting and their families. Love and Solidarity from Israel."
Munayyer quoted the tweet, and added one of his own: "Also from Israel, assault rifles into the U.S. market." He provided a link to a February 2017 Daily Beast article, which said that the AK-47 assault rifle might one-day be made in Israel. But as Cornell law professor William Jacobson noted at the Legal Insurrection, a blog that focuses on antisemitism and other issues, AK-47s are currently "manufactured in many places, including the U.S."
On Twitter, Yair Rosenberg, a journalist with Tablet magazine, elaborated: "American guns are overwhelmingly produced in America, but there is no atrocity that cannot and will not be blamed on the Jews or their state."
Rosenberg even cited a list of the top "firearms imported into the United States by country of manufacture in 2016." Israel, with 47,307, ranked fifteen in the amount of total firearms. By contrast, Austria imported 1,322,684 and Turkey imported ten times as many as Israel. But, as Rosenberg noted, Israel was the only Jewish country on the list. It was perhaps for this distinguishing feature that Munayyer chose to use a tragedy for his own political ends.
As CAMERA has detailed, Munayyer has a history of making misleading statements. For example, in a 2014 interview with CNN, Munayyer, refused to answer questions about why Hamas was ordering Gazans to stay inside of homes that Israel was telling them—in advance—would be bombed during the Jewish state's 2014 war with the terror group. Hamas—a genocidal terrorist group that calls for Israel's destruction—wanted to increase Palestinian civilian casualties for propaganda purposes. On CNN, Munayyer wanted to push his own propaganda; deflecting the interviewers question and minimizing Hamas' crimes and objectives.
At a July 25, 2016 event held by the U.S. Campaign to End the Israeli Occupation, U.S. Congressman Hank Johnson compared Jewish settlers to insects; an age-old antisemitic trope ("U.S. Congressman Calls Jewish Settlers 'Termites'—Media Silent," July 27, 2016). As CAMERA highlighted, many major media outlets failed to report this event.
Munayyer, however, is a media favorite. His bio on the U.S. Campaign for Palestinian Rights' website proudly notes: "His writings have appeared in every major metropolitan newspaper in the United States and many others internationally as well as online. He has frequently appeared to comment on national and international media outlets including CNN, MSNBC, Fox News, NBC, CBS, Al-Jazeera English, C-Span, and others many others."
Posted by SD at 11:35 AM | Comments (1)
September 27, 2017
The Washington Post Cites—Then Removes—A Tweet From an Antisemite

A Washington Post report on U.S. comedian Conan O'Brien's recent trip to Israel initially cited an antisemitic Twitter user. Following contact from CAMERA, The Post removed the offensive tweet from the online article ("How Conan's Israel episode confronted the 'polarizing' political issues," Sept. 20, 2017).
Post reporter Bethonie Butler detailed O'Brien's trip, noting comedic moments as well as the entertainers' encounters with "activists near the separation barrier in the West Bank [Judea and Samaria]."
Quoting O'Brien's televised show, The Post's dispatch informed readers that the security barrier is "a measure built to protect against terrorist attacks and has resulted in a dramatic drop in Israeli deaths."
Bizarrely, the article also initially included a tweet ostensibly meant to show negative reaction to O'Brien's show. Twitter user "MagSec" said, "Conan O'Brien's trip to Israel is the most shameless bit of propaganda that I've ever seen. He even has an Israeli doctor treating a Syrian." Of course, Israeli doctors have been treating victims of the Syrian civil war—a fact that is seldom noted by many media outlets. It's hard to see how this qualifies as "shameless propaganda"—unless one is an antisemite.
Screenshots taken by CAMERA Senior Research Analyst Gilead Ini show that the same Twitter user also thinks "The Jews at CNN are trying to get blacks to murder whites again" and "Never forget that CNN anchor Rick Sanchez said CNN & all the news networks were run by Jews." In addition to being a purveyor of antisemitic tropes, the individual's bigotry extends elsewhere, and includes attacking transgender people and praising assaults against journalists.
Following contact from CAMERA, The Washington Post commendably removed the tweet from its online report and noted that the post "has been updated." Nonetheless, its initial inclusion does raise the question of why this particular Twitter user was cited in the first place.
The dispatch also presented information in a manner that could mislead readers, stating that O'Brien listened to activists who "described attending the funeral of an eight-year old Palestinian girl, who was run over by an Israeli settler in the West Bank." In fact, as CAMERA affiliate UK Media Watch has noted, the girl who is likely being described, Aseel Abu Oun, was killed in what police described as a "regular road accident." However, The Post presented her death in a manner that could lead readers to think that the death was intentional.
By using a questionable source and ambiguous phrasing—even if unintentional—The Post's story could misinform readers.
Posted by SD at 01:29 PM | Comments (0)