February 12, 2016
Poll: Majority in France Believe Jews Responsible for Antisemitism

Sixty percent of French citizens believe that Jews are at least partially responsible for rising antisemitism, according to a poll by Ipsos, a market research firm.
The survey, reported by The Jerusalem Post, is part of an 18-month study sponsored by the Fondation du judaisme francais ("Poll: Most Frenchmen believe Jews responsible for rise in anti-Semitism," Feb. 2, 2016).
The poll also found that 56 percent of the country believe Jews have "a lot of power" and possess great wealth. Repeating another old antisemitic trope, 40 percent said Jews are "a little too present in the media."
Thirteen percent of those surveyed said "there are a few too many Jews in France."
For their part, many French Jews are expressing a growing interest in leaving the republic.
The Jerusalem Post notes another recent poll by the "Institut francais d'opinion publique, which pegged the number of French Jews mulling moving to Israel at 43 percent. Given France's approximately 700,000 Jews, that translates to about 200,000."
In 2015, nearly 8,000 French Jews made aliyah. By contrast, in 2013 less than 3,300 Jews moved to Israel. Figures from 2011, show only 1,900 French Jews immigrating to the Jewish State ("Au revoir and shalom: Jews leave France in record numbers," CNN, Jan. 25, 2016).
Jews have increasingly come under attack in France.
On Jan. 9, 2015 four French Jews were murdered in Paris at a Jewish kosher deli by Islamic state sympathizers. In one week in June 2014, Jews were attacked in three different incidents in Paris, with the assailants using tear gas, axes and an electric taser ("Jewish teen wearing yarmulke tasered in Paris," Tablet Magazine, June 11, 2014).
More recently, French Jews have been increasingly attacked in the city of Marseille. In January 2015, a fifteen-year old ethnic Kurd who supports the Islamic State terrorist group stabbed a Jewish school teacher, Benjamin Amsellem, nearly killing him. At his arraignment, the unnamed teenager said he was "ashamed" his attempt was unsuccessful ("Teen Jihadi 'proud' of attack on Jewish man in Marseille," Times of Israel, Jan. 13 2016).
The Times of Israel reports that the attack was the third in as many months in the French city. "France's Jewish community has grown used to living under the surveillance of armed soldiers around synagogues and schools," the paper says.
As CAMERA has noted, antisemitism has been rapidly growing in Europe—anti-Jewish violence up forty percent in 2014, according to a study by Tel Aviv University. The majority of these attacks were in western Europe ("Violent antisemitic attacks up 40 percent—Where's the Coverage?" April 21, 2015).
With the current trend of antisemitic violence in France—and a majority of the public willing to blame the victim—it may come as little surprise if French immigration to Israel increases in 2016.
Posted by SD at 10:35 AM | Comments (0)
February 09, 2016
Zionism is "Threat to Democracy" according to Haaretz
In a recent article in Haaretz, contributor Revital Madar states that, "The threat to democracy in Israel, from 1948 to the present, is rooted in Zionism." Madar claims that the there are insidious bodies at work at the core of Israel's political and ideological character whose goal is to destroy human rights, "impose collective punishment," and govern by stringent religious doctrine. These accusations ignore the obvious facts to the contrary, namely Israel's democratic elections, judicial system, and non-discriminatory character.
Responding to the condemnation of Joint Arab List Members of Knesset (MKs) for visiting the families of Palestinian terrorists, the author takes the position that the Joint List is the "only" Knesset party in Israel that "truly understands what democracy is." Madar writes that the condemnation the Joint List MKs have faced in the aftermath of their visiting the families of Palestinian terrorists is a desecration of free speech and a violation of democratic rights. The Joint List ministers who observed moments of silence together with the relatives of terrorists in memory of the dead attackers are lauded for having a sensitivity that Israel as a nation lacks and cannot understand; unlike the rest of Israel, these MKs can "care more for a person who committed a crime…and for the rights of his family."
One of the MKs being celebrated by Haaretz for her humane, fair, and balanced views is Hanin Zoabi, who has voiced anti-Israel views on numerous occasions. She has stated that she is against a two-state solution, believes Israel should work with Hamas as a partner in peace, and has exited the Knesset during the recitation of the national anthem saying, "Hatikvah does not represent me." After the 2014 kidnapping and murder of three Jewish boys, Zoabi refused to recognize the kidnappers as terrorists, and rationalized the attack as the desperate actions of oppressed teens.
The Haaretz article falsely claims that Israel has a doctrine "to differentiate between human beings," failing to characterize Israel as it exists in reality, a free and democratic nation: Tel Aviv is continuously listed among the most popular gay cities in the world, known for its massive annual Gay Pride Parade; Israeli Arabs enjoy the richest opportunities, educational and professional, of any Arabs in the region; women in Israel are treated with respect unparalleled in the Middle East and afforded equal rights under the law; and freedom of speech and political thought are afforded to all. In fact, it is these very freedoms that Joint List MKs exercise in celebrating terrorists and that Madar enjoys in criticizing the Jewish state.
- Rachel Frommer, CAMERA intern

Posted by SC at 03:21 PM | Comments (0)
Where's the Coverage? Palestinian Official Calls to 'Intensify and Develop' Anti-Israel Violence
Fatah emblem

Referring to Palestinian Arab terror attacks against Israelis, Fayez Abu Aita, a spokesman for the Fatah movement that controls the Palestinian Authority (PA), has called to "intensify and develop this popular uprising." Despite frequently quoting him in his role as a Fatah spokesman, major U.S. print news outlets have failed to report these comments.
According to the Middle East Media Research Institute (MEMRI), a non-profit organization that translates Arab and Iranian media, Aita's comments were made on official PA TV on Jan. 21, 2016.
Aita also claimed that the "popular uprising" [a series of stabbing, shooting, vehicular and other attacks since September 2015] is "growing today. It has moral and material support from the Palestinian leadership and from the Fatah movement, so that it will be able to continue."
The Fatah official did not seem to notice the potential contradiction of calling the anti-Jewish violence a "popular uprising" that also has "moral and material support" from PA and Fatah leadership.
Seeming to support Aita's contention that the PA supports the continuing terror attacks: On Feb. 3, 2016, PA President Mahmoud Abbas met with the parents of several young Palestinian Arabs who were killed by Israeli security forces while murdering Jews. Abbas did so only hours after three Palestinian Arabs murdered nineteen-year old Border Police officer, Hadar Cohen ("Abbas Signals Solidarity with Terrorism," The Times of Israel, Feb. 16, 2016).
Despite acknowledging PA support for terror attacks, Aita blamed Israelis for the violence.
Alluding to U.S. and Israeli-led negotiations with PA leaders for a "two-state solution" in return for peace with and recognition of the Jewish state, the Fatah official said, "Palestinian leaders suffered in those negotiations like Job suffered. All the smart-asses say that 20 years have passed and the negotiations have failed. We have suffered like Job, and we are not going for this popular uprising just for fun."
What Aita did not mention was that Palestinian leaders prolonged either their "suffering," the negotiations or both by rejecting statehood in exchange for peace with Israel in 2000, 2001 and 2008, among other instances.
Instead, the Fatah spokesman asserted:
"As far as we [the PA and Fatah] are concerned, it [the "stabbing intifada"] will gradually escalate. It plays an extremely significant role at this state, but it could develop into an intifada throughout our homeland. It depends on how much Israel succumbs to the will of the international community, and to the Palestinian people's right to end the occupation, to self-determination, and to the establishment of the Palestinian state, with Jerusalem as its capital."
As Fatah's spokesman, Aita is regularly quoted by news media (see, for example, "Hamas Suspends Voter Registration Process in Gaza," The New York Times, July 2, 2012). Yet, despite treatment of him as a go-to source, Aita's recent admission of Palestinian leadership supporting anti-Israeli terror attacks was not mentioned by a single major U.S. print news outlet.
Where's the coverage?
Posted by SD at 10:31 AM | Comments (0)
February 08, 2016
Public Speech Without Accountability at Vassar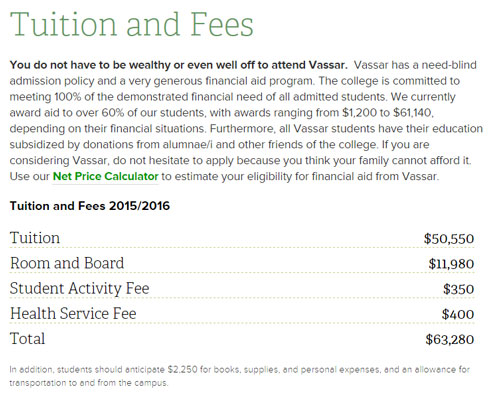 Vassar, which has become a hotbed of anti-Zionist intimidation, charges a pretty hefty sum for a year's tuition and room and board.(Screenshot from the school's website.)
Jasbir Puar, an associate professor at Rutgers University, recently appeared at Vassar College in Poughkeepsie, New York. During her Feb. 3 talk, she made a number of outlandish accusations that were recounted by Professor William A. Jacobson at his website, Legal Insurrection. Jacobson reported that "Puar's appearance amounted to an anti-Israel propaganda event at which Israel was portrayed in a manner reminiscent of ancient blood libels. A major theme of the talk was that Israel treats Palestinians as part of a type of scientific experiment developed to 'stunt' Palestinian bodies."
For example, Puar suggested that Israel has refused to release the bodies of young Palestinians who were killed in the aftermath of numerous attacks over the past few months because the Jewish state has harvested organs from the corpses.
In fact, Israel has delayed the return of the bodies of Palestinian attackers to prevent their use as propaganda props by the Palestinian Authority and terror organizations in the West Bank. Palestinian leaders use the funerals of the attackers to incite more violence against Israelis. The Associated Press reported on January 5, 2016 that "At the outset of the violence, Israel's public security minister, Gilad Erdan, recommended holding on to the bodies of Palestinian assailants, claiming the funerals turn into 'an exhibition of support for terror and incitement to murder.'"
According to Jacobson, the conclusion of her speech went as follows:

Continue reading "Public Speech Without Accountability at Vassar"
Posted by dvz at 02:38 PM | Comments (0)
February 03, 2016
DEA Uncovers Hezbollah Drug and Money Laundering
Imad Mughniyah

The United States Drug Enforcement Administration (DEA) announced that it arrested top leaders of a European cell of Hezbollah, a U.S.-designated terror group, according to a Feb. 1, 2016 press release. Hezbollah, the Lebanese Shi'ite "Party of God," is an Iranian surrogate with reported worldwide reach.
The DEA said the arrests targeted members of Hezbollah's External Security Organization Business Affairs Component (BAC), "which is involved in international criminal activities such as drug trafficking and drug proceed money laundering." Profits made in these illicit efforts are used to buy weapons.
The arrests were made as part of DEA's Project Cassandra, an effort to clamp down on the BAC, which traffics cocaine in the United States and Europe. "The most significant arrest" according to the agency, was that of Mohamed Noureddine, a Lebanese money launderer who used his Lebanon-based company, Trade Point International S.A.R.L to launder Hezbollah funds. Noureddine has "direct ties" to Hezbollah elements in both Lebanon and Iraq.
Over the past year, U.S. Department of Justice investigations into Hezbollah financing have resulted in the indictments of individuals living in Columbia, Lithuania, France and the United States.
The BAC was founded by Hezbollah international operations head Imad Mughniyah. Mughniyah, reportedly behind the 1983 bombing of the U.S. Marine Corps barracks in Beirut, among many other attacks, was killed in Damascus, Syria on Feb. 12, 2008 reportedly in a joint U.S.-Israel operation conducted by the Central Intelligence Agency (CIA) and its Israeli equivalent, the Mossad. The Hezbollah component is currently overseen by Abdallah Safieddine.
According to DEA, its investigation began with a look into the Lebanese Canadian Bank. Working with authorities in France, Belgium, Germany and Italy, the agency "uncovered an intricate network of money couriers who collect and transport millions of euros in drug proceeds from Europe to the Middle East. The currency is then paid in Columbia to drug traffickers." The DEA notes that a "large portion" of the profits go through Lebanon and a "significant percentage" benefit terrorist organizations, particularly Hezbollah.
The U.S. Department of Treasury announced on January 28 that sanctions have been placed on more than 100 people and entities associated with the terrorist group ("U.S. Puts Sanctions on Alleged Hezbollah Money Launderers," The Wall Street Journal, January 28).
Writing for The Wall Street Journal's online Think Tank blog, analyst Matthew Levitt, says that Hezbollah is "facing hard times" as a result of the group's intervention in the Syrian civil war, a decline in oil prices that have "led Iran to cut back support" and sanctions ("The Crackdown on Hezbollah's Financing Network," January 27). Levitt is a former Treasury Department deputy assistant secretary who has written extensively about Hezbollah and sanctions, and is currently the director of the Stein Program on Counterterrorism and Intelligence at the D.C.-based think tank, Washington Institute for Near East Policy.
Levitt notes that sanctions have targeted foreign companies that supply material for unmanned aerial vehicles (UAV's) Hezbollah uses in Syria and Israel. The analyst says investigations into Hezbollah's financing have "led to the inner circle" of the group's leadership and are increasingly putting pressure on Hezbollah leader Hassan Nasrallah.
Hezbollah has long denied that it engages in drug trafficking and money laundering. In 2011, responding to a criminal complaint in a New York federal court, the organization claimed: "The United States' allegations that Hezbollah is funding its activities illegitimately is merely another attempt to tarnish the image of the resistance…Hezbollah categorically denies the false charges of its direct or indirect involvement in money laundering, drug trafficking or illegal banking operations."
But then, Hezbollah also has denied targeting Israeli civilians in terrorist attacks throughout the world and starving the Syrian town of Madaya via siege on behalf of Syrian dictator Bashar al-Assad—actions it has taken. From lies to murder, the group is nothing if not consistent.
Posted by SD at 12:01 PM | Comments (0)
February 02, 2016
Defense One: Israel Is a Rising Cyber 'Super Power'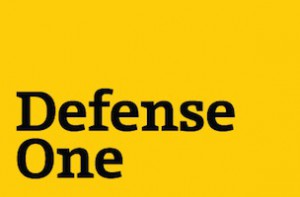 Israel is a rapidly growing power in cybersecurity. An article in Defense One, a publication that focuses on military and international affairs, details Israel's expanding cyber power ("The Middle East's Quietly Rising Cyber Super Power," Jan. 27, 2016).
Author Adam Segal, a senior fellow at the New York City-based think tank Council on Foreign Relations (CFR), describes Israel as having "an ambitious domestic and international agenda designed to make it one of the world's super cyber powers." Segal's focus at CFR, where he runs a blog called Net Politics, is on cybersecurity and cyberconflict.
Israel currently has more than 300 cybersecurity companies and accounts for 20 percent of the world's private investment in cyber. The Jewish state currently exports $6 billion in cybersecurity technology.
Segal attended the January Cybertech 2016 in Tel Aviv, at which Israeli Prime Minister Benjamin Netanyahu spoke about Israeli cybersecurity and its future. Delegations from the International Monetary Fund, U.S. Department of Homeland Security and business and banking officials from Canada and Japan, among other countries attended the conference. The Jerusalem Post called Cybertech 2016 "the largest exhibition of cyber technologies outside the United States ("Israel's electrical grid attacked in massive cyber attack," January 26)."

In his conference speech, Netanyahu highlighted the February 2015 establishment of an Israeli National Cyber Authority as part of a comprehensive plan to boost Israel's cyber readiness. The authority is tasked with ensuring a comprehensive response against cyber-attacks and "strengthening the resilience of organizations and sectors in the economy," according to a press release by the prime minister's office. Netanyahu also hinted at bureaucratic turf battles between the Shin Bet, Israel's domestic security agency, and the authority over cybersecurity responsibilities—a conflict that Segal called an "entirely predictable outcome of bureaucratic politics" that is expected to be "resolved quickly."
Netanyahu, Segal reported, also evidenced skepticism towards "the idea of a universal code of cyber norms. Instead, he advocated a meeting of like-minded countries to define norms and sanctions against those who violate those standards."
The Israeli prime minister said the Israeli government is expected to release soon guidance on export control laws for cybersecurity products.
On January 26, the day before the Cybertech Conference, Israel's electrical grid was the target of a massive cyberattack. Speaking about the incident at the conference, Israeli Minister of Infrastructure, Energy and Water, Yuval Steinitz said, "the virus was identified and software was activated to neutralize it." The perpetrators of the attack have not been named.
Steinitz added: "This is a fresh example of what we need to be prepared to face at any time."
As Defense One noted, Israel appears to be taking such preparation seriously.
Posted by SD at 01:30 PM | Comments (0)
February 01, 2016
School in Sweden Teaches Pupils Israel Doesn't Exist
Margot Wallstrom

A commentary in Arutz Sheva, Israel National News, "Indoctrinating Swedish children" (Jan. 28 2016) charges a Swedish school with attempting to teach children anti-Israel bias and hated. Author Tobias Petersson, chairman of the Swedish pro-Israel organization Perspective on Israel (PPI), warns of textbooks that have been distributed in the city of Malmo, Sweden by a non-governmental organization.
Petersson says the "Swedish pro-Palestinian NGO Palestinian Centre for Justice (PRC) recently began to educate children in one or more schools" in the city.
In 2006, PRC arranged a conference in which Ismail Haniyeh spoke. Haniyeh is the leader of Gaza Strip-based Hamas, a U.S-designated terrorist group. According to Petersson, the PRC is slated to hold another of these conferences, entitled "Palestinians in Europe" in 2016.
In June 2015, the PRC vice chairman held a meeting with Margot Wallstrom, currently Sweden's foreign minister. Wallstrom has been criticized for her Jan. 12, 2016 remarks which falsely alleged that Israelis shooting Palestinian attackers were potentially guilty of "summary executions."
The textbook distributed by the PRC is called "To Palestine I Belong." Written entirely in Arabic, the book shows a map that depicts all of Israel and territories ruled by the Palestinian Authority and Hamas as Palestine. Some Israeli cities are still shown—however Tel Aviv, is not.
Jewish history in the land of Israel before the 1917 Balfour Declaration is completely erased, whereas Muslim activity in the region is depicted. The book refers to Jewish presence in Israel as "the occupation" and accuses the country of harboring a "dangerous plan" to destroy the "Palestinian cause" via "war crimes against the land, the people and the holy shrines." Israel is also falsely charged with preventing Palestinian Arabs from working, stealing land and enacting "Judaization" projects to erase Islamic history in Jerusalem.
In what Petersson calls the "most controversial part of the textbook," the 1987-1994 intifada in which Palestinian Arabs attacked Israelis, both civilians and soldiers, is described as brave children fighting the "Zionist machines and soldiers with their bare chests." Petersson notes that this language directly mirrors that of Hamas spokesman Sami Abu Zuhri. Terrorist attacks against Israelis are praised in the book as a "heroic saga."
According to Petersson, in November and December 2015, the PRC Facebook page displayed photographs of teaching sessions with this textbook—only to remove them after journalists started asking questions. Other images show PRC rallies at which the Jewish Star of David is depicted—but made of barbed wire.
Swedish Foreign Minister Wallstrom has cited her government's unilateral recognition of a Palestinian state as proof of "consideration and solidarity" with Muslims. Sweden recently has accepted thousands of Muslim immigrants, some of whom were fleeing the Syrian civil war. In a Jerusalem Post Op-ed, Petersson notes that Wallstrom's statements on "solidarity" with the Islamic world (a notional concept for a divided, violence-torn region) frequently begin with an emphasis on her government's recognition of a Palestinian state—to "show how good Sweden is for Muslims ("Wallstrom has to resign," Nov. 21, 2015)."
According to the terms of the 1990s Oslo peace accords—which Sweden supported—recognition of a Palestinian state must be the result of bilateral negotiations with Israel. U.S. and Israeli offers for a "two-state solution" in exchange for peace with and recognition of Israel made in 2000, 2001 and 2008, were all rejected by Palestinian Arab leaders, without any counter-offers. This may render Wallstrom's recognition of a Palestinian state when none exists and may not be the main goal of Palestinian leaders, premature at best, an obstacle to peaceful coexistence at worst.
What the Palestinian leaders rejected in favor of launching and continuing the anti-Jewish violence of the second intifada, the Swedish foreign minister and an anti-Israeli NGO also apparently reject: a peaceful "two-state solution." Instead they take Palestinian rejectionism as a given, implicitly treat anti-Israeli, anti-Jewish terrorism as acceptable and seek to indoctrinate Swedish children in those views. By erasing Israel from the map, the PRC and its supporters are doing more than just echoing the rhetoric of groups like Hamas or Fatah's al Aqsa Martyrs Brigades—they're serving the strategic aims of terrorist groups.
By using text books that advance that line, Sweden's second largest city—from which many members of its 700-strong Jewish community fled because of antisemitic harassment half-a-dozen years ago—supports efforts to make not only itself, but also the Middle East, judenrein.
Posted by SD at 04:34 PM | Comments (0)
Iranian Leader Marks Holocaust Remembrance Day with Denial Video
Ayatollah Ali Khamenei

The "Supreme Leader" of Iran, Ayatollah Ali Khamenei, released a Holocaust denial video on Jan. 27, 2016—International Holocaust Remembrance Day.
According to the Middle East Media Research Institute (MEMRI), a non-profit organization that translates Arab and Iranian media sources, Khamenei's three-minute video was published on his official website. The "Iran Military" Facebook page, which is affiliated with the Islamic Revolutionary Guards Corps (IRGC), disseminated the video.
MEMRI says in the video Khamenei "expresses doubt about whether the Holocaust actually happened…and hints at a conspiracy on the part of Western Europe and the U.S."
Khamenei exhorts:
"You dear brothers, dear people of Iran, Muslims of the great Islamic Ummah [transnational Muslim community], and officials in different countries, should know that we can stand up against the Ignorance." The "Ignorance" is a term frequently used by Iranian leaders to refer to the non-Islamic West, particularly the United States.
The Iranian leader claimed that "no one in European countries dares to speak about the Holocaust, while it is not clear whether the core of this matter is a reality or not." Khamenei claimed, "Even if it [the Holocaust] is a reality, it is not clear how it happened."

As CAMERA has noted, similar false claims have been propagated by Palestinian Authority President Mahmoud Abbas, among others.
Without a hint of irony, the ayatollah, head of a theocratic police state, charged European leaders with suppressing freedom to question or debate the historical fact of the Nazi-led destruction of European Jewry. He pointed to lawsuits and arrests that some democratic countries, such as Germany, have taken against Holocaust deniers.
Khamenei's claims may have another purpose as well. MEMRI says, the ayatollah's charge implies the "silence about the Holocaust that is imposed by the West on their citizens…is a conspiracy by the Western countries and the Zionist regime [Israel], aimed at establishing falsely, justification for Israel's existence, as it expels the Palestinians."
The Islamic Republic of Iran's embrace of Holocaust denial is nothing new. Its former President, Mahmoud Ahmadinejad, repeatedly denied the murder of 6 million Jews by Nazi Germany and its collaborators occurred.
His successor, current Iranian President Hassan Rouhani, earned plaudits from media outlets, like the U.K. newspaper The Guardian, for purportedly putting "an end to eight years of Holocaust denial." Yet, as Marc Tracy pointed out in The New Republic in 2013, Rouhani did not actually denounce Holocaust denial. He said "Let the historians decide"—effectively casting doubt on the historical nature of the Holocaust by falsely implying that historians had not yet verified the genocide ("Hassan Rouhani Is Still a Holocaust Denier," Sept. 26, 2013).
In an activity meant to help indoctrinate the next generation of Iranians, the regime is slated to hold its latest annual contest to "see who can create the best Holocaust denial cartoon" this June. Last year 839 cartoons were submitted. This year's winner will take home $50,000—$12,000 more than the last winner was awarded ("Iran to Host State-Sponsored Holocaust Denial Cartoon Contest," Breitbart News, Jan. 16, 2016).
The MEMRI clip of Khamenei's Holocaust denial video can be found here.
Posted by SD at 01:11 PM | Comments (0)
January 28, 2016
Where's the Coverage? Palestinian Official Praises Hitler, Says Goal of 2 States is Elimination of Israel

Tawfiq Tirawi, a senior Fatah official and former intelligence chief of the Palestinian Authority, this month defended Hitler's morals and praised him as brave, and asserted that a Palestinian state in the West Bank and Gaza Strip with Jerusalem as its capital would "just a phase" toward eliminating Israel.
The Guardian's Peter Beaumont and Reuters' Luke Baker decided it was important to publish about some offensive statements made by an Israeli who, while over a decade ago had been an aid to Benjamin Netanyahu, is currently working in the private sector. But not about the much more outrageous statements by Tirawi, who is still today a high-ranking member of Mahmoud Abbas's Fatah party.
Why not? Where's the coverage?
Posted by GI at 04:42 PM | Comments (0)
Before Huge Diaa Hadid Correction, Signs of Bias
Recently on Twitter, we shared a pithy summary of the broader context to the massive Editors' Note The New York Times had to append to Diaa Hadid's hit piece on Jerusalem evictions.
Our readers who don't use Twitter might not have seen it, so here it is: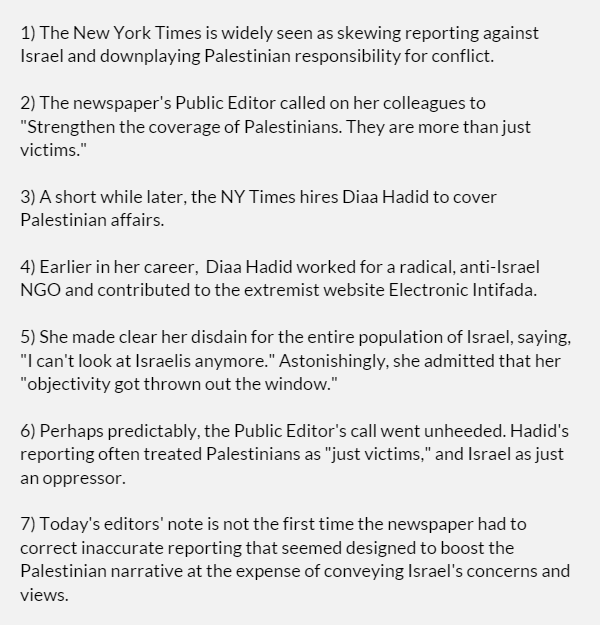 We also shared this graphic showing some of the hostile comments Hadid made before being hired by the New York Times:
There have been a number of corrections over the past year to inaccurate or misleading reporting by Hadid that consistently skewed against Israel.
And the corrections hardly tell the whole story. There are plenty of other examples of bad reporting to be found, including Hadid's description of a Palestinian stoning attack that led to the death of a Jewish driver as an "accident," and her absurd reference to the assailants stoning not the driver, but merely pelting "the road he was driving on."
In another article, Hadid interviewed two witnesses to an security incident in Hebron. One of the witnesses claimed a Palestinian shot by security forces was not carrying a knife. According to Hadid's account, the second witness did not say otherwise. But that same second witness actually admitted, in a conversation with another organization, to seeing a knife. Hadid failed to get, or failed to share, this essential information from the witness.
Posted by GI at 09:21 AM | Comments (0)
January 26, 2016
Where's the Coverage? Israeli Women Being Murdered by Terrorists

While most of the mainstream media has been preoccupied covering the horserace in the presidential primaries, precious little attention has been paid to a series of violent attacks on Israeli women by knife-wielding Palestinian terrorists. Twenty-three year-old Shlomit Krigman is the most recent victim to succumb to her wounds. She was buried a week shy of her 24th birthday.
Ms. Krigman and another woman, Adina Cohen, were stabbed by two attackers outside a market in Beit Horon, near Jerusalem. The murderers also tried to bomb the market but the devices failed to explode. The carnage could have been much greater had a quick-thinking store clerk not used a grocery cart to keep the terrorists from entering the market. The killers were eventually shot by a Druze security guard.
Watch security video of the attack in this report:
Virtually only the Israeli, Jewish, and some specialty media like CBN, above, reported on this event.
The New York Times did cover the story prior to Ms. Krigman's death, but headlined the article with the death of the Palestinian assailants. The newspaper has since reported Ms. Krigman's death, but only in the tenth paragraph of a story about an exchange between Israeli Prime Minister Benjamin Netanyahu and U.N. Secretary General Ban Ki-moon.
CAMERA has noted that leading U.S. newspapers downplay and ignore the multiple recent stabbings of Israeli women. Sadly, that pattern continues. Where's the coverage?

Posted by SC at 05:57 PM | Comments (1)
How is the Outsized Financial Aid to Palestinians Used?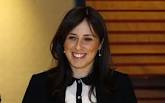 The Palestinians are among the world's largest (if not the largest) per capita recipients of international financial aid. The reason for disproportionate aid to the Palestinian Authority appears to stem from the desire of at least some donors to promote Palestinian-Israeli peace. This though the PA isn't negotiating for peace and has rejected repeated Israeli-U.S. offers of a "two-state solution" in exchange for peaceful coexistence.
In fact, Palestinian leaders rejected a two-state solution and peace with Israel in 2000, 2001 and 2008 and the current PA leadership insists on various conditions before peace negotiations can take place, including: Israel must accede to the demands that it accept heretofore unacceptable Palestinian pre-conditions such as refusal to recognize Israel as a Jewish state and – "right of return" of millions of Arabs (nearly all of whom have never lived in Israel) which would result in engulfing Israel with Arab Muslims, effectively destroying it as a Jewish state and Western style democracy. Some critics characterize the disproportionate aid as buying off the corrupt PA leadership or propping up the PA against the possibility of a Hamas takeover of the West Bank similar to its ouster of the PA in the Gaza Strip.
Israel's Deputy Minister of Foreign Affairs Tzipi Hotovely (pictured above) wrote an Op-Ed about the matter (Wall Street Journall, "Where Does All That Aid for Palestinians Go?," Jan. 25, 2016). Among other things, she asserted that:
Large amounts of foreign aid to the Palestinians are spent to support terrorists and deepen hostility [against Jews]. For years the most senior figures in the Palestinian Authority have supported, condoned and glorified terror. "Every drop of blood that has been spilled in Jerusalem," President Mahmoud Abbas said last September on Palestinian television, "is holy blood as long as it was for Allah." Countless Palestinian officials and state-run television have repeatedly hailed the murder of Jews.

This support for terrorism doesn't end with hate speech. The Palestinian regime in Ramallah pays monthly stipends of between $400 and $3,500 to terrorists and their families, the latter of which is more than five times the average monthly salary of a Palestinian worker.

According to data from its budgetary reports, compiled in June 2014 by Israel's Ministry of Foreign Affairs, the PA's annual budget for supporting Palestinian terrorists was then roughly $75 million...

Minister Hotovely source, in addition to the PA's annual budget, is Global Humanitarian Assistance (an organization funded by the governments of Canada, the Netherlands, Sweden and the United Kingdom) particularly its Palestinian section.
Ms. Hotovely points out in her closing remarks,
Donors to the Palestinians who support peace would do well to rethink the way they extend assistance. Money should go to economic and civic empowerment, not to perpetuate a false sense of victimhood and unconditional entitlement. It should foster values of tolerance and nonviolence, not the glorification and financing of terrorism.
Note: The United States is a major donor to Palestinian agencies, including the PA.
Posted by MK at 02:44 PM | Comments (0)
Hamas: 'Despair' Is Not the Reason for Palestinian Violence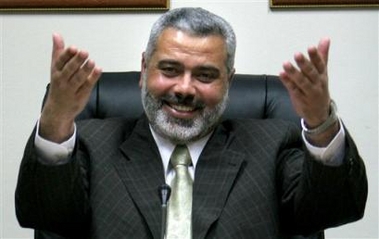 Ismail Haniyeh

Murderous attacks against Israelis by Palestinian Arabs are not the result of despair, according to Ismail Haniyeh, the leader of Hamas, the U.S.-designated terror group that rules the Gaza Strip.
According to Israel Hayom, Haniyeh declared in a speech at a rally on Jan. 19, 2016:
"This intifada is not the result of despair. This intifada is a jihad, a holy war fought by the Palestinian people against the Zionist occupation. Only a holy war will drive the occupier out of Palestine."
Haniyeh's statement contradicts a common news media assertion that is frequently embraced also by politicians, policymakers and activists.
As CAMERA has noted, many major U.S. news outlets have alleged that Palestinian terror attacks are the result of "disillusionment" or "despair" supposedly brought about by a lack of a Palestinian state and/or existence of Israeli settlements ("Washington Post Obscures the Obvious—Palestinian Hatred of Jews," Oct. 21, 2015). Many reports or commentaries written from this perspective omit Palestinian rejection of several U.S. and Israeli offers of a two-state solution in exchange for Palestinian-Israeli peace, including those made in 2000, 2001 and 2008. Such coverage also overlooks the many troubling statements made by Palestinian Arab leaders that make clear why they incite attacks against Israelis: a hatred of Jews and of a Jewish state.
Haniyeh's statements run counter to those of figures such as U.N. Secretary General Ban Ki-moon who—amid Palestinian terror attacks against Israelis—cited Palestinian "youth" who "suffer in hopelessness" as a principal cause ("Israel-Palestinian Violence: U.N.'s Ban Ki-Moon Jets to Region Amid Tensions," NBC News, Oct. 20, 2015).
A 2015 report by the European Union—which recently has enacted discriminatory labeling of Israeli goods produced in West Bank Jewish communities—asserted that the "root causes" of the terror attacks are the "lack of economic and political prospects" for Palestinian Arabs. Yet, the actual cause-and-effect cycle has been Palestinian rejection of opportunities to negotiate political prospects, followed by intensified terrorism, followed by Israeli restrictions, including, on employment in Israel.
Some commentators who claim to be pro-Israel also have asserted that despair is a principle driver of Palestinian violence. Responding to Palestinian assaults and murders, commentator Peter Beinart claimed "the Israeli government is reaping what it has sowed" because Palestinian terrorism is a "demented response to Israel's denial of basic Palestinian rights."
The Hamas leader's call for a holy war is little different from that of previous Palestinian Arab leaders, such as the Grand Mufti of Jerusalem, Haj Amin al-Husseini, who formed the Army of the Holy War to attack the fledging Jewish state in 1948. Husseini's collaboration with Nazi Germany in World War II included recruiting Bosnian Muslims for SS units considered responsible for war crimes by Yugoslavia. Palestine Liberation Organization (PLO) head Yasser Arafat invoked pan-Arab or pan-Islamic slogan and imagery against Israel and Jews as he deemed expedient.
Nor does today's Hamas rhetoric noticeably differ from the rhetoric endorsed by the Palestinian Authority (PA) and its dominant Fatah movement that oversees daily life for virtually all Arabs in the West Bank (Judea and Samaria). As CAMERA has noted, both Fatah and PA officials have called for war against Israel (see, for example, Fatah's Constitution).
Haniyeh's statement should have struck journalists as "man-bites-dog," that is, newsworthy. But the outright dismissal of the "despair" narrative from a Palestinian leader may not be recognized as such yet. Such is the blinding power of a conventional, though false narrative.

Posted by SD at 02:16 PM | Comments (0)
January 25, 2016
Palestinian Cleric: ISIS 'Must Conquer Rome, Washington and Paris'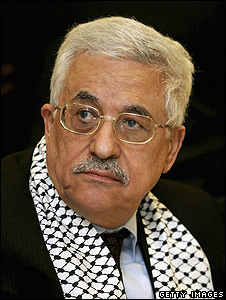 PA President Mahmoud Abbas

In a lecture delivered at the al-Aqsa mosque in Jerusalem, Palestinian Arab cleric Sheikh Abu Taqi al-Din al-Dari said the terrorist group Islamic State in Iraq and Syria (ISIS or IS) "must conquer Rome, Washington and Paris" for "the sake of Allah."

According to a report by the Middle East Media Research Institute (MEMRI), an organization that translates Arab and Iranian media, al-Dari's exhortations were posted on the Internet on Jan. 16, 2016.

In that posting, al-Dari said:

"Nowadays, power means shooting – the shooting of shells, missiles, and so on. With regard to the natural and original battles of the Muslims, (we say that) the relationship of the Abode of Islam with the abodes of the infidels is one of war. Therefore, the Islamic state must prepare and then act to annex those countries (to the Abode of Islam), and to impose its control and authority over those countries. If the (infidel) authorities and regimes refuse to allow the Islamic state to impose the rule and order of Islam over their countries, they must pay the jizya poll tax [a tax that some non-Muslims living under an Islamic state must pay]. If they refuse that too, they should be fought for the sake of Allah."

The "basic principle" the Palestinian cleric said, "is that the Islamic state should work to conquer the world through jihad for the sake of Allah."

CAMERA has noted other instances of incitement by Palestinian Arab religious officials—many of which have occurred at the al-Aqsa mosque often described as Islam's third-holiest site after Mecca and Medina in Saudi Arabia. For example, on Oct. 24, 2015 a Palestinian cleric named Abu Ahmad called for the restoration of an Islamic caliphate and the destruction of "the Jews, the Americans and the Russians ("Palestinian Cleric: Restore the Caliphate and Murder the Jews," Nov. 5, 2015)."

The grand mufti (religious figure) of Jerusalem has even delivered sermons at the al-Aqsa mosque supporting the terrorist tactic of suicide bombings ("Terminate Wakf Authority Over the Temple Mount," The Jerusalem Post, Jan. 26, 2015).

The Waqf (religious authority) oversees the al-Aqsa mosque and the Palestinian Authority (PA) appoints its grand mufti. The mosque is located on Judaism's holiest site, the Temple Mount.

Since September 2015, violent attacks against Israelis have followed the PA-propagated libel that Israel planned to destroy al-Aqsa—a tactic Palestinian leaders have used to encourage anti-Jewish violence in 1929, 1996 and 2000 among other instances, as CAMERA has noted ("Incitement over Temple Mount Leads to Palestinian Violence, Again," Sept. 16, 2015).

In November 2015 the PA rejected a proposal from Israel and Jordan for 24-hour surveillance of the Temple Mount—despite the fact that PA President Mahmoud Abbas has used Western worries over rising ISIS support in the West Bank to maintain support for himself as the only alternative ("Why Palestinians Do Not Want Cameras on The Temple Mount," The Jerusalem Post, Nov. 3, 2015.

Is Abbas worried that the videos would not only prove the PA promoted "al-Aqsa is endangered" libel to be a lie, but also that anti-Jewish and anti-Western sermons and actions would be displayed for the world to see? Yet, given the lack of coverage of the exhortations by Palestinian Arab clerics, perhaps such concerns would be overblown.
Posted by SD at 03:25 PM | Comments (0)
January 21, 2016
New York Times "Terrorism" Double Standard
On the same day CAMERA slammed the New York Times for an article referencing Palestinian violence, including the stabbing of an Israeli civilian, as "resistance," the newspaper gave yet another indication that it is hesitant to describe violence against Israeli civilians as terrorism.
The Algemeiner yesterday reported on CAMERA's criticism of the Times adoption of the word "resistance":
"To describe the history of violence by residents of the town of Sa'ir merely as 'resistance' is to describe the act of plunging a knife into an Israeli civilian's chest — an act perpetrated by a Sa'ir resident last October — as something readers are likely to associate with noble World War II partisans or fictional Jedi heroes," senior CAMERA research analyst Gilead Ini told The Algemeiner.

"This outlandish abuse of language, meant to downplay Palestinian violence recalls The New York Times' recent description of a butterfly knife wielded by a Palestinian attacker as a 'Boy Scout' knife."

Contrasting this with the newspaper's word choice when it comes to Israeli behavior, Ini said, "The New York Times hasn't described rare acts of anti-Palestinian violence by Israeli extremists as 'resistance.' On the contrary, a recent article referred to a 'Jewish terrorist' network, even though the Times has not once used the phrase 'Palestinian terrorist' in reference to the current wave of stabbing attacks targeting Israeli men, women and children."

Ini asked, "Why does the newspaper have such a hard time straightforwardly dealing with anti-Israel violence?"

He concluded: "Palestinian assailants should not be confused with Boy Scouts. Violent antisemitism should not be confused with resistance. And New York Times advocacy journalism should not be confused with the fair and impartial reporting readers expect."
Also yesterday, the newspaper called on its readers to "share their thoughts on recent terrorist attacks and memories of victims."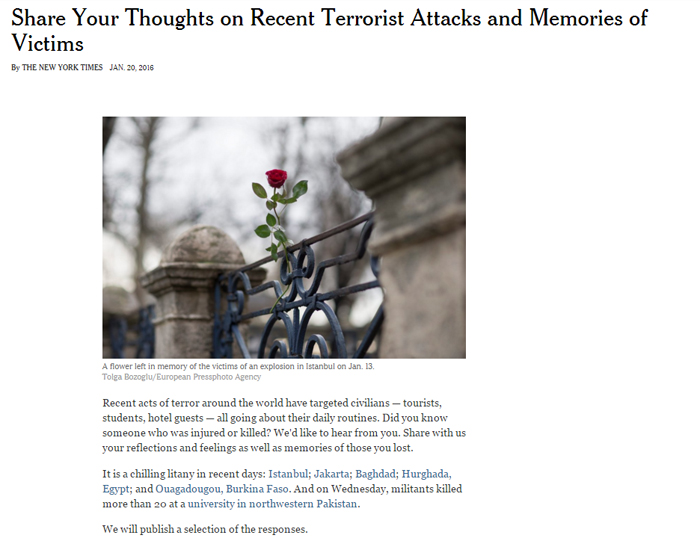 The newspaper lists a "chilling litany" of attacks on civilians, but recent Palestinian attacks against Israelis, including the slaying of Dafna Meir in front of her children last Sunday and the stabbing of a pregnant Israeli woman, are glaringly absent.
Although many of the terror attacks listed by The New York Times were deadly, mass casualty attacks, the newspaper does include the wounding of three Europeans in Egypt earlier this month.
Does The New York Times believe the stabbing of European civilians is chilling terrorism but the stabbing death of Israeli civilians is not?
Posted by GI at 02:43 PM | Comments (1)
January 20, 2016
'Pragmatic' and 'Self-Critical' Palestinian Official Claims the U.S. Created ISIS (Again)
Abbas Zaki

A high-ranking Palestinian Arab leader, Abbas Zaki, claimed that the United States created ISIS (Islamic State in Iraq and Syria), a U.S.-designated terrorist group. Again.
Palestinian Media Watch (PMW), a non-profit organization that monitors Arab media in the West Bank (Judea and Samaria), the Gaza Strip and eastern Jerusalem, reports that in a Jan. 10, 2016 interview with the Iraqi newspaper Al-Mashriq, Zaki charged:
"ISIS is an American product, necessary for the establishment of an Islamic state in order to justify the existence of a Jewish state, in which there is no place for Palestinians."
Zaki is on the central committee of Fatah, the movement which the majority of Palestinian Authority (PA) officials belong to, including its current president, Mahmoud Abbas. Zaki currently is the Fatah Commissioner of Arab Relations and Relations with China. Previously he was the top PA official in Lebanon.
Zaki claimed to Al-Mashriq that ISIS was an "American plot" that "began by targeting the heart of the Arab nation, by destroying Iraq and Syria, and weakening Egypt" in order to "dismantle the Arab nation, split it, and kill its spirit of solidarity."
This is not the first time that Zaki has peddled this particular conspiracy theory. As CAMERA has noted, Zaki declared in a June 2, 2015 interview with Syrian News TV the United States "created IS, but cannot control it" and as a result, "is destroying itself by its own hand."
A Jan. 21, 2016 opinion editorial in Al-Hayat al-Jadida, an official PA daily newspaper, echoed Zaki's claims.
Daniel Pipes, a Middle East scholar and president of the Middle East Forum, a Philadelphia-based think tank, has noted that conspiracy theories are "outstandingly common" in the region.
The United States did not, of course, create ISIS. The terrorist group—an offshoot of al-Qaeda—originated as the group Jama'at al-Tawhid wa-i-Jihad in 2000, according to Aaron Zelin, a researcher at the Washington Institute for Near East Policy, a D.C.-based think tank.
Zaki has also maintained that Yasser Arafat, the terrorist chieftain who ruled the PA, Fatah and the Palestine Liberation Organization (PLO) until his 2004 death, was poisoned by Israel. Zaki said Arafat's death was "the crime of the century" and "worth taking to the International Criminal Court (ICC) ("Possible evidence that Arafat was poisoned is found," The Boston Globe, Nov. 7, 2013)." An investigation by French authorities concluded in December 2013 that Arafat died of natural causes.
When he's not hawking conspiracy theories, Zaki uses official PA TV to call for killing Israelis.
According to PMW, on March 12, 2014, Zaki said, "Those Israelis have no religion and no principles. They are nothing but advanced tools for evil. They talk about the Holocaust and so on. So why are they doing this to us? Therefore, in my view, Allah will gather them so that we can kill them. Every killer is bound to be killed. There is no other option."
Yet, Zaki's predilection for peddling conspiracy theories and exhortations to murder Jews hasn't stopped him from being treated as a credible source by some news media.
CAMERA noted that Zaki was one of 14 new members to the Fatah Central Committee who The New York Times wrote "are considered more pragmatic than their predecessors ("New Fatah Central Committee Ties to Al Aksa Martyrs Brigades," Aug. 13, 2009)."
A detailed 2006 profile in The Washington Post ("Divided Fatah Braces for Check on Power," January 14) reads: "ash-gray hair, thick-framed glasses and office walls charting an itinerant political life, Zaki is the embodiment of Fatah's old guard. The photos hanging in the waiting room of his cramped Hebron office tell the story of movement's fading revolutionary cachet: a young Zaki with Fidel Castro in Havana, shaking hands with Vietnamese officials in Hanoi, inside the Kremlin."
"But these days," The Post claimed, "Zaki is more self-critical than nostalgic."
Relatively pragmatic. More self-critical. For journalists, seeing what you want to is bad enough. Reporting it as news is worse.

This post was updated on Jan. 25, 2016 to reflect the January 21 PA daily Op-ed
Posted by SD at 03:29 PM | Comments (1)
In International NY Times, Property Dispute is Big News, Dafna Meir's Murder Ignored
In a prominently placed article on the top of page-two, The International New York Times today published more than 1,100 words concerning property disputes in Jerusalem's Old City ("'Hornet's nest' in Old City"). The lengthy, erroneous and misleading article is accompanied by a huge four-column and six-inch high photograph of Palestinian women and children in their home from which they are threatened with eviction.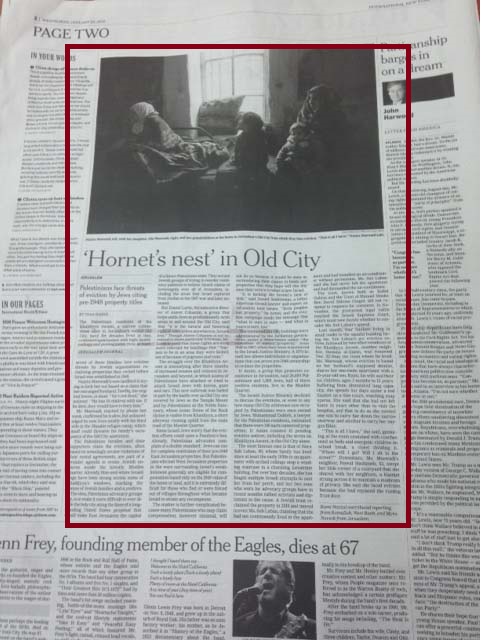 The caption reads:
Nazira Maswadi, left, with her daughter, Alia Maswadi, right, and two grandchildren at the home in Jerusalem's Old City from which they face eviction. "This is all I have," Nazira Maswadi said.
Meanwhile, three days after 39-year-old Israeli Dafna Meir lost everything including her life, The International New York Times has not printed one word about her. On Sunday, Meir was stabbed to death in her own home in the West Bank settlement of Otniel in front of at least one of her children. Renana, Meir's 17-year-old daughter, reportedly fought with the 15-year-old Palestinian attacker and screamed for help.
We have earlier noted that the day after she was killed, The International New York Times chose to publish a three-paragraph news brief on anti-Christian graffiti in a famous Jerusalem church. But not a word about Meir.
The International New York Times has chosen to feature and highlight Palestinian women and children maybe facing evictions from their homes due to failure to pay rent, and to entirely ignore an Israeli woman murdered at home, along with her children, some of who were at home during their mother's killing. Below is a sampling of images of Dafna Meir and her children, ignored by The International New York Times.
Some of the children of Daphna Meir mourn with their father at their mother's funeral, Jan. 19 (photo by Xinhua)
Daphna Meir
Posted by TS at 03:04 AM | Comments (0)
January 18, 2016
Palestinian Demonization of Jews Continued Throughout 2015
In a report prepared for a Jan. 13, 2016 conference session at the European Parliament, Itamar Marcus (Palestinian Media Watch) submitted ample evidence that Palestinian Arab incitement to violence against Jews continued unabated in 2015.
Since the Palestinian Authority was established, and continuing throughout 2015, the PA has systematically used antisemitism to indoctrinate young and old to hate Israelis and Jews. The PA has actively promoted religious hatred by demonizing Judaism and Jews, spreading libels that present Jews as endangering Palestinians, Arabs, and all humanity. The PA presents Jews as possessing inherently evil traits. Jews are said to be treacherous, corrupt, allied with the devil, as well as descendants of apes and pigs. In 2015, PA Chairman Mahmoud Abbas' advisor on Islam and head of PA Shari'ah courts taught on PA TV that Jews throughout history have represented "falsehood… evil… the devils and their supporters… the satans and their supporters." Accordingly, the conflict between Israel and the Palestinians is a conflict of "Allah's project vs. Satan's project."

The official PA daily published an op-ed saying Jews "are thirsty for blood to please their god (against the gentiles), and crave pockets full of money." These Jewish "attributes" and traditions are presented as the unchangeable nature of Jews. These messages come from the top of the Palestinian Authority…

Palestinian Arab hatred of Jews, fostered by PA leadership, media, mosques and schools -- leading to terror -- was a major factor in Israeli pessimism about a two state solution. A large majority of Israeli Jews, according to opinion polling, believed that the Palestinian terror would continue even with the conclusion of a peace agreement.

Posted by MK at 05:02 PM | Comments (0)
NBC's Biased Use of AP's Outdated Palestinian Fatalities Figures
In the last few months, numerous journalists have come under fire for depicting Palestinian assailants as victims.
NBC's Cassandra Vinograd has a new twist on the old theme in her story today in which she selectively cites outdated Associated Press figures for Palestinians killed in recent months, most of them while attacking Israelis. Thus, in her article today on the second stabbing attack in two days on Israeli women, Vinograd writes:
Since late September, more than 20 Israelis have been killed in Palestinian attacks and at least 132 Palestinians have been killed by Israeli fire, according to the Associated Press.
AP's latest statistics, published shortly before Vinograd's report are as follows:
Monday's attack was the latest in a four month-long wave of violence that shows no signs of abating. Palestinian attacks have killed 25 Israelis and an American student. At least 146 Palestinians have been killed by Israeli fire, of whom 101 are said to have been attackers. The rest have been in clashes with Israeli troops. (Emphasis added.)
Note that Vinograd ignored AP's careful notation of the fact that more than 100 out of 146 Palestinian fatalities were attackers. Note also that the figures that Vinograd states for both Israeli and Palestinian dead are lower than the AP's figures from today. Vinograd cited "more than 20 Israelis" and "at least 132 Palestinians" killed, attributing AP, while AP's newest figures are "25 Israelis and an American student" and at least 146 Palestinians.
The last time Associated Press cited "at least 132 Palestinians" was on Jan. 6, nearly two weeks ago. So not only is Vinograd selective use of AP's careful figures biased. It's also embarrassingly outdated.
Posted by TS at 06:16 AM | Comments (0)
January 14, 2016
The Demise of Cable News Channel Al-Jazeera America?
Will Al-Jazeera America television phase itself off by April 30, 2016 as widely reported?
According to the network's Website, "Al Jazeera America will shutter its cable TV and digital operations by April 30 of this year, the company announced Wednesday [January 13]. The decision by the AJAM board was 'driven by the fact that our business model is simply not sustainable in light of the economic challenges in the U.S. media marketplace,' said AJAM CEO Al Anstey [in a memo to staff]... "
National news media covered the story with varying degrees of superficiality. New York Times mentioned CEO Anstey's memo to staff and speculated, "Some staffers saw that as a tacit admission that falling oil prices were behind the closure, though a spokeswoman for the company denied that on Wednesday."Atlantic magazine Website confined its brief coverage basically to CEO Anstey's memo to staff.
The Washington Times's more detailed coverage mentioned the network's anti-Israel bias, "Conservatives slammed what they called the network's anti-Israel, left-wing bias — 'It was MSNBC with an even more anti-American slant,' said Mr. [Dan] Gainor [of Media Research Center in Alexandria, Va.] — while the liberal Website Intercept described it as a 'diluted, extra-fearful version of CNN.'" Wall Street Journal mentioned falling oil prices and said, "Al Jazeera America has been battling business woes and internal controversies that have led to the departure of some senior executives."
But news coverage in general missed key aspects of this story. These included:
Why tiny, petro-dollar supported Qatar, whose royal family controls the original Arabic Al-Jazeera satellite and cable television channel and Al-Jazeera English, aimed largely at non-U.S. audiences, would have paid $500 million for U.S. cable's largely unwatched Current TV channel and converted it to the expensive Al-Jazeera America operation; and
What was the point of Al-Jazeera America's chronically, if rarely reported, anti-Israel coverage? For more, see
CAMERA's Al-Jazeera America Watch. More to come soon from CAMERA on this story.
Posted by MK at 03:52 PM | Comments (0)