April 26, 2017
Palestinian Women Tried to Smuggle Explosives as Cancer Medicine, Media Shrugs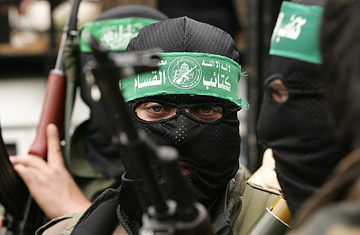 Two Palestinian sisters tried to smuggle explosives into Israel from Gaza by labeling them as cancer medication. The Israeli security service Shin Bet caught the two women on April 19, 2017. Many major U.S. news outlets failed to report the event.
Judah Ari Gross, a military correspondent for The Times of Israel, reported that the two sisters, both residents of Gaza, "received permits to enter Israel as one of them suffers from cancer and was traveling to an Israeli hospital for treatment." The women were carrying tubes labeled "medical materials" which, in fact, contained explosives.
Shin Bet stated that they believe the sisters, whom they would not identify, were smuggling the explosives on behalf of Hamas, the U.S.-designated terror group that rules the Gaza Strip. The explosives were found during a security check. Gross said that Israeli Prime Minister Benjamin Netanyahu recently mentioned Hamas plots to use sick Gazans who posses Israel travel permits to smuggle weapons.
The Times of Israel pointed out:
"While Israel tightly controls its crossings in and out of Gaza as part of a security blockade, it allows tens of thousands of Palestinians to leave the Strip to receive medical treatment in Israel, the West Bank and Jordan each year."
A few U.S. news media outlets, such as Fox News, covered the incident. However, many in the U.S. press, such as USA Today, The Washington Post, The New York Times and The Baltimore Sun, among others, failed to inform their readers about the smuggling attempt.
The Post's omission is particularly egregious, as the paper has, in the past, run several Op-Eds that have criticized Israeli border security measures. For example, The Post gave column space to U.S. Congressman Keith Ellison (D-MN) whose July 29, 2014 commentary was entitled "End the Gaza blockade to achieve peace." Other prominent Op-Ed writers, such as former President Jimmy Carter, have also, in years past, taken to the paper's editorial section to decry Israel's border security policies towards Gaza.
Posted by SD at 11:33 AM | Comments (0)
April 25, 2017
WCC Leader Deceives His Readers in RNS Op-Ed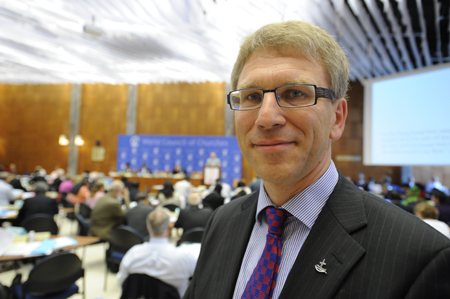 WCC General Secretary Rev. Dr Olav Fykse Tveit recently penned an evasive and deceptive op-ed for the Religion News Service (RNS).
Rev. Olav Fyske Tveit, the General Secretary of the World Council of Churches, has recently penned an op-ed defending the organization from criticism leveled by NGO Monitor, an Israel-based organization that highlights how non-governmental organizations (NGOs) cooperate with the effort to de-legitimize the Jewish state.
Close observers of Christian organizations such as the World Council of Churches, World Vision and more recently, World Relief will not be surprised to find that Tveit failed to deal honestly and directly with the charges leveled at the organization he leads.
Instead of dealing with the allegations as they are laid out against the WCC, Tveit distorts what was written, and then defends against charges that were never leveled. This is the type of behavior expected from politicians, not religious leaders.
Tveit's highly deceptive piece, which was published by the Religion News Service (RNS) on April 19, 2017, denies the allegation of "political warfare" leveled by NGO Monitor's Executive Director Gerald Steinberg in a piece published by RNS in late March.
Continue reading "WCC Leader Deceives His Readers in RNS Op-Ed"
Posted by dvz at 01:56 PM | Comments (0)
April 20, 2017
Politico Whitewashes Iranian Militias


Politico's report "Iranian-Americans, livid over Trump visa ban, to get their day in court," (April 17, 2017) sanitizes the role of Iranian militias fighting in Iraq and Syria.
In an article about a lawsuit brought forth by Iranian-American groups against a U.S. visa ban, Politico reporters Josh Gerstein and Nahal Toosi claim that "Iranian-supported militias have fought alongside U.S.-backed Iraqi forces to beat back the Islamic State." Although this is true—and Politico does note Tehran's role as a state-sponsor of terror—it omits important information about the militias.
Iranian-backed militias are indeed fighting the Islamic State in Iraq and Syria (ISIS). However, they are not doing so out of some altruistic motive as the Politico article might lead some to believe. Rather, the groups—also known as Popular Mobilization Units (PMUs)—are seeking to extend Tehran's influence. And, as CAMERA has noted, they are frequently committing atrocities while doing so ("Washington Times Covers Underreported Iran-backed Shi'ite Militias," CAMERA, Sept. 16, 2016). For example, mass graves of hundreds of executed Sunni Muslim civilians who were "liberated" from the Islamic State by PMUs, have been discovered.
The militias also have ties to terrorist groups, as Michael Pregent, an adjunct fellow at the Hudson Institute and a former intelligence adviser to U.S. Army Gen. David Petraeus, told CAMERA in a September 2016 interview. Indeed, the deputy commander of the PMUs, Abu Mahdi al-Muhandis, is the leader of Kata'ib Hezbollah.
Although the PMUs are, like the U.S. and its allies, fighting the Islamic State, they also serve as leverage for Iran. As CAMERA has pointed out, the Islamic Republic has threatened to use the Shi'ite militias against U.S. troops in the region should Washington not acquiesce to some of Tehran's wishes ("Where's the Coverage? Iran Threatens U.S. Troops," Dec. 11, 2015)
Iran is also backing Shi'ite militias, such as the newly formed so-called Golan Liberation Army, who have as their immediate goal the destruction of Israel. In a March 8, 2017 interview announcing that group's formation, militia spokesman Hasham Al-Mousawi, blamed the Jewish state for "Iraq's destruction" and claimed that the United States created ISIS.
Posted by SD at 12:34 PM | Comments (0)
April 18, 2017
The Post Attacks Israel While Reporting Jerusalem Terror Attack
PA President Mahmoud Abbas

A Washington Post report on an April 14, 2017 Palestinian terror attack omitted important context about the international community's anti-Israel bias. In so doing, the paper used the occasion of a terrorist attack to gratuitously attack the Jewish state.
In a dispatch ("Woman fatally stabbed in Jerusalem amid Good Friday gatherings," April 14, 2017), Post reporter Ruth Eglash detailed the fatal stabbing of a 21-year-old British exchange student, Hannah Bladon, by a Palestinian attacker named Jamil Tamimi. Bladon was murdered while she was riding the light rail in Jerusalem.
The Post described the incident as "the latest in a spate of stabbing, shooting and vehicular attacks by Palestinians over the last 18 months." But then the paper alleged:
"Israel has been accused internationally of being too heavy-handed in response to the attacks, which have left nearly 50 Israelis and more then 200 Palestinians dead. Israel says most of the Palestinians killed were attempting to carry out attacks against Israeli civilians, soldiers or police officers."
The report does not specify what "internationally" means. Presumably it means the United Nations, which includes countries such as Syria, Saudi Arabia, or Iran, oppressive regimes whose track record of singling out the Jewish state for opprobrium is well established.
According to U.N. Watch, a non-profit organization that monitors that international body, in 2016, the U.N. General Assembly adopted 20 resolutions condemning Israel and only 6 against the rest of the world combined: Bashar al-Assad's regime that uses poison gas on its own citizens only received three and North Korea and Iran, only one each. As CAMERA has noted, the U.N.'s own Secretary General recently admitted that his organization has an anti-Israel agenda.
Contrary to the claim pushed by The Post, Israel has been praised for exercising extraordinary judiciousness in its counter terror efforts. As the former chairman of the U.S. Joint Chiefs of Staff, Gen. Martin Dempsey, noted, among others, "the Jewish state has gone out of its way to avoid unnecessary casualties when fighting terror." Indeed, following the Israel-Hamas War in 2014, a multinational group of former top military professionals concluded that "Israel not only met a reasonable standard of observance of the laws of armed conflict, but in many cases significantly exceeded that standard ("Israel 'exceeded legal standards' in Gaza conflict, group tells U.N.," The Times of Israel, June 3, 2015)."
The Post report on the Jerusalem attack also omitted important information regarding the Palestinian leaderships' role in encouraging anti-Jewish violence. The paper claims that the so-called stabbing intifada that began in October 2015 "contrasts with the first and second intifadas of the 1980s and 2000s, which were centrally organized and included mass unrest." In fact, the violence began after Palestinian Authority President Mahmoud Abbas exhorted on official PA TV on Sept. 16, 2015: "We welcome every drop of blood that is spilled in Jerusalem." The terror that followed, while differing from the previous intifadas in scope, nonetheless received support from Palestinian officials.
As CAMERA has highlighted, The Post failed to report Abbas' incitement at the time ("The Washington Post: Palestinian Anti-Jewish Violence is an Israeli 'Sensational Charge,'" Sept. 16, 2016). Now, it seems that amnesia has settled in.
Posted by SD at 07:06 PM | Comments (2)
April 06, 2017
New Iranian-backed Group Targets Israel, Media M.I.A
Qasem Soleimani, head of the IRGC's Quds Force
An Iranian-backed Iraqi Shi'ite militia, Al-Nujaba, has announced the formation of the "Golan Liberation Army" to target Israel. The group's stated objectives have largely been ignored by the press.
According to the Middle East Media Research Institute (MEMRI), a non-profit organization that translates Arab, Iranian and Russian media, Al-Nujaba's spokesman Hashem Al-Mousawi, was interviewed by Iran's Tasnim News Agency on March 8, 2017. Al-Mousawi said:
"This army has been trained and has detailed plans. If the Syria regime asks us to, we are ready to act to liberate the Golan [from Israel] along with our allies."
Al-Nujaba's spokesman called Iran "a powerful country" that was "the only country that helped us and sent us its military advisors."
In the interview, Al-Mousawi also claimed that the United States and Saudi Arabia were responsible for the creation of the Islamic State in Iraq and Syria (ISIS). He blamed Israel for "Iraq's destruction."
Al-Nujaba was established by Akram Al-Ka'bi, who had previously been with the Iraqi Shi'ite militia Asaeb Ahl Al-Haqq before moving to Syria. Al-Nujaba has participated in the Syrian civil war, defending the country's embattled dictator Bashar Al-Assad. The group has fought in Aleppo Province, Damascus and Al-Raqqa. MEMRI's report says that Al-Nujaba operates Iranian drones and is trained by Iran's Islamic Revolutionary Guard Corps (IRGC) and Hezbollah, the Lebanese-based terror group that is also, in large measure, an Iranian proxy.
Despite threatening the United States and its key regional allies, some Western press have failed to note the formation of the "Golan Liberation Army."
A notable exception to the media's ignoring the story is the Washington Post dispatch (Netanyahu urges Putin to block Iranian power corridor on Israel's border, March 9, 2017) by reporters Ruth Eglash and David Filipov highlighted the threat facing the Jewish state by Iranian-backed militias. The Post noted the establishment of the Golan Liberation Army and that "Iran is also thought to have deployed missiles in Syria capable of reaching deep inside Israeli territory."
Other major U.S. news media outlets, such as USA Today and The Baltimore Sun, failed to report on Al-Nujaba's activities aimed at making war on the Jewish state.
With Bashar al-Assad having brutally maintained his grip on Syria, thanks in no small part to Russia and Iran, Tehran is likely to expect quite a bit in return. This is almost certain to include keeping its forces and proxies in position to attack Israel, a country that the Islamic Republic has sworn to destroy.
Posted by SD at 04:37 PM | Comments (0)
March 29, 2017
The Washington Post's Selective 'Occupation'
In two recent articles, The Washington Post displayed a selective use of the term "occupation" as it relates to the history of the Arab-Israeli conflict.
The Post, in an online-only March 3, 2017 report about a Palestinian congressional intern, initially called the Gaza Strip, "occupied Gaza ("At 15, he was shot in the back by an Israeli soldier. Now this Palestinian dedicated his life to peace")." Although the dispatch, by reporter Colby Itkowitz, did not elaborate as to whom was occupying Israel, the inference was that the Jewish state was the occupying power. However, Israel has not "occupied Gaza" since 2005, when it unilaterally withdrew from the Gaza Strip.
Politico, among others, noted this in a June 25, 2015 correction. Similarly, The Los Angeles Times, in a September 24, 2016 correction to a September 2, 2016 book review, acknowledged "Israel…withdrew from the region in 2005."
Although some scholars have argued that Israeli security measures, like blockades, which are meant to deter terrorist attacks from Hamas, are tantamount to an occupation, many international legal experts do not share this view. Further, such a definition would mean that Egypt also "occupies" the Gaza Strip.
Indeed, as Eugene Kontorovich, a scholar of international law at Northwestern University pointed out in a Nov. 13, 2014 Washington Post article:
"An occupation is traditionally defined as a power exercising 'effective control' over the territory in a way that displaces the prior government. The occupying power is expected to provide law and order, essential services, and all the basic functions of government – and is thus required to have the kind of control that allows for that. As the ICJ has put it, occupation requires a territory to be 'actually placed under the authority of the hostile army.' There has never been a finding of such a 'remote' occupation, lasting nine years after the end of physical occupation and in the presence of a distinct and hostile local government. Indeed, even puppet governments are not considered occupation by the puppet master."
Israel does not exercise "effective control" over the Gaza Strip. Hamas, the U.S.-designated terrorist group that has ruled the Gaza Strip since winning in 2006 democratic elections and seizing power from Fatah—both of which occurred after Israel's withdrawal—has itself acknowledged that Israel does not occupy Gaza. As senior Hamas member Mahmoud al-Zahar stated in 2012:
"Popular resistance is inappropriate for the Gaza Strip," al-Zahar said. "Against whom exactly would be rally? Such resistance would be fitting if Gaza was occupied."
Following contact by CAMERA, The Washington Post commendably—if belatedly—corrected the article on March 22, 2017.
Yet, The Post has displayed an odd selectively as to what constitutes "occupied." In a March 20 article by reporter Ruth Eglash, the paper wrote that Jordan merely "ruled the West Bank" from 1948 until 1967. This seemingly innocuous sounding word minimizes the historical reality. As a result of Israel's 1948 War of Independence, Transjordan, in its attack on the fledgling Jewish state, seized the West Bank (Judea and Samaria). Transjordan subsequently renamed itself Jordan and, with its troops, held the West Bank in an occupation that was only recognized by two countries: its chief benefactor, Great Britain, and the newly formed Muslim nation of Pakistan.
This is to say that, according to the initial Post report, Israel, despite having no troops there and having unilaterally withdrawn, nonetheless still occupies the Gaza Strip. By contrast, Jordan, with its troops and military presence, merely "ruled" the West Bank from 1948 until 1967.
Posted by SD at 10:32 AM | Comments (1)
March 28, 2017
Terrorism Justifier Welcomed on NYT Pages
On August 18, 2011, a series of coordinated attacks were carried out near Eilat by four groups of Islamic terrorists that included Palestinians and Egyptians. Six civilians were murdered, as well as a soldier and police officer who had come to assist the victims and 31 were wounded. Three days later, after returning home from a vacation abroad, Jerusalem Post columnist Larry Derfner wrote a column on his blog justifying Palestinian terrorism. He began:
I think a lot of people who realize that the occupation is wrong also realize that the Palestinians have the right to resist it; to use violence against Israelis, even to kill Israelis, especially when Israel is showing zero willingness to end the occupation, which has been the case since the Netanyahu government took over (among other times in the past).
And later:
... the Palestinians, like every nation living under hostile rule, have the right to fight back, that their terrorism, especially in the face of a rejectionist Israeli government, is justified...

...Whoever the Palestinians were who killed the eight Israelis near Eilat last week, however vile their ideology was, they were justified to attack. They had the same right to fight for their freedom as any other unfree nation in history ever had. And just like every harsh, unjust government in history bears the blame for the deaths of its own people at the hands of rebels, so Israel, which rules the Palestinians harshly and unjustly, is to blame for those eight Israeli deaths...
Even though Derfner acknowledged at the time that his own justification of terrorism could be used by other terrorists as encouragement -- "The possibility that Israel's enemies could use my or anybody else's justification of terror for their campaign is a daunting one; I wouldn't like to see this column quoted on a pro-Hamas website, and I realize it could happen" -- it did not stop him. Apparently overcome by his own moral rightness, he felt he just had to show those Israelis that it was really them who were "compelling [Palestinians] to engage in terrorism", and "that the blood of Israeli victims is ultimately on [Israeli] hands." Derfner's readers and his employers at the Jerusalem Post were not quite as taken by the righteousness of his terror justification, and he was fired from his post at the newspaper.
Fast forward five and a half years. The New York Times has now welcomed Larry Derfner on their Op-Ed page to spout the same twisted views that blame Israel, rather than Islamic terrorist groups like Hamas and Hezbollah, for spawning violence. Again, masquerading as the righteous, maverick truthteller, Derfner writes:
What hardly any Israelis will consider, though, and virtually no influential voices in the West will publicly suggest, is that Israel — not Hezbollah in Lebanon, nor Hamas in Gaza, nor the government of President Bashar al-Assad in Syria — is provoking the next war. Counterintuitive though it may be to Israeli and most Western minds, Israel, not its militant Islamist or brutal Syrian enemies, is the aggressor in these border wars...if Israel keeps rubbing their noses in their weakness — as Mr. Netanyahu is now doing — national honor at some point will compel them to hit back with force. The "inevitable" next war will begin.
Where else but on the pages of the New York Times would such illogical and twisted views find such a welcoming home?
Posted by RH at 02:50 PM | Comments (4)
March 27, 2017
Head of Turkish 'Humanitarian' Group Financed Hamas

Shin Bet, Israel's security agency, has arrested the Gaza-based head of a Turkish humanitarian agency, a man named Muhammad Murtaja, and charged him with providing funds to Hamas, The Jerusalem Post reported ("Israel arrests head of Turkish humanitarian group in Gaza for financing Hamas," March 21, 2017). Hamas is the U.S.-designated terrorist group that rules the Gaza Strip.
Murtaja, who is the Gaza coordinator for the Turkish Cooperation and Development Agency was arrested in February while he was attempting to depart Israel on a work-related trip. The Shin Bet have provided some details as to what exactly Murtaja's work entailed. The Jerusalem Post noted:
"Investigations reveal that Murtaja was recruited by Hamas in late 2008, and that his activity with the Palestinian terror group included funneling funds earmarked for humanitarian projects to Hamas."
"According to the Shin Bet, he was also involved in Hamas militant training and exercises, manufacturing weapons and explosive devices and digging terror tunnels. Murtaja was said to have stored weapons, such as hand grenades and guns, in his home on behalf of Hamas."
In addition to Murtaja, the Shin Bet named another suspect, Mehmet Kaya, the head of the Turkish Humanitarian Relief Fund (IHH). Kaya has not, as of this writing, been apprehended ("Shin Bet: Hamas Stealing Turkish Aid Money to Fund Terror, The Tower, March 21, 2017).
As CAMERA has noted, the press frequently misidentifies the IHH as simply a "charity." However, according to a 2011 report by the Meir Amit Intelligence and Terrorism Information Center, an Israeli think tank that studies terrorism, "the Turkish IHH…has a record of supporting terrorist groups" and has "close relations with Turkey's AKP government (see, for example "Washington Post Fails to Identify Terrorist 'Charity,'' Feb. 16, 2016)."
The Turkish Cooperation and Development Agency is a government-run agency that operates on five continents. The agency is a department of the Prime Minister of Turkey and is tasked with providing development assistance to select countries and regions.
In their statement about Murtaja's arrest, the Turkish agency claimed that they had employed the alleged Hamas member since 2012—a full four years after he reportedly joined the terror group. The agency claimed that it "will continue in the future as in the past, its projects with diligence and devotion in order to alleviate the plight of the Palestinian people, including in Gaza…"
This is not the first time in recent months that a non-profit humanitarian group was charged with having ties with Hamas, a genocidal terrorist group with a history of using Palestinian people as human shields while indiscriminately targeting Israelis. In August 2016, Mohammed El-Halabi, an employee of the Christian non-profit World Vision, was accused of being both a Hamas member and of diverting charitable funds to the terror group ("Five Things You Need to Know About World Vision," CAMERA, Aug. 18, 2016).
Posted by SD at 05:36 PM | Comments (0)
March 21, 2017
CBS Article is Not Objective on Israel's Security Barrier
A CBS article about the opening of subversive grafittist Banksy's new hotel in Bethlehem demonstrates how a journalist can slant a controversial topic. Entitled "Banksy's 'hotel with the worst view' opens in Bethlehem," the article by Jerusalem-based reporter Robert Berger describes Israel's security barrier, in his own words, as "Israel's separation wall."
This is neither the objective nor the accurate way of describing the controversial barrier, of which 90% is not a wall, but a fence. This is the term used by Palestinians and their supporters to refer to the barrier. And the reporter adopts it as his own.
Berger later refers to "security barrier" – in quotation marks – as a term used by Israelis to describe what the reporter himself terms "the wall. " So why does he not similarly attribute the term "Israel's separation wall" to Palestinians?
The reporter in his own words
With a play on words on the luxury Waldorf Astoria chain, this place is called the Walled Off Hotel, because it was built almost immediately next to Israel's separation wall in the Palestinian-ruled city where Jesus Christ was born. [emphasis added]
The reporter attributing a claim
The Israeli government built the wall, or "security barrier" as the Israelis call it, more than a decade ago after a wave of Palestinian suicide bombings, with the aim of preventing terrorists from entering Israel. For the Palestinians, it's a bleak symbol of Israeli occupation and what many consider apartheid. [emphasis added]
And while he reports Israel's "aim" in building the barrier, Berger does not bother to mention its success in drastically reducing the number of terrorist attacks and Israelis killed. The number of terrorist attacks decreased by over 90%, and the numbers of Israelis wounded and murdered declined by 85% and 70% respectively, since the barrier was erected. Indeed, an Islamic Jihad leader acknowledged in an Arabic TV interview that the barrier created an obstacle to carrying out the terrorist group's attacks.
In the same vein, the reporter cynically portrays Israel's concern for the safety of its citizens by not allowing them to enter Palestinian-run areas as mere allegation:
Israel has banned its citizens from visiting Bethlehem and other Palestinian-controlled areas, purportedly due to fears for their safety. [emphasis added]
What he avoids mentioning is that the Israeli army policy preventing its citizens and tour guides from entering territories under the Palestinian Authority began in late 2000, in the wake of the kidnappings, murders and mutilation of the hapless Israelis who had wandered into Palestinian-controlled neighborhoods (Area A).
Perhaps the most horrifying example was the case of two IDF reservists who inadvertently entered Ramallah on October 13, 2000 and were brutally lynched by a frenzied mob. The bloody incident was caught on film by an Italian journalist. Israelis who witnessed this on television were shocked by the sheer barbarity of the attack and the realization of the danger inherent in entering these neighborhoods. While the Israeli Ministry of Defense gradually began to allow Arab Israelis to visit Area A cities after the second intifada ended, the Palestinian Authority continues to incite against Israeli Jews, and nearly 15 years after the Ramallah lynching, a PA parliament member honored the perpetrators' families with plaques of honor. Israeli Jews are therefore still barred from entering this area.
Posted by RH at 04:57 PM | Comments (1)
March 20, 2017
Washington Post Notes Jordanian Terrorist Hailed as a 'Hero'
King Abdullah II of Jordan

A Washington Post dispatch highlighted the release of Jordanian terrorist Ahmed Daqamseh, who was imprisoned for murdering seven Israeli schoolgirls in 1997. Post reporters Ruth Eglash and Taylor Luck offered readers an important look at the rapturous reception that greeted Daqamseh upon his release on March 11, 2017 ("Freed 20 years after slaying of 7 Israeli schoolgirls, Jordanian is hailed as hero," March 13, 2017).
The Post provided readers with a look at Daqamseh's horrendous crimes and the grieving that followed. On March 13, 1997 Daqamseh—a Jordanian solider—opened fire on a group of Israeli schoolchildren who were visiting the Jordanian border site of Neharayim—known as the "Island of Peace"—for a field trip. He murdered seven Israeli schoolgirls and wounded six others.
Eglash and Luck noted the disappointment and pain of one of the survivors of the massacre, Hila Levy, who is now 33 years old. Levy remarked, "We knew he would be released sometime soon, but it still hurts."
Daqamseh has been celebrated for murdering the seven schoolchildren. The Post pointed out that, "in Jordan, supporters of Daqamseh, whom the Jordanian military court deemed mentally unstable at the time, hailed his release and called him a hero….hundreds of relatives and supporters greeted Daqamseh at his family home in the northern village of Ibdir, 60 miles north of Amman, the capital." Eglash and Luck said the murderer's name trended on Twitter among Arab users where he was called a "model" and "hero." Indeed, in Jordan, "Daqamseh has been adopted by the opposition movement, led by Islamists and nationalist," both of who have repeatedly called for his release.
The Post reported that following his release, Daqamseh told Al-Jazeera, "Don't believe the lie of normalization with the Zionist entity. Don't believe the lie of the two-state solution. Palestine united is from the ocean to the river…there is no state called 'Israel.'"
The Washington Post should be commended for highlighting the grotesque celebration of anti-Jewish violence and the rejection of Israel's right to exist that permeates Arab society.
However, The Post's report was not without fault. For example, it uncritically quoted a Jordanian shopkeeper named Mohammed Youssef, who justified the celebrations of Daqamseh's release with the spurious claim that "Israelis kill Palestinians by the hundreds every month, and no one is brought to justice." This accusation, of course, is false. As CAMERA has highlighted (see, for example "Where's the Coverage? Joint Chief Chairman Declares 'Israel Went to Extraordinary Length' to Protect Gaza Civilians" Nov. 13, 2014), various military officials and inquires have noted Israel's judicious use of force. Army Gen. Martin Dempsey, then serving as the Chairman of the Joint Chiefs of Staff, has stated: "The IDF is not interested in creating civilian casualties."
By contrast, self-avowed enemies of the Jewish state purposefully target civilians, including schoolgirls—and are praised in many sections of Arab society for their efforts.
Posted by SD at 02:22 PM | Comments (1)
March 15, 2017
NY Times Misleads on David Friedman and Two-State Solution
David Friedman at Feb. 16 Senate hearing: Two-state solution "is best possibility for peace in the region" (NY Times screen capture)
In an article today about the visit of U.S. envoy Jason Greenblatt to the West Bank, Ian Fisher of The New York Times misleadingly reports that David M. Friedman, President Trump's pick for the next ambassador to Israel, "has disavowed the two-state solution" ("Trump's Envoy to Mideast Meets With Mahmoud Abbas in West Bank").
The article does not inform readers that in his Feb. 16 Senate confirmation hearing, Friedman more recently expressed support for the two-state solution, calling it "the best possibility for peace in the region."

As The Times reported Feb. 17 ("Nominee for Israel Envoy Regrets 'Hurtful Words," Emmarie Huetteman):


Although [Friedman] has been dismissive of it in the past, he said the two-state solution had received ''the most thought and effort and consideration.'' He later elaborated that he had not seen any evidence that Palestinians had an ''appetite'' for unifying under a single state.

''It still remains the best possibility for peace in the region,'' he told senators, referring to the two-state solution.
Likewise, AP reported Feb. 16:


Friedman said he "absolutely" supports a two-state solution, but said he's skeptical such an approach can succeed because Palestinians haven't renounced terrorism and have refused to accept Israel as a Jewish state. But he said he would be "delighted" if it were possible to reach a two-state agreement.
CAMERA has contacted The Times to request a clarification. Stay tuned for an update.
Posted by TS at 06:20 AM | Comments (0)
March 09, 2017
Israel's Entry Law, and America's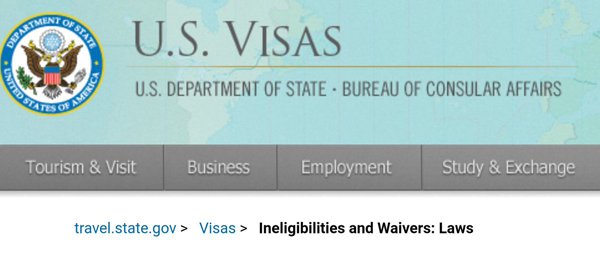 You can love it. You can hate it. But at least be correct, contextual, and consistent when talking about it.
While that's a universal best practice, in this case we're talking about Israel's new law restricting access to the country for some of those advocating boycott of the Jewish state.
We've already called on The New York Times to correct two errors in its editorial about the Israeli law. The editorial wrongly claims the US has "consistently held that settlement building in the occupied territories is illegal." In fact, since the Carter administration it has consistently avoided such a characterization.
The editorial also misleadingly downplays BDS aims, claiming that the movement is merely "against Israel for its occupation of the West Bank." As CAMERA and others (including BDS leaders) have pointed out, a trifecta of BDS goals essentially amount to a call for the elimination of the Jewish state.
Finally, the New York Times editorial, and a number of other media outlets, claim that the law bars entry to anyone who "supports" BDS. In fact, the law is worded much more narrowly, and refers not to supporters but rather anyone "who knowingly issues a public call for boycotting Israel that, given the content of the call and the circumstances in which it was issued, has a reasonable possibility of leading to the imposition of a boycott – if the issuer was aware of this possibility."
One might think from the reaction abroad, including that of The New York Times, that the Israeli law is particularly unusual. What overseas critics of the law don't mention, though, is that the United States has long had similar restrictions.
Section 212(a) of the Immigration and Nationality Act says that an alien "whose entry or proposed activities in the United States the Secretary of State has reasonable ground to believe would have potentially serious adverse foreign policy consequences for the United States is inadmissible." That's much broader than Israel's language.
The Immigration and Nationality Act also bars members of the Communist party: "Any immigrant who is or has been a member of or affiliated with the Communist or any other totalitarian party (or subdivision or affiliate thereof), domestic or foreign, is inadmissible."
And finally, it bars those who would break laws for the purpose of "opposition to … the United States":
In general.-Any alien who a consular officer or the Attorney General knows, or has reasonable ground to believe, seeks to enter the United States to engage solely, principally, or incidentally in … any activity a purpose of which is the opposition to, or the control or overthrow of, the Government of the United States by force, violence, or other unlawful means, is inadmissible.
One wonders if American critics of the new Israeli law have also criticized these laws, which are much closer to home.
Posted by GI at 02:29 PM | Comments (6)
March 07, 2017
ISIS Tells Supporters to 'Dress Up Like Jews,' Carry Out Attacks

The Islamic State of Iraq and Syria (ISIS) is encouraging its supporters to carry out terror attacks against Western Jewish communities. According to the U.K.-based newspaper, Daily Mail, ISIS members in an online jihadi chat room forum discussed disguising themselves as Jews prior to attacking.
The messages first appeared on an ISIS-affiliated Telegram Channel called Lone Mujahid (Holy Warrior), which is often used by the terrorist group to disseminate messages. The Jerusalem Post, which highlighted the Daily Mail's report, noted:
"The full post read: 'If you're still in the west! Dress up like a Jews! Got to your nearest Jewish area! Make sure you have plenty of weapons under your coat!' and then urged followers to 'unleash the pain of Muslims' on the potential victims."
A subsequent message provided a list of Jewish communities in Britain and included an image of Amedy Coulibaly, an Islamist who, in January 2015, committed a terrorist attack on a Kosher supermarket in a Paris suburb. A post accompanying Coulibaly's image, exhorted: "Take the brother's example and terrorize the Yahood [Jew]."
As CAMERA has noted (see, for example "Poll: Majority in France Believe Jews Responsible for Antisemitism," Feb. 12, 2016) anti-Jewish violence has risen sharply in Europe, with many attacks being perpetrated by Islamists. More recently, in February 2017, two men, "who were described as being of North African origin," attacked two Jewish brothers in a Paris suburb. The attackers shouted, "Dirty Jews, you're going to die," before using a saw to cut off the finger of one of the brothers ("Jews in France: Anti-Semitic Attack Saws Mans Finger Off As Attackers Yell 'Dirty Jews,'" International Business Times, Feb. 24, 2017).
On March 1, 2017, the United Kingdom's Home Secretary, Amber Rudd, told Britain's Jewish community leaders that jihadists were targeting Jews in Europe and the U.K. Rudd noted, "Daesh [ISIS] literature continues to identify the Jewish community as a 'desirable and legitimate target ("ISIS Plotting Attacks on UK Jewish Community," Express, March 4, 2017).'"
Although media outlets outside the U.S. reported the Islamic State's recent plots, many American newspapers failed to provide coverage. A Lexis-Nexis search of major U.S. journals, including The Washington Post, USA Today and The Baltimore Sun, among others, showed no mention of ISIS's threats.
Posted by SD at 04:23 PM | Comments (0)
March 06, 2017
Travel Articles Eschew Bias, Highlight Beauty of Israel
While the mainstream national newspapers continue push the Palestinian narrative about Israel and the Middle East, two recently-published travel articles about Israel are refreshingly honest. Harper's Bazaar has published a photo essay full of gorgeous scenes from Israel, "30 Photos that Will Make You Want to Book a Flight to Israel ASAP." The Hindu, an Indian publication, has provided a detailed plan for vegetarians to eat their way through the Jewish state, "Breaking Bread in Israel."
In The Hindu, reporter Pankaja Srinivasan is relieved to report that vegetarians can, in fact, travel in Israel without fear of "starvation." He samples laffa bread in Tel Aviv's Carmel Market, zatar bread in Jaffa, hi-tech pita bread and chocolate rugelach in Jerusalem, and falafel everywhere.
Srinivasan's article is yet another welcome sign of the increasingly warm ties between India and Israel. You can read the whole thing here.
In addition, Harper's Bazaar has published 30 beautiful images of Dead Sea beaches, Jerusalem landscapes, markets, and holy sites, Tel Aviv skylines and neighborhoods, food in Jaffa, and Caesarea relics.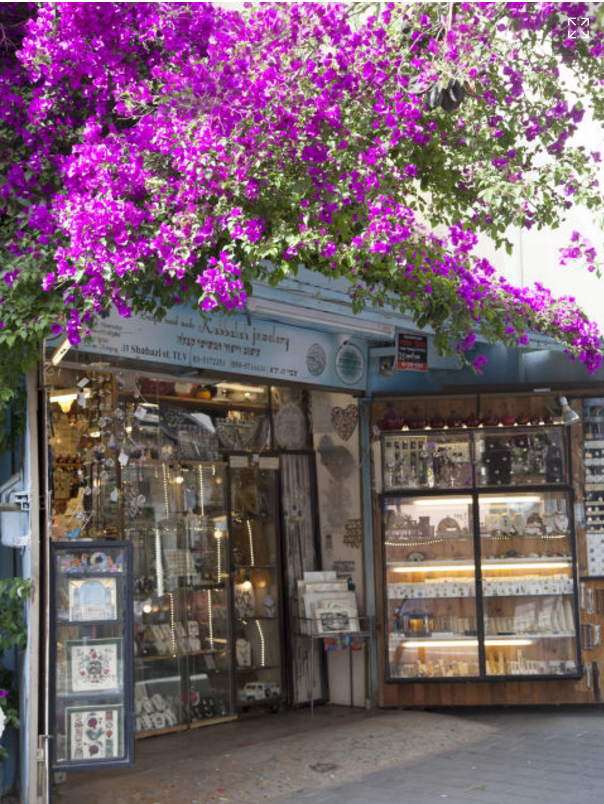 Overall the article is free from the types of bias we usually see, for example, it acknowledges that Jerusalem is part of Israel, and doesn't propagandize the Dead Sea. There is, however, one minor error: the caption in the photo of the Western Wall Plaza refers to the Kotel as "the last wall standing of the Second Jewish Temple." In fact, the Western Wall was not part of the Temple itself, but rather a remnant of an outer retaining wall surrounding the Second Temple. On the other hand, the publication correctly noted that the Western Wall "is considered the holiest place where Jews are permitted to pray," and that this is "due to its connection to the Temple Mount," a point that hard news organizations have gotten wrong repeatedly.
You can see all of the photos here.
A shot of a Tel Aviv beach is accompanied by the caption, "A woman takes a dip in the Mediterranean sea off the shores of Tel Aviv. Fun fact: this could be you!" Well, yes, it could be! I'm getting my ticket now….
Posted by kabe at 01:07 PM | Comments (0)
Facebook Reinstates Fatah's Terror-Promoting Page

A mere three days after its removal, Facebook has reopened the terror-promoting page of Fatah, the movement that dominates the Palestinian Authority. Facebook did so "without removing any of the terror promoting material that is regularly posted on the page," according to Palestinian Media Watch (PMW), a non-profit organization that monitors Arab media.
Shortly after Facebook decided to close down the page, the Palestinian Authority's (PA) Ministry of Information accused Facebook of "targeting…Palestinian national platforms on social media" and displaying a "blind bias in favor of the occupation." More conspiratorially, the PA—making use of long-standing antisemitic tropes of Jews controlling the media—claimed that Facebook had "an agreement" with the Jewish state.
However, according to PMW, Fatah's Facebook page frequently posts material celebrating anti-Jewish violence and terrorism. On April 20, 2016, for example, Fatah's student movement posted a video entitled "Martyrdom-seeking unites us," which depicted three young Palestinians planning and carrying out an attack on Israeli soldiers with knives and vehicle-ramming.
CAMERA has frequently highlighted how Facebook has been used to promote Palestinian terrorism and antisemitism (see, for example "German Authorities Investigate Facebook for Allowing Holocaust Denial," Nov. 9, 2016).
Facebook's rules forbid bullying, harassment and threatening language. However, the social media organization has been criticized for failing to remove antisemitic posts and apologia and propaganda from terrorist groups. In one January 2014 example that CAMERA documented, an image posted on Facebook celebrated Nazi violence against civilians; perversely using Nike's swoosh logan and slogan "Just Do It." Initially, Facebook refused to remove the image, stating that it didn't violate "community standards." Eventually, the organization reversed course, removing the post and banning the user ("Facebook Admits the Obvious," Jan. 9, 2014).
Facebook has also been used by Palestinian terrorist groups to organize and plot attacks against Israelis, as CAMERA noted in an Aug. 17, 2016 article ("Israel Busts Terror Cells Sponsored by Hezbollah, Recruited via Facebook").
Facebook did not provide a reason for its decision to reinstate Fatah's page.
Posted by SD at 09:04 AM | Comments (0)
March 03, 2017
Iranian Film Depicts Destruction of U.S. Navy
Qassem Soleimani

A filmmaker in Iran has released a 90-minute movie depicting the destruction of U.S. Naval forces by Tehran.
Associated Press correspondent Nasser Karimi reported on the film's release ("Iranian film hails demise of U.S. Navy in imagined Gulf battle," March 2, 2017). Iranian director Farhad Azima created the animated film, entitled "Battle of the Persian Gulf II." The movie is a sequel to an earlier work about the 1980's Iran-Iraq War.
According to the AP:
"In the film, a character who closely resembles Gen. Qassem Soleimani, head of Iran's elite Quds Force, leads a single vessel against more than a dozen American warships. When a U.S. commander orders him to surrender or die, he replies: 'General, I am not a diplomat, I am a revolutionary!'
"He [Soleimani] warns that any American soldiers taking part in an attack on Iran 'should order their coffins,' before his forces destroy the whole U.S. fleet."
The movie depicts the U.S. Naval ships as being obliterated "with a barrage of rockets, some of which tear American flags from their masts." The battle follows an imaginary U.S. attack on an Iranian nuclear facility.
Azima asserted that the film was made with no government involvement from Tehran and that money was raised from "ordinary people" in Iran. Yet, the ruling mullahs exercise considerable censorship and control over Iranian life; it's unlikely that the movie was made without their tacit approval.
The AP dispatch claimed that, since the 2016 U.S. Presidential election, "tensions are rising again" between the U.S. and Iran. However, this is not the first time in recent months that Iran has threatened U.S. armed forces.
In November 2016, an Iranian ship "pointed its weapon" at a U.S. Naval helicopter in the Strait of Hormuz ("Iranian ship threatens U.S. helicopter, media MIA," CAMERA, Dec. 5, 2016). Iran also has threatened U.S. ships, in August 2016 and January 2017, among other instances ("Official: U.S. Navy ship fires warning shot at Iranian boats," CNN, Jan. 9, 2017). Capt. Jeff Davis, a Pentagon spokesman, told CNN in January 2017 that there were a total of 35 instances of Iranian ships acting belligerent towards U.S. vessels in 2016.
Posted by SD at 08:08 AM | Comments (0)
March 01, 2017
Guardian Refuses to Correct False Claim that Journo Drove Through Mt. of Olives "Tunnel"
(Cross-posted from UK Media Watch)
Earlier in the month we examined a Feb. 13th Guardian article written by Sarah Helm, "It's too late to stop the senseless capture of Palestinian land", a propagandistic tour de force which amplified the prophetic anti-Zionist musings of a Palestinian "cartographer" named Khalil Tufakji.
There were multiple errors and misleading claims in Helm's report, but one we particularly focused on is found in the following passage:
I've been listening to Tufakji since the mid-1990s and everything he foresaw has so far come true. He pointed out where a tunnel would be drilled through the Mount of Olives to connect settlements – it seemed impossible but we are now driving through it.
As we noted at the time, whilst it's unclear where precisely Helm was driving, she certainly wasn't driving through the historic 3,000 year old Jewish cemetery adjacent to Jerusalem's Old City – for the simple reason that there is no such tunnel at that location! We considered that Helm may have conflated the fake Mount of Olives tunnel with the real Mount Scopus tunnel (Derech Har HaTsofim Tunnel) quite a few kilometers away.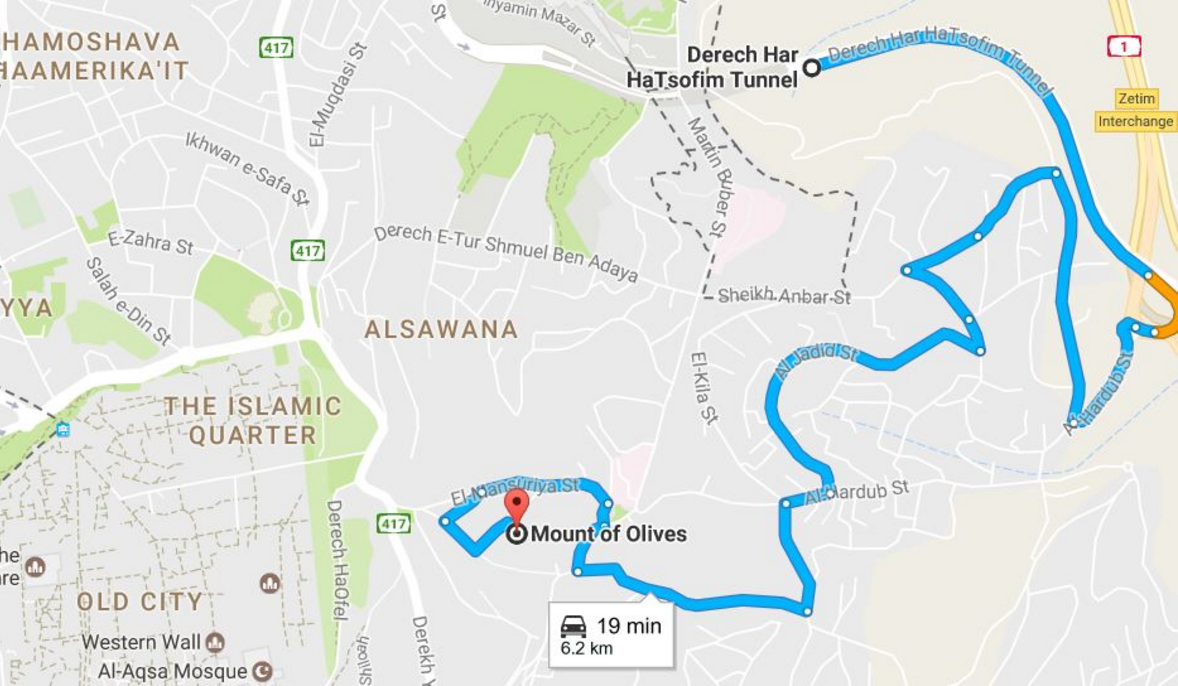 We complained to Guardian editors and, ten days later, we received a reply, implicitly acknowledging that the journalist was in fact driving through Mount Scopus, as we surmised. However, instead of correcting the grossly misleading text, editors decided to argue that though Helm was driving through Mount Scopus Tunnel, it's not wrong to refer to Mount Scopus as Mount of Olives.
Here's their full reply:
We understand that the tunnel known as the Mount Scopus tunnel goes through the Mount of Olives ridge.
The description here by the Jerusalem expert Eli Schiller states in part that: "The Mount [of Olives] has three prominent peaks: Mount Scopus, 826 m, A Tur (Church of the Ascension) 816m, and Mount of Corruption, 746m".
Schiller also states: "Today Mount Scopus is part of the Mount of Olives, and there is no necessary justification to give each different terminology."
For the purposes of the article, we think it is sufficient to leave the reference to a tunnel through the Mount of Olives as it is.
Let's be clear about what this represents. Editors knew they couldn't argue the facts in ordinary language (using regular maps), so they pivoted to an obscure geological justification -- concerning what constitutes the broader Mount of Olives ridge -- for Helm's claim that she drove through a tunnel at Mount of Olives.
Of course, the sentence about driving through Mount of Olives would have immediately evoked, to the overwhelming majority of Guardian readers, a very specific visual of the iconic and historic Mount of Olives cemetery. They certainly wouldn't have considered – let alone researched – the geological nature of the area in question. If they had decided to investigate the claim further, they would have more likely just consulted a regular map (like Google Maps, seen above), and seen that Mount of Olives (in the ordinary use of the term) represents a distinct and unique Jerusalem location.
Indeed, the context and aim of the passage about the tunnel "through Mount of Olives" written by the Guardian journalist seems clear: to support her Palestinian protagonist's narrative that Israel is encroaching on and desecrating Palestinian land and historical sites in the holy city – making peace impossible and war inevitable. A tunnel through Mount Scopus simply would not have had the desired rhetorical impact as a tunnel through Mount of Olives, and certainly wouldn't have helped support the story of Israeli malevolence she wanted to tell.
No amount of sophistry or obfuscation can change the fact that the claim by the Guardian journalist was egregiously and substantively misleading to readers, and thus in violation of the accuracy clause of the Editors' Code.
We have appealed the Guardian decision and will update you as warranted.

-- by Adam Levick
Posted by kabe at 10:19 PM | Comments (1)
February 27, 2017
The Washington Post Omits the Anti-Israel Record of Human Rights Watch
Robert Bernstein

A Feb. 24, 2017 Washington Post report on the decision by Israeli authorities to block the entry of an anti-Israel Human Rights Watch (HRW) employee omitted key information ("Human Rights Watch worker barred by Israel"). The dispatch, by The Post's Jerusalem bureau chief William Booth, failed to fully inform readers about HRW's history of singling out the Jewish state for opprobrium and mischaracterized the boycott, divestment and sanctions (BDS) movement.
The Post reported that Omar Shakir, HRW's recently announced Israel and Palestine country, was denied entry into Israel. Booth briefly quoted Israeli concerns that HRW is "systemically anti-Israel," but failed to elaborate.
In fact, Human Rights Watch, a self-appointed arbiter of human rights abuses around, has a long history of anti-Israeli bias.
HRW, as CAMERA has highlighted, has raised funds on the basis of its singling out Israel. HRW has even used the criticism that it receives from "pro-Israel pressure groups" to get funds from wealthy Saudi donors ("Minority Report," New Republic, April 27, 2010). HRW's own founder, Robert Bernstein, repudiated the group in a Oct. 19, 2009 New York Times Op-Ed that noted the non-profit organization was guilty of "helping those who wish to turn Israel into a pariah state."
In his 2016 autobiography entitled, Speaking Freely, Bernstein enunciated on his criticisms of the organization he helped create and on whose board he served for decades. Bernstein pointed out that HRW misleadingly treats as fact the opinion that Israel's blockade of Gaza is illegal under international law. He also wrote that although HRW occasionally criticized—often only when forced to do so—the terrorist group Hamas, it "placed a greater emphasis on denouncing" Israel.
Indeed, the Executive director of the Middle East and North Africa section that oversees Israel, Sarah Leah Whitson, previously worked for the American Arab Anti-Discrimination Committee. There, according to non-profit watchdog NGO-Monitor, she was "very active in pro-Palestinian, anti-Israel causes." Whitson's AAADC work goes unmentioned in her HRW bio. [For a recent CAMERA expose' of HRW's anti-Israel slant, see "Low-Hanging Fruit: Human Rights Watch and Palestinian Child Laborers," April 14, 2015.]
In response to allegations of bias, Whitson rashly compared her critics to Hezbollah. Ironically, this is the same U.S.-listed terrorist organization that she referred to as merely an "Islamic Resistance" in a 2007 article in the Lebanese paper Al-Akhbar. In that piece she—not surprisingly—sought to portray Israel as an aggressor.
In addition to omitting this pertinent history, The Post whitewashed the BDS movement. The paper cited a NGO Monitor video clip of Shakir speaking in support of BDS in 2010 at the University of California-Irvine, but then noted that BDS "supporters say" that movement is "designed to force Israel to end its almost 50-year military occupation and practices it compares to 'apartheid' against Palestinians." The Post failed to inform its readers that the BDS movement seeks the destruction of Israel as a Jewish state and counts among its founders and supporters numerous terrorist groups (see, for example "CAMERA Refutes 'Jewish Voice for Peace' BDS Advocacy, May 19, 2015).
In his autobiography, Bernstein noted that anti-Israel terror groups, such as Hamas and Hezbollah, are aided in the "battle for international opinion" when "foreign press…uncritically cover the reports of human rights organizations without closely examining the merits and political repercussions" of these NGO's assertions. By omitting both HRW's checkered history regarding Israel and the BDS movement it abets, The Post confirms Bernstein's concerns.
Posted by SD at 08:03 PM | Comments (0)
Where's the Coverage? Iran Calls for Palestinian Terrorist Attacks
Ayatollah Ali Khamenei

The Supreme Leader of Iran, Ayatollah Ali Khamenei, called for Palestinians to carry out terror attacks against Israel. Khamenei's Feb. 21, 2017 exhortation was underreported by major U.S. news media outlets.
Reuters news service—citing a transcript of Khamenei's remarks posted on the Ayatollah's official website—reported the dictators' comments. Khamenei called Israel a "cancerous tumor" and claimed, "With Allah's permission, we will see this intifada will begin a very important chapter in the history of fighting and that it will inflict another defeat on that usurping regime." The phrase, "usurping regime" is frequently used by Islamists to refer to the Jewish state's presence on land that they consider to be Muslim.
Khamenei also asserted: "The Palestinian intifada continues to gallop forward in a thunderous manner so that it can achieve its other goals until the complete liberation of Palestine." As CAMERA has noted, Iran's desire to "liberate" "Palestine" includes the theocratic regime's self-stated objectives of the destruction of Israel and the genocide of its Jewish citizens.
According to the ADL, Khamenei's remarks were delivered at "the opening address at the annual Sixth International Conference in Support of the Palestinian Intifada (uprising). …The Conference was reportedly attended by delegates from 80 countries, a representative of the Jewish anti-Zionist Netueri Karta group, and leaders of the Islamic Jihad, Hamas and Hezbollah terror organizations."
CAMERA has pointed out that Tehran supports several U.S.-designated terrorist groups, including Palestinian Islamic Jihad, Hamas and Hezbollah, which carry out terror attacks against Israelis. In its report, Reuters omitted this pertinent fact.
Reuters, however, was one of the few U.S. news outlets to even note Khamenei's vow to support Palestinian terrorism. According to a Lexis-Nexis search, many major newspapers, such as The Washington Post, USA Today and The Baltimore Sun, failed to report the Supreme Leader's remarks.
An English-language transcript of Khamenei's speech can be found here.
Posted by SD at 01:44 PM | Comments (1)
February 23, 2017
NY Times: Hamas Seeking to Put Off War, Israelis Itching for Conflict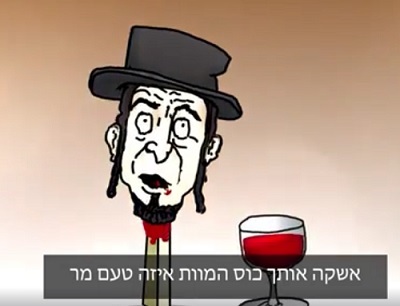 There's a peculiar juxtaposition in yesterday's front page New York Times story, contrasting how Israel and Hamas supposedly view the possibility of renewed confrontation. The insinuation seems to be that Israelis are seeking war, while Hamas is seeking to put it off.
Here's what the story says is happening "on the Israeli side":
On the Israeli side, the political right talks of a new war in the spring over Hamas's rearming and expresses a desire to inflict a decisive blow. …
Sounds like they're chomping at the bit.
Then there's Hamas. The piece does note that the group's new leader is "hard-line," and that weapons are "presumably" being constructed in, and smuggled into, the Gaza Strip. But regarding attitudes toward renewed fighting, we're told that its leaders are seeking to "put off as long as possible what they see as the next inevitable war":


Leaders of Hamas, considered a terrorist group by the United States and by many other countries, do not have the same backing from the West. Interviews with political and business leaders, academics and ordinary people can divine only a basic strategy: improve the lives of frustrated residents as its leaders put off as long as possible what they see as the next inevitable war, then fight when it happens. (Life could be better, Hamas's critics contend, if the group spent less on war preparations.)
So Hamas leaders want to avoid war, readers are led to believe, but are resigned to the fact that Israel will force it upon them — never mind that Gaza's major wars tend to begin with Hamas rocket barrages or cross-border kidnapping attacks against Israelis.

In unrelated news, Hamas recently released a Hebrew-language music video about launching a war and killing Jews.
The video, at least, isn't shy about predicting that the hypothetical next war will begin with Hamas firing rockets at Israel. The opening line of the song, sung over animated images of a Hamas rocket attack, says, "For my Zionist enemy I've prepared all kinds of rockets that reach where he lives," and that "he will die if he doesn't immediately leave my land."
Other images include Jews being sliced in half by rockets and a severed Haredi head being impaled on a sword.
Check out the full video here.

Posted by GI at 03:09 PM | Comments (1)