January 07, 2020
Seattle Media Oblivious To Imam's Hateful Indoctrination Condemning Jews
The Masjid Ar-Rahmah mosque teaching – that Allah transformed Jews into apes and pigs for disobeying him – delivered by Imam (prayer leader) Mohamad Joban – was posted online by mosque personnel. This December 2019 indoctrination at the Seattle, Washington area mosque was mainly in English.
This inflammatory anti-Semitic rhetoric is an Islamist trope used to attack Jews and the Jewish state. Note that the "apes and pigs" teaching has long been a staple of Palestinian anti-Israel propaganda. Here is an example from Palestine Today (Palestinian news agency) via Palestinian Media Watch (PMW):
Headline: "The will of Martyr Omar Al-Abd who carried out the stabbing operation next to Ramallah"
"You [Israeli Jews], the sons of apes and pigs, if you do not open the gates of the Al-Aqsa Mosque, I am certain that after me will come a man who will strike [you] with an iron hand, I warn you! I know that I'm going there and I'll never come back here; rather I'll come back to Paradise, in the embrace of Allah's mercies. How good and pleasant is death and Martyrdom (Shahada) …"
The Joban video clip was posted to the Free Speech Video Platform site (3speak). P L A Y:
Excerpts from the nearly hour-long presentation

[…]

The question now Is whether they [the Jews who turned into apes] continued to have generations [of apes] after their death. The scholars have two opinions. He [one] said that after a while, all of them died. Because Allah made them monkeys as a punishment, they died already. But some say: "No, they have generations…"

[…]

Allah just wanted to tell us what Allah told you a long time ago that people turned into monkeys and that this is true. It is religion, look at them, some of them stayed apes and pigs …

Media covering Joban's teaching
The only Washington media entity, that could be found, reporting the event is little-known MyNorthwest which nevertheless extracted an apology from the mosque but the apology appears nowhere else (yet).
The question is why didn't leading local or state media outlets report about such anti-Semitic incitement in the form of a publicized sermon by a local mosque? Why didn't these outlets — such as the Seattle Times, Spokane Spokesman-Review, The Herald, News Tribune or Seattle TV stations KING (NBC), KIRO (CBS), KOMO (ABC), KCPQ (Fox), KCTS (PBS) — consider this matter to be newsworthy?
It's disturbing that during the current period of greatly increased violence victimizing Jews, local and state media outlets failed to inform the public of this instance of incitement to such violence.
Posted by MK at 01:07 PM | Comments (0)
December 10, 2019
AP Distorts: Bethlehem 'Almost Completely Surrounded'
Over two years after improving inaccurate language falsely citing Israel's security "barrier surrounding the biblical city" of Bethlehem, the Associated Press once again misrepresents.
AP's Joseph Krauss and Mohammad Daraghmeh wrote yesterday ("Palestinians in Bethlehem look beyond religious tourism"):
Bethlehem itself is almost completely surrounded by the barrier and a string of Jewish settlements
The Peace Now map shown below clearly shows where the barrier exists (solid red line) or is planned (dotted red line) on the northern and western sides of Bethlehem. On the south east, there are the settlements (solid pinks blocks) of Tekoa, Nokdim and Sde Bar. To the north and west of this block of settlements there are significant stretches with no barrier and no settlements. (The block with red lines, dubbed Givat Eitam, due south of Bethlehem, is slated for Israeli construction, according to Peace Now's map.)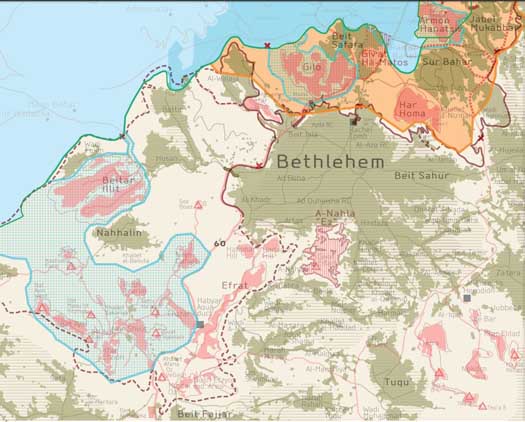 In December 2016, AP's Isma'il Kushkush accurately referred to "the concrete barrier that surrounds part of Bethlehem."
Given that neither the barrier nor settlements abut significant portions to the east and south of the city, AP's description of Bethlehem as "almost completely surrounded by the barrier and a string of Jewish settlements" is unfounded.
Dec. 11 Update: "Times of Israel Corrects AP Error on 'Surrounded' Bethlehem"
Posted by TS at 07:27 AM | Comments (0)
Variety Redraws Israel's Map
"Variety is the most authoritative and trusted source of entertainment business news," boasts its web site but readers should not have any expectations about the accuracy of its geopolitical coverage. A May 2019 movie review which just came to our attention erroneously placed the northern Israeli city of Nazareth in "Palestine."
Asserting that movie director Elia Suleiman, "the eternal observer, trusts his audience to know the facts," Variety's Jay Weissberg gets the facts wrong, erroneously reporting: "'Heaven' begins in Palestine -- Nazareth, to be precise . . . " ("Film Review: 'It Must Be Heaven,'" May 24, 2019).

Nazareth is a city in northern Israel, within the undisputed pre-1967 boundaries of the country. It is not in "Palestine," the West Bank or the occupied territories, as this United Nations map makes clear.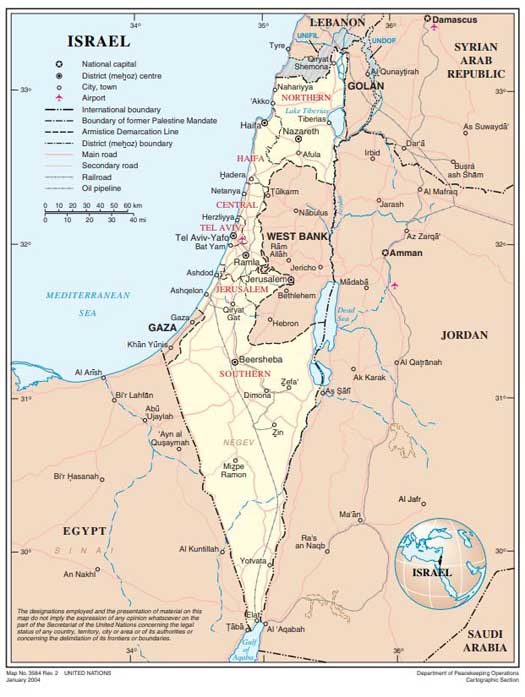 Hat tip: Tomer Ilan
Posted by TS at 04:12 AM | Comments (0)
November 13, 2019
Again, NY Times Silent on Islamic Jihad Terror Designation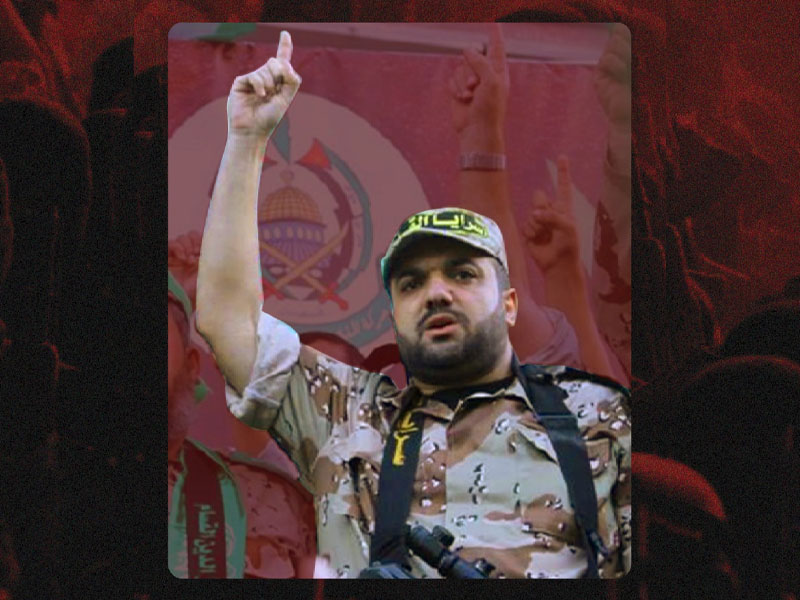 As we noted yesterday, the New York Times chose to remove the word "terror" from its article about fighting between Palestinian Islamic Jihad and Israel. While early versions of the story informed readers that Islamic Jihad is recognized internationally as a terrorist group, that information was scrubbed from the article shortly after 9am in New York.
Today's follow-up story on the fighting, too, neglects to tell readers of Islamic Jihad's terror designation. In fact, it's been over six months since the paper informed readers that the group is listed as a terror organization.
CAMERA's article yesterday pointed out that the Times repeatedly used the T-word after the U.S. operation that lead to the death of ISIS leader Abu Bakr al Baghdadi. But we don't have to look even that far back. Today and yesterday, on the very days the newspaper avoided noting — made edits to avoid noting — Islamic Jihad's terror designation, it did see fit to inform readers that, e.g.,
• "Turkey regards the Syrian Kurdish militia [SDF] as a terrorist organization";
• and that "Turkey also considers the Islamic State a terrorist organization";
• and that the Chinese government claims Hong Kong protesters are engaged in "brazen terrorism";
• and that ISIS is a "terror group."
So why weren't readers informed that Islamic Jihad is considered a terrorist group by the US, EU, Canada, UK, Australia, New Zealand and others? Is it somehow less important to share fundamental context about an organization that targets Jewish-Israeli civilians?
Posted by gi at 03:39 PM | Comments (0)
November 05, 2019
Reuters Errs on Administrative Detention For 'Anti-Israel Activity'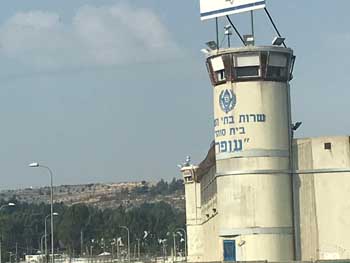 A Reuters article today egregiously misrepresents administrative detention, erroneously asserting that it is mainly applied to "Palestinians suspected of anti-Israeli activities," when in fact the Israeli practice applies in cases of suspected security offenses. The Nov 4. article ("Jordan says two citizens held in Israel to return 'before the end of the week'") errs:
Israel mainly uses "administrative detention", or imprisonment without trial, against Palestinians suspected of anti-Israeli activities. (Emphasis added.)
The identical error also appears in this earlier Oct. 29 article.
Israel does not mainly use administrative detention against Palestinians suspected of "anti-Israeli activities" generally. Rather, the measure may only be applied in cases of suspicion regarding security-related offenses.
Thus, B'Tselem, an NGO highly critical of Israeli government policies and activity in the West Bank, explains:
In the West Bank (not including East Jerusalem), administrative detention is carried out under the Order regarding Security Provisions. The order empowers the military commander of the West Bank, or another commander to whom the power has been delegated, to place individuals in administrative detention for up to six months at a time, if the commander has "reasonable grounds to believe that reasons of regional security or public security require that a certain person be held in detention".
The Associated Press, another leading wire service, accurately described administrative detention yesterday, stating that the two Jordanian citizens to be released later this week
are being held in administrative detention, an Israeli policy that allows for open-ended detentions without filing charges against people suspected of security offenses.
CAMERA has contacted Reuters to request a clarification. Stay tuned for an update.

Posted by TS at 07:38 AM | Comments (0)
October 06, 2019
In English, Haaretz Whitewashes Temple Mount Killings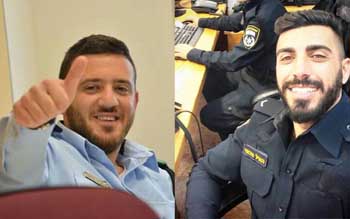 In an article last week on the occasion of IDF's Brig. Gen. Eran Niv wrapping up his post as commander of the Judea and Samaria Division, Haaretz's English edition whitewashes the July 2017 killing of two Druze police officers shot dead by three Israeli Arab assailants just outside the Temple Mount.
Haaretz's English edition, both in print (page 4, Sept. 29) and online refer to the "deaths of two Border Police officers" in the summer of 2017:
The perceived violation of religious symbols is a particularly potent accelerant for violence, Niv says, recalling the violence that erupted after Israel installed metal detectors at the Temple Mount in the summer of 2017, following the deaths of two Border Police officers, as well as the brief outburst that followed visits by Jews to the Temple Mount in August on Tisha B'Av, which coincided with the Muslim holiday of Eid al-Adha. (Emphases added.)
Why does the English edition fail to note that the border police officers were killed by Israeli Arab assailants leaving the Temple Mount? Indeed, violence didn't erupt only after the officers' "deaths" -- their deaths themselves, ie murders, were violent.
The Hebrew version of the same article more precisely reported that the officers were killed (CAMERA's translation):
Niv identifies several negative accelerants which could contribute to an escalation: blood, the harming of religious symbols and nationalist friction between Palestinians and settlers. The religious element is particularly sensitive. The storm over the installation of metal detectors, after the killing of two border policemen at the Temple Mount in the summer of 2017, was a good example. In August [2019], we experienced a brief escalation following Palestinian rage, when Jews went up on the mount on Tisha B'Av -- which coincidentally overlapped with Eid al-Adha.
See here for more instances of "Haaretz, Lost in Translation," in which the English edition downplays, whitewashes or omits instances of Arab violence or other wrongdoing which were reported in the parallel Hebrew article.
Posted by TS at 05:21 AM | Comments (0)
September 24, 2019
Media Confounds, Calling Israel's Voting Arab Citizens 'Palestinian'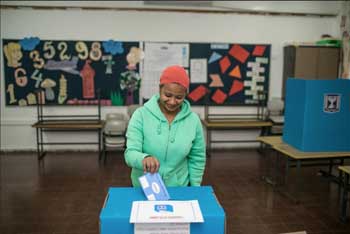 The impressive turnout on the part of Arab citizens of Israel in last week's elections -- making the Joint List of Arab parties the country's third largest party and placing it in position to lead the opposition -- garnered significant media coverage. Some media outlets, unfortunately, provided confusing coverage by insisting on referring to Israel's Arab voting population as "Palestinians," despite the fact that they are Israeli citizens, they do not reside in Palestinian controlled areas, and the overwhelming majority of them do not identify as Palestinian.
Particularly in the context of Arab citizens exercising their right to vote in Israeli elections, the "Palestinian" label is unjustified and misleading.
In The New York Times, for example, bureau chief David Halbfinger confounded:
Mr. [Ayman] Odeh's ads practically beg Palestinian citizens to vote on Tuesday, saying that one million citizens, if they all voted, would translate into 28 seats in the Knesset. . . .
Indeed, such misleading nomenclature for Arab citizens of Israel confuses them with Palestinians -- Arabs who live in Palestinian-controlled territories and who do not hold Israeli citizenship. For example, in the same article, Halbfinger refers to "Israel's treatment of the Palestinians living under the occupation" and also to an Instagram photo of an "iconic Tel Aviv skyscraper with its facade displaying the Palestinian national flag." How are all but the already well-informed readers meant to unpack this terminology, and distinguish between the voting "Palestinians" versus Arabs in the West Bank or Gaza who are not Israeli citizens?
Indeed, NPR's Daniel Estrin seems to recognize the problem with referring to Israel's Arabs as "Palestinian" even as he does so. He refers to "Palestinian Arab citizens of Israel" but then feels compelled to clarify:
And another thing to note here is that the party representing Palestinian Arab citizens of Israel - I'm not talking about the Palestinians of the West Bank and Gaza, they don't have voting rights in Israel - but the Arab party is poised to be the third-largest party in the Parliament.
Besides confusing uniformed news consumers, referring to Israel's Arabs as "Palestinians" does not reflect how the vast majority self-identify. A poll released this week by the Guttman Center for Public Opinion and Policy Research at the Israel Democracy Institute found that 13 percent of Israeli Arabs identify primarily as Palestinians. As Haaretz reported:
Nearly two-thirds (65 percent) of Arab citizens said they were proud to be Israelis – the highest rate since 2003. Asked how they self-identify, 38 percent said as Arab, 36 percent said by religion (Muslim, Christian or Druze), 13 percent said as Palestinian and 9.5 percent said as Israeli.
Posted by TS at 07:31 AM | Comments (0)
September 10, 2019
Mahmoud Abbas' Diatribe Threatening Israel Included Bogus Canaanite Claim
Palestinian Authority President Mahmoud Abbas' recent anti-Israel diatribe that aired on PA TV was monitored and translated by Palestinian Media Watch (PMW).
Excerpt: "I say to [Israel]: Every stone you have built on our land [present day Israel and the West Bank] and every house you have built on our land — there is no escaping that they will disappear, Allah willing. And the more they announce houses here or settlements there — they will all disappear, Allah willing, and will be in the garbage dump of history. And [Israelis] will remember that this land belongs to its people; this land belongs to its inhabitants; this land belongs to the Canaanites who were here 5,000 years ago — and we are the Canaanites!... We will enter Jerusalem as fighters by the millions…"
(PMW is an Israel-based nongovernmental non-profit organization that monitors Arab media in the West Bank, eastern Jerusalem and the Gaza Strip.)
Palestinian historical histrionics
The Canaanite claim even goes against at least one passage in the Quran (Koran) (Islam's bible). Chapter 5, verse 21 teaches that the land of Israel (from the river to the sea) belongs to the Jewish people: "Moses said to his people: O my people! Remember the bounty of God upon you when He bestowed prophets upon you and made you kings and gave you that which had not been given to anyone before you amongst the nations. O my people! Enter the Holy Land which God has written for you, and do not turn tail, otherwise you will be losers."
Moreover, the Canaanite claim is unsupported by any historical or scientific evidence. On the other hand, contradicting Palestinian denials of Jewish rights to the Land, there is a continuous Jewish diaspora history from the Roman expulsions to the rebirth of Israel as a Jewish state. And ample archeological evidence and biological (DNA) evidence exists — cited here, here and here.
Other such hateful diatribes indoctrinating the Palestinian people are plentiful; for example, a teaching on television by the PA's Supreme Shari'a Judge Mahmoud Al-Habbash, PA Chairman Abbas' personal advisor on Islam. Al-Habbash stated that Israelis/Jews are the "enemies of Islam," have a "culture of Satan," and represent "evil."
And finally, why do virtually all mainstream media entities — although extensively covering the Palestinian conflict with Israel — continue to ignore all the hateful Palestinian brainwashing?
Posted by MK at 05:30 PM | Comments (0)
August 07, 2019
A Skewed NY Times Story on BDS, Then a Skewed Letters Section
After the New York Times published a skewed story about the anti-Israel BDS campaign, we detailed how the newspaper's reporters "put their fingers on the scales in support of BDS."
One of the many examples we noted: The authors quoted all of five words by critics of the BDS movement, which seeks to eliminate Israel. (This was alongside over 75 quoted words by the movement and its founders.)
The newspaper hardly did better in its subsequent Letters section, which was likewise skewed in favor of anti-Israel and pro-BDS voices.
In all, three short letters totaling 308 words focused on criticism of the BDS campaign. In the remaining five letters, 815 words were dedicated to defending BDS, attacking Israel, and slamming critics of BDS.
So the final words of our critique of the Times news story bear repeating, this time about the Letters section:
If the BDS movement's few successes were "public-relations victories," as the Times put it, perhaps it is only because they have people in the media who serve as good PR agents. The New York Times reporters might want to consider how they fit in to this.
Posted by gi at 10:58 AM | Comments (0)
July 24, 2019
CNN Calls House's Unifying Anti-BDS Vote 'Divisive'
Yesterday, in an overwhelming vote of bipartisan support, the House of Representatives voted 398 to 17 to adopt a resolution opposing the anti-Israel BDS (boycott, divest, sanctions) campaign. Yet, CNN's headline casts the unifying vote as divisive, stating: "House approves resolution opposing Israel boycott movement in divisive vote."
As CNN's Ashley Killough and Clare Foran rightly reported in the accompanying text:
The House of representatives on Tuesday voted to approve a non-binding resolution that opposed the boycott movement against Israel, a measure that won broad bipartisan support but faced pushback from some high-profile progressives.
AP's headline underscored: "House opposes Israel boycott in bipartisan vote."
CAMERA has contacted CNN to request a correction. Stay tuned for an update.
Posted by TS at 07:44 AM | Comments (0)
July 09, 2019
NY Times Cites Poll, Hides Palestinian Support for Violence
The New York Times has struggled to accurately describe polls this year. In January, editor Jonathan Weisman misrepresented Pew polling data to describe a nonexistent surge in Israeli support for the United States under President Trump.
In March, David Halbfinger, the newspaper's bureau chief in Jerusalem, took liberties with another Pew poll, again in order to cast Israelis in a negative light.
The newspaper did somewhat better in today's article, by Isabel Kershner, about a decrease in Palestinian protests. Kershner points to a recent poll to help give readers a sense of Palestinian attitudes toward "nonviolent resistance."
"An opinion poll by the Ramallah-based Palestinian Center for Policy and Survey Research in June found that only 23 percent of Palestinians saw nonviolent resistance as the most effective way of achieving statehood," she wrote. And indeed, the July poll did include such a finding. But that's a very partial account of the poll.
In the context of Kershner's piece, which refers to a "lull in grass-roots protests" and a "relative calm" that the author attributes in part to "war weariness" on the part of the Palestinians, and which spotlights Palestinians who are more interested in jobs than demonstrations, the poll finding seems to be evidence of Palestinian abandoning their belief in conflict.
But a closer look at the survey itself, by the Palestinian Center for Policy and Research, tells a very different story. In part, the reason a relatively small proportion of Palestinians support nonviolent protest is because a relatively large proportion support armed violence.
The poll found that
• "34% prefer waging 'an armed struggle against the Israeli occupation.'"
• "38% think armed struggle is the most effective means" of achieving statehood.
• "38% chose armed struggle" as the most effective means of ending the occupation.
• "47% support a return to an armed intifada"
In other words, depending on how the question is worded between one third and one half of the population support violence against Israel—violence that has typically involved attacks on civilians. This is no less relevant, and perhaps more important for reader understanding of the conflict, than the finding shared by the Times about low levels of support for nonviolent resistance.
But the newspaper ignored the more incriminating poll results that contextualize the finding Kershner shared and shine a light on Palestinian views in general. Why?
Posted by gi at 04:06 PM | Comments (0)
June 10, 2019
Not a Scoop: 448 Days Later, NY Times Reports Slur by Palestinian Leader
In January 2016, on the day Israel buried a pregnant woman stabbed to death by a Palestinian terrorist, the U.S. Ambassador to Israel publicly criticized what he viewed as a double standard in Israelis law enforcement that allows for "unchecked" vigilantism in the West Bank. Israel's prime minister responded that the remarks were "unacceptable and incorrect." (The ambassador later expressed regret for the timing of his comments.)
It took the New York Times only hours to report that the Israeli prime minister had critiqued the U.S. ambassador to Israel, and four days to slam that critique as "unusually personal and unfair" in an editorial.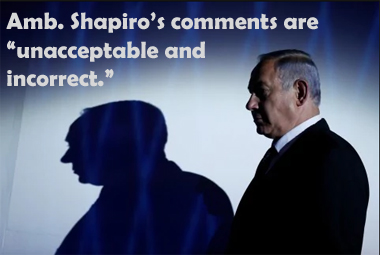 Two years later, in March 2018, the Palestinian leader slurred the American ambassador as a "son of a dog."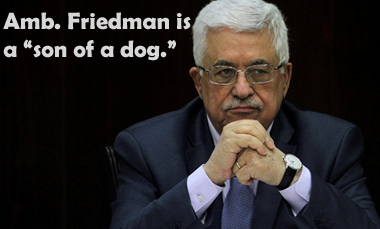 The time it took for the newspaper to report on that "unusually personal" slur can also be counted in days: 448 in all.
Yes, well over a year after Mahmoud Abbas hurled curses at Ambassador David Friedman's mother, the New York Times has finally ended Abbas's undiplomatic immunity and printed his words for all to see — even if only because Friedman recounted them in an interview with the newspaper.
It wouldn't be "unusually personal and unfair" to point out that this wasn't a scoop by the New York Times.
For our original coverage of the Times double standard relating to the ambassadors' statements, see here.
Posted by gi at 12:08 PM | Comments (0)
June 09, 2019
CNN's Zakaria Indulges Palestinian Propagandist Hanan Ashrawi
Fareed Zakaria's weekly Cable News Network (CNN) program (grandiosely named "Global Public Square") June 9 broadcast included a discussion of the current U.S. Middle East peace plan with guests Hanan Ashrawi (Palestinian Authority official) and Dan Senor (Republican Party foreign policy adviser). Video of the broadcast does not seem to be available online — at least not readily available — but one can read an accurate transcript of it.
The peace plan, only in an early planning stage now (but already rejected by Ashrawi and her fellow Palestinian leaders), puts forth a $50 billion, 10-year investment plan for the Palestinian Authority (PA), Jordan, Egypt and Lebanon, with more than half for the PA.
Note that Ashrawi is the only known professing Christian in the otherwise Muslim Palestinian Legislative Council of the PA under Mahmoud Abbas. As a fluent speaker of English, she has often acted as a spokesperson for the PA. Ashrawi, although lauded in the West as a voice for peace and moderation, has, among other numerous blameworthy utterances (more below), endorsed the murder of Israeli soldiers and Jewish settlers.
None of Ashrawi's several misleading claims were challenged.
Key excerpts
Zakaria cued Ashrawi: "The outlines [of the plan] appear to be [that] the Palestinians are given a certain amount of resources for economic development … but not the core demands of statehood …"
Predictably, Ashrawi rejected the plan which would bail out the PA ruled West Bank Palestinians who are in dire economic straits. The PA has other fish to fry — a nationalism-cloaked generally Islamism-based agenda (more below).
Ashrawi resorted to typical verbiage for her,
This [American] administration has unilaterally taken concrete steps on the ground that are totally prejudicial and illegal and that are preventing any kind of viable or any kind of legal or any kind of acceptable peace plan.

The issue of Jerusalem, the issue of refugees, the annexation of the Golan, the total defunding of the Palestinians [of millions of American taxpayer dollars] … legalizing settlements, all these are steps and positions that are illegal … [and] in a very, very patronizing and racist way [such] that the Palestinians are on probation.

Senor commented,

[T]his is in the context of the gradual soft normalization that's going on between the Israeli government and Arab governments throughout the Sunni world… It's debatable whether or not the Palestinian leadership is the future or the past. We're [United States] going to get this process going. They'll [Palestinian rulers] either show up or they won't… [But] aren't young Palestinians going to look at that and say why aren't we part of this?

Zakaria asked Ashrawi: "Is it possible that the Sunni Arabs are now aligning themselves so closely or increasingly closely with Israel that they will not spend a lot of time, energy or political capital defending some core demands of the Palestinians and instead be more interested in better relations with Israel?"
Ashrawi responded,
Well, this is one way in which this American administration has been trying to reward Israel, to normalize Israel within the Arab world, to deliver to Israel the Arab world and at the same time to maintain its occupation. If anybody has any knowledge of the context of the history of the core issues they will understand that no Arab leader, no matter how autocratic, is going to accept first of all Israel's annexation of Jerusalem or the negation of Palestinian refugee rights, or maintaining the Palestinians under occupation.
Debunking Ashrawi's propaganda
Ashrawi issues a litany of falsehoods and distortions claiming illegality and racism by the United States related to the issues of financial grants, annexation of the Golan, status of Jerusalem, "occupation," West Bank Jewish settlements and refugee rights.
• Ashrawi falsely and preposterously claims that the U.S. termination of millions of dollars in grants to the Palestinians is illegal.
Continue reading "CNN's Zakaria Indulges Palestinian Propagandist Hanan Ashrawi "
Posted by MK at 07:17 PM | Comments (0)
May 31, 2019
After Broadcasting Holocaust Denial, AJ+ Feigns Innocence
After Al Jazeera created and posted a video questioning "the truth of the Holocaust," officials at the Qatari media giant took a page from the New York Times' book, blaming employees who were working "without due oversight." (The Times had blamed its recent anti-Semitic cartoon on "a single editor acting without adequate oversight.")
The video, by Al Jazeera's pseudo-progressive AJ+, dismissed the Nazi murder of six million Jews as dubious "Zionist claims." According to a translation by MEMRI, the video claimed that
the number of victims of the Holocaust remains one of the most prominent historical debates to this day. People are divided between those who deny the annihilation, others who think that the outcome was exaggerated, and others yet who accuse the Zionist movement of blowing it out of proportion in the service of the plan to establish what would later be known as the 'State of Israel.'
According to an article on Al Jazeera's website, "Dr. Yaser Bishr, Executive Director of Digital Division, stated that Al Jazeera completely disowns the offensive content in question and reiterated that Al Jazeera would not tolerate such material on any of the Network's platforms."
But that's not true. It has long tolerated Holocaust denial, and has played an important role in spreading it. In 2009, for example, Al Jazeera broadcast Yousef Al-Qaradawi's speech about Hilter's "punishment" of the Jews: "By means of all the things he did to them—even though they exaggerated this issue—he managed to put them in their place. This was divine punishment for them."
"Allah willing, the next time will be at the hand of the believers," Qaradawi continued.
Al Jazeera viewers were also treated to Qaradawi calling for a new genocide: "Oh Allah, Take This Oppressive, Jewish, Zionist Band Of People; Oh Allah, Do Not Spare A Single One Of Them; Oh Allah, Count Their Numbers, And Kill Them, Down To The Very Last One."
In 2007, Al Jazeera aired broadcast a speech by Hamas leader Khaled Mashal in which he delivered a similar message to the AJ+ Holocaust-revisionism video: "I want to make it clear to the West and to the German people, which is still being blackmailed because of what Nazism did to the Zionists, or to the Jews. I say that what Israel did to the Palestinian people is many times worse than what Nazism did to the Jews, and there is exaggeration, which has become obsolete, regarding the issue of the Holocaust. We do not deny the facts, but we will not give in to extortion by exaggeration."
So much for Yaser Bishr's claim that Al Jazeera "would not tolerate" Holocaust denial. See more at MEMRI.

Posted by gi at 10:35 AM | Comments (0)
May 29, 2019
In Robert Bernstein Obit, AFP Inappropriately References His Judaism
In its obituary yesterday for American publisher Robert Bernstein, Agence France Presse inserted an inappropriate reference to the Human Rights Watch founder who later turned on the organization due to its disproportionate fixation on Israel at the expense of closed societies around the world.
The AFP reported:
In 2009, Bernstein -- who is Jewish -- turned against Human Rights Watch, accusing the organization he helped found in 1978 of being biased against Israel.
How is Bernstein's Judaism relevant to his objections to what he saw as HRW's completely disproportionate and unfounded obsession with Israel, at the expense of focus on closed societies elsewhere?
In the UK, the Editors' Code of Practice states:
Details of an individual's race, colour, religion, gender identity, sexual orientation, physical or mental illness or disability must be avoided unless genuinely relevant to the story.
The only way mentioning Bernstein's religion is relevant in this context is to imply his Jewishness helps explain his turning against HRW - which would be an inherently antisemitic allegation.
Update, 9:10 am EST: Times of Israel Removes Inappropriate Reference to Robert Bernstein's Judaism
Posted by TS at 01:48 AM | Comments (0)
May 14, 2019
Rashida Tlaib Says Palestinians "Provided" Jewish Haven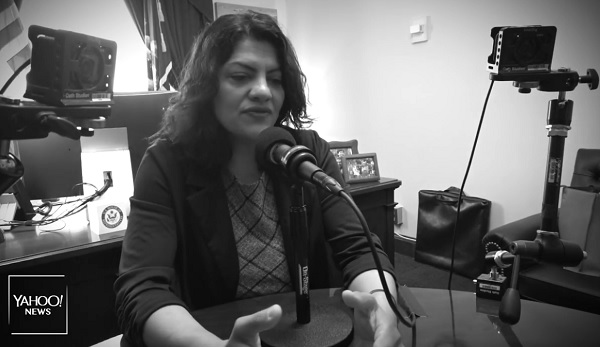 As is often the case in politics, much of the back and forth over Rashida Tlaib's latest inflammatory comments — this time about the Palestinians and the Holocaust — seemed to be about partisan point-scoring more than the basic accuracy of her claims.
No, Tlaib didn't say that the Holocaust per se makes her feel good.
And no, criticism of Tlaib's comments isn't driven by a smear campaign motivated by her religion, skin color, or party affiliation.
In her appearance on the Skullduggery podcast, Tlaib promoted the argument that her Palestinian ancestors suffered "in the name of trying to create a safe haven for Jews" after the Holocaust. She also said she got a "calming feeling" when thinking about the Holocaust because, in her words, "I love the fact that it was my ancestors that provided that [safe haven] — right? — in many ways."
But as many critics pointed out, Tlaib's revisionist account of history conceals and upends what actually happened. In the Atlantic, Benny Morris reminds readers that, far from "providing" shelter, the Palestinian leadership violently opposed a safe haven for Jews, and even collaborated with Hitler:
The Palestinians indirectly, and in some ways directly, aided in the destruction of European Jewry.

After Hitler's accession to power in Germany in 1933, German and then Eastern European Jews sought escape and safe havens. But all the Western countries, including the United States and Britain and its dominions, closed their doors to significant Jewish immigration. Palestine emerged as the only potential safe haven. In 1932, the British allowed 9,500 Jews to immigrate to Palestine. In 1933, the number shot up to 30,000, and in 1935, it peaked at 62,000.

But from 1933 onward, Palestine's Arabs—led by the cleric Muhammad Haj Amin al-Husseini, the grand mufti of Jerusalem—mounted a strident campaign to pressure the British, who governed Palestine, to bar all Jews from entering the country. To press home their demand, in 1936 they launched an anti-British and anti-Zionist rebellion that lasted three years. Apart from throwing out the British, the rebellion's aim was to coerce London into halting all Jewish entry into Palestine.

Moreover, the anti-Jewish violence, which claimed the lives of hundreds of Jews and wounded many more, itself served to deter would-be emigrants from seeking to move to Palestine. British entry certificates for Jews to Palestine declined to 30,000 in 1936, 10,000 in 1937, and 15,000 in 1938. Those who couldn't get in were left stranded in Germany, Poland, Hungary, and elsewhere. Almost all died in the Holocaust, which the Germans unleashed in 1941.

But the Palestinians' contribution to the Holocaust was also more direct. Husseini, having fled Palestine during the revolt, helped pro-Nazi generals launch an anti-British rebellion in Iraq in 1941 (which itself engendered a large-scale pogrom against Baghdad's Jews, the Farhoud). When that rebellion failed, he fled to Berlin, where he was given a villa and a generous monthly salary, and lived in comfort until the end of the world war. During the war, he helped recruit Muslims from the Balkans for the German army and the SS, and in radio broadcasts exhorted Middle Eastern and North African Arabs to launch jihad against the British and "kill the Jews."
Posted by gi at 03:50 PM | Comments (0)
April 30, 2019
Professor John Quigley Falsely Condemns Israel and U.S. Support in His Syndicated Column
In his widely distributed April syndicated opinion piece mainly about ISIS, the Islamist terrorist entity, John B. Quigley, an Ohio State University law professor, argues that claims of an imminent ISIS resurgence in the Middle East "are overblown" but this is likely to change if U.S. support of Israeli actions continues. Clearly, this is nonsense. It's well known that ISIS is driven by the goal of creating  a worldwide Islamic caliphate. What stands in the way of this is opposing persistent armed force and effective military intelligence. 
In his concluding statement he echoes the false "war crimes" charge against Israel and makes other dubious claims:
Trump unfortunately has a knack for giving ISIS issues to use to incite against the United States. Last year, as Israeli snipers shot 6,000 Palestinian protesters along the Gaza border — shootings that the UN called "war crimes" — Trump insisted that Israel was doing nothing wrong.

Last May, Trump moved the U.S. Embassy in Israel to Jerusalem, a city that few in the Arab world see as belonging to Israel. More recently, Trump said that Israel owns the Golan Heights, which it seized from Syria in 1967. Actions like these are a gift to ISIS.

Even though ISIS is weakened, it remains a force. We should stop helping it recruit.
Quigley echoes the U.N. Human Rights Council's charge of "6,000 Palestinian protesters" shot (over a period of time) at the Gaza Strip border. But the accuracy of this charge is unreliable. Note that UNHRC has received widespread international criticism for its anti-Israel bias. Even its own founder makes this charge.
The false "war crimes" charge against Israel is not new. But Israeli tactics and actions have not changed since General Martin Dempsey, chairman of the U.S. Joint Chiefs of Staff in 2014, reacting to similar false war crimes charges, commended Israel: "I actually do think that Israel went to extraordinary lengths [in the Gaza Strip] to limit collateral damage and civilian casualties." Likewise, Colonel Richard Kemp, a former commander of British forces in Afghanistan, testified on Sept. 4, 2014 about Operation Protective Edge [Gaza], and basically reiterated his testimony about a previous such operation before the U.N. Human Rights Council in October 2009: "During Operation Cast Lead, the Israeli Defense Forces did more to safeguard the rights of civilians in a combat zone than any other army in the history of war."
In his zeal to vilify Israel and U.S. policy, Quigley grossly exaggerates any negative impact of the U.S. embassy move to Jerusalem and U.S. recognition of Israeli sovereignty over the Golan Heights. The embassy move generated no noticeable violence anywhere except among Palestinians and even that didn't last long. And anyway, the majority of Palestinians are quick to anger about nearly anything American or Israeli thanks to cradle to grave incitement by their political and Islamist religious leaders.
The Golan Heights matter caused little if any outrage in the Arab world although it riles Quigley. Even the New York Times, generally quick to criticize Israel for any perceived infraction, reported that the U.S. declaration "was met across much of the Arab world with a shrug." But Quigley thinks he knows better. The Times also noted that the 22,000 Arabs inhabiting the Heights are "Arabs from the Druze sect who mostly retained Syrian citizenship and avoided politics. The area has avoided the violence that has riled the Palestinian territories. Israel offered the Arab residents citizenship, but few have accepted it."
This is not the first time Quigley has falsely characterized Israeli actions (more below).
Continue reading "Professor John Quigley Falsely Condemns Israel and U.S. Support in His Syndicated Column "
Posted by MK at 01:11 PM | Comments (0)
April 17, 2019
New York Times Adopts Erroneous 'Palestine' Terminology
In two recent articles, The New York Times has incorrectly referred to the present day West Bank or Gaza Strip as "Palestine," contrary to Times style. References to modern "Palestine" in the West Bank and Gaza are inaccurate, and those areas should be referred to as the West Bank and Gaza Strip, or, where, appropriate (in the West Bank), "Palestinian Authority territories."
First, a book review by Jouman Khatib errs, stating "When [author Isabella] Hammad, 27, first visited Palestine six years ago. . . "
In addition to appearing online, the article also appeared April 4 in the Books section, then again April 5 in the New York edition, and a third time April 11 in print in the International New York Times.
A separate online article ("She was forced to marry in Bangladesh . . .") likewise errs: "As of mid-March, 73 women had stayed at Asiya -- all immigrants from Bangladesh, Egypt, Pakistan, Palestine, Syria, or Yemen . . . "

In August 2017 and in December 2016, The New York Times commendably corrected this identical error. Other media outlets which have corrected in the past include National Geographic, The Los Angeles Times (screen capture below), and Voice of America.
Posted by TS at 03:41 AM | Comments (0)
April 04, 2019
The New York Times' Slow Reaction to Hamas Crackdown on Palestinian Protesters
The New York Times took a slight jab at Hamas, the terrorist organization that rules the Gaza Strip, in a recent story about Hamas's crackdown on Palestinian protesters who spoke out against its policies in Gaza.
The March 24 story, which points out that Hamas beat protesters and journalists and arrested about 1000 of its citizens, made a point of contrasting the government's "assiduous" reporting on casualties during violent anti-Israel riots with its silence about those injured during the internal protests:
Gaza's Health Ministry, which has assiduously reported on the nearly 200 Palestinians killed and thousands wounded by Israeli troops during often-violent protests along the fence dividing Gaza from Israel, has not reported the number injured by Hamas in quelling the protests.
Indeed. What the Times doesn't tell you, though, is that it's guilty of the very same discrepancy.
While the newspaper gave some press to last year's anti-Israel protests already during the planning stages, days before rioters first gathered on the Israel-Gaza border, its March 24 story was the first time the reporters seriously covered the Hamas crackdown, which had been going on for two weeks with hardly a passing mention.
Here's a (partial) timeline that shows when Times reporters, eventually, decided to run a story on the violence:
• March 10: Hamas arrests, and reportedly tortures, 13 Palestinian activists planning the demonstrations.
• March 14: The protests and crackdown begin. The Associated Press covers the story, noting that "Videos circulated on social media showed police firing live rounds in the air, beating protesters and hauling them into police vehicles."
• March 15: Haaretz reports on "Hamas police officers shooting, beating and arresting protesters, as well as detaining journalists and human rights activists," and CBS News is among the news outlets worldwide picking up AP coverage about how Hamas "violently broke up a rare protest by demonstrators angry about the dire living conditions in Gaza."
• March 16: AP, China's Xinhua, and Palestinian reporters in the West Bank are among those reporting on the unrest.
• March 17: Reuters and the Jerusalem Post are among those covering the crackdown and noting that the UN's Special Coordinator for the Middle East Peace Process strongly condemned the "campaign of arrests and violence used by Hamas security forces against protesters, including women and children, in Gaza over the past three days" and the "brutal beating" of reporters and rights activists.
• March 18: Amnesty International decries "beatings, arbitrary arrest and detentions, and torture and other forms of ill-treatment since 14 March." In the UK, the Telegraph reports serious injuries as "videos appeared to show officers clubbing unarmed protesters."
• March 19: AP, CNN, NPR, Al Jazeera, the Independent, and Ma'an are among those covering the Hamas violence.
• March 20: Human Rights Watch publishes a report and
Hamas itself acknowledges the story, apologizing " for any psychological or material harm inflicted on any Palestinian citizen."
• March 21: On the Opinion pages, a New York Times columnist criticizes his own newspaper's failure to cover the crackdown, saying it, and the Western press in general, "for too long has been depressingly incurious about any form of Palestinian suffering for which Israel cannot be held responsible."
• March 22: etc...
• March 23: etc...
• March 24: ... and finally, the news pages of the paper that promises "all the news fit to print" gets around to writing a story about the crackdown.
Why so slow? See the March 21 entry above.
Posted by gi at 03:08 PM | Comments (0)
April 03, 2019
CNN's Zakaria Deals With U.S. Proclamation Recognizing Golan As Part Of Israel
Fareed Zakaria hosted an eight-minute discussion of the Golan matter at the end of his weekly (weekend) program, "Global Public Square " (GPS) hour-long Cable News Network (CNN) broadcast. The broadcast, on both CNN and CNN International, aired on March 30, Saturday, with repeats on Sunday.
In his introductory comments in the Golan segment, Zakaria claimed that there is a question "about the legality of that gift [President Trump's proclamation recognizing the Golan Heights as part of Israeli territory]." However, he failed to elaborate on what he meant by the "legality" question. Presumably he hoped that either of his quests would pick up on it but that didn't happen.
Zakaria discussed the matter with Peter Beinart, author and commentator, and Einat Wilf, author and former Israeli politician who served as a member of the Knesset (parliament) and had previously served as an Israeli military intelligence officer.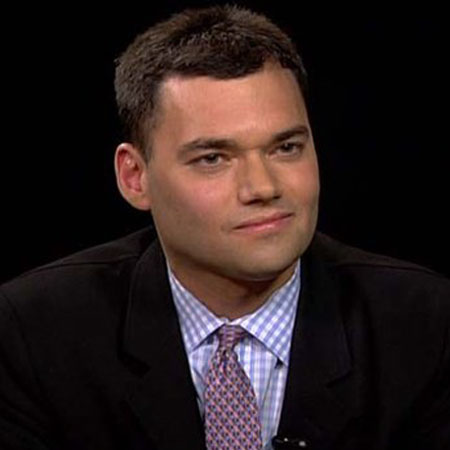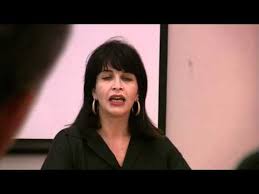 Beinart, persistent critic of the Jewish state, has routinely authored error-laden commentaries disparaging Israel's policies toward the Palestinians.
The segment featured an interchange of views in which Beinart criticized the recognition of Israel's sovereignty in the Golan, saying that "[While] nobody thinks that Israel is going to give back the Golan Heights to Syria during a civil war… there are two dangerous precedents. The first is the notion that if you take territory by force, you can keep it, which the Russians are already saying is a precedent for what they've done in Crimea. The second is the precedent that Israel might apply this to the West Bank to annex parts of the West Bank, settlements in the West Bank."
Wilf disagreed, saying, "The only precedent that was set was that Syria and other Arab actors were allowed to operate for decades with zero consequences for aggression. Syria could invade Israel, refuse to recognize Israel, refuse to set an international border, use the plateau of the Golan Heights in order to shell down on Israeli civilians, host terrorist organizations that were responsible for some of the worst attacks on Israeli civilians."
Beinart expressed disagreement with Wilf's assessment on precedents and noted that the proclamation "was a blatant American interference in the Israeli election … if we want people to stay out of our elections, we should stay out of their elections." Beinart here had the last word.
This seems like generally good advice although overstated (at the least) or misplaced in this instance. This advice seems applicable to the 2015 Israeli election. The interference, at that time intended to hurt the chances of the prime minister, has been documented by, among others, the Washington Post. Unsurprisingly, there's no indication that Beinart has ever complained about U.S. interference in that Israeli election.
The inadequacy of the discussion
Wilf was not able to provide adequate balance mainly since Beinart was allowed to dominate, including having the last word. Viewers could have been informed of the historical/biblical aspect of the Golan. The ancestors of today's Jewish Israelis resided in the Golan long before any Arabs or any Muslims arrived in the area. Evidence of this is found in the Bible; references to the Golan are contained in Deuteronomy 4:43, Joshua 20:8, Joshua 21:27 and 1 Chronicles 6:56. The region known today as the "Golan Heights" was a part of the area of Bashan in the territory assigned to the Israeli tribe of Manasseh thousands of years ago. Furthermore, there is no reason to believe that these ancestors ever willingly relinquished their rights to the land.
Zakaria's legality point
Zakaria might be referring to the claims that Israeli sovereignty over the Golan Heights violates international laws and resolutions condemning the acquisition of territory by war. But these condemnations apply only to offensive wars. Israel had seized the Golan in the defensive Six-Day War of 1967. The Syrian military had repeatedly used it to shell the Galilee area of Israel from the Golan high point putting Israeli population centers in jeopardy. Currently, if Israel were to lose control of the Golan, the Galilee would be undefended against the predations of Iran which is intent on destroying the Jewish nation-state.
As legal scholar Alan Dershowitz observed recently, "No country in history has ever given back to a sworn enemy, militarily essential territory that has been captured in a defensive war" (Alan M. Dershowitz, "Trump Is Right about the Golan Heights," Gatestone Institute, March 30, 2019).
CNN and Zakaria are problematic
Fareed Zakaria is not the best person, given his problems regarding Israel, to host such a discussion although he was relatively muted here. Zakaria has demonstrated a compulsion to view Israel darkly, regardless of facts. In 2015 he implicitly equated the Irgun group to ISIS, the Islamist terrorist organization. Irgun was a Jewish underground military organization in 1945-1948 that fought to establish a Jewish state while usually managing to avoid non-combatant casualties. Previously he had cast the Lebanese terror group, Hezbollah, as a model of religious tolerance. Additionally, in 2014 his journalism ethics were called into question when he was caught plagiarizing.
On CNN, given its dismal record regarding coverage of the Israeli-Arab conflict, as well as the predilections of Zakaria and Beinart, the Jewish state could have come off worse here. But the broadcast still managed to mislead viewers.

Posted by MK at 07:53 PM | Comments (0)