April 27, 2016
Freedom House Declares Free Newspaper a Threat to Free Press in Israel
Sheldon Adelson, Chairman and CEO of Las Vegas Sands Corporation, publishes a free newspaper in Israel.
Freedom House, which produces reports about the status of civil society in countries throughout the world, has downgraded Israel in its annual report about press freedom. (This report is not to be confused with its reports on civil society in countries throughout the world, but deals only with freedom of the press.)
Last year, Freedom House placed Israel's press in the "free" column, but this year it was included in the "partly free" category. The reason for the downgrade is as follows:
Israel declined due to the growing impact of Yisrael Hayom, whose owner-subsidized business model endangered the stability of other media outlets, and the unchecked expansion of paid content—some of it government funded—whose nature was not clearly identified to the public.
This assessment is simply incomprehensible. Yisrael Hayom is a free newspaper owned by Sheldon Adelson. When Freedom House laments that the newspaper has an "owner-subsidized business model," it is using gobbledygook to condemn Adelson for what numerous other publishers have done throughout history — pay for the production and printing of a magazine or newspaper without making any money off of the publication.
At point, Si Newhouse reportedly lost upwards of $100 million on The New Yorker. Did his decision to keep spending money on the magazine in an effort to increase its readership reduce press freedom in the United States? Really?
Most people regarded Newhouse's financial commitment to the magazine as a good thing, not an assault on press freedom. Why doesn't Adelson get the same treatment?
Continue reading "

Freedom House Declares Free Newspaper a Threat to Free Press in Israel

"
Posted by dvz at 02:20 PM | Comments (1)
April 26, 2016
Israel's Syrian Reactor Strike Slowed a N. Korean-Iranian-Jihadi Bomb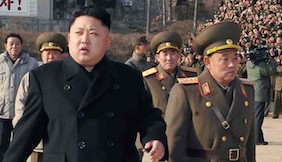 "The fact is that the United States dodged a bullet in Syria—and, it's worth stressing, all courtesy of the Israelis." So writes John Hannah, former national security advisor to Vice President Richard Cheney and now a senior counselor at the Foundation for the Defense of Democracies, a Washington, D.C. think tank.
In "It's the Proliferation, Stupid," an April 25, 2016 article for Foreign Policy online, Hannah notes North Korea's preparation for a possible fifth nuclear weapons test. His country cash, food and fuel-starved, Kim Jong Un might sell "part of his ever-expanding nuclear arsenal to other rogue actors that mean us harm."
Given that "North Korea has for decades sold missiles and missile technology to any state willing to pay," nuclear weapons proliferation could be next, according to Hannah. He notes that Pyongyang's "military relationship with the Islamic Republic of Iran, in particular, has been longstanding and deep."
He adds that "Iran's most deadly terrorist proxy, Lebanese Hezbollah, has also been an important recipient of North Korean military assistance. The North provided critical support to help Hezbollah build a massive network of underground military installations, tunnels, bunkers, depots and storage facilities in southern Lebanon," while helping Hezbollah, via Iran, build its huge missile arsenal aimed at Israel.
So imagine if Israel had not destroyed Syria's Al-Kibar reactor in 2007 and it now was producing nuclear material for either dictator Bashar al-Assad or one of his enemies in the Syrian civil wars, perhaps the Islamic State.
'Chilling' evidence
Hannah recalls the day in 2007 that the director of Israel's Mossad intelligence agency, the late Meir Dagan, briefed President George W. Bush and Vice President Cheney. Dagan revealed "chilling" evidence that in the desert east of Damascus, "North Korea was covertly building a plutonium-producing nuclear reactor" more or less a replica of its own "at Yongbyon, which formed the centerpiece of its weapons program.
"Making matters worse, Al-Kibar was perilously close to completition." Once the reactor became operational, attempting to destroy it "would run a high risk of dispersing deadly radioactive materials that could poison thousands of innocent civilians," Hannah writes.
"The U.S. intelligence community had totally missed Al-Kibar. It was completely taken aback by Dagan's stunning revelations," he adds. Israel's discovery and attack "was almost certainly the only means of ensuring the reactor never went hot."
Now, "the North is seeking to perfect precisely those elements of its military nuclear arsenal that Iran has yet to develop: the testing of an actual bomb; warhead miniaturization; reentry technology; and a functional ICBM [intercontinental ballisitic missile]," Hannah says. "The potential for synergy between these two rogue states and longtime proliferation partners is more than obvious."
Meanwhile, "no doubt less likely—but who's to say impossible?—is the risk that North Korea, for the right price and perhaps in cahoots with the Russian mafia or another anti-Western power, might be tempted to share some of its nuclear know-how with the likes of the Islamic State or some other jihadist non-state actor that's focused on staging a terrorist spectacular against the West."
Given his country's proliferation record and anti-American rhetoric from Kim Jong Un that parallels Islamic State declarations, "one hopes that the American intelligence community is focused like a laser on this element of the North Korean threat," including the link to Iran, Hannah says.

Posted by ER at 05:07 PM | Comments (0)
April 25, 2016
Harvard Law Record Abandons the First of the Five W's of Journalism

The Harvard Law Record explains why it protected the identity of Husam El-Qoulaq, who hurled an anti-Semitic insult at Tzipi Livni, former Foreign Minister of Israel and current member of the Knesset. Livni appeared as a guest at the school earlier this month when El-Qoulaq insulted her.(Screenshot.)
Journalists are supposed to find out what happened and tell their readers what they have learned. Historically, there have been five questions that reporters are expected to answer, or at least try to answer, when writing about public events. The questions are:
1. Who?
2. What?
3. When?
4. Where?
5. Why?
Apparently, the student journalists at The Harvard Law Record did not get the memo.
When Husam El-Qoulaq, a student at Harvard Law School insulted Tzipi Livni, former Israeli Foreign Minister and current member of the Israeli Knesset, at a public event on Thursday April 14, 2016, (he called her "smelly"), the newspaper initially concealed the El-Qoulaq's identity.
When, on April 18, 2016, Jewish students who attended the event condemned the statement as antisemitic in a letter to The Record, they did El-Qoulaq the undeserved and unwarranted courtesy of withholding his name from their complaint.
This is their right, but The Record to assist in the effort to protect Husam El-Qoulaq's identity is simply disgraceful and runs counter to the demands of journalism. It's a betrayal of the publication's loyalty to the reader.
It's a decision that makes a mockery of The Harvard Law Record's credibility as a journalistic enterprise. Rather than do their job and inform their readers who said what to whom, the staffers at the newspaper withheld this information from their readers. And when students identified El-Qoulaq in the comments section of the article, they deleted these comments. (Eventually, Noah Pollak confirmed El-Qoulaq's identity and posted it on Twitter.)

Continue reading "Harvard Law Record Abandons the First of the Five W's of Journalism"
Posted by dvz at 05:18 PM | Comments (1)
April 20, 2016
HuffPo Gives Platform to Another Anti-Israel Screed
The Huffington Post frequently features anti-Israel pieces. Now it is accusing Israel of abusing social media rights with an article headlined "Israel-Palestine: Social Media As a Tool Of Oppression." The article opens:
Late last year, Israeli police arrested and detained 15-year-old Tamara Abu Laban after storming her house. Tamara's crime? Updating her Facebook status with the words "forgive me" in Arabic. In most places in the world, a cryptic, if not slightly dramatic post written by a teenage girl seeking "likes" from her friends would hardly be cause for reaction. But if you are a Palestinian growing up in Occupied East Jerusalem like Tamara, even a vague and "angsty" personal Facebook status may become grounds for arrest.

Israeli authorities interpreted the post as expressing intent to carry out a violent act of resistance.
No context is provided for why Israeli security would interpret the social media post that way. In fact, deadly attacks have been carried out by terrorists who post about them in advance.
When the article tackles the issue of online incitement to violence, it quickly dismisses the idea that social media activity is connected to Palestinian terror:
Israel alleges that the sharing of online videos played a critical role in the rise of violence in the final months of 2015. However, journalists and human rights organizations have spoken out against policies of censorship that violate freedom of speech.
If HuffPo readers are concerned with freedom of speech on social media, the site should publish articles about the fact that the Palestinian Authority has jailed journalists and others for insulting PA President Mahmoud Abbas.
The article also promotes the meme that Israel is unfairly blocking Palestinian entrance to al-Aqsa mosque:
In 2015 online activists saw their hashtags, photos and videos being shared worldwide and often getting picked up by mainstream foreign media. For example, one of the hashtags trending on Palestinian social media in the months before the October uprising was #it_will_not_be_divided, which aimed to bring attention to Israeli policies preventing Palestinian men and women from entering al-Aqsa Mosque during August and September.
Such measures are matters of security. CAMERA described how organized groups of Palestinian men and women were harassing tourists and visitors to the Temple Mount. As Haaretz reported, "The activity is inflammatory and endangers tourists, visitors and worshippers at the site, leading to violence that could harm human life. The goal of [these groups] is to undermine Israeli authority on Temple Mount, alter reality and existing arrangements and restrict freedom of worship, and it is tied to the activity of hostile Islamist organizations and even directed by them."
Unfortunately, incitement by Palestinian political, religious and cultural leaders –particularly regarding the Temple Mount– has indeed been a factor in the ongoing wave of terror attacks on Jews and others being carried out in Israel.
Multiple times, the Huffington Post article provides links to reports by the International Middle East Media Center --a source that CAMERA has exposed as not credible-- which refer to Israel's detentions of suspicious persons as "kidnappings." HuffPo allows this blatantly unbalanced outlet to be cited as a legitimate source. The article also references the anti-Israel NGO Addameer, which the article describes as "a Palestinian human rights NGO that works to support political prisoners." In fact, as NGO Monitor reveals, Addameer has frequently contributed to the wholesale demonization and delegitimization of Israel on the world stage.
The article is penned by Nadim Nashif, a frequent contributor of anti-Israel articles to Huffington Post and a regular writer for The Electronic Intifada, a "news site" whose anti-Israel rhetoric and propagation of falsehoods has been extensively documented by CAMERA.
Nashif's Huffington Post bio describes him as an educator of Arab youth and the founder/director of Baladna which, according to the Huffington Post, "aims to give Arab Palestinian youth in Israel the skills and resources to effect positive changes in their communities and society."
As CAMERA has reported Baladna encourages its Arab youth to segregate themselves from the Israeli population, in campaigns that, for example, urge Arab teens to spurn volunteering for the IDF because it is "a branch of the occupation army, which has always acted against the Arab-Israeli population and the Palestinian people in general."
The article's blatant lack of balance and rejection of the irrefutable evidence that terrorism is incited and encouraged by Palestinian leaders and lay people through social media is nothing new, as CAMERA has covered numerous times (for example, here and here).
Why doesn't HuffPo insist that their journalists report facts, not fictions?
--Rachel Frommer, CAMERA Intern

Posted by SC at 08:38 PM | Comments (1)
Poll: Getting Facts Right Key to Public Trust in Media
Illustrative image of journalists from Wikimedia Commons
Reporting on the findings of a study by the Media Insight Project, AP writes:
Trust in the news media is being eroded by perceptions of inaccuracy and bias, fueled in part by Americans' skepticism about what they read on social media.

Just 6 percent of people say they have a lot of confidence in the media, putting the news industry about equal to Congress and well below the public's view of other institutions. . . .

Nearly 90 percent of Americans say it's extremely or very important that the media get their facts correct, according to the study. About 4 in 10 say they can remember a specific incident that eroded their confidence in the media, most often one that dealt with accuracy or a perception that it was one-sided.

The news media have been hit by a series of blunders on high-profile stories ranging from the Supreme Court's 2012 ruling on President Barack Obama's health care law to the Boston Marathon bombing that have helped feed negative perceptions of the media.

In 2014, Rolling Stone had to retract a vivid report about an alleged gang rape at a fraternity party at the University of Virginia. The Columbia Graduate School of Journalism, asked by Rolling Stone to investigate after questions were raised about the veracity of the story, called it an avoidable journalistic failure and "another shock to journalism's credibility amid head-swiveling change in the media industry."

"The most important thing that news organizations can do is be accurate, and while we know that is a high value, this study reinforces that," said Margaret Sullivan, public editor of The New York Times.
Continue reading "Poll: Getting Facts Right Key to Public Trust in Media"
Posted by TS at 05:26 AM | Comments (0)
Presspectiva's Amiur Exposes Haaretz Publisher's Bias
Haaretz Publisher Amos Schocken
For years now, CAMERA has been documenting Haaretz biased mistranslations for its English-language readers in a feature called "Haaretz, Lost in Translation." An article by CAMERA Israel Director Tamar Sternthal, entitled "Distorted Haaretz English Translations on the Israeli Political Agenda." explains how CAMERA and its Israeli branch, Presspectiva, have brought the problem to the Israeli public's attention.
Presspectiva Editor Hanan Amiur exposes the extent of Haaretz publisher Amos Schocken's anti-Zionist bias in an article published on "MIDA", an Israeli news magazine focusing on the media. In the article, "Haaretz Publisher Amos Schoken: If Palestinian Stabber is a Terrorist, IDF Soldier is a Murderer," available both in Hebrew and in English. Amior writes about his own communication with Schocken:

Presspectiva asked Amos Schocken, publisher of Ha'aretz, to explain why the paper has systematically concealed from readers of the English edition the fact that the Palestinian who was shot was a terrorist. In response, he referred us to two news items published in the English edition in which the Palestinian was, in fact, described as an "attacker." He also added a more comprehensive explanation: "In many cases, the raw information in Hebrew reaches the editorial staff of the Hebrew and English editions at the same time, and then, the English edition translates it, and each edition edits the item separately. The result is that there are differences in both the wording of the item and the headlines."

Schocken also added a surprising comment, noting that if he has an issue, it is with the editors of the Hebrew edition, who he believes are not sufficiently even-handed in their reporting. "Perhaps the presumption of innocence makes it necessary to be careful about reporting in this way: If they write 'soldier,' then they must write 'Palestinian.' If we ignore the presumption of innocence and write 'terrorist,' then we should write 'murderer.'"
Posted by RH at 04:37 AM | Comments (1)
April 19, 2016
USA Today Prints Palestinian Attacker as Victim—And Refuses to Correct

USA Today omitted essential context in its print coverage by correspondent Shira Rubin of the March 24 shooting of a Palestinian terrorist who attacked Israeli Defense Forces (IDF) in Hebron ("Israeli soldier to be charged in shooting," April 14, 2016). This failure allowed readers to draw the false conclusion that IDF soldiers murdered, without any cause or explanation, an innocent man.
As CAMERA has noted ("Vox's April Fools' Day 'Reporting' on Palestinian Terror Attacks," April 7) on March 24, 2016 two Palestinian terrorists, armed with knives, attacked an IDF checkpoint in Hebron. During the attack, an IDF soldier was stabbed before both terrorists were shot, one of them fatally. Shortly thereafter, the wounded terrorist, Abed al-Fatah al-Sharif, was again shot, this time fatally in the head, by an IDF soldier named Elor Azaria. Azaria later claimed he thought al-Sharif was armed with a vest of explosives that he was attempting to detonate. The incident was filmed by B'Tselem, an anti-government group, and the IDF is investigating.
In its print edition, USA Today reported that Azaria was being charged with manslaughter after he was, "caught on video fatally shooting a Palestinian in the head." Later the paper said, "Video shows the soldier firing on the wounded Palestinian man, Abd al Fattah Yusri al Sharif."
However, the paper failed to explain why al-Sharif was wounded in the first place. No mention was made of the attack that preceded the incident, that another Palestinian assailant was involved and that an Israeli soldier was stabbed before the two perpetrators were shot. Instead, readers were left with the impression that a Palestinian Arab was inexplicably murdered by an Israeli soldier.
USA Today's online version ("Israeli soldier who shot Palestinian to face manslaughter charges," April 14) did note these essential details. It clearly stated, "The military initially said two Palestinians stabbed and wounded an Israeli soldier before troops shot and killed the pair." Unlike the print version, the online article also detailed statements by Israeli officials who criticized Azaria's actions. While not perfect—the online version failed to note B'Tselem's history of anti-Israel distortions (see, for example "B'Tselem Casualty Count Doesn't Add Up," CAMERA, Nov. 2, 2008)—it did offer a more nuanced and detailed accounting of the Hebron shooting as it was understood at the time than the print version.
On April 15, 2016 CAMERA contacted USA Today requesting a correction to the misleading print article, noting that other outlets such as the Times of Israel ("IDF: Enough evidence to charge Hebron solider in killing," April 5) and The Los Angeles Times ("Israeli military battles public furor," April 8), among others, reported that two armed Palestinian Arab men had precipitated their shooting by initiating an attack on IDF soldiers.
In an email response to CAMERA, USA Today refused to correct, although it implicitly acknowledged that the print version of the article did not provide the context that could be found online. The paper claimed, "there is limited space in print to elaborate on all the context of what is often a complicated story, however, we did run a longer version online with further context as you suggested."
USA Today's explanation did not pass muster. The same day that USA Today published its misleading article on Hebron, The Washington Post ran a four paragraph Associated Press brief ("Soldier to be charged in death of Palestinian") on the same topic. Unlike USA Today's print version, it managed to provide the "who" and the "why" that basic journalistic standards require.
Posted by SD at 04:45 PM | Comments (0)
Where's the Coverage? Twenty-Nine German Soldiers Join ISIS
Twenty-nine former German Army soldiers have joined the Islamic State in Iraq and Syria (ISIS), a U.S.-designated terrorist group, according to a German military intelligence report.
Legal Insurrection, an online blog that focuses on antisemitism, legal and political issues, reported that the German military also is investigating "65 suspected jihadists serving as active duty German soldiers ("German Army alarmed at growing Islamist infiltration, as 29 ex-soldiers join ISIS," April 14, 2016)."

Legal Insurrection noted that according to the German newspaper Handelsblatt, "since 2007 German Military Counter-Intelligence Agency (MAD) has investigated 320 active duty soldiers for having suspected links to Jihadist circles. The newspaper also confirmed that until recently no background checks were done on soldiers handling combat equipment. The screening was only limited to soldiers accessing classified materials."
An estimated 700 Germans have left to join ISIS, 100 of them women. Legal Insurrection said that approximately 800 jihadists have returned or attempted to return to Germany from the battlefields of Iraq and Syria. Hans-Georg Maassen, the head of Germany's domestic intelligence agency, the Federal Office for the Protection of the Constitution, has claimed that there has been a "sharp increase" in the number of women under 25 leaving the country to join ISIS.
The reports of members of the German military joining ISIS come after an increase in terrorist attacks on the European continent.
Yet, major U.S. print news outlets largely failed to note reports of German soldiers either defecting or deceiving a country that is a key American ally and NATO leader—after receiving advanced military training from that ally.
A Lexis-Nexis search of USA Today, The Washington Post, The New York Times and The Los Angeles Times showed no mention of the report of jihadist infiltration of the Germany military.
However, in a three paragraph brief, The Washington Times ("Military proposes ways to weed out jihadis," April 18, 2016) informed its print readers that "German counterintelligence officials believe at least 29 former soldiers from the country have left to join the Islamic State…Since 2007, as many as 22 German soldiers have been identified as Islamists and 17 have been fired, the DPA [German news agency] report said."
Legal Insurrection said, "The infiltration of German and other NATO militaries is part of a well laid out plan by the Islamic State. Islamic State has been urging potential recruits in Europe to get military training before heading to Iran and Syria."
Islamist terror groups previously have used knowledge and skills they picked up from the U.S. military. Ali Mohamed, one of the founding members of al-Qaeda, the U.S.-designated terror group that among other acts perpetrated the Sept. 11 2001 attacks on the World Trade Center, Pentagon and Flight 93 in Pennsylvania, was a member of the U.S. Army stationed at Fort Bragg, North Carolina. In his 2006 book, The Looming Tower: Al Qaeda and the Road to 9/11, author Lawrence Wright noted that Mohamed wrote terrorist training guides for al-Qaeda, imparting skills he learned from the U.S. Army and elsewhere [Mohamed was a member of the Egyptian Army prior to serving in the U.S. Army] to al-Qaeda. Mohamed's influence extended to the top of the terror network, including its founder Osama bin Laden. Former FBI Special Agent Jack Cloonan called Mohamed "[Osama] bin Laden's first trainer…He taught bin Laden ("The Torture Question: Interview with Jack Cloonan," PBS Frontline, Oct. 18, 2005)."
Whether the ISIS members who defected from the German army will have the sort of influence of Ali Mohamed is an open question—one that many in the news media are failing to ask or even report. Where's the coverage?
Posted by SD at 09:48 AM | Comments (2)
LA Times Ignores Bus Bombing, Covers Charges for Israeli Soldier
The Los Angeles Times, which earlier this year entirely ignored the fatal stabbing of Israeli mother Dafna Meir, and also ignored the Palestinian stabbing attack of Michal Froman, a pregnant Israeli woman who suffered wounds, ignores yesterday's bus bombing in Jerusalem.
According to Lexis-Nexis searches, the print edition has mentioned not a word about the bus bombing in which over 20 Israelis were injured.
It's not that the paper's attention is focused on other regions. In fact, The Times is very much focused on Israel. Today's print edition carries this story about Israel on page 3: "Israeli soldier charged with manslaughter in shooting of wounded Palestinian knife attacker."
And the Israeli government's cabinet meeting on the Golan Heights got over 1,0000 words on yesterday's page 3. On April 3, an Associated Press article about Palestinian clowns working in Gaza hospitals appeared on page 9. But the bombing of a bus in Israel's capital, injuring more than 20? According to Lexis-Nexis, it gets not one word in the print edition.
The Middle East section of the The Times website carries an AP story about the bombing. As of this writing, the Mideast section leads off with the story about the Israeli soldier facing manslaughter charges, prioritizing it over the Islamic State's take over of 70 percent of Syria's Yarmouk refugee camp, which places over 10,000 civilians in danger of starvation.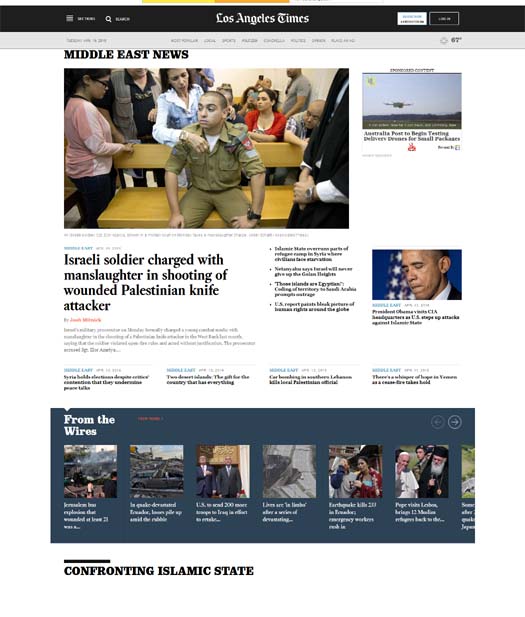 The Los Angeles Times, which just received a Pullitzer Prize for its coverage of terrorism of San Bernardino , falls short in its coverage of terrorism in Israel.
Posted by TS at 04:30 AM | Comments (0)
CNN Fixes 'Bus Fire' Headline
CNN has corrected a headline which hours after Israeli police confirmed that a bomb was responsible for the explosion on a Jerusalem bus continued to refer to a "bus fire."
As CAMERA's Dexter Van Zile tweeted yesterday, the original headline, "Bus fire in Jerusalem injures at least 21, police say," remained unchanged on CNN's site for hours after the police reported on the bomb.
The Algemeiner reported yesterday ("Watchdog Groups Blast CNN for 'Bus Fire' Headline Following Major Terrorist Bombing in Jerusalem"):
Dexter Van Zile, a researcher for the Committee for Accuracy in Middle East Reporting in America (CAMERA), added, "It's universally understood that this was a terrorist attack. CNN needs to get on the shtick and change the headline."
In the wake of the uproar over yet another skewed CNN headline, editors have commendably amended the headline. It now reads: "Bus attack in Jerusalem injures at least 21, police say."
Posted by TS at 03:55 AM | Comments (3)
April 18, 2016
Independent Catholic News Broadcasting Anti-Israel Agitprop
Independent Catholic News, a publication that serves Catholics in Ireland, recently published an article about Israel demolishing a playground in the West Bank.
The main thrust of the article, which was published on April 14, 2016, is that Israel is behaving badly by demolishing the playground. Israel is acting well within the rights accorded to it under the Oslo Accords, which give Israel authority over the area where the playground was built — illegally and without permits — by Palestinians who do not own the land on which it was built.
Moreover, it appears that the Belgian government, which paid for the playground's construction, is aiding an abetting illegal construction by local Palestinians, not to improve the living standards, but to provide a pretext for anti-Israel propagandizing, which sadly enough, the Independent Catholic News fell for.
Here's the background: According to the story, the playground, which was built last year with funds provided by the Belgian government, was demolished on Tuesday April 12, 2016. The playground was located in a village south of Nablus.

Continue reading "Independent Catholic News Broadcasting Anti-Israel Agitprop"
Posted by dvz at 12:41 PM | Comments (0)
Twitter Tries to 'Mute' Hamas

Twitter, the social network, closed an account linked to Hamas, the U.S.-designated Palestinian terrorist group that rules the Gaza Strip, on April 15, 2016.
The Times of Israel reported that Twitter "took unprecedented steps to remove the Palestinian group's influence on its medium ("Twitter shuts account of Hamas spokesman," April 16, 2016)."
In March 2016, Twitter closed the official accounts of Hamas' Izz ad-Din al-Qassam Brigades that were operating in Arabic, Hebrew and English. At the time, the Twitter account of Abu Obeida, Hamas' spokesman, was left untouched. That same day, Obeida used his Twitter account to direct the 196,000 Twitter followers of the al-Qassamite brigades to a new page created for the group.
Although the company closed Obeida's account on April 15, the Times of Israel noted that the Hamas spokesman opened a new account on April 16. The same day, Abu Obeida also created an official account on another social network, Facebook.
Using what was perhaps a veiled threat, Obieda decried Twitter for shutting down his account, saying, "Twitter yielded to the pressure of the enemy, which gives us an impression that it is not neutral in regards to the Palestinian cause and it caves into political pressure."
As CAMERA has noted, Hamas' charter includes a call for the destruction of Israel and genocide of the Jews ("The Facts About Hamas," April 24, 2014). Essayist Paul Berman pointed out in his 2010 book The Flight of the Intellectuals (Melville House Publishing), Hamas' charter and ideology borrow extensively from Adolf Hitler's Nazi Party.
As Politico reported, Twitter has faced criticism from U.S. government officials and non-governmental organizations for not addressing "online extremism."
In February 2016, Twitter announced that since June 2015 it had suspended more than 125,000 accounts for "threatening or promoting terrorist attacks primarily related to ISIS ("Twitter says it's acting against terror groups," Politico, Feb. 5, 2016)."

During the 2014 Israel-Hamas war, Twitter shut all accounts associated with Hamas' armed operations. However, the al-Qassam brigades opened new accounts "almost immediately."
Speaking of the latest shutdown, Abu Obeida vowed, "We are going to send our message in a lot of innovative ways, and we will insist on every available means of social media to get to the hearts and minds of millions."
For the moment, it seems that Hamas can once again Tweet its "message" of terrorism and genocide.
Posted by SD at 11:42 AM | Comments (0)
Haaretz Validates Bernie with Bad Information
Bernie Sanders's anti-Israel comments at April 15's presidential debate -- he insisted that Israel's military action in Gaza in 2014 was "a disproportionate attack" -- were met with a media storm of praise. From Vox to The New Yorker, Sanders was praised for "breaking the taboo" on the approach of the United States to Israel. Perhaps most egregious in its coverage was Haaretz, stating flat-out and erroneously in the headline, "Bernie Sanders Got It Right. Israel Did Use Disproportionate Force in Gaza." The article was riddled with factual misrepresentations and inaccuracies that seek to validate Sanders' comments.
Proposing to detail "What really happened in Gaza," Haaretz leans on sources that are less than credible:
According to the Association of International Development Agencies (AIDA), a coordination body of over 80 international NGOs, Protective Edge "caused the most acute humanitarian crisis in Gaza in at least the past 50 years." In 2015, the Associated Press looked into 247 Israeli airstrikes that hit residential compounds during the war, and found that over 60 percent of those killed during the attacks were children, women and older men, all of them most likely civilians. The airstrikes devastated Gaza to such a degree that in September a UN report warned that by 2020 Gaza could become "uninhabitable."

A number of hospitals were indeed bombed during the war, as Sanders points out. Israel claims they served as Hamas strongholds, and were used as launch sites for rocket attacks. Schools were also hit, as were refugee camps. (Gaza itself, crumbling under the weight of a suffocating eight-year blockade and three devastating wars and 50 years of occupation, is arguably the world's largest refugee camp.)
AIDA states its mission is to "better address the rights of the Palestinian people," but harbors the broader goal of demonizing and delegitimizing Israel in the international arena, as the NGO Monitor reveals. Many of the organizations on AIDA's member list are active BDS supporters and known for having a distorted perspective on Israel. One member, Islamic Relief Worldwide, was declared to be illegal by Israel's Defense Minister due to its financial support of the terrorist organization Hamas. Other well-known anti-Israel organizations that are part of AIDA include CARE International, Oxfam, and the Carter Center. As CAMERA has reported, here, here, and here, these NGOs and their leadership do not take a balanced, truthful approach when it comes to Israel. Yet, Haaretz cites as evidence the statement made by AIDA.
As for the 2015 AP report quoted, The Observer revealed that the AP relied on Hamas officials for information on figures and details of circumstances, arguing points that keep entirely to the Hamas script. The Observer's headline and subhead say it all:
How the AP Botched Its Investigation of Civilian Deaths in the Israel-Hamas War

Posed photographs. Intentional miscategorizations. Buried corrections. One-sided sourcing. Cherry-picked quotes. And a just-plain-wrong conclusion about "most" Gaza casualties being civilians.
Haaretz refers to the Hamas-admitted facts that the terrorist group launches attacks from hospitals and schools as mere Israeli "claims," before stating that Gaza has been suffering under "50 years of occupation," even though Israel withdrew entirely from Gaza in 2005.
Haaretz professes to be making statements of fact, but the newspaper's description of Israel's military action in 2014 fails to hold up to journalistic guidelines of doing due diligence in checking sources. Relying on shoddy information, Haaretz comes to the mistaken conclusion that while Israel has a right to defend itself, "Bernie Sanders Got It Right" that Israel had a "policy" of disproportionate response in 2014.
Why is the political rhetoric of Bernie Sanders, and Haaretz's endorsement of it important? Because use of "disproportionate force" is a war crime. And in the case of Operation Protective Edge, it clearly does not apply.
As laid out in a comprehensive Tablet article "Everything You Need to Know about International Law and the Gaza War" (well worth reading in its entirety):
When a country goes to war, it is allowed to use as much force as is necessary to stop the threat that caused it to go to war to begin with, and does not have to limit itself to the same means or level of intensity used by the enemy. While necessity determines the situations allowing a state to use some form of armed force, proportionality determines the breadth of that permissible force. The intensity of a state's response is governed by the magnitude of the threat posed to it by the enemy that attacked it, and not of the individual attacks it suffered.

So, the measuring stick of proportionality can't be the tit-for-tat analysis of death tolls popularly presented in the media. Israel is not obligated to employ only the lightest means at its disposal against Hamas, whose military might pales in comparison. Israel is also not obligated to ensure that the death count on both sides is close to equal. That would be absurd.
--Rachel Frommer, CAMERA Intern
Posted by SC at 10:56 AM | Comments (0)
April 17, 2016
Over Jerusalem, The Pot Calling the Kettle Black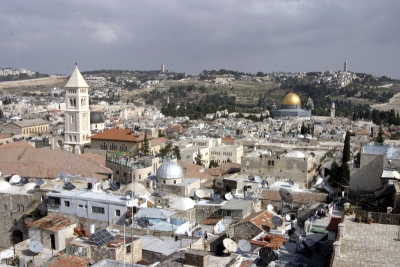 In a short hit piece in The Huffington Post ("Israel's 'Absurd' Map Of Jerusalem's Old City"), Palestinian journalist Daoud Kuttab spells out in great detail how a Jerusalem tourist map omits some notable Muslim and Christian sites. To Daoud this smacks of a wider trend where "Israel's apologists" are "working overtime to try and minimize Christian and Islamic cultural connections to the city of Jerusalem." To add insult to injury, he correctly notes that:
The United Nations Education and Cultural Organisation (UNESCO)and the Vatican have yet to publicly denounce this effort to monopolise the city's multi-religious history.
Shockingly though, Daoud fails to note a separate decision regarding Jerusalem passed by UNESCO's Executive Board just last week. The Times of Israel notes:
The resolution refers to Israel as the "occupying power" at every mention and uses the Arabic al-Aqsa Mosque/Al-Haram al-Sharif without ever calling it the Temple Mount, as it is known to Jews. The text does refer to the Western Wall Plaza but places it in quotation marks, after using the Arabic Al-Buraq Plaza.
Going one step further, the UNESCO decision also accused Israel of "planting Jewish fake graves in other spaces of the Muslim cemeteries."
In other words, the Palestinians are using their membership in UNESCO, to advance the very thing of which they accuse Israel of doing using a tourist map. This is a classic case of the pot calling the kettle black.
Posted by gs at 07:15 AM | Comments (0)
April 14, 2016
'I Say Terrorist, I Say Militant': The Washington Post Talks to Itself
Washington Post articles "France, not Brussels, was terrorists' initial target, Belgian prosecutor says" (April 11, 2016) and "U.S. drone strike in Somalia targets senior member of militant group; Al-Shabab figure was said to be behind attacks" (April 2) covered episodes in what sometimes is still called the "global war on terrorism." The former dispatch used the words "terrorist" or "terrorists" once in the headline and four times in the text in The Post's own words, twice in direct quotes. It did not mention "militant" or "militants."
But the latter defaulted to "militant" once in the headline and twice in the text in the newspaper's own voice. This article did not mention terrorist or terrorists.
Reporting from Paris, Post correspondent James McAuley opened with "the terrorists who carried out the March 22 attacks on the Brussels airport and metro initially planned an attack on France instead, the Belgian federal prosecutor announced Sunday. A cell of terrorists affiliated with the Islamic State largely conceived and executed November's attacks on Paris from the Belgian capital, where many of them were
reared."
Reporter Dan Lamothe's first paragraph read "the U.S. military carried out a drone strike in Somalia on Thursday against a senior member of the al-Shabab militant [emphases added] group who has overseen attacks resulting in the deaths of at least three U.S. citizens, Pentagon officials said Friday."
McAuley filed for The Post's foreign desk, Lamothe apparently for the national desk, but inconsistent "terrorist"/"militant" usage within as well as between departments is not uncommon.
Does it matter? As CAMERA has noted many times, words are journalists' principle stock in trade. For journalists' products to be credible, words must be accurately, precisely used.
According to U.S. law, people who threaten or use force against non-combatants to influence larger audiences, including governments, on behalf of ideological, religious, economic or other agendas are terrorists. In American history, militant traditionally has described aggressive activists on behalf of a cause: anti-slavery, anti-alcohol, pro-women's suffrage, labor unions, and environmentalism. They rarely kill anyone, and virtually never civilians.
In his 1946 essay, "Politics and the English Language," George Orwell warned that political—as opposed to journalistic—language "is designed to make lies sound truthful and murder respectable, and to give an appearance of solidity to pure wind."
When it comes to terrorist-versus-militant, The Washington Post—and many if not most other news outlets—would improve credibility by allowing the pure wind of "militant" to die away.

Posted by ER at 03:43 PM | Comments (0)
Jordan Closes Muslim Brotherhood Headquarters
Emblem used by the Muslim Brotherhood

On April 13, 2016, the Hashemite Kingdom of Jordan closed the Amman headquarters of the Muslim Brotherhood.
Arab News, an English language daily published in Saudi Arabia, reported that Jordanian security services sealed the entrance to the Brotherhood's main office after thoroughly searching and evacuating the building ("Jordan closes Brotherhood HQ," April 14).
Abdelkader al-Khatib, the group's lawyer, claimed that the Jordanian government's actions were, "clearly a political decision in line with what is happening in the region." Khatib also said that the effort, "has the sole purpose of influencing the upcoming elections and results."
Arab News pointed out that, "authorities view the Brotherhood as an illegal organization because its license was not renewed in accordance with a political parties law adopted in 2014."
As CAMERA has noted ("Egypt's Muslim Brotherhood in Its Own, Original Words," July 11, 2013), the Brotherhood was founded in Egypt in 1928 to repel Western influence and restore the Sunni Muslim caliphate that ended shortly after the collapse of the Ottoman Empire after World War I. The group's credo is "Allah is our objective, The Prophet is our leader. The Koran is our law. Jihad is our way. Dying in the way of Allah is our highest hope."
Unlike other Salafist jihadi groups, the Brotherhood does not eschew electoral politics. Rather, it seeks to win elections with the goal of implementing sharia (Islamic) law and taking steps towards an "Islamic society" after its ascendance. In contrast to terrorist groups like al-Qaeda or the Islamic State in Iraq and Syria (ISIS), which have origins from the Brotherhood, the movement's strategy is one of patience; it professes non-violence and "burrows" into political systems, claiming moderation. However, its objectives—including Islamic supremacism—are the same as its terrorist brethren, who it frequently spawns.
The Muslim Brotherhood has been increasingly expansive in the last decade.
In 2006, Hamas, a U.S.-designated terrorist group and a Muslim Brotherhood derivative, won elections in the Gaza Strip. Hamas has since refused to hold new elections and has instituted draconian measures against women, homosexuals and non-Muslim minorities in accordance with its interpretation of Islam.
More recently, in June 2012, a Brotherhood-connected political party came to power under President Mohammed Morsi in Egypt. Shortly after Morsi's election, in keeping with Brotherhood doctrine and stated objectives, moves were made to Islamize society.
As The Daily Beast, an online newspaper, noted in August 2013 one month after Morsi was ousted by Egypt's military under General Abdel Fattah el-Sisi:
"The Muslim Brotherhood is showing the world its true colors. The groups that 'renounced violence' in an effort to gain political power is engaged in a full-scale campaign of terror against Egypt's Christian minority. Brotherhood leaders have incited their followers to attack Christian homes, shops, schools and churches throughout the country. Samuel Tadros, an Egyptian scholar with the Hudson Institute, told me [Kristen Powers, political analyst and commentator] these attacks are the worst violence against Coptic Christians since the 14th century ("The Muslim Brotherhood's War Against Coptic Christians," Aug. 22, 2013)."
The Brotherhood has long posed a threat to the Kingdom of Jordan, where it operates under the Islamic Action Front (IAF). In the wake of Hamas' 2006 victory in Palestinian elections, analyst David Schenker of the Washington Institute for Near East Policy, a D.C.-based think tank, wrote, "…despite the kingdom's surprisingly good economic performance, Islamists may yet increase their political influence in the kingdom ("Jordanian Islamists and Municipal Elections: Confirmation of a Problematic Trend," July 30, 2007)." The IAF later boycotted elections in 2010 and 2013. Yet, concerns over the Brotherhood's capabilities in a monarchy ruled by the last of the Hashemite dynasty that once ruled large portions of the Middle East, remain unabated.
Posted by SD at 01:14 PM | Comments (0)
April 13, 2016
Journalist: Hamas is 'Poisoning' the Minds of Palestinian Children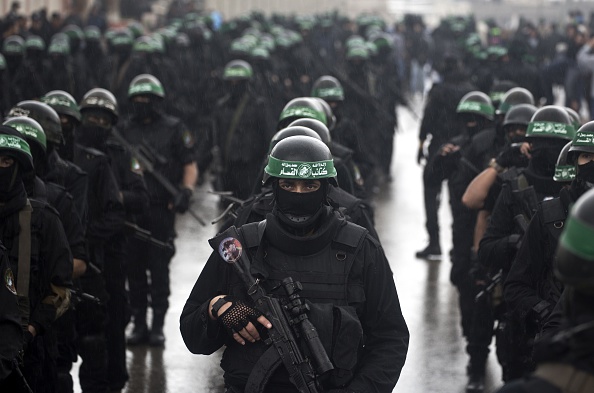 Members of Hamas' al-Qassam martyrs brigades

Officials from the Hamas-controlled Waqf (Islamic trust) Ministry in the Gaza Strip are "brainwashing" Palestinian children, according to an Arab Israeli journalist, Khaled Abu Toameh.
Writing for the Gatestone Institute ("Hamas's New Way of Poisoning the Minds of Palestinian Children," April 8, 2016), Toameh noted that the Waqf is using exorcism to indoctrinate children in Gaza schools.
Islamic preachers called The Ship of Missionary Salvation are entering schools to ensure that "through the exorcism rite" children are being "repentant and faithful to Islam." The Ship of Missionary Salvation is overseen by the Waqf Ministry's General Administration for Preaching and Guidance.
Toameh's article links to a video showing children kneeling and crying at the Al-Nil School in Gaza City while Hamas preachers hold microphones and shout "Allahu Akbar [God is Great)]" Toameh noted that the "Gaza City school video captures on camera the Palestinian leaders' brainwashing and abuse of their own children." The reporter described the children as "hysterical."
The video has caused consternation among some Palestinian Arabs, including members of rival groups such as the Popular Front for the Liberation of Palestine (PFLP) and Fatah, the movement that dominates the Palestinian Authority (PA).
Toameh reported that Palestine Liberation Organization (PLO) member Hanan Ashrawi "expressed revulsion over the video, noting that the preachers' sermons were full of intimidation and horror." PFLP, a Marxist-oriented terrorist group that has traditionally been more secular than Hamas or Fatah, referred to the exorcism rite as an "inhumane practice."
Such outrage by fellow terrorist groups seems selective.
As CAMERA has noted ("Leaders Encourage Palestinian Children to Murder Jews, Use Sing-Alongs," Nov. 24, 2015), Palestinian officials—including those in Fatah and the umbrella organization of the PLO—have used perverse methods to indoctrinate children before. Among other examples, Tawfiq Tirawi, a member of Fatah's Central Committee and the former head of the Palestinian General Intelligence Service, recounted teaching his 2-year old son a sing-along song with lyrics such as, "Daddy, buy me a machine gun and a rifle, so that I will defeat Israel and the Zionists" and "escort the Martyr to his wedding" (referring to the Islamic belief that those killed while waging holy war marry 72 virgins in Paradise).
Both Fatah and Hamas routinely glorify children killed committing terrorist attacks. On Jan. 7, 2016 Palestinian Arab children celebrated Fatah's 51st anniversary in a "huge ceremony" at which they dressed as suicide bombers ("Palestinian Children Wear Suicide Belts to Celebrate Fatah's Anniversary," CAMERA, Jan. 12, 2016).
As Toameh noted in his report, "this is how new generations of Palestinians are raised on the glorification of suicide bombers and jihadists."
Noting the long lasting damage incurred by Palestinian indoctrination in anti-Jewish hatred, Toameh concluded that the use of exorcism rites in the Gaza Strip, "captures the march of Palestinian society towards endorsing the tactics and ideology of radical Islam and groups such as ISIS and al-Qaeda. Now the peace process in the Middle East awaits an exorcism of its own."
Posted by SD at 04:45 PM | Comments (0)
New York Post Editorial Exposes Truth about BDS
A New York Post editorial clearly laid out the truth about Israel's detractors last week stating, "The real bottom line of the entire Boycott, Divestment and Sanctions movement: It's not remotely about rights — it's all about bashing Israel."
As an example, Post editors cite opposition to Israel's participation in this month's PEN World Voices Festival to be held in New York City. The organization, according to its website "works to advance literature, to defend free expression, and to foster international literary fellowship."
However, as the New York Post revealed, some of PEN's authors and literati believe that Israel ought to be barred from that international community. In an editorial headlined, "The most perverse push yet from Israel boycotters," the Post remarked on how "truly bizarre is their gripe" that PEN is permitting the Israeli Embassy to support the Festival. Alice Walker, Pulitzer Prize winning author/poet and frequent Israel-basher, is quoted in the authors' official complaint as saying that, by allowing Israel to participate, PEN is failing "Palestinian writers, academics, and students who are suffering under a repressive Israeli regime that denies their right to freedom of expression."
Ironically another advocate-author, Junot Diaz, not only gets inflamed at Israel's presence at PEN, but also signed a protest last year when PEN International gave its Freedom of Expression Courage Award to Charlie Hebdo after the horrific terrorist slaughter at the magazine's Paris office. The Post accurately sums it up with "That tells you all you need to know about his commitment to free speech."
As the Post editorial correctly notes, "In fact, the only place in the Middle East where Palestinians enjoy the right of free expression is… Israel. No one has anything like free-speech rights in the Palestinian territories -- not under the Palestinian Authority in the West Bank, nor under Hamas in Gaza."
--Rachel Frommer, CAMERA Intern

Posted by SC at 03:37 PM | Comments (0)
April 07, 2016
Brandeis Study Evaluates Jewish College Students' Knowledge on Israel
A study published in October 2015 by researchers at Brandeis University sought to evaluate knowledge of Israel among Jewish college students. The study, titled the Israel Literacy Measurement Project: 2015, reveals the students' limited knowledge. The survey contained 92 questions including the Middle East Conflict, Geography, History, Government, Religion and Society, Economy and Culture.
642 students were tested in April-June 2014. Most of the survey respondents were first or second year students at 20 selected universities. The average score on the test was 46% correct. Only 8% got more than 3/4 correct.
Student scores from the different schools showed a wide range, from 27% to 59% correct. However, the students from schools considered more selective only did a little better than students from schools considered less selective (49% versus 43%).
Surprisingly, those students who previously had some form of Jewish education only did slightly better (47% versus 42%) than students who stated that they had no prior Jewish education. This result reinforces concern that the Jewish education many children receive is lacking in substance.
Students who claim to regularly read about Israel (52% vs. 45%) and those who have visited Israel (52% vs. 43%) did better than those who answered no to these questions, but the difference was not great.
Interestingly, students who believed Israel should not compromise on the status of Jerusalem and did not trust the Palestinians' sincerity in making peace scored higher on the test than those who felt Israel should compromise on Jerusalem and believed the Palestinians were sincere.
There are always questions about the appropriate level of difficulty whenever such broadbased knowledge tests are given. But the results of this test suggest that general knowledge about Israel among American Jewish students needs improvement.
Posted by SS at 03:38 PM | Comments (2)
April 05, 2016
Lapido Media Updates Article After CAMERA Challenge, Questions Remain
In late October 2015, Lapido Media published an article about a master's degree program in peace studies at Bethlehem Bible College that had some problems that were addressed in an article written by CAMERA researcher Dexter Van Zile and published at the Times of Israel blog. In particular, the article accused Israel of "shunning" the peace studies program offered by the school, which has a long history of agitating against Israel.
One bit of evidence that the article offered to prove that Israel had "shunned" the program was that a foreign student who went by the pseudonym "William" had not been given a visa to study at the school by the Israeli government, which controls entry and exit into the West Bank, where the school is located.
A close examination of the article, however, revealed that the student had not applied for a student visa. The article was, simply put, a hit job. Just in case there is any doubt, take a look at the URL (universal resource locator, or web address) for the article, which was likely based on the first title of the text as it was loaded into the site administrator for Lapido Media. It reads "israel-blindsides-first-peace-studies-programme-arab".
"Blindsides"? Really? What exactly did Israel do to "blindside" the peace studies program? The article states that Israel did not return a phone call and did not issue a visa that was not even applied for. How is that "blindsiding" the program? If anyone did any blindsiding, it was Lapido Media, its correspondent Jayson Kasper and his pseudonymous source, "William."
Nevertheless, in response to a second challenge (described below) Lapido Media laudably changed the headline and published a note at the bottom of the article. A screenshot of the new headline can be seen at the top of this entry and the note to the article can be seen here:
It is gratifying to see that Lapido Media has changed the headline. There is no real evidence that Israel has "shunned" the program. If Israel has done anything, it has largely ignored the peace studies program, which has gotten off to a shaky or "tentative" start as Lapido Media reports in the headline. (The program has yet to be accredited, for example.)
It is also good to see that Lapido Media is open to doing further coverage of the story, but there are a number of questions that need to be addressed.
The note at the bottom of the article states that changes to the article were made in response "to a complaint that we misrepresented the availability of student visas by the Israeli authority." The problem is not that the article may have misrepresented the availability of student visas, but that students from overseas are able to attend classes in the West Bank without student visas. That's what "William" has been able to do for at least two semesters.
Continue reading "Lapido Media Updates Article After CAMERA Challenge, Questions Remain"
Posted by dvz at 04:26 PM | Comments (0)