May 20, 2015
Where's the Coverage? Abbas is No Angel

Whether or not the Pope called Palestinian Authority President Mahmoud Abbas an "angel of peace" is the subject of debate. What there can be no credible debate about, however, is that Abbas is an anti-Israel –and even antisemitic– radical.
Since succeeding Yasser Arafat as Palestinian Authority president and leader of Fatah, Abbas almost invariably has been described by the press as a "moderate." This, despite the fact that Abbas, Arafat and a few colleagues founded Fatah in 1959 to "liberate" Israel, not the West Bank (then occupied by Jordan) or the Gaza Strip (then held by Egypt).
Abbas continues to incite his people against Israel and recently described Jews who visit the Temple Mount as a "herd of cattle." He has praised Haj Amin al Husseini, the Grand Mufti of Jerusalem who cooperated with the Nazis during the Holocaust, and has lauded Dalal Mughrabi, a terrorist who perpetrated the Coastal Road Massacre of 1978 which resulted in the deaths of 38 Israelis including 13 children.
Official PA TV and other media outlets under Abbas' control frequently describe Israeli cities as part of "Palestine," exhibiting no inclination to recognize Israel's right to exist or even the fact of Israel's existence.
Further, Abbas has ignored generous offers of Palestinian statehood made by Israeli leaders. In 2008, Israeli Prime Minister Ehud Olmert offered a territorial proposal based on the 1949 armistice lines –often incorrectly referred to as the 1967 borders– with "land swaps", contiguity between Gaza and the West Bank, no Israeli military presence in the Jordan Valley, relinquishing Israeli sovereignty over the Temple Mount, and absorption of some Palestinian refugees. Abbas did not even get back to Olmert on this proposal.
Abbas is a Holocaust denier who published his doctoral thesis as a book, "The Other Side: The Secret Relationship between Nazism and the Zionist Movement," which denied the severity of the Holocaust and claimed "a secret relationship between Nazism and the Zionist movement."
He was also the paymaster for the Palestinian Liberation Organization's massacre of Israeli athletes at the 1972 Munich Olympics.
There is nothing moderate about Mahmoud Abbas' life, his deeds, his ideology or his rhetoric and certainly nothing angelic. So… Where's the coverage?
Posted by SC at 04:38 PM | Comments (0)
In Memoriam: Professor Robert Wistrich
Crosspost from UK Media Watch
Robert S. Wistrich, professor of Jewish history at the Hebrew University of Jerusalem, head of the Sassoon International Center for the Study of Antisemitism, and perhaps the world's foremost scholar of antisemitism, died of a heart attack yesterday in Rome.
He was 70.
Wistrich was born in the Kazakh Soviet Socialist Republic in 1945, raised in Britain and educated in the US. He settled in Israel in 1982.
Professor Wistrich published dozens of books throughout his long career about the history of Jew hatred, including From Ambivalence to Betrayal: The Left, the Jews and Israel, and his magnum opus, A Lethal Obsession: Antisemitism — From Antiquity to the Global Jihad, published in 2010.
Though he was an accomplished academic, Wistrich also possessed the unique ability within academia to communicate effectively to non-academics, and was able to speak clearly and plainly even when contextualizing the often complex dynamics of historical and contemporary antisemitism.
This writer was honored to share a panel with Professor Wistrich at a CAMERA event in Jerusalem earlier in the year, where he addressed the relationship between media coverage of Israel and rising antisemitism.
Here's a video of his talk:
This past Thursday, Wistrich spoke at the Global Forum for Combatting Antisemitism in Jerusalem, where he addressed the increasing threat posed by Islamist antisemitism to Europe's Jews, a topic, he often lamented, which is routinely downplayed by both the American and European media.
During his speech, he emphasized that Islamism represents the spearhead of the resurgent antisemitism – hatred of Jews qua Jews disguised as 'mere' hatred of Israel. He explained that the problem is not Islam as such, but the malevolent ideology of Islamism which misuses, abuses and hijacks one of the great universal faiths to legitimize extreme racism and violent Jihad.
Wistrich was a giant in his field, and a brave, sober and intellectually serious voice on anti-Jewish racism – a scourge he referred to as "the world's longest hatred."
He will be sorely missed.
-- By Adam Levick
Posted by TS at 03:36 PM | Comments (0)
Robert Naiman Uses Saudi Arabian Human Rights Violations as Pretense to Impugn Israel
Robert Naiman, a regular Huffington Post contributor, penned a piece titled "Is Saudi Arabia Now the Israel of the Gulf?". In it, he addressed human rights concerns in Saudi Arabia, and without any background or context, likened them to issues in Israel.
Naiman suggests both that "Saudi Arabia is apparently becoming the Israel of the Gulf countries -- a habitual aggressor in its neighborhood", and that Saudi Arabia and Israel "have killed many human beings, including many civilians, for no clear military purpose."
His version of Israel's recent history compares unfavorably to reality and demonstrates sweeping bias. Naiman, as evidenced in the comparisons he draws, categorically ignores that Israel is neither an "aggressor" nor a ruthless apartheid state.
Indeed, both of Israel's recent wars in Gaza have been defensive, prompted by unending rocket fire from Hamas. The untargeted rockets are indiscriminately fired toward Israeli population centers with the hopes of inflicting maximum casualties. Moreover, Israel has undertaken unprecedented measures to prevent civilian casualties. That they have happened is deeply regrettable, but they happen not because Israel targets civilians but because Hamas uses them as shields, prevents them from leaving targeted areas, and fires rockets – which they know will draw responsive fire – from densely populated areas. Indeed, General Martin Dempsey, the chairman of the Joint Chiefs of Staff, claimed that "Israel went to extraordinary lengths to limit collateral damage and civilian casualties."
These issues considered, to call Israel an aggressor that callously kills civilians is propagating an anti-Israel lie.
Particularities aside, the most glaring demonstration of Naiman's deplorable bias is the construction of his article. He uses abuses in Saudi Arabia as a pretense to criticize Israel, and he does so without a hint of evidence. Each claim he levies against Saudi Arabia, he levies against Israel as well. However, when addressing Saudi Arabia, he substantiates his claims with evidence, and then simply suggests Israel engages in the same behavior, absent any evidence at all. To be sure, it is not as if the evidence he provides against Saudi Arabia is unimpeachable. Providing it at all, however, is the important distinction. It is as if Saudi Arabia's human rights failings provide Naiman license to attack Israel, even if Israel is innocent of the claims he levies against it.
Harboring this antagonism to Israel is Naiman's profession. He is the Policy Director at Just Foreign Policy, an organization that purports to be committed to reforming foreign policy based on diplomacy, law and comparison. Instead, what it amounts to is an anti-Israel group built upon many of the standard anti-Israel tropes. Of the four campaigns it is involved in, three focus on Palestinians. In fact, one is a campaign to alert congress to an incident involving Israeli extremists stoning cars in January. Naiman's bias emerges ever clearer considering that his agency, which professes to be committed to addressing foreign policy issues, creates an entire issue campaign based on a single Israeli stoning incident but ignores frequent violent Palestinian attacks, such as the many reported by CAMERA here, here, here among many others.
Along similar lines, Naiman refers to his affiliation with a woman who works for CodePink, an organization which began as a feminist advocacy agency and has since devolved into an anti-Israel organization that prominently supports the BDS (Boycott, Divestment, Sanctions) movement. In fact, its National Director admitted such, articulating that CodePink's goal is "freedom for Palestinians."
Naiman's affiliations call into question his journalistic chops, and should prompt Huffington Post to reconsider its relationship with him. Providing a platform on which a known anti-Israel bigot can write an article that maligns Israel for Saudi Arabia's behavior is not pushing boundaries of journalism, it is pushing the boundaries of the truth.
Posted by ns at 09:58 AM | Comments (0)
Can AFP say "Egyptian blockade"?
Can the Agence France Presse news agency say "Egyptian blockade"? In the article today, "Gazans reach beyond blockade through start-up," the "Israeli blockade" of the Gaza Strip looms large.
Though the article twice mentions the "Israeli blockade" of Gaza, under which hundreds of trucks containing all kinds of products pass every week, not once does it contain the phrase "Egyptian blockade," though for most of the last seven months nothing at all passed through the Gaza-Egypt border crossing.

Thus, the second paragraph of the article states that the Gaza Strip "has been under an Israeli blockade since 2006." Further along, the article asserts that Gaza "is effectively ruled by the Islamist Hamas movement and cut off from the rest of the world by the Israeli blockade." The article adds:
Programmer Mohammed al-Banna, 27, says working in technology offered him a sense of freedom because it is the 'the only area' where Israel cannot cut Gazans off from the outside world.
Of the sweeping Egyptian blockade, the AFP says only half-way into the story:
Until last year, Palestinians were able to leave the Rafah crossing with Egypt, but since October the frontier has been closed as Cairo struggles with a growing insurgency in the Sinai Peninsula.
Why, then, doesn't the second paragraph note that the Gaza Strip "is under an Egyptian and Israeli blockade"? Why doesn't it later report that the territory is "cut off from the rest of the world by the Egyptian and the Israeli blockade"?
Clearly, the total Egyptian blockade has isolated the Gaza Strip far more than the Israeli blockade, under which goods and people do cross. The Egyptian blockade, therefore, should figure much more prominently in the story than the so-called Israeli blockade.
Under "the Israeli blockade," during the week of May 5 to 11, 1,704 trucks entered the Gaza Strip through Israel, of which 854 contained construction materials, reports the U.N.'s Office for the Coordination of Humanitarian Affairs.
Of the Egyptian blockade of Gaza, the same OCHA reports states:
The Rafah crossing was closed in both directions by the Egyptian authorities during the week. The crossing has been continuously closed since 24 October 2014, following an attack in Sinai, except for 12 days, on which it was partially opened. This measure is affecting at least 30,000 people registered for crossing to the both sides.
No people crossed between Egypt and Gaza during the reporting period.
Finally, in another striking double standard, AFP provides a reason for the Egyptian closing of the border ("Cairo struggles with a growing insurgency in the Sinai Peninsula"), but gives no reason for the relatively limited Israeli restrictions. In the interest of consistency, shouldn't AFP note that Jerusalem struggles with thousands upon thousands of rockets fired at it from a territory from which it withdrew in 2005 and which is now ruled by a designated terror organization whose charter seeks the Jewish state's destruction?
Posted by TS at 06:12 AM | Comments (0)
May 19, 2015
Former Secretary of Defense Robert Gates Echoes Netanyahu on Iran Negotiations
In an interview with Bob Schieffer on CBS Face the Nation, former Secretary of Defense Robert Gates offered his perspective on negotiations with Iran. The relevant portions of the interview are copied below:
ROBERT GATES (Former Defense Secretary): Well, first of all, getting the Iranians to the negotiating table in the first place was a success for U.S. foreign policy. They didn't come to the table at a goodwill. They came to the table because their economy was being strangled and the leadership was afraid they might get overthrown. So they are there because they have to be there.

I think that the agreement there're some specifics in the agreement that are very encouraging, but I-- I have several concerns that I hope can be addressed in the negotiations between now and June the first is the timing of the lifting of the sanctions. Is it-- are they going to be lifted right away as long as the Iranians agree to implement the agreement. Or will be-- they be phased over time based on performance which has been our position all along.

The second is verification. Unless we have sort of on-demand inspection at all facilities, including military facilities, I think, there is a great potential to cheat.

Third, I think that this-- the-- the idea of being able to have these snapback sanctions, that sanctions could be re-imposed once lifted is very unrealistic.

I think that the pursuit of the agreement is based on the President's hope that over a ten-year period with the sanctions being lifted that the Iranians will become a constructive stakeholder in the international community. That-- that as their economy begins to grow again, that-- that they will abandon their ideology, their theology, their revolutionary principles, their meddling in various parts of the region. And, frankly, I believe that's very unrealistic.

BOB SCHIEFFER: What if we can't get a deal? With is the alternative?

ROBERT GATES: Well, I don't think the alternative is war. One alternative is better deal [emphasis added]. I think that you go back to the sanctions, I think you reinforce the sanctions, and you basically say, here are the additional things we need for this agreement to work and to be worthwhile, and an agreement that reassures our allies or at least doesn't scare them half to death.

If they choose not to come back to the negotiations, but to race to a nuclear weapon, well my guess is that will show that they intended to do that all along. Despite all their protestations, that they have no interest in a nuclear weapon, but I think-- I think that there is a potential for a better deal [emphasis added].
Gates, who served as Secretary of Defense under both George Bush and Barack Obama, shares the same concerns and appears to favor the same course of action as Israeli Prime Minister Netanyahu. Will the New York Times or the Washington Post or CNN or NPR or the BBC or Fox cover the story that a former senior official of the Obama administration, one who is highly regarded by the mainstream media, sees the negotiations with Iran as Netanyahu does?
Posted by SS at 03:07 PM | Comments (0)
Haaretz Errs on Arabic-Speaking Saints
In an article about the recent canonization of two Arab nuns from the Holy Land, Mariam Baouardy and Marie Alphonsine Danil Ghattas, Haaretz errs ("Pope to canonize two Palestinian nuns"): "They will be the first Arabic-speaking saints . . . "
As The Washington Post has made clear in a prominently placed correction, there are at least three other Arabic-speaking saints.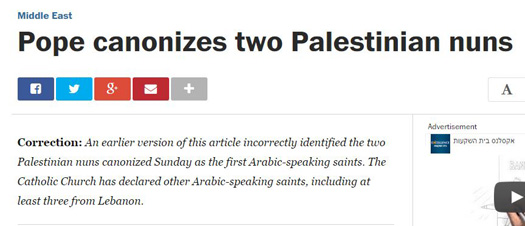 One of them St. Charbel Makhlouf, a Maronite Catholic priest, born Yussef Antoun Makhlouf in Lebanon in 1828. "He was canonized in 1977 by Pope Paul VI, who had earlier hailed the Lebanese Maronite saint as an 'admirable flower of sanctity blooming on the stem of the ancient monastic traditions of the East,'" Catholic News Agency reported.
On a related matter, stay tuned for a detailed CAMERA post on how the media identifies the two nuns as Palestinian, though they likely did not identify as such.
May 20 Update: Haaretz Commendably Corrects
Haaretz editors have commendably removed the erroneous claim that the two women are the first-Arabic speaking saints, and the following correction is appended to the bottom of the article:
Posted by TS at 05:37 AM | Comments (0)
Follow Up, AP Correction on Pope's Disputed "Angel of Peace" Comment
Following communication from CAMERA, several leading media outlets have followed up on their initial reports which unequivocally stated that Pope Francis called Palestinian President Mahmoud Abbas "an angel of peace." Yesterday, CAMERA staff was in touch with editors at The New York Times, the Associated Press, Reuters and Agence-France Presse to ask how their reporters definitively concluded that those were the Pope's words when some Italian media outlets, such as La Stampa's Vatican Insider, reported that the Pope exhorted the Palestinian leader, "may you be an angel of peace." (Other Italian media outlets were consistent with the English reports.)
We also pointed to the statement of Father Federico Lombardi, the Vatican's chief spokesman, in which he told The Times of Israel that though he was in the room during the meeting, he did not know the Pope's exact words. CAMERA asked the media outlets if they had a better informed source than Father Lombardi. The Vatican has not released any transcript or official wording documenting the informal remarks, and the audio recording is not clear enough to definitively determine what was said.
Meanwhile, CAMERA posted its own analysis late in the day yesterday ("Pope Francis Remarks to Abbas Prompt Firestorm and Uncertainty"), which concluded:
In sum, much of the criticism [by bloggers and media monitors] directed at coverage of the Pontiff's remarks is based on the assumption that he said one thing or the other. In light of what can be gleaned from various reports and of the Pontiff's previous remarks about Abbas, it's reasonable to conclude that he said both and that media outlets picked up on the most provocative interpretation.
Most of the media outlets that CAMERA contacted with questions about their initial reporting have commendably followed up with either new reports detailing the uncertainty around the comments, or with a correction.
The follow up articles examining the uncertainty of the Pope's remarks and the surrounding controversy include those by The New York Times ("Vatican Seeks to Quiet Uproar of Pope's 'Angel of Peace' Remark") and AFP ("Pope 'angel of peace' Abbas comment was encouragement: Vatican"). Reuters has also indicated that an article examining the disputed the statement is under way.
In addition, The Associated Press issued the following correction:
In a story May 16 about Pope Francis meeting with Palestinian President Mahmoud Abbas, The Associated Press erroneously omitted two words when quoting the pope. Francis told Abbas "you are a bit an angel of peace," not "you are an angel of peace." The original Italian quote was, "Lei e un po un angelo della pace."
In response to CAMERA query as to how the AP reached this new wording, we received the following statement from Paul Colford, Director of AP Media Relations:
AP Rome correspondent Nicole Winfield was in attendance and covered last week's exchange between Pope Francis and Palestinian President Mahmoud Abbas.

After others questioned AP's report that the pope said to Mr. Abbas, "you are an angel of peace," AP reviewed written notes and a videotape of the meeting that supported Winfield's English-language translation of the pope's remarks, except for the omission of two words, the Italian "un po," or "a bit."

A correction distributed by AP on Monday evening shows these two words within the pope's comment as it was originally reported by AP: "you are a bit an angel of peace."
Posted by TS at 04:16 AM | Comments (2)
May 14, 2015
Bialik and Bibi on "Revenge"
After Palestinian kidnappers murdered three Israeli teens last June, Benjamin Netanyahu quoted a verse by the well-known Jewish poet Hayim Biyalik. The quote — "Vengeance for the blood of a small child, Satan has not yet created," Benjamin Netanyahu wrote on Twitter, before adding that the same applies to the three murdered youths — was circulated widely, mostly by critics of Israel who cast the reference as a clear call for Israelis to take revenge on Palestinians.
But as CAMERA has pointed out in a letter in the Washington Post and in a recent article about The New York Times' misrepresentation of the Bialik poem, those critics are wrong. The opposite is true.
In "On the Slaughter," the poem cited by Netanyahu, Bialik "rejects human revenge and envisions a natural revenge that will take place by itself," explains poet and professor Hamutal Bar-Yosef, who is described in Haaretz as "a leading figure in the field of Hebrew literature."
That's hardly only an ivory tower interpretation. Menachem Begin, the founder of Netanyahu's Likud Party and someone Netanyahu has described as a "role model," also referenced the poem in a 1979 speech:
... as far as children are concerned, we always remember the famous verse of our great poet, Bialik: "Revenge like this, the revenge for the blood of a child, Satan himself did not yet create it." Nobody can take revenge for the blood of a little child. Nobody. We don't want to retaliate — we want peace for our people, security for our people, and for our children.
Begin's speech was about about the need for Israel to militarily fight terrorism — the very same context as Benjamin Netanyahu's Bialik citation. It was delivered before a well-known Israeli professor, Benzion Netanyahu, the current prime minister's father. And it was later republished in a 1981 book edited by none other than Benjamin Netanyahu.
Nobody can convincingly argue, then, that Benjamin Netanyahu did not understand Bialik's words. Nor can anyone credibly say Netanyahu's reference to Bialik's poem was a call for Israelis to pursue vengeance on their own. Those suggesting otherwise, including Haaretz, The Forward, and The New York Times, owe readers a clarification.

* And a clarification of our own: This post initially stated, incorrectly, that Begin's speech was delivered before both Benjamin Netanyahu's brother and father. Only his father was there.
Posted by GI at 05:10 PM | Comments (1)
May 13, 2015
BDS Activists Lose in Ithaca, Anti-Israel Defamation Continues
Jim Murphy, a local radio host and supporter of the BDS campaign in Ithaca, which suffered a setback when a local food coop rejected an anti-Israel boycott proposal last night.
The governing board of the GreenStar Cooperative Market, a food coop located in Ithaca New York, handed the BDS movement a set back last night when it rejected a proposal to impose a boycott on Israeli-produced goods. Advocates of the proposal, who had falsely claimed that Sabra Hummus was named after the Sabra and Shatilla massacre, suffered the defeat after the coop's council concluded that the boyct proposal violated New York state human rights law which prohibits companies participating in boycotts based on national origin.
William Jacobson, a blogger at Legal Insurrection, and a law professor at Cornell University (located in Ithaca) who has been documenting the controversy, states "This is a very important victory, and one in which the NY Human Rights Law played a central role. As such, it has serious implications for other boycott attempts singling out Israeli products based on national origin."
Ithaca is a hotbed of anti-Zionist activism. Alison Weir, a well-known anti-Israel propagandist will be speaking at the Unitarian church in Ithaca this evening (May 13, 2015. The event has drawn criticism from the Ithaca Coalition for Unity and Cooperation in the Middle East (ICUC-ME), which has written a letter to the church council.

Continue reading "BDS Activists Lose in Ithaca, Anti-Israel Defamation Continues"
Posted by dvz at 02:47 PM | Comments (2)
May 11, 2015
Germany Confronts its History
The past week witnessed commemorations of the defeat of Nazi Germany 70 years ago. The German legislature, the Bundestag, featured an address by eminent historian, professor doctor Heinrich August Winkler, Chairman of the Department of History at Humboldt University in Berlin. Winkler pulled no punches in his sweeping assessment of German responsibility for the cataclysmic war. But equally important his measured words are a warning to all generations.
Quoting philosopher Ernst Cassirer, Winkler describes Hitler's political ascendance as the "triumph of myth over reason." Viewing the xenophobia and outbreak of anti-Semitism in the world today, Winkler concludes, "Cassirer's words still have relevance today." He warns,
In politics we are always living on volcanic soil. You must be prepared for abrupt convulsions and eruptions. In those critical moments of man's social life, the directions of forces that resist the rise of old mythical conceptions are no longer sure of themselves. In these moments the time for myths has come again. The myth never really disappeared... lurking in the dark, waiting for its hour... this hour comes as soon as the other binding forces of man's social life... lose their sense and are no longer able to combat the demonic, mythical power.
In just five and a half years, more than 50 million people perished in World War Two, including 8 million Germans. But Winkler makes it absolutely clear
the Holocaust is the central fact of twentieth century German history." (Winkler's emphasis)
Yet it took many decades for Germans to come to terms with the Holocaust. Immediately after the war, a statement by German churches did not even acknowledge the Holocaust. Winkler credits Jewish scholars for the gradual recognition of the importance of the Holocaust.
Winkler notes the importance of the fact that "markers, plaques and memorials dedicated to the Jews and other victims of the Nazis were placed there not by the state, but by civic institutions."
While emphasizing that Germans today should not feel guilt over what was done by prior generations, Winkler affirms that succeeding generations have a responsibility to be "conscious" of their country's history and not allow memory of the atrocities to fade. He adds that these responsibilities are also "incumbent upon those who become Germans."
"Foremost" among their obligations is the "special relationship with Israel."
Despite Germany's great cultural contributions throughout the centuries, Winkler observes that its most influential social groups rejected enlightenment concepts of inalienable human rights, sovereignty of the people and representative democracy. Hostility to these principles, that were enshrined in the American and French revolutions, only eroded after the catastrophe of 1933-1945.
The Allied victory in 1945 "liberated the Germans from themselves." Successful German unification was "only possible because it had broken from its past political traditions..." This included "recognition of the post-war Polish-German border" that accepted the removal of German sovereignty from historically German territories in the east. Winkler, himself, was forced to flee his native Konigsberg in East Prussia, which was destroyed by Soviet forces and renamed Kaliningrad.
According to Winkler,
[It] took time to overcome the apologists for German history who regarded the German people as Hitler's third victims. It took decades for millions of German refugees from Eastern provinces to recognize that their suffering was a consequence of Germany's use of military force and come to terms with this.
Upon the conclusion of his lengthy address, Winkler received a standing ovation from the German legislature. German Chancellor Angela Merkel and Bundestag President Professor Doctor Norbert Lammert attended the commemoration and address by Winkler.
Much of what Winkler described has significance beyond the exceptional case of Germany. Was anyone in Iran or the Arab world paying attention? Unfortunately, the answer is probably not.
For that matter, few in the United States are aware of Winkler's address to the Bundestag. That is because The New York Times, NPR, PBS and the major news networks did not cover it. Only C-span aired it.
Posted by SS at 04:31 PM | Comments (0)
May 09, 2015
George Galloway Defeated for Re-election to UK Parliament
Anti-Israel demagogue Galloway, commenting on his defeat in the May 2015 election said, "The venal and the vile, the racists and the Zionists will all be celebrating." Apparently a factor in his defeat was the charge that he misappropriated government funds for his private charity, Viva Palestina [long live Palestine].
CAMERA has monitored Galloway's WBAI/Pacifica New York call-in talk-show program. Pacifica is an egregiously biased, lunatic fringe network consisting of five owned (including WBAI) U.S. radio stations and approximately 200 affiliate stations. Apparently, Galloway's program has been aired only on WBAI but this would make it available to several millions of listeners in the New York, New Jersey area. The network has received funding (your taxpayer dollars) from the Corporation for Public Broadcasting (CPB). The latest CPB figures readily available are $1,591,869 in FY 2009 and $1,408,504 in FY 2010 granted to Pacifica.
In 2012, typically defaming Israel, Galloway aired a whopper of a lie about scientist Albert Einstein's attitude toward Zionism. This program, Mother of All Talk Shows!, is apparently no longer carried by WBAI. If so, that would be one small step toward media accuracy.
Also In 2012, CPB's inspector-general found Pacifica in violation of corporation accounting standards. In 2013, CPB's ombudsman reported WBAI officials failed to respond to complaints of incessant fund-raising, including offering quack medical cures as donor premiums.
Posted by MK at 01:58 PM | Comments (0)
May 08, 2015
Israel Aids California's Water Conservation
Writing in USA Today, Michele Chabin ("Israel's guide to water," May 8, 2015) reports how Israel is helping drought-stricken California. The article reminds readers there is much more to Israel than the Israeli-Palestinian conflict.
As Chabin notes, "Israel, subject to intermittent droughts for decades, has pioneered a number of water-saving techniques. It long ago figured out how to grow crops in the desert and for decades has advised the developing world on how to manage scarce water resources."
Following its own drought six years ago, Israel began a campaign to educate the public about water conservation, increased recycling of used water, and boosted desalination efforts. Today, these efforts have led to purification of 85 percent of all household wastewater, 40 percent of drinking water from desalination (a process in which salt and chemicals are removed from seawater), and farmers growing less thirsty crops and using additional water-conserving technologies. In the replanted Yatir Forest on the edge of the Negev Desert, Israeli foresters have even developed methods to keep millions of pine trees alive on less than four inches of rain a year.
With decades of success in managing droughts, Israel, USA Today notes, "is eager to share its latest know-how with drought-ridden states like California."
IDE Technologies, an Israeli company, is now helping to design a desalination plant in Carlsbad, California that would provide 300,000 residents with 50 million gallons per day of drinking water.
Chabin quotes UCLA Professor Yoram Cohen as saying that for a variety of reasons—size, pricing, and permitting—Israel's model can't be duplicated in much larger California. Yet, the professor noted that Golden State could still learn lessons on combating water shortages from Israelis.
Covering Israel's handling of its water shortage—and detailing the applicability of these lessons for California—gives readers a fresh perspective in what sometimes seems like a flood of stories fixated only on Israel as seen through the lens of Palestinian complaints. -- Sean Durns
Posted by ER at 03:56 PM | Comments (0)
A Closer Look at Who Funds Breaking the Silence
A previous post on May 6 observed that Breaking the Silence, the Israeli group that uses alleged soldier testimonials to accuse the Israeli defense forces of misconduct toward Palestinian civilians, is amply funded by European "humanitarian" organizations.
This raises the question as to why these European donors dedicate so much funding to exposing alleged misconduct by a few Israeli soldiers when the money would have greater humanitarian impact if it were used to sustain the countless victims of Islamic extremism and societal breakdown in the surrounding region. What makes the European fixation on Israel so baffling is that Israel already has in-place institutions to deal with such misconduct. The Israel Defense Forces enshrined a rigorous moral code to which its soldiers and officers are accountable. After every significant military operation, as a matter of routine, investigations into allegations of misconduct are pursued.
The largest donors to Breaking the Silence include European religious-based organizations and governmental groups who justify their support for Breaking the Silence, and other groups that seek to undermine Israel's standing, on humanitarian grounds. But are these groups fully forthcoming about their motivations? Is there more to this than just empathy for Palestinians, who are already at the top of the list as beneficiaries of financial and political support from western governments and non-governmental organizations and who enjoy the unique privilege of having a UN organization, UNRWA, solely dedicated to their needs?
One of the largest donors to Breaking the Silence is a Catholic organization from the Flemish portion of Belgium. A little history here is revelatory.
The Israeli newspaper, Arutz Sheva, published on May 7, 2015 an article,"Flemish Leader Disowns WWII Nazi Collaboration." The article describes how the current leader of the right-wing nationalist Flemish party, the New Flemish Alliance, expressed contrition over the role his forebearers played in collaborating with the Nazis. In recent years, a number of nationalist parties in Europe have gone down this same road, disavowing the historic associations with virulent anti-Semitic movements.
Many of these parties, including the New Flemish Alliance's precursor, the Flemish National League (VNV), were a fusion of Fascist ideology and reactionary elements within the Catholic Church.
This ideological amalgam has been pushed to the margins in European society since World War II. The nationalist and western cultural components increasingly find common ground with the Jewish national state that came into existence in 1948. Post-war leadership of the Catholic Church has gone to great lengths to reject elements that perpetuate hatred of Jews. But that doesn't mean that the beliefs that formed the building blocks of that political fusion have dissipated.
Has the anti-Jewish core simply undergone a metamorphosis to be more congruent with the leftist-orientation that dominates European culture today? Do residual elements of the Catholic-Fascist amalgam continue to pursue their enmity towards the Jews under the deceptive guise of pursuing "justice" for the Palestinians by incriminating Israel?
More investigation is warranted to reveal what lies under the surface of the expansive support in Europe for groups like Breaking the Silence, that empower disaffected Israelis to undertake the task of undermining the moral and legal standing of the only state in the Middle East whose actions are guided and constrained by a full-fledged embrace of western values.
Posted by SS at 12:14 PM | Comments (1)
May 07, 2015
Amnesty International Rejects Proposal to Investigate Anti-Semitism
Amnesty International, a human rights non-governmental organization (NGO), purports to do research and lobbying on behalf of those suffering from human rights violations. Indeed, they proudly claim, "we investigate and expose the facts, whenever and wherever abuses happen."
These facts and abuses, however, apparently do not extend to incidents involving Jews. At its annual conference, Amnesty International rejected a proposal (468-461) to research the recent uptick of anti-Semitic behavior and expression in the U.K.
Amnesty's UK press officer, Neil Durkin, argued that the proposal – the lone proposal rejected at the conference – had a "single focus" that was not aligned with their broad, indiscriminate purview.
Durkin's "single focus" argument fails to hold water because the organization performed a "single focus" study on anti-Muslim discrimination in Britain in 2012.
The proposal regarding anti-Semitism was put forth based on reports by the All-Party Parliamentary Group Against Anti-Semitism and the Community Security Trust – two agencies that track attacks against Jews.
The studies revealed that such incidents doubled in frequency in 2014 – to 1,168 total cases - and reached their highest point since 1984, when they began tracking such incidents. In fact, corresponding with Operation Protective Edge, July alone had 314 incidents. In total, nearly one half of the 1,168 recorded incidents included explicit references to Gaza or Palestinians. This data reveals that attacks against Jews were prompted by both anti-Semitic and anti-Israel sentiments. Moreover, the data establishes that anti-Semitism is rising at a rate that should concern a human rights NGO to the degree that a report is necessary. Failing to address the anti-Semitism spike is failing to "investigate and expose the facts, whenever and wherever abuses happen."
Amnesty and its employees exhibit a pattern of anti-Israel and anti-Jewish bias. In November an Amnesty employee explicitly linked Israel and ISIS on twitter and was not disciplined or censured in any way.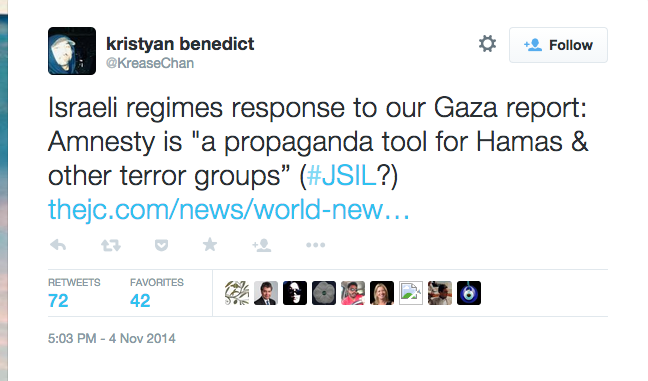 Kristyan Benedict is a UK Campaigns Manager at Amnesty International. His tweet (shown above) uses a hashtag: #JSIL, intended to evoke "Jewish State of the Levant." The hashtag specifically references ISIL (Islamic State of Iraq and the Levant), the alternative name for ISIS (Islamic State of Iraq and Syria). Despite a very negative response on Twitter, and more importantly, his horribly offensive and inaccurate comparison, Mr. Benedict was not disciplined by Amnesty.
Especially given this context, the fact that Amnesty rejected the proposal minimally demonstrates that they are not beholden to their own standards of researching and reporting all abuses of human rights. More likely, it reveals that, to them, human rights may be a fundamental issue deserving of research and lobbying…just so long as Jews are not the victims.
Posted by ns at 01:55 PM | Comments (0)
May 06, 2015
CAMERA Researcher Authors Book About Esther, Anti-Judaism and Israel
CAMERA Senior Research Analyst Dr. Tricia Miller has written a book that uses an academic approach to demonstrate the relationship of historic theology to current events concerning Israel in order to encourage Christians to support Israel's right to exist and defend itself against those who seek its destruction. Jews and Anti-Judaism in Esther and the Church shows how the anti-Judaism that is a central feature in the Book of Esther relates to contemporary issues within the ongoing Arab-Israeli conflict.
Published by James Clarke and Co. Ltd, a long-established British academic publisher specializing in historical and theological books, Jews and Anti-Judaism in Esther and the Church has been lauded by experts and scholars. Reverend Dr. Petra Heldt, a professor at the Rothberg International School at the Hebrew University of Jerusalem, declares:
This is the most careful study of the book of Esther and its anti-Jewish interpretations in the Church I have read. By placing the book of Esther in the context of realpolitik and hermeneutics that are filled with Jewish resistance to attempted genocide, Tricia Miller addresses the history of Christian anti-Judaism, the errors of replacement theology, and anti-Zionism as the new anti-Judaism. The book reads like a detective story which, by way of excellent exegetical scholarship and sound academic perception of history, puts the contemporary issue of the contested legitimacy of the State of Israel into the context of the universal right and obligation of self-defence. This investigation represents progressive thinking and the reality of strong bridges built between Jews and Christians in recent times.
Jews and Anti-Judaism in Esther and the Church is due to be released on May 28, 2015. For more information or to pre-order the book, please click here.

Posted by SC at 02:31 PM | Comments (0)
Anti-Israel Bias Oozes into USA Today Column, Again
When it comes to Israel, veteran USA Today columnist DeWayne Wickham apparently cannot help himself—if he sees an opportunity to disparage the Jewish state, or imagines he does, he takes it.
In "Israel Seems to Irritate USA Today Columnist, Repeatedly" (March 5, 2015) CAMERA spotlighted Wickham's compulsion—unsupported by evidence—to force the disagreement between Israeli Prime Minister Benjamin Netanyahu and U.S. President Barack Obama over Iran's nuclear program through the irrelevant prism of American race relations.
Five years earlier, Wickham seized on an erroneous post by an anti-Israel blogger ("Anatomy of a False Allegation: The Petraeus Controversy," April 26, 2010, CAMERA) to insinuate that Israel might be ungrateful for U.S. support.
Now, criticizing U.S. Sen. Marco Rubio (R-Fla.) for opposing the Obama administration's delisting Cuba as a state sponsor of terrorism, Wickham manages a whopper of a gratuitous anti-Israel dig. According to the columnist, "it is doublespeak for Rubio to say Cuba's designation should be maintained when, in 2010, he argued against the U.S. allowing the U.N. to discredit Israel. At the time, the U.N. was conducting an investigation of Israel's deadly effort to stop Turkish ships from breaking its embargo of the Gaza Strip."
Hard to pack more non-sequiturs, irrelevancies and innuendo into two sentences. Does Wickham mean to imply:
That Israel was, like Cuba, a sponsor of terrorism?
That the United States should have allowed the United Nations to "discredit" Israel? For what, maintaining an embargo the United Nations itself later would confirm was legitimate? (See "U.N. Palmer Report Affirms Legality of Israeli Naval Blockade of Gaza," Sept. 2, 2011, CAMERA ).
That because enforcing the legitimate embargo turned deadly only when an Israeli boarding party was attacked, Israel nevertheless was at fault?
That it wasn't worth mentioning the connection between the Turkish charity that helped organize the attempted blockade running and Hamas, the rulers of the Gaza Strip?
The United States wrongly lists Hamas—which uses Gaza as a base for anti-Israel attacks, hence the embargo—as a terrorist organization?
Wickham not only occupies space on USA Today's Op-Ed page. He's also dean of Morgan State University's School of Global Journalism and Communications. But credentials don't immunize against pretzel logic. Wickham's implied equivalence between a Cuba that supported terrorism and an Israel attempting to protect itself from terrorists has little to do with informed commentary. At best it's sloppy journalism, at worst, an example of obsessive bias.

Posted by ER at 12:24 PM | Comments (0)
The Troubling Historical Context of European funded Breaking the Silence
The release of a United Nations [UN] report on the deaths of Gazan civilians in UN shelters during the summer 2014 war between Israel and Hamas has served as the launching pad for another campaign to smear Israel. Breaking the Silence, a group that travels the world undermining Israel's moral standing by presenting alleged testimonies of Israeli soldiers committing unconscionable acts against Palestinian civilians, is saturating news outlets with articles promoting its 240-page report consisting of testimonials alleging Israeli cruelty and reckless disregard for the safety of Palestinian civilians in Gaza.
Breaking the Silence is funded by a roster of organizations that seek to undermine Israel's moral standing and force it into making concessions that would leave it vulnerable. Among the major donors are the Royal Norwegian Embassy, the European Union, several European Catholic organizations, including the German-based Miseroer and Flemish-based Broederlijk Delen, George Soros's Open Society, and a number of organizations funded by the far-left New Israel Fund. These organizations fund a bevy of groups dedicated to defaming and undermining the Jewish state. A Swiss organization, Pro Victimis claims that its special emphasis is addressing violence against women. But somehow it found 273,000 NIS to donate to Breaking the Silence.
The Norwegian, Flemish and German representations to groups that smear the only sovereign Jewish state is troubling when one recalls the historical context; This is especially so concerning the involvement of Catholic Church affiliated groups. There is a seamy underside to the history of Church dealings with Europe's Jews, involving the enlistment of disaffected Jews who were willing to villify and bear false witness against the Jewish community for self-serving reasons.
There is also more recent history. Aside from the obvious German link, Norway and Belgium were notable for collaborationist tendencies during World War II. Despite their relatively small populations, sufficient numbers of volunteers from both countries enabled the formation of entire SS divisions, suggesting a fertile soil for anti-Jewish animus among elements of the populations in both countries. In Belgium, the Flemish contributed a number of SS units, although it was from the French-speaking Walloons that the most fanatical SS foreign auxiliaries were drawn in 1945, led by the founder of the Catholic fascist Rexist party. Is this just distant history or is their still a deeply rooted animus lurking just beneath the surface that passes itself off as Christian humanitarian concern for the Palestinians in Gaza and the West Bank?
As has been noted in this blog many times before, the Palestinians in the West Bank and even in Gaza are not anywhere near the most deprived or suffering group in the Middle East. With unmitigated atrocities occurring all over the region, the unchanging focus of these so-called humanitarian groups on alleged Israeli actions, backed up by vast funds handed over to groups that engage in overt political agitation against the region's only functioning democracy, is morally indefensible.
Posted by SS at 10:23 AM | Comments (4)
May 01, 2015
The Mulish Media and Civilian Casualties in Gaza

Each and every time, without fail, when escalating Palestinian violence provokes a large-scale Israeli response, the media and "human rights" activists portray Israeli military actions as indiscriminate and reckless, mainly harming Palestinian civilians, especially women and children. It is remarkable how intractable the media and its acolytes are in the face of emerging evidence refuting their favored motif that Palestinian civilians account for the bulk of the victims.
During the Cast Lead operation (Dec. 27, 2008 to Jan. 18, 2009) and Protective Edge, the 50 day conflict between Israel and Hamas during the Summer of 2014, the media accepted without hesitation the fatality tallies provided by the U.N., even though the UN relies on the information provided by a terrorist entity, Hamas, that is a party to the conflict and has an obvious interest in misrepresenting the make-up of these fatalities. It is a curious thing, that so much credence is given to figures provided by a terrorist organization with a poor record of accountability, while contradictory figures from Israel, a country with a proven record of conducting independent investigations, are dismissed.
Both in 2009 and 2014, even as hostilities flared, information provided by the Palestinians themselves cast doubt on the claims that civilians made up the vast majority of fatalities. In both cases, independent Israeli organizations conducted investigations of the identities of the listed fatalities by the Palestinians. A study by the Meir Amit Intelligence and Terrorism Information Center disclosed that more than half of those killed in the 2014 conflict, for whom sufficient information existed to categorize their status, were identifiable as members of terrorist organizations or participants in the hostilities. To avoid the accusation of partisanship, the Center's report exhaustively catalogs each individual, showing the evidence of their participation in the hostilities and affiliation with terrorist groups.
Yet, on April 28, 2015 when major news organizations carried the story of a released U.N. report investigating the deaths occurring in and around shelters administered by UN agencies, virtually every story cited the UN figure that 70% of the deaths were civilians, or established that civilians made up most of the dead.
The unwillingness of the media to invest the time to scrutinize and incorporate newer information and then self-correct is a persistent problem that underscores CAMERA's mission to hold it accountable.
Posted by SS at 10:48 AM | Comments (0)
April 30, 2015
Fatwa? What Fatwa? Does Ayatollah Khamenei's Edict Exist?
The Washington Post ("Kerry seeks to assure Arab states over Iran deal," March 6, 2015) casually referred to an unconfirmed religious ruling by Ayatollah Ali Khamenei that the all-powerful supreme leader of Iran may not have made. Khamenei purportedly issued a fatwa (an Islamic sharia law edict) against nuclear weapons, yet questions about both its very existence and potential meaning go unmentioned in the article.
It's hard to tell what the supposed fatwa says because there is no hard evidence of its publication nor is a clear date given for its issuance. According to a Washington Institute for Near East Policy (WINEP) paper, the fatwa was first reported in October 2003 by Tehran after August 2002 revelations that Iran was secretly building a centrifuge enrichment facility in Natanz.
The WINEP report notes the ayatollah's ability to alter or override fatwas and his shifting rhetoric with regard to earlier declarations. These reportedly condemned the creation of nuclear weapons, but more recent pronouncements explicitly ruled out only their use.
The existence of the edict seems to be entirely of a self-referential nature—it is asserted to exist but no written evidence supports the claim. This is unusual for an order of such importance, as the WINEP report notes.
The Post referred to the supposed fatwa almost in passing: "Iran insists it does not seek nuclear arms, which the country's supreme leader has declared are forbidden by Islam, but wants the capacity to make nuclear fuel for reactors that produce energy and medical isotopes."
The Post's article is not alone in claiming Khamenei declared nuclear weapons off-limits to Iran under Islamic rule. In a speech to the U.N. General Assembly on September 24, 2013 President Obama stated, "the Supreme Leader has
issued a fatwa against the development of nuclear weapons."
In November, 2013 Secretary of State John Kerry made a similar claim while in Geneva, Switzerland noting, "the Supreme Leader has indicated there is a fatwa, which forbids them to do this [acquire nuclear weapons]."
Doubts about the fatwa's existence recently appeared in an article by Andrew McCarthy ("The Khamenei Fatwa Hoax is absurd on its face," National Review, April 16). McCarthy says that disbelief is warranted since fatwas must be written and accessible to be authoritative and the Iranian has a regime history of lying and reversing religious edicts for political expediency.--Sean Durns
Posted by ER at 02:52 PM | Comments (1)
Civil-Rights Veteran Slams the Anti-Israel 'Jim Crow' Smear
In an opinion piece in the New York Post, retired attorney and civil-rights activist Andrew Goldman writes:
In their campaign to smear the Jewish homeland, Israel's enemies regularly raid the history books for the worst examples of human cruelty. Israel has been compared to the former apartheid regime in South Africa and even Nazi Germany.

Now, Israel-haters across America are seizing on a fresh analogy — accusing Israel of replicating the Jim Crow South.

[…]

As a lawyer for the Council of Federated Organizations, an umbrella group that brought a wide array of civil-rights groups together, I was in there on the ground during the famous "Freedom Summer" of 1964.

We civil-rights workers triumphed when the landmark Civil Rights Act was passed in 1964. As we strove to achieve that goal, we never questioned the right of whites to live in the area, unlike the Palestinian leaders who assert that Jews are an alien presence.

We never threatened to drive the whites of the South into the Mississippi Delta, in marked contrast to the bloodthirsty Arab war cry of "driving the Jews" into the Mediterranean Sea.

We didn't have the support of entire nations who send money and arms to Palestinians and back terrorist attacks, as Arabs in the territories do today.

For that reason, I can no longer be a bystander as the noble legacy of the civil-rights movement is hijacked by a campaign whose goal is the destruction of Israel.
The entire piece is worth a read. Find it here.
Posted by SC at 09:48 AM | Comments (0)