July 29, 2015
Haaretz Headline vs. Haaretz Article
A page-one headline on Haaretz's English edition today, "Cuts to higher education to hurt Arabs, ultra-Orthodox Jews most," is not at all substantiated by the accompanying article. Although the proposed amounts to be slashed from various educational programs are "unknown," according to the article, Haaretz headline writers have nevertheless determined that Arabs and ultra-Orthodox Jews will be "most" hurt.
The article, by Yarden Skop, details proposed budgetary cuts for higher education which "will include an across-the-board cut to university and college budgets, including a freeze on hiring new faculty members; cuts to budgets for preacademic preparatory programs; programs designed to attract more Arabs and ultra-Orthodox Jewish to higher education; 'excellence centers' aimed at reversing the 'brain drain'; students assistance programs; projects conducted in conjunction with the defense establishment; collaboration with China and India and a reduction in academic activity in Eilat."
Nowhere does the article claim that out of all the programs facing potential cuts, those involving Arabs and ultra-Orthodox Jews stand the most to lose. To the contrary, Skop makes clear that the proposed amounts to be slashed from each program are unknown. He states: "The exact amounts to be cut from each line item have not been determined yet."
As is often the case, the English edition coverage differs from the Hebrew edition coverage. The latter is accurate while the former is not. Thus, the Hebrew edition headline (page 6, today) accurately states:
It means (CAMERA's translation):
The cuts in higher education will harm access for Haredim and Arabs to academia
Unlike the English edition, the Hebrew edition does not claim that Arabs and Haredim will be "most" hurt by the cuts. The subheadline adds:
In a Knesset emergency session, the head of the planning and budget committee in the Council for Higher Education noted the areas to be harmed by the cut
Moreover, the online Hebrew headline also singles out returning researchers to be harmed by the cut:
It states (CAMERA's translation):
The higher education cuts will harm access for Haredim and Arabs and return for researchers
See also "Haaretz, Lost in Translation" and listen to CAMERA's Tamar Sternthal on Voice of Israel last week discussing repeated mistranslations in Haaretz's English edition.
Posted by TS at 03:00 AM | Comments (0)
July 28, 2015
The Syria Deal Worked Out Great, So… Oh, Never Mind
In The Wall Street Journal, columnist Bret Stephens draws parallels between the failed international deal to eliminate Syria's vast store of chemical weapons and the current deal on the table regarding Iran's nuclear program.
In "The Syria Sham and the Iran Deal," Stephens writes:
Note the Journal's Adam Entous and Naftali Bendavid in a deeply reported July 23 exposé that reveals as much about the sham disarmament process in Syria as it foretells about the sham we are getting with Iran.

Start with the formal terms under which inspectors were forced to operate. The deal specified that Syria would give inspectors access to its "declared" chemical-weapons sites, much as Iran is expected to give U.N. inspectors unfettered access to its own declared sites. As for any undeclared sites, inspectors could request access provided they furnish evidence of their suspicions, giving the regime plenty of time to move, hide and deceive—yet another similarity with the Iran deal.

The agreement meant that inspectors were always playing by the regime's rules, even as Washington pretended to dictate terms.

[…]

The CIA now admits that Syria retains significant quantities of its deadliest chemical weapons. When Mr. Obama announced the Syria deal, he warned that he would use military force in the event that Mr. Assad failed to honor his promises. The threat was hollow then. It is laughable now. What ties the Syrian sham to the Iranian one is an American president bent on conjuring political illusions at home at the expense of strategic facts abroad, his weakness apparent to everyone but himself.
Posted by SC at 07:49 AM | Comments (0)
July 24, 2015
WSJ Excerpts Morgenthau Speech on Iran Deal
Former long-time Democratic Manhattan district attorney Robert M. Morgenthau spoke at the Stop Iran Now rally in New York's Times Square July 22. The Wall Street Journal ran an excerpt from his remarks:
The proposal would give Iran access to $150 billion in frozen assets. That provision is particularly galling. Over the years, survivors of Americans murdered in Iran's terrorist acts have sued Iran, and often won large judgments. The problem is, Iran refused to pay. I fail to see the logic in returning those embargoed funds without first requiring Iran to make good on the debts it owes to those survivors.

Although the proposal was negotiated in good faith, even the administration worries that some of those billions would go toward sponsoring terrorism—what the State Department euphemistically calls "destabilizing actions." This is not only a strategic issue, but a moral one. We simply cannot give terrorists the means to destroy innocent lives. Until Iran renounces terrorism, we cannot release those funds. And make no mistake: Neither side to this deal predicts that it will reduce Iranian terrorism. An Iranian newspaper that serves as a mouthpiece for the Iranian supreme leader put it this way: "In spite of various pretensions and fantasies, this agreement will not lead to cooperation between Iran and America on regional issues." And even President Obama, at his recent press conference, conceded that try as we might to curb Iran's destructive policies, he's "not betting on it."

With respect to Iran, an effective international sanctions regime is the only real alternative the world has to war. We must not dismantle those sanctions until we are assured that Iran's hostile intentions have been thwarted.

As district attorney, some of my most important cases were those in which we ensured that the sanctions against Iran were obeyed. I took on those cases because I believed the sanctions were crucial to prevent Iran from spreading even wider mayhem. We should keep those sanctions in place so long as Iran threatens the survival of its neighbors, and sponsors terror around the world. Near the end of his life, President John Kennedy delivered a speech in which he told Americans of the peace he hoped to bring to the world. He called it "genuine peace . . . not merely peace for Americans but peace for all men and women, not merely peace in our time, but peace in all time."

This proposal does just the opposite.

Posted by SC at 11:00 AM | Comments (1)
July 23, 2015
AP Coverage of Anti-Iran Deal Rally Accurate… Sort Of
Wednesday evening, July 22, 2015, roughly 12,000 people gathered in Times Square in New York City to demonstrate against the proposed nuclear deal struck between the Obama administration, European powers, Russia, China and Iran. Congress is in a 60-day review process after which it will vote on the deal. Protesters want their Senators and Representatives to vote against the agreement.
Though the Associate Press coverage was largely accurate, the story –picked up by media around the world– contained a number of unsettling elements. The article begins:
NEW YORK (AP) — Thousands of protesters packed into Times Square Wednesday evening to demand that Congress vote down the proposed U.S. deal with Iran.

As the crowd loomed behind police barricades, chants of "Kill the deal!" could be heard for blocks. The event, billed as the "Stop Iran Rally" consisted mainly of pro-Israel supporters, though organizers said it represents Americans of all faiths and political convictions.
Note the last sentence in the second paragraph reporting that the rally "consisted mainly of pro-Israel supporters, though organizers said it represents Americans of all faiths and political convictions." Can't "Americans of all faiths and political convictions" actually be "pro-Israel supporters"? There is no conflict. What is the AP implying?
Indeed, not only attendees but also speakers were drawn from all faiths and political convictions. James Woolsey served as Undersecretary of the Navy for Jimmy Carter and CIA Director for Bill Clinton. He's a Democrat. George Pataki was the Governor of New York and is currently running for the Republican nomination for President. Kassim Hafeez is a British Muslim of Pakistani descent. Allen West is a retired Lieutenant Colonel in the U.S. Army and a former Republican Congressman. Richard Kemp is a retired British Army Colonel who was Commander of British Forces in Afghanistan. All of them spoke at the rally. None of them is Jewish.
But, the AP chose to mention only one of the rally's speakers by name:
Alan Dershowitz, a prominent Jewish attorney, said he was "opposing the deal as a liberal Democrat." He said he believed democracy was "ignored" because the Obama administration negotiated the deal without congressional input.
Why is it necessary to identify Dershowitz' religion? And, even though he is Jewish, couldn't he actually be opposing the deal because he is a liberal Democrat? Again, the implication is disturbing.
As you can see from the photographs below, the rally was extremely well attended by thousands of people, young and old, black and white, veterans, students, and others, all united by their opposition to a deal they believe endangers American interests. Whatever the AP aims to imply, the pictures tell the story…
Posted by SC at 09:15 PM | Comments (0)
A Conspicuous Omission
The July 16, 2015 murder of four United States Marines and a sailor at two different military sites in Tennessee by Mohammod Youssuf Abdulazeez, which the FBI is reportedly investigating as an act of terrorism, has attracted considerable media coverage. Yet, in reporting the shooter's background and self-proclaimed "search for answers", The Washington Post failed to note specifically what may be an important aspect: prior investigations of links between Abdulazeez's father and U.S. listed-terror organization Hamas.
The New York Times ("Inquiry Focusing on Chattanooga Gunman's Trip to Jordan in 2014," July 17) reported that Abdulazeez's father, Youssuf "had been investigated about seven years ago" for "giving money to an organization that apparently had ties to Hamas, the Islamic militant group in Gaza that the United States and other Western nations consider a terrorist organization." The Times also noted "a similar investigation was conducted in the 1990s" into Abdulazeez's father and -- although neither investigation led to charges -- he was placed on a watch list for a time.
The Washington Post failed in print to note the purported connection to Hamas—the virulently Islamist organization ruling the Gaza Strip. In an article exploring the Chattanooga gunman's background and more specifically his family, ("Chattanooga Gunman came from a middle class Muslim Family," July 17) the newspaper states without further details that the father "was investigated by the FBI several years ago and put on the terrorism watch list but was later removed."
Other printed articles by the newspaper offer a bit more specifics, noting that the investigation was for "donating to Palestinian groups suspected of having ties to terrorism" ("Marine's killer set off no red flags," July 18) and a "radical Palestinian terror group." (Chattanooga Shooter's real, online lives seem to take divergent paths," July 18). But neither identified the group as Hamas.
A Lexis Nexis search reveals that the paper did identify the group—but only online in a blog piece that appeared shortly after the shooting ("As investigators probe motive in Chattanooga rampage, a portrait of the shooter emerges," July 17).
Unmentioned by either newspaper is whether the investigation into Youssef was related to the biggest U.S. terrorism funding trial to date. At that trial's conclusion in 2009, U.S. Treasury officials connected what was once the nation's largest Muslim charity—The Holy Land Foundation for Relief and Development—to fund raising for Hamas. Evidence introduced at trial also indicated that the Council on American Islamic Relations (CAIR) was, like Hamas, a Muslim Brotherhood derivative.
Although The Post failed to publish the purported Hamas connection, it noted that the murderer himself had no such compunction in mentioning the terror group. Abdulazeez reportedly "talked about…battles between Israel and Hamas in Gaza" with friends and even "blamed some of the bloodshed on U.S. foreign policy." ("Tenn. Shooter struggled with clash of faith, drugs," July 19).
The motives of the gunman are still being investigated, but The Post should have clarified in print the father's apparent Holy Land Foundation-Hamas link.—Sean Durns
Posted by ER at 04:24 PM | Comments (0)
Where's the Coverage: Dead Terrorist was al-Qaeda's "leader in Iran"
Both Iran and terrorism have received considerable news coverage. The attack in Chattanooga, Tennessee that killed four United States Marines and one sailor on July 16, 2015 and the conclusion of U.S.-led nuclear negotiations over the Islamic Republic of Iran's purported nuclear program two day previously kept both subjects in the headlines. FBI officials reportedly were investigating the Tennessee murders as terrorism, but a connection to the Islamic State in Iraq and Syria, if only inspirational, has not been confirmed.
The July 21 Pentagon announcement of a July 8 U.S drone strike in northwestern Syria killing Muhsin al-Fadhli—leader of an al-Qaeda group dubbed by some D.C. analysts the Khorasan Group—provided the press with another opportunity to cover the ongoing threat of terror. Yet, while noting al-Fadhli's death, some major media outlets omitted his connections to the world's leading state sponsor of terrorism: The Islamic Republic of Iran.
According to previously disclosed classified U.S. intelligence estimates, the Khorasan Group had been planning attacks on the U.S. homeland and had "been working with bomb makers from al-Qaeda's Yemen affiliate to test new ways to slip nonmetallic explosives past airport security. Officials fear that the Khorasan militants could provide these sophisticated explosives to their Western recruits, who could sneak them onto United States-bound flights."
The New York Times reported ("Qaeda Leader in Syria, a Bin Laden Ally, Is Killed in Strike, U.S. Says," July 22, 2015) Muhsin al-Fadhli was identified in 2012 by the U.S. State Department as al-Qaeda's "leader in Iran" where he directed "the movement of funds and operatives." The Times observed that prior to arriving in Syria and working with al-Qaeda affiliate al-Nusra Front, the terrorist leader had been living in Iran where he was one of a number of al-Qaeda operatives who had fled into the country from Afghanistan after the Sept. 11, 2001 terror attacks. The newspaper noted that Iranian officials have since claimed that Fadhli and other al-Qaeda terrorists were under house arrest while there, but have failed to provide any proof of that or an explanation of how they managed to escape to Syria. The Baltimore Sun ("Drone kills al-Qaeda leader," July 21) similarly detailed that not only was Fadhli "head of the network's [Al-Qaeda] operations in Iran" but that the word "Khorasan"—a Persian word—is the name of an 8th century province in "an early Islamic caliphate that spanned what is now northern Iran and part of Afghanistan."
Yet, other publications did not note the terrorist's Iranian connection at all when providing an overview of his background.
Reporting Fadhli's history as being among the "few trusted" senior al-Qaeda leaders who were given advance notice of the 9/11 terror attacks, The Los Angeles Times ("U.S. strike kills Al Qaeda 'facilitator'; drone over Syria hits the leader of the Khorasan Group," July 22) failed to mention Fadhli's Iran tie. The Washington Post ("Airstrike killed a senior al-Qaeda figure in Syria, Pentagon says," July 22, 2015) similarly omitted the role of Iran in allowing a base for the al-Qaeda leader and his compatriots.
Reporting the death of a terrorist leader—particularly one mentioned by name in a 2005 speech by President George W. Bush in Brussels—is newsworthy. However, with the debate surrounding the nuclear deal with Iran and the Islamic Republic's role as a leading state sponsor of terrorism, readers of The Washington Post and The Los Angeles Times would perhaps have been better served by more detailed coverage noting the deceased al-Qaeda leaders' time in Iran.
Where's the coverage? —Sean Durns
Posted by ER at 02:27 PM | Comments (0)
Who Knew? Israeli Security Fence Part of Region-Wide Trend
The map of security fences shown above is a slightly modified version of what appeared in an article published by Bloomberg News.
Israel has been vilified for building a security barrier (mostly fence, with walls in urban areas) to keep terrorists emanating from Palestinian enclaves in the West Bank and Gaza from infiltrating into Israeli communities to carry out attacks.
Anti-Israel activists on university campuses, in church conclaves and in the media refer to Israel's barrier as the "apartheid wall" pretending that its main purpose is to keep Palestinians penned in to so-called "bantustans", when in reality it was a last-choice solution to stem escalating terrorism against Israeli civilians.
Well, it turns out that while Israel's barrier may be an unforgivable offense to those whose vantage point is hundreds or thousands of miles away from the danger, in the region itself, security fences have become commonplace, stretching thousands of miles along insecure borders.
An article appearing on Bloomberg News Web site, provides maps and a chronology of fence building in the region. It turns out that the first and still longest security fence was built by Morocco. After 9-11-2001, Saudi Arabia and others followed suit. Even terrorist-flagship Iran has built a fence to keep out unwanted visitors from Afghanistan and Pakistan.
At the UN and among activists in the West, only Israel's fence is seen as a problem though. For the others, protecting oneself from terrorist infiltration is ample justification.
Posted by SS at 12:03 PM | Comments (4)
July 22, 2015
With A Corrected Mistranslation, Even The Guardian Looks Good Relative to the BBC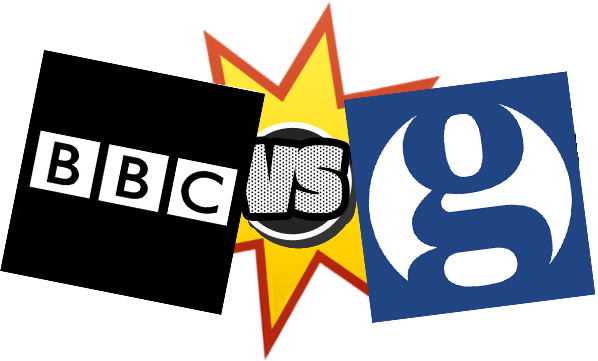 Earlier this month, CAMERA's BBC Watch and UK Media Watch ran interesting pieces discussing mistranslations by the BBC and The Guardian, respectively.
It's worth comparing those two posts, looking at the way the British news organizations handled complaints about their mistranslations, in part because The Guardian, which is generally one of the more anti-Israel English-language newspapers around, in this case bested the BBC when it came to grasping the importance of precise translations and of correcting errors.
The Guardian
The Guardian initially claimed in an editorial that
In a small but perhaps encouraging sign, President Rouhani, in his statement welcoming the deal, referred to Israel by its name, rather than as "the Zionist entity".
After UK Media Watch informed The Guardian that this was not true, the newspaper quickly and commendably fixed its mistake and published a correction explaining that
This article was amended on 15 July 2015. An earlier version said President Rouhani, in his statement welcoming the deal, referred to Israel by its name, rather than as "the Zionist entity." In fact he did not refer to Israel by its name, but as "the Zionist usurper regime."
The BBC
Like the Guardian, the BBC also plugged the word "Israel" into a translation of a statement that didn't actually include the word. Likewise, what was actually said was telling.
As reported in Britain's The Jewish Chronicle,
A BBC documentary has substituted the word "Israelis" for "Jews" in its translation of interviews with Palestinians, its maker has admitted.

Lyse Doucet has stood by the decision to translate "yahud" as "Israeli" in subtitles on her hour-long documentary Children of the Gaza War, which airs on BBC Two tonight.

The correct translation for "yahud" from Arabic to English is "Jew."

The BBC's chief international correspondent said that Gazan translators had advised her that Palestinian children interviewed on the programme who refer to "the Jews" actually meant Israelis.

In one instance, a Gazan child says the "yahud" are massacring Palestinians. However the subtitles read: "Israel is massacring us."

Canada-born Ms Doucet said: "We talked to people in Gaza, we talked to translators. When [the children] say 'Jews,' they mean 'Israelis.'
BBC Watch explained that this was not the first time the media giant replaced Palestinian "Jews" with "Israelis," and recounted that, after a complaint about the switch, the BBC Trust's Editorial Standards Committee in 2013 did not correct the mistranslation, and in fact went so far as to justify the practice, saying that "Israel" is what the speaker was "most likely referring to."
Let's assume the very best case: That the Palestinians who said "yahud" really did mean Israelis, notwithstanding the many examples of straightforwardly, explicitly anti-Jewish rhetoric in Palestinian society and the wider Arab world.
Even in this case, words matter. (Look again at the idea behind The Guardian's erroneous claim: "In a small but perhaps encouraging sign, President Rouhani…referred to Israel by its name, rather than as 'the Zionist entity.'" Words matter.)
If its true that Palestinian children conflate "the Jews" and "Israel" in their language, this matters — and news consumers seeking to understand the Arab-Israeli conflict should know about it. If Palestinian parents and educators generally don't teach that "Jew" means something broader than "Israeli," then again, this matters, and BBC viewers should understand this reality.
And the truth is, reporters don't generally assume the very best case. When an Israeli rabbi used terribly ugly language in reference to "the Arabs," the BBC (and others) didn't look into the rabbi's mind, determine what he "most likely" meant, and tell readers that he was slurring "terrorists," which is what the rabbi later insisted he was speaking about. Or to take a more recent example, the BBC (and others) has no problem referring to Donald Trump's "disparaging remarks made about Mexicans" — not about Mexican immigrants, which is who he was referring to, or "bad" Mexican immigrants, which one might argue is what he meant. Trump's comments are controversial because what people say, the form their words take, and the potential effect of the words on those listening, are thought to matter.
At least in this case, The Guardian understood that, and the BBC did not.
Posted by GI at 02:20 PM | Comments (0)
Where's the Coverage? Under Nuke Deal, US and West to Protect Iran from Israel

There has certainly been media coverage of the nuclear deal struck by the United States, Great Britain, France, Germany, Russia and China (P5+1) with Iran. The Obama administration has been saturating the airwaves and news pages with proponents of the deal including the President himself. Opponents of the deal have also appeared in the press and many elements of the deal have been publicized widely in the media.
However, one provision of the deal has received scant coverage. Blogs, specialized media outlets, the Israeli and some Jewish press have reported on a troubling section of the Joint Plan of Action (JPOA) that commits the signatories to help protect Iran from sabotage of its nuclear facilities. But the popular press has not widely covered this troubling element of the deal.
Arutz Sheva reports on Article 10 of the agreement:
In the deal the world powers obligate to "co-operation in the form of training courses and workshops to strengthen Iran's ability to prevent, protect and respond to nuclear security threats to nuclear facilities and systems as well as to enable effective and sustainable nuclear security and physical protection systems."

Leaving no doubts about the intentions, the text then promises "co-operation through training and workshops to strengthen Iran's ability to protect against, and respond to nuclear security threats, including sabotage."
Reports are that these clauses were not present in the interim JPOA signed in April. This was apparently a last minute concession to Iran.
Since the United States and its Western allies are signatories to this agreement, the "protection" and "response" would not be to any action undertaken by them. The same can be said for China and Russia who would be unlikely to sabotage Iran anyway. Therefore, the "nuclear security threats, including sabotage" must refer to potential actions by Israel, believed to be party to previous acts of sabotage against Iran's nuclear program.
In other words, the United States will be protecting Iran, whose leaders frequently chant "Death to America," from Israel, frequently described as "America's best friend in the region."
This is extremely significant. And yet… Where's the coverage?
Posted by SC at 12:36 PM | Comments (1)
Wall Street Journal: Sanctions To Be Lifted Against Network of Iranian Nuclear Scientists
As more information is made available about the nuclear agreement with Iran, the Wall Street Journal reports that
The Obama administration and European Union agreed as part of the accord last week to lift sanctions over eight years on a network of Iranian scientists, military officers and companies long suspected by the U.S. and United Nations as central players in a covert nuclear weapons program.
Among those whose sanctions will be lifted are:
Mohsen Fakhrizadeh-Mahabadi. U.S. and Israeli intelligence agencies suspect he oversaw a secret Iranian program to develop the technologies for a nuclear weapon, at least until 2003. He's been called by American officials the " Robert Oppenheimer" of Iran's nuclear efforts, a reference to the American scientist who oversaw development of atomic weapons during World War II.
Also slated for removal from a financial blacklist is a German engineer, Gerhard Wisser, implicated "in a global black market in nuclear weapons technology run by the father of Pakistan's nuclear program, Abdul Qadeer Khan." Wisser belongs to a network of German engineers and businessmen involved in selling technology to assist rogue regimes' nuclear weapons programs. Numerous investigative reports disclosed contacts between Iran and the German network going back to the 1980s.
The entire Wall Street Journal article is reprinted below (tip from Omri Ceren of the Israel Project)
Continue reading "Wall Street Journal: Sanctions To Be Lifted Against Network of Iranian Nuclear Scientists"
Posted by SS at 11:19 AM | Comments (0)
July 21, 2015
The Last Time Iran Negotiated in Vienna, Kurdish Leaders Died
Major news media outlets offered extensive coverage of U.S.-led nuclear negotiations over Iran's purported nuclear program leading to a signed "deal" on July 14, 2015. Yet, references to an earlier Iranian "negotiation" almost 26 years to that date and in the very same city were largely overlooked.
While the ultimate result of the nuclear talks lies in the future, Iran made its modus operandi clear on July 13, 1989. That's when agents of the Islamic Republic murdered three Kurdish government officials with whom they were meeting in the Austrian capital.
Writing at Commentary magazine's Contentions blog ("Iran and the Murder in Vienna," July 13, 2015), American Enterprise Institute scholar Michael Rubin notes that summer "was a time of hope." Many "Iran watchers" predicted a more moderate Islamic Republic following the recent death of the regime's founder Ayatollah Ruhollah Khomenei and the forthcoming ascension of the supposed "moderate" and "pragmatist" Ali Akbar Hashemi Rafsanjani to the Iranian presidency. After the devastation wrought by the eight-year long Iran-Iraq War, "most Western diplomats," Rubin observes, "assessed that the Islamic Republic would focus on rebuilding itself" and turn away from the mass-murder, hostage-taking, and torture that had characterized the regime's actions since its founding in 1979.
The futility of such hopes were made apparent when Iranian negotiators assassinated their three Kurdish counterparts. The latter were the head of the Kurdish Democratic Party (KDPI) in Iran, Abdol-Rahman Gassemlou; the KDPI representative in Europe; and an interpreter. The echoes of gunfire in the Viennese apartment building brought police to the scene—whereupon they promptly released the Iranian delegation of Iranian Kordestan Governor Mostafa Ajoudi, Amir Bozorgian, and Mohammad Ja'fari Sahraroudi. The trio went free under the condition that they make themselves available for further questioning.
Instead the delegation broke its word and returned to Iran. For his work in killing those deemed enemies by the theocratic regime, Sahraroudi was promoted to head of intelligence for the Islamic Revolutionary Guard Corp's elite Quds [Jerusalem] Force—listed by the United States as a terrorist organization.
As Rubin notes: "The promotion — as well as the senior level of the Iranian delegation — showed that the assassination was no rogue operation. It was not locally conceived, but rather likely was directed from the top."
Near the top of the regime at the time was the then-head of the Supreme National Security Council, Hassan Rouhani. Rouhani, often described in Western media as a "moderate" or "pragmatist"—words with different meanings—was elected president of the Islamic Republic in 2013. This after he was first vetted and approved by Tehran's Iran's Supreme Leader Ayatollah Ali Khamenei, who had succeeded Khomeini.
Subsequent investigation by Austrian officials concluded that the shooting of the Kurdish officials was a planned hit, not a parlay gone awry and warrants were issued for the arrest of the three members of the Iranian delegation. Tehran, having already completed its objective in the negotiations, refused to extradite the trio.
The more things change the more they may well remain the same. This July 18, Khamenei gave a speech in which he promised the Iranian people that the nuclear agreement would not change Iranian policy towards "the arrogant U.S. government" or the regime's support for international terrorist groups and Shiite militias whose documented atrocities are fueling ISIS recruitment:
"The Islamic Republic of Iran will not give up support of its friends in the region--the oppressed people of Palestine, of Yemen, the Syrian and Iraqi governments, the oppressed people of Bahrain and sincere resistance fighters [such as U.S.-listed terror groups Hezbollah, Palestinian Islamic Jihad, and Hamas] in Lebanon and Palestine."
Such global aggression is in keeping with Khamenei's 26-year rule. It was July 18, 1994 when Hezbollah—in league with its Iranian sponsors—bombed the Asociacion Mutual Israelita Argentina (AMIA) building in Argentina, killing 85. Alberto Nisman, the Argentinean prosecutor investigating the crime and who reportedly had proof of involvement between Iran and Argentina, was found dead in mysterious circumstances on Jan. 18, 2015.
By the manner in which the mullahs celebrate anniversaries, we may have a glimpse into their future behavior.
For more on Iran's assassination of Kurdish officials in Vienna, Michael Rubin's article can be found here.—Sean Durns
Posted by ER at 05:04 PM | Comments (0)
Al Arabiya Interview With Secretary of State Kerry on Iran Deal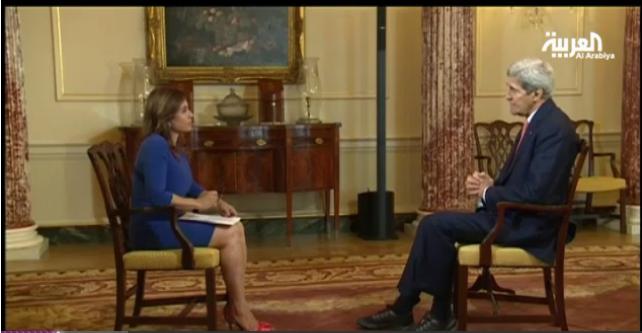 Al Arabiya published an interview with United States Secretary of State John Kerry.
Secretary of State Kerry defended the agreement in the face of Iran's continued aggressive activities in the region by stating:
Well, let me ask you a question... Is it better to push back against those activities against an Iran with a nuclear weapon or an Iran without one? Obviously, without one. So you have to begin somewhere.
In response to the interviewers question about the $100 billion dollar windfall for Iran, Secretary of State Kerry responded:
The point I'm making is that $100 billion is nothing compared to what gets spent every year in the region. Iran's military budget is $15 billion. The Gulf states' military budget is $130 billion. So I am saying ... we think things can be done far more effectively to push back against proxy activities. And most importantly, we would like to encourage people to find an alternative to any of these activities, and we believe there are ways to try to bring about a different set of relationships and, ultimately, absolutely protect the region's security and interests.
Questioned about the continuing hostile statements by Iran's Supreme Leader, Ayatollah Khamenei, Secretary of State Kerry responded:
I don't know how to interpret it at this point in time, except to take it at face value, that that's his policy. But I do know that often comments are made publicly and things can evolve that are different.
On the question of whether Iran will cheat on the agreement, Secretary of State Kerry responded:
I have no idea. I'm not going to accuse somebody of cheating before somebody does, but I will tell you that this agreement is built so that you're not surprised, so that you know you have the mechanisms in place to prevent it.
The full transcript is here. Video is here.
Posted by SS at 11:15 AM | Comments (2)
July 16, 2015
Buying Martyrs for Iran's Expanding Proxy War
The most immediate benefit for Iran resulting from the deal over its nuclear program is access to over $100 billion dollars. Critics of the deal argue that flushed with money, Iran will escalate its funding and involvement in on-going proxy wars and terrorism.
A Wall Street Journal piece lays out the extent of Iranian support for the Syrian regime, Hezbollah, Iraqi militias and Houthis in Yemen. Iranian funds will be used in a variety of ways. It will prop up the Assad regime that still controls major Syrian cities and the Houthi rebels that control a large portion of Yemen.
Funds will also be used to purchase weapons and munitions both to replenish existing stocks and introduce new weapon systems. There are numerous reports of Iranian supplies of a panoply of weapons to Syria, Hezbollah, Iraqi Shiite militias and Houthis.
In one shipment in March, 2015, the Iranians unloaded 185 tons of weapons to the Houthis.
Of particular concern to Israel are the missiles intended for Hezbollah.
Historical analogies are useful here to understand the impact of such activities down the road. During the Spanish Civil War from 1936-1938, Nazi Germany provided essential support to the Spanish Fascists, the Nationalists, initially providing weapons and instructors, and then eventually injecting small numbers of German troops, depicting them as volunteers. Iran seems to be following a similar path of involvement. It has even used the same ruse, labeling the increasing numbers of Iranians involved in the fighting in Syria and Iraq as volunteers.
The Spanish Civil War is instructive in another way with respect to the civil wars in Syria, Yemen and Iraq. The Spanish conflict provided Nazi Germany with a testing ground for its more sophisticated weapons and emerging tactics. It was in Spain, in places like Guernica, that the Germans practiced aerial bombardment of cities. Spain was also a testing ground for the Germans to refine their tactics, for example in the use of tanks. The experience Germany gained proved immensely valuable during the war that followed in Europe. The drawn-out fighting in Syria, Iraq and Yemen may yield similar benefits to Iran and its proxies.
There is another substantial benefit derived from the infusion of money available for military aggression and terrorism. An article in a Lebanese Internet magazine, NOW Lebanon, discusses the rising toll on Hezbollah, the Lebanese Shiite military and terror organization that serves Iran's leaders. The article notes that Hezbollah has lost, by many accounts, over a thousand fighters in Syria. The losses have begun to stir some disaffection toward Hezbollah among Lebanon's 1.5 million-member Shiite community. The new funds will help contain any emerging discord.
The article notes that the families of those killed in Syria receive compensatory benefits:
Firstly, they become martyr families. This means they gain privileges and receive the highest level of attention and care. Then there is the matter of money: according to Al-Modon's source, each family that loses a son in Syria receives substantial compensation.
The infusion of money enables Iran to set aside vast sums for the purposes of providing generous compensation to the ever-growing number of families contributing "martyrs" to the Iranian cause.
So the net benefit of the infusion of billions of dollars is two-fold. Iran will be able to supply its forces, including proxies, with more weapons and better weapons. At the same time, it will ensure a continued supply of recruits for its expanding war.
Posted by SS at 11:38 AM | Comments (1)
July 15, 2015
Where's the Coverage? The 90s Called, They Want Their Nuke Deal Back

On October 18, 1994, at 5:09 PM in the White House Briefing Room, President Bill Clinton announced an agreement with North Korea which he said "agreed to freeze its existing nuclear program and to accept international inspection of all existing facilities." He declared the deal would help put "an end to the threat of nuclear proliferation on the Korean Peninsula."
Experts believe North Korea now has at least ten nuclear weapons.
Most of the mainstream media has ignored the striking similarity to the Iran situation or only briefly referenced it.
Below are President Clinton's remarks at the time. As you read, mentally swap out "North Korea" for "Iran" and "South Korea" for Israel.
Good afternoon. I am pleased that the United States and North Korea yesterday reached agreement on the text of a framework document on North Korea's nuclear program. This agreement will help to achieve a longstanding and vital American objective: an end to the threat of nuclear proliferation on the Korean Peninsula.

This agreement is good for the United States, good for our allies, and good for the safety of the entire world. It reduces the danger of the threat of nuclear spreading in the region. It's a crucial step toward drawing North Korea into the global community.

I want to begin by thanking Secretary Christopher and our chief negotiator, Ambassador at Large Bob Gallucci, for seeing these negotiations through. I asked Bob if he'd had any sleep, since he's going to answer all your technical questions about this agreement, and he said that he had had some sleep. So be somewhat gentle with him. After meeting with my chief national security advisers, and at their unanimous recommendation, I am instructing Ambassador Gallucci to return to Geneva on Friday for the purpose of signing an agreement.

The United States has been concerned about the possibility that North Korea was developing nuclear weapons since the 1980's. Three administrations have tried to bring this nuclear program under international control. There is nothing more important to our security and to the world's stability than preventing the spread of nuclear weapons and ballistic missiles. And the United States has an unshakeable commitment to protect our ally and our fellow democracy South Korea. Thirty-eight thousand American troops stationed on the Peninsula are the guarantors of that commitment.

Today, after 16 months of intense and difficult negotiations with North Korea, we have completed an agreement that will make the United States, the Korean Peninsula, and the world safer. Under the agreement, North Korea has agreed to freeze its existing nuclear program and to accept international inspection of all existing facilities.

This agreement represents the first step on the road to a nuclear-free Korean Peninsula. It does not rely on trust. Compliance will be certified by the International Atomic Energy Agency. The United States and North Korea have also agreed to ease trade restrictions and to move toward establishing liaison offices in each other's capitals. These offices will ease North Korea's isolation.

From the start of the negotiations, we have consulted closely with South Korea, with Japan, and with other interested parties. We will continue to work closely with our allies and with the Congress as our relationship with North Korea develops.

Throughout this administration, the fight against the spread of nuclear weapons has been among our most important international priorities, and we've made great progress toward removing nuclear weapons from Ukraine, Kazakhstan, and from Belarus. Nuclear weapons in Russia are no longer targeted on our citizens. Today all Americans should know that as a result of this achievement on Korea, our Nation will be safer and the future of our people more secure.
The current Iran accord will have permanent repercussions and could end exactly as the North Korean deal did – with an American enemy in possession of the most dangerous weapons on earth. Yet… Where's the coverage?

Posted by SC at 09:31 PM | Comments (2)
July 14, 2015
Did Iran Illegally Purchase Nuclear Weapons Technology During Talks?
Iran's drive to build what the West believes is a nuclear weapons program is hardly news, but apparently Iranian violations before a nuclear agreement was even signed should have been. Tehran has a history of being less-than-forthcoming about its purported nuclear weapons program. Revelations in 2002 by an Iranian dissident opposition group that the mullahs —in violation of the Nuclear Non-Proliferation Treaty (NPT) they signed—had a nuclear weapons program resulted in increased international economic sanctions. These led to the recently concluded nuclear talks with the theocratic regime.
Writing in The Weekly Standard ("Iran Made Illegal Purchases of Nuclear Weapons Technology Last Month," July 10, 2015), Benjamin Weinthal and Emanuele Ottolenghi of the think-tank Foundation for Defense of Democracies, note that Iran has "illicitly and clandestinely" attempted to procure nuclear weapons technology "apace, if not faster" than before the U.S.-led nuclear negotiations began in 2013.
The authors reached their conclusion after reading a report from a German spy agency.
According to Germany's domestic intelligence agency, the Federal Office for the Protection of the Constitution, Iran has continued to seek illicit ballistic and nuclear technology. The authors note that Tehran has "sought industry computers, high-speed cameras, cable fiber, and pumps for its nuclear and missile program" since November 2013.
Weinthal and Ottolenghi also assert that Iran committed other violations including—but perhaps not limited to—selling more "oil then is allowed" under the interim international agreement and "pushing the envelope" on caps on the uranium stockpile. In all of these instances, Iran received no punishment from the West and no referrals were made to the United Nations. Perhaps, the writers speculate, this is because "the Obama administration and other Western powers have so much invested in their diplomatic efforts that they'll deny such violations ever occurred."
The Weekly Standard writers conclude that the Islamic Republic's incessant cheating and the apparent lack of Western resolve essential to countering it "does not bode well for the future."
For more on Iranian violations before the ink was even on the paper of the July 14th agreement, the Weinthal and Ottoloenghi article can be found here.-Sean Durns
Posted by ER at 04:45 PM | Comments (0)
Congress ignores PBS, NPR slant -- CAMERA Washington Times Letter
(This letter appeared in The Washington Times online July 1, 2015, in print July 2.)
Dear Editor:
The Washington Times editorial "Snark and bias alert: David Cameron moves to unslant the news at the BBC. Can NPR take a hint?" (June 29 print edition) observes "government-supported radio and television has grown fat and comfortable, paying enormous salaries to executives and administrators. The warp in the presentation of the news has grown steadily more evident. If they continue to take government money, PBS and NPR should submit to monitoring by an independent and effective monitoring panel, as [British Prime Minister] David Cameron has prescribed for the BBC."
We've documented NPR's, and PBS' recurrent "warp in the presentation" of Arab-Israeli news for many years. Yet an independent monitoring panel already exists. It's called Congress.
The Telecommunications Act calls for, among other things, "strict adherence to objectivity and balance in all programs or series of programs of a controversial nature" in taxpayer-supported public broadcasting. But Congress has yet to be an effective monitor.
In more than four decades, no NPR radio segment or PBS television show has been found to violate the objectivity and balance statute. Not because there's never been any bias, but because the relevant congressional committees have yet to hold the networks accountable according to traditional journalism standards including accuracy, context and comprehensiveness. It's time to start.
Sincerely,
Eric Rozenman
Washington Director
CAMERA—Committee for Accuracy in Middle East Reporting in America

Posted by ER at 01:22 PM | Comments (1)
July 10, 2015
More Anti-Israel Propaganda From Amnesty International
As CAMERA has frequently noted, the "human rights" organization Amnesty International [AI] has for years tried to undermine Israel's international standing. After every major Israeli military operation to quell Palestinian rocket attacks, AI publishes lengthy reports condemning Israeli actions as disproportionate and reckless and recommends that Israel be brought up on charges of committing war crimes.
These reports have a common template. Israel is treated as the major offender, not Hamas. Palestinian "witness" accounts of Israeli strikes allegedly targeting innocent civilians are presented as reliable. Israeli counter-claims and evidence are ignored, dismissed or relegated to inferior status. Statistics provided by Palestinian sources, including Hamas-run agencies, that count most of those killed by Israeli strikes as non-combatants, are repeated and given credibility to provide a foundation for the charges. Israeli investigations into reported casualties that show far greater numbers of combatants and fewer non-combatant casualties are given short shrift if they are mentioned at all.
The Algemeiner posted on July 9, 2015 an article by Elder of Ziyon discussing the most recent AI project, a video showing an Israeli air strike on an apartment building. The video is intended to discredit Israel's claim that it provides sufficient prior warning to inhabitants of a targeted structure so that they can safely evacuate before an air strike.
Careful scrutiny reveals that the film was edited to leave the impression that Israel provided only a little over a minute to evacuate the home, but in fact the Israelis had provided a series of warnings starting with a phone call 15 minutes before the "roof knock" warning, which was followed by a five minute gap, before the actual strike.
Posted by SS at 01:20 PM | Comments (2)
July 09, 2015
USA Today Notes What Other Media Miss—First Anniversary of Operation Protective Edge
Writing in USA Today, Michele Chabin ("Guard still up, one year later," July 8, 2015) covers the one-year anniversary of the summer 2014 Hamas-initiated war in Gaza. The article reminds readers of the haunting after-effects of the conflict, designated Operation Protective Edge by the Israeli military, for Israeli civilians and of ongoing security concerns.
Chabin covers the trauma inflicted upon southern Israeli communities faced with mortar and rocket fire by Hamas, Palestinian Islamic Jihad and other terrorist groups and Hamas tunnels infiltrating the region. A year after last summer's war, she notes how children in Kibbutz Nirim begin "running and crying" at the sound of explosions 18 miles away from the village—created by a battle between ISIS-affiliated (Islamic State in Iraq and Syria) gunmen and Egyptian forces in the Sinai Peninsula.
Observing efforts to counter the trauma, she notes that border communities have worked to ensure that "all children and adults have access to counseling" and that every home now has a room "reinforced against rockets." Yet, the traumatic memories of the war—including two Kibbutz Nirim residents killed in its very last hour—have left a fearful impression.
USA Today reports Israeli concerns over another possible Hamas attack. The discovery during the war—and subsequent destruction—of 34 cross-border terror tunnels intended to be used by Palestinian terrorists leave Israeli communities "bracing for the next conflict." According to Israeli Defense Forces (IDF) spokesman Maj. Aryeh Shalicar, the tunnels are "Hamas' top priority" and cost between $2-3 million each to construct with electrical and communications wiring.
Some other major news media failed to report the war's anniversary and its after-effects. Neither The Washington Post, Los Angeles Times, or The New York Times allotted space—although The New York Times did offer negative coverage of an Israeli trial of those charged with the murder of Palestinian teenager ("Agonizing Intimacy in the Courtroom as Israelis Are Tried in a Palestinian's Murder," July 7, 2015). And in recent weeks, all of these papers provided coverage of the United Nations Human Rights Council's biased report on the war that falsely equated Hamas' terrorist attacks, often using Gazan noncombatants as "human shields," with IDF counter-terrorism, including the large ground operation in the Gaza Strip.
Reporting on the one year anniversary of the summer 2014 war in Gaza and describing the damage and remaining danger to Israeli communities provides an important reminder to readers of the cost of Hamas' desire to fight and destroy the Jewish state. Other media missed an obvious "anniversary news peg" by not following USA Today's example.-Sean Durns
Posted by ER at 03:57 PM | Comments (1)
#HamasSummerCamp
During the summer many parents send their children to summer camp to grow, learn and make new friends. Hamas—a U.S. listed Palestinian terrorist organization that has brutally ruled the Gaza Strip since 2006—sends young Gazans to summer camps too. But there they are indoctrinated with hatred of Jews and the West and trained to murder.
On June 13, 2015, the Izz al-Din al-Qassam Brigades—a wing of Hamas—was running its third summer camp for Gaza teens and young adults to learn military tactics and training. The brigades take its name from Sheikh Izz al-Din al-Qassam, a Syrian-born Islamic revivalist preacher and president of the Young Men's Muslim Association in Haifa who led terrorist attacks against British officials and Jews in late 1920's and early 1930's Mandatory Palestine.
Hamas recruits their youth from mosques and central cities in the Gaza Strip for the Brigades' camps. Groups known as "The Liberation Pioneers" were formed to provide youthful terror recruits after the summer 2014 Hamas initiated war with Israel.
The Middle East Media Research Institute (MEMRI) notes in a July 6 report on the camps that the Hamas daily newspaper Filastin advertised the al-Qassam Brigades "aim to "create a nucleus for the future liberation project," that is, the attempted destruction of Israel. Summer camp activities for the young terrorists-to-be include "sermons, displays of courage, training in military skills, live fire exercises, field training, civil defense classes and first aid."
Fliers promoting the camp carry the "Liberation Pioneer" anthem, which includes a verse exhorting "martyrdom": "We [come] from our people and return to it, our blood is sacrificed for young and old."
According to MEMRI, Hamas' marketing for the summer camps "is meant to impress youths and entice them to register" through special videos, social media, especially Facebook, that provides registration information, cartoons, and public displays featuring loud public music and martial arts demonstrations.
Although Hamas claims that summer camps to train future terrorists are only for those 15 and over, pictures in the MEMRI report indicate otherwise. Taken from social media posts by Hamas, the images show children apparently much younger than 15 crowding tables that are attended by masked terrorists. AK-47 assault rifles lay on the tables next to registration sheets. In one image, a young child is seen sitting in the lap of one of the terrorists.
By training youth to fulfill Hamas' charter calling for the destruction of the Jewish State and the genocide of Jews, Hamas is in violation of the United Nations 1989 Convention on the Rights of the Child. The convention defines child soldiers as combatants under the age of 15.
Children forced to take up arms by Ugandan Joseph Kony and his Lord's Resistance Army resulted in the viral "Kony 2012" campaign. This anti-child soldier effort gained numerous Facebook 'likes,' 'retweets' on Twitter, and much notice on other social media platforms. It garnered—if briefly—public notice and disgust with Kony's tactics. The predatory terrorist activities of Hamas—whose "leaders" attend graduation ceremonies for camp trainees—has yet to receive similar notice and condemnation in very many media outlets. -Sean Durns
Posted by ER at 01:38 PM | Comments (0)
Los Angeles Times Halves Israel's Arab Population
In a film review last week, The Los Angeles Times ("Life in Israel from an Arab's view") understates the percentage of Israel's Arab population by half. The review states: "'A Borrowed Identity' deals with the situation of the roughly 10% of the state of Israel population (1.617 million people, we are told) who are Palestinians."

In fact, Israel's Arab population constitutes just over 20 percent of the country's total population. According to Israel's Central Bureau of Statistics (in Hebrew), as of April 21, 2015, Israel's total population was 8.345 million, of which 1.730 are Arab (20.7 percent).

As The Los Angeles Times correctly reported on March 13, 2015, "Arabs make up one-fifth of the population but have long felt disconnected from Israeli politics -- until now."

Likewise, the paper correctly reported Jan. 16, 2015: "In a country where Arabs make up about 20% of the population, the village is separated from other Arab communities nearly as much as from its Jewish neighbors."
CAMERA has requested a correction. Stay tuned for an update.
July 19, 2015 Update: LA Times Corrects: Israel's Arab Population Is 20 Percent


Posted by TS at 04:41 AM | Comments (2)