July 21, 2016
At the United Nations, Saudi Money Trumps Rights Criticism

The Washington Post's "U.S. forces to stay longer in Yemen to fight al-Qaeda" (July 18, 2016) included a paragraph which revealed much about how the United Nations really works.
The article, by reporters Thomas Gibbons-Neff and Missy Ryan, detailed how the U.S. military is planning to keep advisers in Yemen on a counterterrorism mission against al-Qaeda, the U.S.-designated terror group responsible for the Sept. 1, 2001 attacks. Gibbons-Neff and Ryan said that the U.S. also was assisting Saudi Arabia in its fight against Iranian-backed Houthi rebels that are at war with the Yemeni government.
The Post pointed out that U.S. support for Saudi Arabia was "complicated" by criticism of "high civilian casualties in the conflict in Yemen." However, the paper then noted the kingdom's revealing response:
"Last month, the United Nations put Saudi Arabia on a list of countries responsible for violating children's rights in armed conflict after determining that the Saudi-led coalition was responsible for the deaths of 60 percent of the 1,953 children reported killed since the start of the conflict. Saudi Arabia has since been removed from the list after threatening to cut its support for U.N. peacekeeping programs [emphasis added]."
As CAMERA has frequently noted, U.N. bodies often unfairly single out and malign Israel (for a partial list of examples, see here). Yet, many in the U.S. news media often fail to point out the U.N.'s anti-Israel record; treating the organization, instead, as an unbiased actor.
In an article on U.S. intervention in Yemen, The Post—even if unintentionally—briefly highlighted how the U.N. really works, or perhaps more precisely, doesn't work. U.S. news media outlets would do well to note it in the future.
Posted by SD at 03:09 PM | Comments (0)
July 20, 2016
'Who You Callin' a Human Shield?'
It should not go unnoticed that a major U.S. news organization—in this case The Washington Post—used the term "human shields" in its own voice when describing the practice of an Islamic terrorist movement embedding itself among civilians and holding them hostage.
In an article headlined "Iraqi troops retake Fallujah; One of Last Havens of Islamic State; Humanitarian crisis grows as thousands flee" (June 18, 2016 in print, June 17 online), Post correspondents Loveday Morris and Mustafa Salim wrote, among other things:
"There have been concerns about the plight of civilians stuck inside Fallujah. When the operation began in late May, as many as 90,000 people were believed trapped in the city, with the Islamic State holding them to use as human shields [emphasis added]."
The Post does not say who believed as many as 90,000 people were trapped in Fallujah or that the Islamic State in Iraq and Syria planned to use them as human shields. However, based on past actions by the group, the description no doubt seemed probable.
Hamas in the Gaza Strip and Hezbollah in Lebanon long have used the populations they claim to represent but daily intimidate as human shields in their "resistance" to Israel. In reporting non-combatant casualties resulting from Israeli counter-attacks against Hamas and Hezbollah, news media sometimes note Israel's charges that the two terrorist organizations were hiding behind human shields. They have been less likely to report, in their own words and accurately, that the two Islamic fundamentalist movements did just that.
It's worth noting Washington Post usage in this case, and keeping it mind the next time the press deals with civilian casualties among populations ruled by Hamas and Hezbollah as a result of Israeli responses to the groups' aggressions. What's good for ISIS ought to be good for them too.
It's also worth recalling that using human shields, and attacking other non-combatant population from among them, is a double violation of international law and ought to be reported as such.

Posted by ER at 04:47 PM | Comments (0)
UPDATED: Israelis Killed in "Alleged" Actual Attacks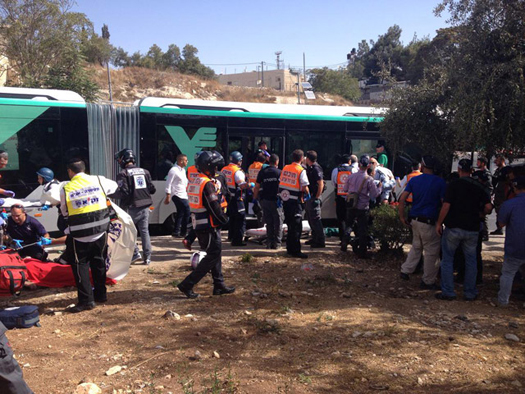 Bahaa Alyan took part in the Oct. 13, 2015 terror attack on a Jerusalem bus, killing three Israelis (Photo: Israel Police)
In an article about new Israeli legislation to allow for the ouster of members of Knesset accused of racial incitement, Agence France Presse today pulls a Time Magazine stunt, reporting:
The legislation was put forward after three Arab-Israeli opposition lawmakers sparked controversy when they visited relatives of Palestinians killed by Israeli security forces after alleged attacks in Israel.
Alleged attacks? Haviv Haim, Alon Govberg and Richard Lakin were not killed in an "alleged" attack on Oct. 13 when Bahaa Alyan boarded their Egged bus in East Talpiot, indiscriminately shooting and stabbing passengers. Alyan's father was among the Palestinian relatives with whom MKs Basel Ghattas, Jamal Zahalka and Hanin Zuabi met last February.
Indeed, AFP's headline and article at the time of the MKs' visit to the terrorists' families got it exactly right: "Israeli leaders slam MPs who met attackers' families." AFP's Feb. 5 headline rightly refers to "attackers' families," not "alleged attackers' families."
In addition, the Feb. 5 AFP story opened with the straightforward sentence: "Three Israeli Arab lawmakers who met relatives of Palestinians killed after carrying out attacks on Israelis faced fierce criticism. . . ." Indeed, there is no doubt that Baha Alyan, whose family the MKs visited, was one of the killers on that Egged bus Oct. 13.
As AFP's Feb. 5 article correctly detailed later on:
Balad said [the relatives with whom the MKs met] included the father of Bahaa Alyan, who in October boarded a bus in Jerusalem with a friend, shooting and stabbing passengers and killing three people.
After a Facebook campaign launched by Israel's Government Press Office, Time Magazine corrected the identical error concerning Alyan. CAMERA has contacted AFP editors to ask them to likewise correct their copy. Stay tuned for an update.
UPDATE: AFP has amended the text of the article to read:
The legislation was put forward after three Arab-Israeli opposition lawmakers sparked controversy when they visited relatives of Palestinians killed by Israeli security forces while carrying out attacks. [emphasis added]
Posted by TS at 06:39 AM | Comments (3)
New York Times Clarifies on Gaza Settlements
Yesterday CAMERA prompted clarification of an unclear passage which implied that there are still settlements in the Gaza Strip in an otherwise thorough and informative article on the effects of living with terrorism in Israel ("To France from Israel: Lessons on Dealing with Terror"). The article originally referred to an undated Ben-Gurion University study which "found that residents close to attack sites — in this case, those living in Israeli settlements in the Gaza Strip — reported a lower sense of personal threat."

The use of the present tense ("those living in Israeli settlements in the Gaza Strip") with respect to the undated study wrongly implied that Israelis are currently living in Israeli settlements in the Gaza Strip.
In response to communication from CAMERA, a Times reporter immediately replied and promised to pass to forward our note to the foreign desk. Later, editors commendably amended the text, which now notes that the study was carried out in 2003-04 and which refers to "those living in Israeli settlements then in the Gaza Strip" (emphasis added.)
Editors did not append a note to the article alerting readers to the clarification. The clarification has not yet appeared in print.
For additional New York Times corrections elicited by CAMERA, please see here.
Posted by TS at 04:34 AM | Comments (0)
July 19, 2016
Report Accuses Huffington Post of Selling Iran Deal Through Lies, Deception and Anti-Semitic Incitement
Savethewest.com has released another report documenting the journalistic malfeasance of the Huffington Post. The Huffington Post is an internet news magazine founded by Arianna Huffington. It is one of the leading purveyors of the far-left political agenda.
Jon Sutz, the author of the report, had previously released a film that dissected the Huffington Post's coverage of Palestinian stabbing attacks in Israel in late 2015. The film demonstrated a pattern of manipulation and omission to support Palestinian propaganda and reverse victims and victimizers.
This report focuses on the Huffington Post's coverage of the Iran nuclear deal. According to the Savethewest report summary, the Huffington Post
(1) engaged in a two-year, scorched-Earth campaign of lies, deception, bias and anti-Semitic incitement in order to help promote the Iranian nuclear deal.

(2) ignored, then downplayed the discovery, in May 2016, that Deputy National Security Adviser Ben Rhodes created a "war room" inside the White House, consisting of federal officials and outside groups, that misled uninformed journalists, Congress and the American people on the Iran deal.

(3) has provided no coverage of the rapidly-unfolding discoveries that pivotal claims concerning the origins, nature and specifics of the Iran deal are false, thus validating its critics' worst fears.
The report discusses elements of the Huffington Post's coverage of the deal, including its utilization of anti-Semitic themes. Read the whole thing.
Posted by SS at 10:47 AM | Comments (1)
Washington Post Sinks Mavi Marmara Facts
Recep Tayyip Erdogan, President of Turkey

A Washington Post article ("6 years after raid, Turkey and Israel to normalize relations," June 28, 2016) improperly identified the Mavi Marmara—a ship carrying armed individuals who in 2010 attempted to break the Israeli naval blockade of the Hamas-ruled Gaza Strip—as an aid ship. Despite being presented by CAMERA with evidence disproving its characterization of the Mavi Marmara, The Post—without explanation—refused to correct.
In their dispatch, ostensibly about Israel and Turkey normalizing relations, Post reporters Erin Cunningham and Ruth Eglash claimed, "Israel and Turkey reached an agreement to repair ties after six years of strained relations over a deadly Israeli raid on a Turkish ship delivering aid to Gaza in 2010…. Ten Turkish activists were killed in the assault."
However, as CAMERA has noted ("Radical, Pro-Hamas 'Flotilla' Seeks Media Win," May 31, 2010), no aid was found aboard the Mavi Marmara, the lead ship in the flotilla which sailed for the Gaza Strip under the guise of bringing humanitarian assistance to Palestinian Arabs. The Israeli Foreign Affairs Ministry (MFA) reported that of the seven flotilla ships, only four were freighters. The Challenger 1 (small yacht), the Sfendonh (small passenger boat) and the Mavi Marmara (passenger ship) did not carry any humanitarian aid. The UN Palmer Report appeared to support Israel's conclusion, noting that what little aid was on board the Mavi Marmara was likely only "intended for the voyage itself," that is, for passengers' use. Greta Berlin, one of the flotilla organizers, concurred, telling Al Jazeera at the time: "This mission is not about delivering humanitarian supplies..."
Additionally, The Post's characterization of Mavi Marmara "activists" could mislead readers. As CAMERA has noted ("New York Times Presents Attack on Soldiers by Mavi Marmara Activists as Israel Claim," Aug. 18, 2011), video footage of the incident clearly shows that Israeli troops boarding the ship were attacked—some while still climbing aboard—with metal bars and knives. Israeli Defense Forces (IDF) later found a variety of weapons, including sharpened stakes and knives, aboard the ship (pictures of which can be found here).
That the Mavi Marmara was a fake aid ship is not surprising considering that terrorist groups were connected to it—another fact that The Post failed to report.
As CAMERA has noted, the two main organizers of the flotilla were the Turkish Insani Yardim Vakfi (IHH), an Islamic charity that has worked closely with terrorist organizations, and the Free Gaza Movement, which is strongly linked to the extremist International Solidarity Movement (ISM).
According to the Washington Institute for Near East Policy, a Washington D.C.-based think tank, the IHH works closely with Hamas, the terrorist group that rules the Gaza Strip. The Meir Amit Intelligence and Terrorism Information Center has cited links between the group and al-Qaeda, the U.S. designated-terrorist group responsible for the Sept. 11, 2001 terror attacks. The information center also charged IHH with involvement in a failed plot to bomb the Los Angeles International Airport.
As the Middle East Media Research Institute (MEMRI), a non-profit organization that translates Arab media, has documented, many of the flotilla participants were members of the Muslim Brotherhood, and some had declared their desire for martyrdom before trying to run the Israeli blockade.
In addition to omitting important information about the Mavi Marmara, The Post singled out Israel for its "naval blockade of Gaza." The paper failed to mention that Egyptian authorities also maintain a blockade of the Gaza Strip. Both countries do so to curtail jihadist activity and prevent the smuggling of weapons to the terrorist groups that threaten them.
CAMERA twice contacted The Washington Post asking for a correction. Despite being presented with the evidence noted above—including video footage of "activists" attacking IDF soldiers—The Post failed to respond.
This is not the first time this year that The Post omitted essential information in its reporting relating to the Mavi Marmara: Twice in February 2016, the paper improperly identified the IHH as a "non-governmental Islamic charity group. ("Washington Post Fails to Properly I.D. Terrorist Charity," Feb. 16, 2016)." When it comes to the "aid ship" that wasn't, The Post apparently would rather the facts sink than sink in.
Posted by SD at 09:35 AM | Comments (0)
July 18, 2016
Updated: Is Yohanna Katanacho Telling the Whole Story About West Bank Travel Restrictions?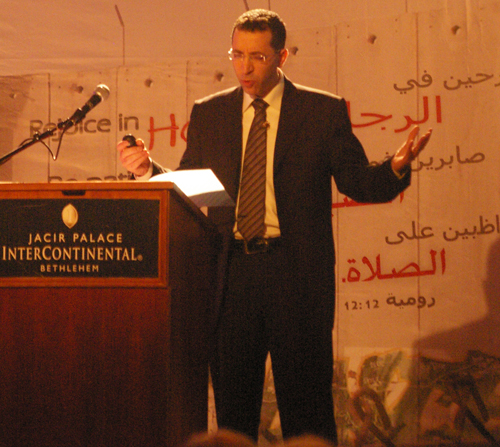 Rev. Dr. Yohanna Katanacho speaks at the 2012 Christ at the Checkpoint Conference in 2012. (Dexter Van Zile)
Note: This article has been updated. Scroll to the bottom to see the update. July 18, 2018
Rev. Dr. Yohanna Katanacho does not have a lot of nice things to say about Israel, where he lives as a citizen. Katanacho, who serves as a full professor of biblical sudies and academic dean at Nazareth Evangelical College in Israel, regularly denounces Israel to audiences of Christians from North America and Europe.
For example, he recently told an audience of Christians who had trekked to the West Bank for a "peacemaking" conference organized by his employer, Bethlehem Bible College, that "Jewishness in Israel has become an obsession for Israeli Jews and a nightmare for Palestinians because of its extremist views and determination to create a world filled with masters and slaves."
It's a dishonest way to describe Israel, the one country in the Middle East where the indigenous Christian population has increased and where Jews, Muslims and Christians work together to live in peace in ways that are unthinkable in many other countries in the region. (For a brief summary of some of the things Katanacho has said about Israel and its Jewish citizens please see this article on the Times of Israel website written by CAMERA researcher Dexter Van Zile.)
When speaking to a group of Christians at the first Christ at the Checkpoint Conference in Bethlehem in 2010, Katanacho lamented the fact that Israeli law prohibits Israeli citizens from entering into the areas in the West Bank controlled by the Palestinian Authority. He stated this fact to prove that the Israeli government has enacted policies that prevent Palestinians from "connecting with our families and relatives in the Occupied Palestinian territories. Even standing here today, I'm breaking the law. It's illegal for me to go inside Bethlehem."
Katanacho's declaration that he was breaking Israeli law by speaking at Christ at the Checkpoint in Bethlehem sounds very dramatic.
But is Katanacho telling the whole story?
Continue reading "Updated: Is Yohanna Katanacho Telling the Whole Story About West Bank Travel Restrictions?"
Posted by dvz at 02:09 PM | Comments (0)
July 15, 2016
List Ignoring Israeli Terror Victims Will Be Updated, CNN Assures CAMERA
July 17 Update Appended to Bottom of Post: CAMERA Success! CNN adds fatal attacks on Israelis
After the deadly terror attack in Nice, France, CNN posted an online feature entitled "30 Days of Terror Around the World," which offered readers "a look at the attacks that have happened from June 14 through July 14."
Glaringly absent from CNN's list, though, were any Israeli victims of Palestinian terror during that time period.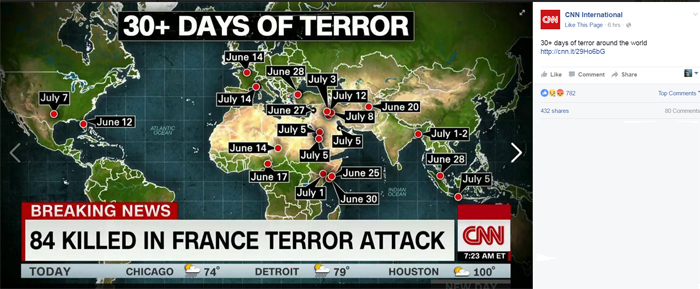 Readers were understandably outraged. Did CNN not consider Hallel Yaffa Ariel, a 13-year-old girl who was murdered in her bed, to be worthy of mention in this discussion of recent terror attacks? And what of Michael Mark, a rabbi killed in front of his wife and two children?
While these attacks were ignored, CNN did make sure to include even attacks that caused no fatalities, such as an attack on a police station in Indonesia …
… and an attack in Malaysia:
CNN has told CAMERA that the omissions were not intentional, and that it will be updating the feature with the attacks against Israelis. Stay tuned.
July 17 Update
As of Friday evening, CNN has included information on the Palestinian terror attacks in which 13-year-old Hallel Ariel and Rabbi Michael Mark were killed. Screen shots of the additions, which CNN included after CAMERA staff contacted editors, appear below.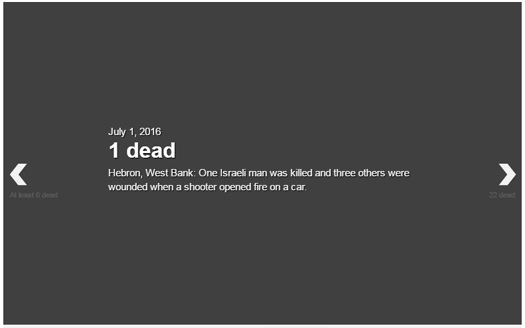 Posted by GI at 02:46 PM | Comments (1)
July 14, 2016
Christian Group Accuses WCC's Peace Activists of Violating Israeli Law
EAPPI activists in the West Bank. (Dexter Van Zile)
A subsidiary of the World Council of Churches (WCC), an umbrella organization that is comprised of more than 300 Protestant and Orthodox churches throughout the world, stands accused of violating Israeli law.
The organization is called the Ecumenical Accompaniment Program in Palestine and Israel, (EAPPI) which was founded by the WCC in 2001. EAPPI trains and sends "peace" activists into the West Bank to draw attention to the misdeeds of Israeli soldiers and settlers under the banner of "accompanying" Palestinians as they go about their daily lives.
EAPPI activists who come mostly from Europe and North America, spend several months in the West Bank and when they return home, they provide first-hand testimony to promote anti-Israel activism. EAPPI activists are regular supporters of the boycott, divestment and sanctions movement in mainline churches, for example.
Activists from the so-called peacemaking organization rarely, if ever, draw attention to the misdeeds of Palestinians, indicating that the EAPPI is really more interested in demonizing Israel than they are at promoting peace. (For a detailed analysis of the EAPPI and its parent organization, the World Council of Churches, please read this 2011 report prepared by CAMERA researcher Dexter Van Zile and published by the Jerusalem Center for Public Affairs about the WCC's anti-Zionist history. The upshot of this report is that "During times of conflict, WCC governing bodies, staffers, and activists have, to varying degrees, promoted a patently hostile attitude toward Israel and a permissive and appeasing attitude toward its enemies.")

Continue reading "Christian Group Accuses WCC's Peace Activists of Violating Israeli Law"
Posted by dvz at 12:00 PM | Comments (0)
July 13, 2016
Los Angeles Times' Fuzzy Figures on Gaza Patients
See July 14 update appended to this post: LA Times Corrects on Gaza Permits
In his article today about Gazan men receiving medical treatment in Turkey, freelance reporter Umar Farooq errs ("Residents of impoverished Gaza Strip turn to Turkey for lifesaving medical care"):

According to the World Health Organization, about 3,000 patients from Gaza with life-threatening illnesses apply each month to get treatment at Israeli hospitals, but fewer than two-thirds receive security clearance to pass through the Erez crossing.
According to monthly World Health Organization data, Farooq is wrong on two points.
1) During the most recent one-year period for which data is available (June 2015 to May 2016), about 2,000 patients from Gaza with life-threatening illnesses apply each month to get treatment at Israeli hospitals, not 3,000. In fact, the precise average number of monthly applicants during that time period is 2,048. The most applicants in any given month in the last year was 2,275 (October 2015).

2) Farooq also errs about the number of applicants who receive security clearance, stating: "fewer than two-thirds receive security clearance to pass through the Erez crossing." In the same 12 month period, the approval rate dipped below two-thirds just one time -- to 65.81 percent in May 2016. The average approval rating over the last most recent year for which data is available is 72.59 percent, or "fewer than three-quarters," not fewer than "two-thirds."

In a separate issue, the article notes that the 40 Gazan men seeking medical treatment "said they have no ties to the militant [sic] group Hamas, which rules Gaza." Then, interestingly, the end of the article notes that, in their apartment, "a television is tuned to Al Aqsa TV, broadcast from the Gaza Strip." Unfortunately, Farooq omitted to note that Al Aqsa TV is Hamas' official TV station.
July 14 Update: LA Times Issues Stealth Correction
Following communication from CAMERA, editors have amended the online article. The article now correctly reports:
According to the World Health Organization, about 2,000 patients from Gaza with life-threatening illnesses apply each month to get treatment at Israeli hospitals, but fewer than three-quarters on average receive security clearance to pass through the Erez crossing.
Contrary to standard journalistic practice, the editors have not appended a note to the article alerting readers to the correction.
For more Los Angeles Times corrections prompted by CAMERA, please see here.
Posted by TS at 07:14 AM | Comments (0)
July 12, 2016
AP Headline on Israeli Law Breaks Journalistic Rule
On a controversial new Israeli law to increase regulation of Israeli non-profit organizations which receive more than half of their funding from foreign states, an Associated Press headline violates the journalistic imperative to maintain impartiality. "Israel passes law targeting human rights organizations," is the AP news headline, mirroring the position of the law's critics.
The Associated Press is a leading wire service, and the tendentious headline was republished on top news sites including The Wall Street Journal, ABC News and Fox News.
This partial headline is coming down on one side of a controversial issue (the law's critics.)

As the article itself states: "Opponents of the law argued that the Netanyahu government was trying to target liberal human rights organizations that are critical of Israel's policies toward the Palestinians."

On the other side of the debate, as AP's Daniella Cheslow reports:
Israeli Prime Minister Benjamin Netanyahu has strongly supported the legislation, saying there is nothing anti-democratic about requiring transparency so the public is aware of the role of foreign governments in funding these groups.
A headline reflecting the law's supporters views might have said:
Israel passes law aimed at greater transparency for Israeli NGOs funded by foreign states.
Agence France Presse, another leading international wire service, opted for the neutral, descriptive and accurate headline: "Israel approves contentious NGO foreign funding law."
Reuters' headline also maintains greater objectivity, stating: "Israel NGO bill, seen as targeting left-wing groups, becomes law." (Emphasis added on the critical qualifying words.)

Hat tip: Eugene Kontorovich
Posted by TS at 07:17 AM | Comments (0)
July 07, 2016
Christian Science Monitor Headline Errs on 'New Israeli Settlements'
July 12 Update: CAMERA Prompts Christian Science Monitor Correction of Erroneous Headline on 'New Israeli Settlements'
Whenever Israel approves plans for new housing units in preexisting West Bank settlements, or in established Jewish neighborhoods in Jerusalem beyond the pre-1967 Armistice Line (the Green Line), it seems there's always at least one major media outlet which wrongly states that Israel is building "new settlements."
This time, there's this Christian Science Monitor Global News Blog headline:
As the accompanying article reports, the recent construction approval now drawing ire is for homes in the well-established settlement of Maale Adumim and for built up neighborhoods in Jerusalem beyond the Green Line. Not for any new Israeli settlements.
In 2013, CAMERA prompted an International New York Times correction of the identical error: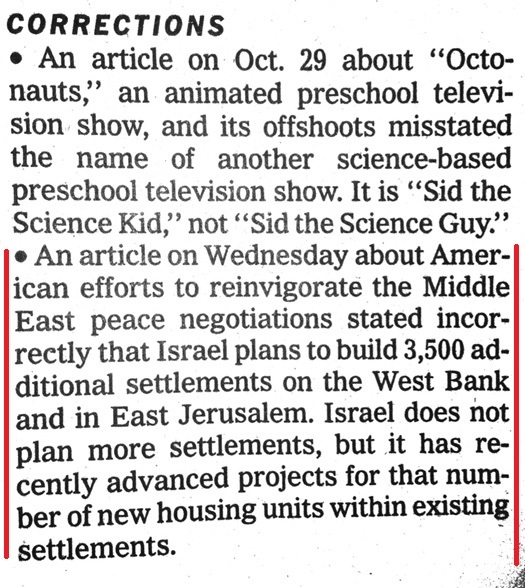 CAMERA has contacted editors to request a correction. Stay tuned for an update.
Posted by TS at 08:00 AM | Comments (0)
July 04, 2016
National Post Headline Casts Doubt: Murder of Hallel Ariel Maybe Not Terrorism
July 5 Update: National Post Amends the Headline
Following CAMERA's communication with several editors yesterday, editors commendably amended the headline. It now appropriately states: "Palestinian fatally stabs Israeli girl, 13, as she sleeps in her bedroom in West Bank settlement." CAMERA commends editors for their quick follow up.
July 4 -- Can the murder of a sleeping 13-year-old child out of nationalistic motives be considered anything other than a terrorist attack? Canada's The National Post ran the following headline about the murder of Hallel Yaffa Ariel, a 13-year-old Israel girl murdered in her bed last week by a Palestinian: "Palestinian fatally stabs sleeping Israel girl in West Bank settlement in what Israel calls a terrorist attack."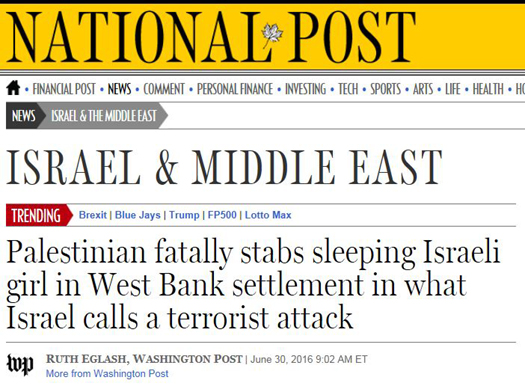 Why the qualifying reference to "what Israel calls a terrorist attack," as if there is a question as to whether the nationalistically motivated murder of a sleeping child is actually terrorism? The story, by Ruth Eglash, originated in The Washington Post where it was appropriately, and more briefly, headlined: "Palestinian fatally stabs sleeping Israeli girl, 13, in West Bank settlement."
Indeed, the reference to a "terrorist attack" is superfluous because the facts speak for themselves. But, once The National Post does lengthen the headline by including a reference to a "terrorist attack," on what grounds does it cast doubt on that fact that the nationalistic murder of a child is anything but a terror attack? Is this what The National Post calls a journalistically sound headline?
CAMERA has contacted editors to request that the bizarre headline be amended. Readers may also submit feedback to editors through The Post's site.
Posted by TS at 04:04 AM | Comments (3)
June 30, 2016
After Mother of Terrorist Says Son "Hero" and "Martyr," NY Times Mistranslates to Hide Her Words (UPDATED)
UPDATE: Following communication with CAMERA staff, the New York Times has corrected its subtitles. They now accurately show the woman using the word "hero" to describe terrorists like her son, and no longer claim she called the killing a "crime."

A New York Times video segment entitled "Reactions to West Bank Stabbing" includes an interview with the mother of a Palestinian terrorist who murdered a 13-year-old girl today. But a series of mistranslations downplayed the mother's words, which showed her proud support for her son's deed.
A twitter user named Akiva Cohen flagged one error, noting that although the audio clearly captured the mother calling her son a shahid, or "martyr," the subtitle showed her saying only "son."
Mom of terrorist who murdered 13yr old girl calls him "martyr". @nytimes edits 2 "my son". @GileadIni @elderofziyon pic.twitter.com/Ag0hN2Rsag

— Akiva Cohen (@AkivaMCohen) June 30, 2016
The mistranslation was quickly corrected.
But other mistranslations, which also soften the mother's extreme rhetoric, remain. Where the mother says that of course anyone who would commit such an act is a "hero," the subtitle shows her saying the word "bold" instead of hero.
Likewise, the subtitle translates her referring to the murder as a "crime," though she does not actually use that word.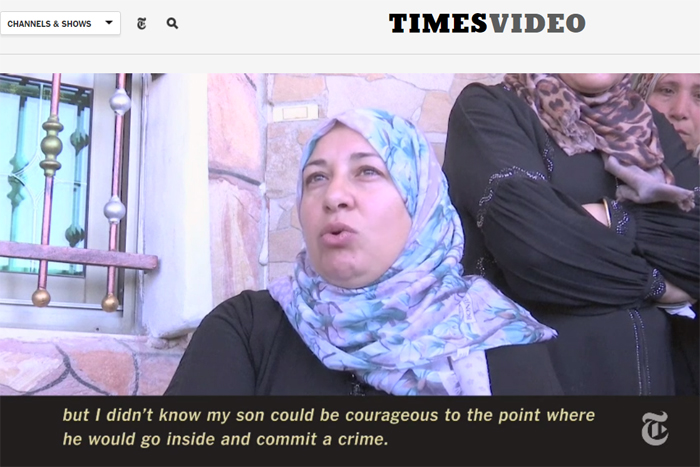 CAMERA has called on the newspaper to correct the remaining mistranslations. It should also figure out who mistranslated the segment in this way, what went wrong, and how to ensure that future translations — even of inflammatory statements by Palestinians — are rendered accurately.
Posted by GI at 04:29 PM | Comments (10)
June 27, 2016
CAIR Loses in Court, Media Fails to Notice

On June 21, 2016, the Council on American Islamic Relations (CAIR), a self-described U.S. civil rights organization with a history of Muslim Brotherhood and Hamas connections, lost an appellate court decision and will now have to stand trial for a "massive criminal fraud." However, this development was not reported by the major U.S. news media that frequently used CAIR as a source.
As CAMERA's Special Report "The Council on American Islamic Relations: Civil Rights, or Extremism?" (July 2009) has noted, CAIR is an unindicted co-conspirator in the 2009 Holy Land Foundation (HLF) retrial—the largest terrorism financing case in the country's history. At least five CAIR staff members and lay leaders have been imprisoned, indicted, arrested and/or deported on weapons or terrorism-related charges. As a result, the FBI, in a statement to members of the U.S. Congress, said that it would cease official cooperation with CAIR or its executives until it could resolve "whether there continues to be a connection between or its executives and Hamas"—a U.S.-designated terror group. As of this writing, the FBI's policy towards CAIR remains in effect.
Yet, CAIR is routinely treated as a credible source by news media which, as CAMERA has pointed out (see, for example "Washington Post CAIR Cover-Up Fails Readers," May 3, 2016), often fail to disclose the council's history. For example, according to search engine Lexis-Nexis, The Washington Post alone has cited the group more than 50 times in the last two years.
It is surprising, then, that many news outlets did not report that CAIR lost a significant recent legal battle in which it stands accused, among other things, of fraud. A Lexis-Nexis search showed that major U.S. news outlets, including The Washington Post, The New York Times, USA Today and The Los Angeles Times, among others, did not inform readers about CAIR's recent legal troubles.
The Clarion Project, a Washington D.C.-based non-profit organization that monitors Islamic extremism, wrote:
"The Council on American Islamic Relations will stand trial on charges of fraud and cover up for alleged crimes perpetrated against hundreds of victims, according to a new ruling by the U.S. Court of Appeals for the District of Columbia.
"The case against CAIR National was originally dismissed by a federal judge but unanimously overturned by the appellate court. Two cases are involved in the suit, which the appellate court consolidated into one, since both cases involve racketeering, a federal RICO (Racketeer Influenced and Corrupt Organizations) crime.
"The lawsuits claim that CAIR National was aware that Morris Days, the 'Resident Attorney' and 'Manager for Civil Rights' at the now defunct CAIR-Maryland/Virginia chapter in Herndon, Virginia, was in fact not an attorney and that he failed to provide legal services for clients who came to CAIR for legal representation.
"Moreover, the suits claim, CAIR knew of this fraud and purposefully conspired with Days to keep the CAIR clients from discovering that their legal matters were being mishandled or not handled at all. In addition, the complaints allege that, according to CAIR's own internal documents, there were hundreds of victims of the fraud scheme."
The senior counsel for the five plaintiffs suing CAIR, David Yerushalmi, called CAIR's actions a "massive criminal fraud."
Initially, the original federal judge ruled that Days and CAIR's Virginia chapter were liable for fraud, but that CAIR National could not be held responsible for Days' conduct. However, as the Clarion Project pointed out, "the appeals court decision found that, upon a review of the evidence, there was a direct relationship between CAIR National and Days."
Summarizing the implication of the appeals court decision, the Middle East Forum, a Philadelphia-based think tank, noted:
"The [Middle East] Forum-funded fraud lawsuit against CAIR's national office that had been summarily dismissed by a federal district judge in 2010 was unanimously reversed…by the United States Court of Appeals for the District of Columbia, sending the case back for a full trail."
A self-styled "civil liberties" organization and frequent news media source is accused of committing a "massive criminal fraud" against Muslim-Americans it claims to represent. Where was the coverage?
Posted by SD at 02:24 PM | Comments (0)
UPDATED: The PA Blood Libel Repeated by President Abbas was Already Debunked with CAMERA's Help
June 24, 2016
Today's New York Times features a forthright and informative article by Diaa Hadid about Palestinian President Mahmoud Abbas' blood libel to the EU. She writes:
Echoing anti-Semitic claims that led to the mass killings of European Jews in medieval times, President Mahmoud Abbas of the Palestinian Authority accused rabbis in Israel of calling on their government to poison the water used by Palestinians.

He made the unsubstantiated allegation during a speech to the European Parliament on Thursday.

Prime Minister Benjamin Netanyahu of Israel said in a statement later that Mr. Abbas had spread a "blood libel" in the speech.
Abbas was repeating the medieval blood libel that was revived last week by Palestinian Authority officials who invented a fictional rabbi named "Rabbi Shlomo Mma" and a fictional rabbinical council called the "Council of Rabbis in the West Bank Settlements" calling for the poisoning Palestinian water sources. Palestinian Media Watch describes how the PA turned an unsubstantiated claim against settlers by a radical activist into the full-blown blood libel, which was subsequently repeated by the PA president to the European Union.
The Jerusalem Post earlier published an article debunking the Palestinian Authority invention, quoting research from CAMERA. According to the Post, there is no evidence of any "Shlomo Mlma or Mlmad or the Coucnil of Rabbis in West Bank settlements." Rather:
There is a Council of Rabbis in Judea and Samaria, led by Yishai Babad. There is a Rabbi Zalman Melamed of Beit El. Mlmad is similar to Melamed, and Zalman is Yiddish for Shlomo.

Rabbi Zalman Melamed told Gidon Shaviv, a senior research analyst for press watchdog CAMERA, "I did not say that and do not believe any rabbi would say something like that." Melamed also called the report a blood libel. [emphasis added]
Updated, June 26: Abbas Retracts the Libel
The New York Times reports:
Mr. Abbas's retraction was sent to reporters early Saturday morning, issued by the P.L.O., of which Mr. Abbas is the chairman. It said that Mr. Abbas "rejected all claims that accuse him and the Palestinian people of offending the Jewish religion." It added that he "also condemned all accusations of anti-Semitism."

"After it has become evident that the alleged statements by a rabbi on poisoning Palestinian wells, which were reported by various media outlets, are baseless, President Mahmoud Abbas has affirmed that he didn't intend to do harm to Judaism or to offend Jewish people around the world," the statement continued.
Posted by RH at 01:15 PM | Comments (1)
Historical Malfeasance of The Daily Telegraph (Australia)
The Daily Telegraph (Australia) headline "Israeli Thunderbolt hostage-rescue raid on Entebbe was a drama worthy of Hollywood blockbusters" is certainly true. Despite the promising headline, the seemingly light "historical" article celebrating 40 years since the daring Entebbe rescue gives credence to a bizarre conspiracy theory from the 1970s.
Following an account of the well-known Israeli heroics popularized in various Hollywood movies, Telegraph history writer Marea Donnelly then ventures into less familiar territory. "[I]ntrigue surrounds" the choice of some westerners to join the Popular Front for the Liberation of Palestine terrorists in kidnapping Israelis, the article alleges. "Adding to the confusion," Donnelly continues, was the fact that the hijackers described themselves as belonging to the "Che Guevara Force and the Gaza Commando of the Popular Front for the Liberation of Palestine (PFLP)".
Readers then unexpectedly encounter an ostensible cause to doubt the heroic narrative:
Then in 2007 Britian's National Archives released a file suggesting Israel's Security Service, the Shin Bet, had helped subversive agents in the PFLP stage the hijack.

First secretary at the British embassy in Paris, David Colvin, told superiors a contact in the Euro-Arab Parliamentary Association suggested the attack was designed to torpedo the rival Palestine Liberation Organisation's standing in France, and prevent a perceived rapprochement between Americans and the PLO.
The apparent implication is that the aforementioned "confusion" can be attributed to the alleged Israeli engineering of the hijacking in which three Israeli hostages and one commando were killed.
The claim, popular in pro-Palestinian conspiracy sites, is based on a single "report" given to David Colvin, the first secretary at the British embassy in Paris in 1976. Recently released by the British archives, the document begins: "It might be useful to record some of the theories which are circulating about the incident." In other words, this document recounts various rumors or theories. The report notes the "theories," but does not assess them. Here is the relevant section:
When the document was first released in 2007, it was widely reported as a curiosity. However, news organizations were careful to note that there was no evidence this "report" was taken seriously. The Telegraph (British) noted: "The message was received without comment." Haaretz added: "The claim is not known to be backed up by corroborating evidence, and the file does not make it clear whether the British government took the claim seriously."
To include a baseless conspiracy theory, without clearly noting that it is unfounded, in a short and light historical piece is incredibly misleading. Casting rumors and conspiracy theories as potentially credible is a disservice both to the historical record and to sound journalism.

Posted by gs at 05:00 AM | Comments (0)
June 24, 2016
Some Cover, Others Cover Up, Abbas Anti-Semitism
It's difficult to imagine German chancellor Angela Merkel standing before the European Parliament and announcing that, having studied the misshapen skulls of minorities in Germany, she has concluded that phrenology is a legitimate science.
It's harder still to imagine major newspapers ignoring the deplorable allegation, or worse yet painting her speech as conciliatory.
But something to that effect is precisely what happened when Palestinian Authority president Mahmoud Abbas spoke at the European Parliament on Thursday. In a revival of the antisemitic European blood libel, Abbas told the parliamentarians that "a number of rabbis" in Israel petitioned their government to "poison water to kill the Palestinians."
In medieval Europe, the allegation that Jews caused the bubonic plague by poisoning wells led to the murder of thousands of Jews, and were a staple of antisemitism on the continent over the centuries that followed. Today, Palestinian claims about nefarious Jewish plots similarly contribute to a hateful atmosphere that helps sustains anti-Israel terrorism.
Some news organizations did cover Abbas's libel with appropriate focus. Reuters, for example, pointedly addressed the issue in the lede of its article, "Abbas says some Israeli rabbis called for poisoning Palestinian water":
Palestinian President Mahmoud Abbas accused Israeli rabbis on Thursday of calling for the poisoning of Palestinian water, in what appeared to be an invocation of a widely debunked media report that recalled a medieval anti-Semitic libel.
Even Diaa Hadid, a New York Times correspondent whose coverage of Israel at times has been dreadful, emphasized the importance of the story with a powerful opening paragraph:
Echoing anti-Semitic claims that led to the mass killings of European Jews in medieval times, President Mahmoud Abbas of the Palestinian Authority accused rabbis in Israel of calling on their government to poison the water used by Palestinians.
But other news organizations, including the Associated Press, ignored Abbas's antisemitic comments even while covering Abbas's speech.
The Wall Street Journal took it a step further. Not only did the newspaper ignore the Palestinian leader's hateful remarks in coverage of the speech, but it even framed Abbas's remarks as being moderate relative to a speech by Israeli president Reuven Rivlin:
The refusal of Mr. Abbas comes as an ironic finale to the two leaders' visits to the Belgian and European capital.

In a speech to the European Parliament on Wednesday, it was the Israeli president who brought the unpopular message that there were no prospects of a final peace deal in the near future and that a recent French initiative to revive negotiations amounted to little more than "negotiations for negotiations' sake."

Mr. Abbas, by contrast, talked Wednesday evening of the vital importance of the French peace initiative and said it was Israel that needed to get behind a two-state solution and start working on peace.

In a speech to EU lawmakers on Thursday, Mr Abbas condemned Israel's "never-ending provocations" and "fascist policies."

"Our hands are extended with a desire for peace and we have a will to achieve peace and we would ask [Israel], do you have the same will?" he said.
As if it isn't newsworthy, readers are left in the dark about the fact that Abbas recycled an antisemitic canard in that very same speech.
If a European leader like Merkel spewed such bigotry, it would certainly not be ignored. If Benjamin Netanyahu did so, it would be an international scandal. But too often, news organizations have different rules — one could call it different standards, or better yet a discriminatory triple standard — when it comes to Israelis, Palestinians, and the rest of the world.
Posted by GI at 01:55 PM | Comments (2)
June 23, 2016
Former Undersecretary of State Thomas Pickering Testified in Favor of Iran Deal While Taking Money From Boeing
The Daily Beast, an internet magazine covering current events, has disclosed that Thomas Pickering, an influential State Department official in both Democrat and Republican administrations, failed to sufficiently disclose his paid relationship with Boeing corporation while serving as a prominent advocate for the Iran deal. Pickering testified before Congress in favor of the deal, lobbied behind the scenes and published widely in the media. His testimony carried weight due to his standing in the foreign policy establishment. His resume includes serving as UN ambassador and ambassador to Israel, Russia and India. Pickering was a paid lobbyist for the Boeing corporation for many years. According to news reports, Boeing is in the process of finalizing a 25 billion dollar deal to provide Iran with commercial airliners.
According to the Daily Beast,
Pickering confirmed via email—from his Boeing corporate email address—that he was on staff at the company from 2001 to 2006 and has been a paid consultant for them ever since.
When queried as to whether he had disclosed his association with Boeing before providing testimony, PIckering did not respond. According to the Daily Beast, Neil Gordon—an investigator for the Project on Government Oversight, a Washington watchdog organization—indicated that this may represent a conflict of interest. Gordon recalled similar prior situations, where media outlets often presented influential commentators promoting certain policies as independent when they weren't.
The Daily Beast has found no evidence that Pickering mentioned his paid relationship with Boeing in the disclosure forms he provided to a Congressional committee prior to his providing testimony. Boeing also isn't mentioned in his bio that the White House kept on file.
The article notes,
Besides testifying before Congress, Pickering also signed a letter on July 7, 2015, to congressional leadership, along with other former diplomats, urging them to support the nuclear agreement. That letter didn't disclose his connection to Boeing, and it drew broad media coverage, including from the Huffington Post, Politico, and the AP. None of those reports noted his work for Boeing. The White House also cited the letter in its publication "The Iran Nuclear Deal: What You Need to Know About the JCPOA." Boeing is not mentioned anywhere in that document
.
The Daily Beast expose has been picked up by the Washington Examiner, the Tower, the Jewish Press and other sources critical of the Iran deal.
In July 2015, Pickering's argument in favor of the Iran deal appeared in the Tablet, an important news magazine for the Jewish community. The articles biographical information on Pickering only noted his service as a diplomat.
Pickering was also a signatory to a "Letter to the President from over 100 former American Ambassadors on the Joint Comprehensive Plan of Action on Iran's Nuclear Program." One can only wonder if other signators, which reads as a who's-who of the foreign policy establishment, are quietly profiting from the deal.
To be clear, there is nothing wrong with an individual, who is viewed as a disinterested expert and whose words carry considerable weight, offering testimony to Congress that favors a policy or agreement with life-and-death ramifications for the future. But there is a big problem when that same individual fails to disclose a personal financial stake in that policy or agreement.
So far, none of the mainstream media has picked up this story. Not the New York Times, National Public Radio, the Washington Post, BBC, CNN or Fox. Since the Daily Beast story is less than 24 hours old, further monitoring is in order to see what sort of coverage the story gets.
Such exposures reinforce the importance of alternative news outlets, distinct from the mainstream media, that do their own investigative reporting unfettered by political agendas. Unfortunately in a polarized political environment such fresh journalism can be difficult to find.
Posted by SS at 01:08 PM | Comments (0)
June 22, 2016
Bias by Editing: A Devilish Washington Post-Associated Press Detail
In journalism schools—those in which accuracy and context are still prized—it would have been an introductory example of bias by editing. In an Associated Press dispatch-turned Washington Post news brief it was a textbook case of minimizing Palestinian Arab violence against Israelis.
The Post's June 20, 2016 print edition included a news briefs from AP headed "West Bank: $18 million approved for settlement funding." The seventh and last paragraph as printed says:

"In the past nine months, Palestinians have carried out several [emphasis added] attacks, which have killed 32 Israelis and two Americans. About 200 Palestinians have been killed in that time, most identified by Israel as attackers."

Online, the first sentence of that paragraph, from AP's June 19 report, still read—as of June 22—"dozens [emphasis added] of attacks."

In fact, there had been nearly 300 assaults, according to a June 7 Israeli Foreign Ministry article and graphic, "Wave of Terror 2015/16."

It was possible that The Post's online AP item and its own in-print version were based on different AP reports, and the change to "several" from "dozens" of attacks was made by the wire service. But the printed brief in the newspaper's World Digest of five short items reads like a version of the online report edited for space, but with AP's "dozens" of attacks unwarrantedly replaced by, and minimized as "several."
Time and space constraints often compel journalists to use a type of shorthand. But in this case, for the wire service to report "dozens" of attacks and The Post "several" reads less like economy in reporting and editing than revisionism downplaying Palestinian aggression. That was especially so since the actual figure of anti-Israeli, anti-Jewish attacks was "hundreds," with 38 killed and 487 wounded.

CAMERA asked The Post's foreign desk on June 20 why AP's "dozens" of attacks became "several" in the newspaper and whether or not it thought a correction or clarification was in order. Two days later, no response had been received.
As we've noted, journalists have only their credibility to sell. Turning literally hundreds to virtually "dozens" to barely "several" obscures a nine-month wave of Palestinian terrorism and undercuts press credibility.
Posted by ER at 12:36 PM | Comments (0)