July 29, 2014
What The Local Media Missed: Days of Rage in Boston
Marchers parade in downtown Boston in celebration of Al Quds Day on July 25, 2014. Al Quds Day is a celebration inaugurated by Ayatollah Khoemeini in Iran in 1979, (the year of the Iranian Hostage Crisis), to show disdain and contempt for the Jewish state. (Photo: Dexter Van Zile)
For the past few weeks, Boston has been the scene of several anti-Israel rallies. Protesters at these rallies have demonized Israel and its supporters in some pretty ugly ways. The rallies have been organized by a loose coalition of activists from groups such as Grassroots International and Jewish Voice for Peace. LGBTQ activists, union members and activists from the local Muslim community have also participated in these rallies.
Local television stations and newspapers have inaccurately described the participants at these rallies as "pro-Palestinian."
The message espoused by activists at these rallies is not "pro-Palestinian," but anti-Israel and in some instances, anti-Jewish. In addition to promoting the cause of Palestinian nationalism, they have demonized Israel, called for its destruction, and whitewashed acts of terror perpetrated by Hamas, a genocidal organization dedicated to Israel's destruction. And in some instances, protesters carried signs that were explicitly antisemitic. As the images posted below reveal, the notion that Israel is a pariah state became an increasingly important theme as the rallies progressed.
While one pro-Israel protester was assaulted on July 11, 2014, the hostility evident in the streets of Boston has, thankfully not approached what we have seen in Los Angeles, Berlin or Paris, where violence has erupted. Nevertheless, the animus evident at these events in Boston has been ratcheted up with each successive rally and march.
The first rally, a pro-BDS event which took place on July 9, 2014, was marked by the usual chants of "From the River to the Sea, Palestine will be free," an implicit call for Israel's destruction. The most recent rally, a celebration of "Al Quds Day," protesters carried signs equating Zionism with Nazism.
Below is a compendium of photos taken at five anti-Israel rallies that took place in Boston during July 2014.
Taken as a whole, the photos will demonstrate that the message espoused at these rallies is anti-Israel, anti-democratic and in some instances, antisemitic. Activists are using their right to free speech in the U.S. to front for Hamas, an organization that is fundamentally hostile to the values that serve as the basis for American civil society. They are also assailing the legitimacy of a liberal democracy in the Middle East.
And they are assailing it because it is the Jewish homeland. This is not human rights or peace activism; it is anti-Zionism.
And when these folks speak anti-Zionism, they speak hate.
Continue reading "What The Local Media Missed: Days of Rage in Boston"
Posted by dvz at 06:17 PM | Comments (1)
Hamas Intimidates Press in Gaza Strip
Does intimidation of journalists by Hamas distort coverage of Israel's "Operation Protective edge" in the Gaza Strip? The Times of Israel reported that it "confirmed several incidents in which journalists were questioned and threatened. These included cases involving photographers who had taken pictures of Hamas operatives in compromising circumstances—gunmen preparing to shoot rockets from within civilian structures, and/or fighting in civilian clothing—and who were then approached by Hamas men, bullied and had their equipment taken away.
"Another case involving a French reporter was initially reported by the journalist involved, but the account was subsequently removed from the Internet." ("Hamas threatening journalists in Gaza who expose abuse of civilians," July 28, 2014). Reporting from areas of Gaza under Hamas control is somewhat like reporting from Syria, Iran, China or other closed or partially closed societies. In such place press freedom is a privilege granted by those in power to further their ends, not a right upheld by democratic authorities. This means reports from Gaza under Hamas rule must be considered with some skepticism.
The Times of Israel further reported that: "And it [Hamas] has emphatically limited reporters' access to aspects of Hamas operations that would reflect to its detriment. One example of this relates to Gaza's Shifa hospital, the [Israeli] official added. "We know that downstairs there is a Hamas command and control center and that Hamas leaders are hiding there. No reporter is allowed to go anywhere downstairs. They're only allowed to work upstairs to take pictures of casualties, the pictures that Hamas wants them to take."
An earlier report by The Jerusalem Post noted that "Several journalists from around the world reported seeing rockets fired from civilian areas in Gaza in recent days, and received threatening tweets in return accusing them of 'informing' the IDF" ("Gaza reporters' tweets: Hamas using human shields", July 24, 2014) Those tweets were followed by threats:
"Another account, @longitude0 wrote: 'You are a cretin. Are you working for the IDF' and "in WWII spies got shot.' "
More tweets by journalists reveal intimidation attempts:
"On Sunday, Janis Mackey Frayer, a correspondent for Canada's CTV, tweeted that, while in Gaza City's Shejaiya's neighborhood, she 'saw several Hamas gunmen.
'One passed dressed in a woman's headscarf ... tip of a gun poked out from under cloak.'
She received threats similar to those sent to other reporters."
In another example, "Harry Fear, a journalist from the UK reporting from Gaza for RT (formerly Russia Today) television, tweeted last week: 'Early morning Gaza rockets were fired into Israel. A well-known site in W. Gaza City, near my hotel, was among the origins, confirm locals.'
Fear then took on the critics, tweeting soon after that he rejects 'loaded complaints that I "informed" Israel about the specifics of Gaza military sites.... These sites are well-known among locals and internationals here.
'Should a journalist only report the noise and ferocity of Israel's attacks & not the sounds of Gaza's rockets? Both terrify people,' he tweeted.
Later that day, Fear tweeted: 'Al-Wafa hospital has been hit in the last while; injuries reported—this is the hospital with human shields.' "
Treating press coverage from Gaza under Hamas influence as equivalent to that from open societies, including Israel and the United States, is potentially misleading. Audiences should understand the implicit warning label attached to coverage from societies under intimidation. -- by Ziv Kaufman
Posted by ER at 04:51 PM | Comments (1)
LA Times Letter Error: Michael Bloomberg Took Private Jet
Prime Minister Binyamin Netanyahu greets former New York mayor Michael Bloomberg at Ben-Gurion Airport, July 23, 2014. Photo: HAIM ZACH/GPO

Jean-Claude Demirdjian of Los Angeles, a retired Boeing 747 captain whose letters are frequently published in The Los Angeles Times, writes today:
Israeli Prime Minister Benjamin Netanyahu's statement last week about the Federal Aviation Administration's brief ban on U.S. flights to Israel — that "there's no reason whatsoever for the mistaken FAA decision to instruct American planes not to come here" — is wrong. ("FAA caution on Israel flights reflects concern after Ukraine incident," July 23)

Although Netanyahu believes that the rocket that landed near Ben Gurion International Airport does not make the airport unsafe, he should know that the U.S. Air Force planes that transport Secretary of State John Kerry, contrary to passenger airliners, are equipped with anti-missile defenses. And former New York Mayor Michael Bloomberg was willing to take a calculated risk by flying in his own plane to Israel.

Commercial airline passengers, on the other hand, have a right to assume that there is no risk of being blown out of the sky. The FAA acted within its mission to provide the safest air travel possible.
Except that Former Mayor Bloomberg, himself a former pilot, did not fly in his own plane to Israel. As was widely reported, including also in The Los Angeles Times, Mayor Bloomberg flew to Israel this month on a commercial El Al flight. The Times' Timothy M. Phelps and Rebecca Bratek reported July 24 ("FAA caution reflects downing of airliner"):


Kerry at least gave Israel a psychological boost Wednesday, flying in his government jet into Ben Gurion Airport from Egypt. So did former New York Mayor Michael R. Bloomberg, on El Al.
While Los Angeles Times editors are free to publish challenges to assertions that commercial flights to Ben-Gurion Airport are safe, they are not free to publish factual misinformation. Stay tuned for news about a correction.
1:30 PM EST Update: The Los Angeles Times has promised to publish a correction tomorrow.
Posted by TS at 10:48 AM | Comments (1)
July 28, 2014
Evolution of AFP Coverage of UNRWA School Fatalities
On Friday, we noted that Agence-France Presse reported as fact, in both news articles and photo captions, that an Israeli shell was responsible for at least 15 fatalities in an UNRWA school in the northern Gaza Strip July 24, despite the fact that United Nations Secretary General Ban Ki-Moon himself had said: "Circumstances are still unclear." On Thursday, army officials suggested that an errant Palestinian rocket may have been responsible.
CAMERA staff last week contacted editors to ask if they had information that Ban Ki-Moon did not. If not, they owe their readers a retraction.
While AFP has neither retracted nor produced any substantiation for blaming Israel, today's story does walk back the unequivocal declaration of Israeli responsibility.
Thus, the French wire service reports today:
A controversial incident on Thursday when a UN school acting as a shelter was shelled, killing 15 people, drew fierce condemnation from Palestinian refugee agency UNRWA.

The Israeli army confirmed on Sunday it had hit the school, but said it was a "single errant mortar" round, denying that people were killed "as a result of (army) operational activity.
The footage that the army released (below) which it says shows the single errant IDF mortar which hit the Beit Hanoun school Thursday shows that the weapon fell into an empty school yard. Why did the AFP omit this critical information which is highly pertinent to the murky story?


Likewise, the IDF statement regarding the "single errant mortar" was:"The preliminary inquiry and footage indicate that a single errant mortar landed in the courtyard of the UNRWA school, when it was completely empty." In the AFP's substantial article, there was not room for an additional five more words: "when it was completely empty"?
See also: UK Media Fail to report evidence contradicting presumption of IDF guilt in UN school deaths
Posted by TS at 01:49 PM | Comments (1)
CAMERA's Hadar Sela on BBC Radio
CAMERA's Hadar Sela, Managing Editor of BBC Watch, a CAMERA affiliate, was interviewed on BBC Radio 5 Live about media coverage of the current Israel-Hamas conflict.
Hadar Sela, BBC Watch's Managing Editor, discusses the roles that the mainstream media and social media play in the world of public opinion.
Click here to listen to the interview at 1:51:07 - 1:54:26
Posted by MMS at 01:16 PM | Comments (0)
July 25, 2014
Sheera Frenkel Feeds Twitter Distorted Buzz
Buzzfeed correspondent Sheerah Frenkel sure is able to include a lot of misinformation into a 140 characters!
Earlier today she posted a tweet that read as follows:
Order of events: 3 teens kidnapped->100s of Palestns in WB arrested->revenge attacks on Palestinians->violence along Gaza/Israel border->war
Continue reading "Sheera Frenkel Feeds Twitter Distorted Buzz"
Posted by dvz at 02:25 PM | Comments (1)
July 24, 2014
CMEP: Hamas Rocket Fire a "Kind of Political Speech"
Churches for Middle East Peace, an umbrella "peace" organization supported by approximately two dozen Christian churches and para-church organizations in the U.S., sure has a funny way of looking at things.
In a bulletin recently sent out by the organization, the organization gives a run down to the current conflict between Israel and Hamas.
The bulletin, which was titled "Gaza Conflict Escalates" includes the following passage:

Continue reading "CMEP: Hamas Rocket Fire a "Kind of Political Speech""
Posted by dvz at 01:45 PM | Comments (3)
CNN Error: Top US Official Accused Israel of War Crimes
July 30 Update: CNN Corrects: Criticism of Israel from UN, not US, Official
In CNN Newsroom yesterday, Brooke Baldwin mistakenly claims that a top American human rights official accused Israel of war crimes. She erred:
And we are hearing some pretty strong criticism of Israel today. Coming from one of the U.S.'s top human rights officials. The criticism came during an emergency meeting in Geneva.
In fact, no top U.S. human rights official leveled strong criticism of Israel yesterday. The human rights official in question is a United Nations figure, not American. The broadcast immediately goes on to quote Navi Pillay, U.N. High Commissioner for Human Rights:


The right to life of civilians, including children, should be a foremost consideration. Not abiding by these principals amounts to war crimes, and crimes against humanity.
Ms. Baldwin most likely simply misspoke -- but her error is a substantive, egregious one which requires correction.
The United States is a close ally of Israel which has defended the country's right to self-defense in the face of rocket attacks and cross-border. Though American officials expressed concern about civilian casualties in Gaza, none even remotely accused Israel of crimes against humanity. The UN Human Rights Council, and Navi Pillay, on the other hand, have a long record of hostility towards Israel, including bizarre, one-sided condemnations of Israel while ignoring far worse abuses around the world.
CAMERA has contacted editors to request a correction. Stay tuned for an update.
Posted by TS at 11:32 AM | Comments (1)
C-SPAN's SOS Encourages Blaming Israel
C-SPAN's same old Scully indulged anti-Israel callers while the subject was the airliner downed over Ukraine
A July 18 Washington Journal call-in segment hosted by Steve Scully about the Malaysian airliner shot down over Ukraine generated several (more than one-fourth the total) calls from anti-Israel phoners, all of whom were indulged by the host. Scully and C-SPAN, the television network he plays a major role in, routinely tolerate if not encourage callers (and sometimes even guests) in on-air defamation of Jews and the Jewish state. This phenomenon, potentially seen by millions of Washington Journal viewers, is a chronic problem.
Scully mishandled the July 18 anti-Israel calls. This was in keeping with his history of media malpractice regarding such calls, especially his blatant collusion with a March 18, 2014 (7:09 AM) serial anti-Israel caller.
On July 18, Scully blatantly encouraged caller "Darrell" a serial anti-Israel caller who ranted, "…Maybe the Palestinians can get some of those missiles to use on Israel, F-16s that are slaughtering Palestinian everyday, not a peep from the media and people like you. Why don't you do a special on Israel and what they are doing in Palestine?"
Scully agreeably responded: "Well, we have, caller; we brought that up with Shane Harris. It'll be broadcast on Sunday focusing on the incursion of the Israeli military into Gaza. Did you want to watch that program by the way?" Darrell, seemingly pleased, replied, "What time is that on?"
Eliciting only silence from Scully, two other anti-Israel callers asserted mendaciously, "President Nasser of Egypt said in 1952 that they [the Israelis] do not want peace in Israel" and "I do not know what benefit Israel is getting out of killing innocent people."
Another caller complained, "Why are we giving Israel $3 billion a year? We've been giving it to them for years and years for their military. Why are we doing that?"
Continue reading "C-SPAN's SOS Encourages Blaming Israel"
Posted by MK at 07:59 AM | Comments (0)
July 23, 2014
Boston Globe Editorial Wrong on Rocket Chronology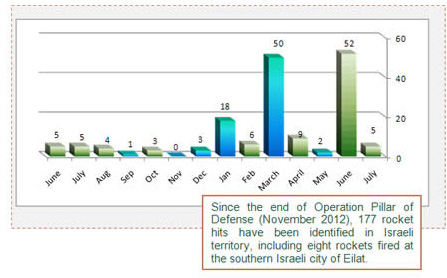 Rocket fire on Israel since June 2013 into early July 2014 (courtesy of the Meir Amit Intelligence and Terrorism Information Center)
The Boston Globe editorial today errs on the chronology of recent rocket attacks against Israel, referring to ". . . . the horrific murder of three Israeli teenagers, and then, after Israeli extremists killed a Palestinian youth, a plethora of rocket attacks by Hamas militants launched from the Hamas-led Gaza Strip."

In fact, the barrage rocket attacks against Israel began well before the Palestinian teenager, Mohammed Abu Khdeir, was killed on July 2. The onslaught started just after the June 12 launch of Israel's "Operation Brother's Keeper" to rescue the three kidnapped teens.

In its June 25 - July 1 report, The Meir Amit Intelligence and Terrorism Information Center noted:


During Operation Brothers' Keeper there was an escalation in rocket and mortar shell fire from the Gaza Strip into Israel's south. This past week 40 rocket hits were identified in the western Negev. Since the beginning of the operation, 52 rocket hits have been identified in Israeli territory (the number does not include rockets and mortar shells that fell inside the Gaza Strip):
The ITIC report further detailed:
On July 1, 2014, five rocket hits were identified. Vehicles and a packing house in one of the towns in the western Negev were damaged. A woman was treated for shock. Fatah's Al-Aqsa Martyrs Brigades claimed responsibility for the rocket fire (Al-Aqsa Martyrs Brigades Facebook page, July 1, 2014). On June 30, 2014, 12 rocket hits were identified. Some of them may have been fired by operatives of Hamas' military-terrorist wing. If Hamas was in fact responsible for rocket fire, it was the first time since Operation Pillar of Defense (November 2012.)
Coverage in The Boston Globe itself confirms that the plethora of rocket attacks during the days preceding the murder of Abu Khdeir. On July 1, The Globe ran a New York Times story which noted: "The military said the airstrikes were a response to a barrage of 18 rockets fired into Israel since late Sunday."
On June 26, The Globe published an Associated Press article by Ian Deitch which stated: "There have also been near-daily rocket attacks from Gaza, prompting Israeli airstrikes in retaliation."
Another Times story published in the Globe June 23 referred to "a week of nightly rocket fire from Gaza into Israel and Israeli airstrikes on the Gaza Strip."
If 40 rocket attacks within a week are not a "plethora," how many rocket attacks are a plethora?
CAMERA has contacted editors to seek a correction. Stay tuned for an update.
Posted by TS at 01:57 PM | Comments (2)
Wall Street Journal Reporter Deletes Description of Hamas Using Hospital
The Wall Street Journal's Nick Casey posted to Twitter a description of Hamas's use of Shifa Hospital, but inexplicably deleted the tweet a short while later.
Tablet's Yair Rosenberg, who noticed the disappearance, posted an image of the original tweet, which he suggested was censored because Hamas wouldn't approve of the content. "If you want to understand how Hamas intimidates the media," Rosenberg said on his Twitter page, "read this WSJ photographer's tweet—that he just deleted."
Are Wall Street Journal reporters self-censoring? The newspaper owes its readers an explanation.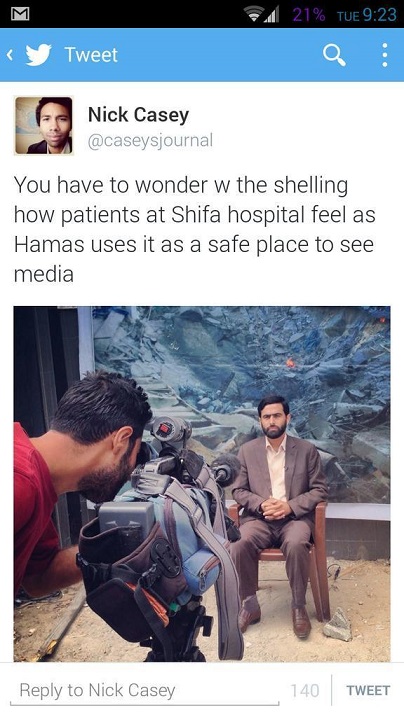 Posted by GI at 11:03 AM | Comments (1)
Robert Mackey's "Open Source" Journalism Anything But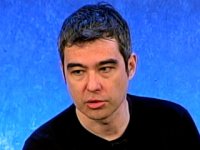 New York Times journalist Robert Mackey has weighed in on the video broadcast yesterday by the International Solidarity Movement and sadly, despite his reporting, we are no closer to the truth of what happened the day the video was made than we were when it was first released.
The video, which was released on July 21, 2014, purports to show the death of a young Palestinian man at the hands of an unseen and unknown sniper. CAMERA and other commentators have raised questions about its reliability suggesting that it may be a faked footage broadcast with the intent of demonizing Israel, AKA, "Pallywood."
Mackey gave the video something akin to a seal of approval in an article published late yesterday that does more to inoculate the video from scrutiny than it does to advance the story.
In his piece, Mackey reports that a Palestinian family discovered the fate of their missing son after seeing the video on Youtube.
Mackey reports that the video

Continue reading "Robert Mackey's "Open Source" Journalism Anything But"
Posted by dvz at 09:10 AM | Comments (0)
July 22, 2014
Did Newsweek Promote Fake Atrocity Video? Will ISM Produce Video for Inspection?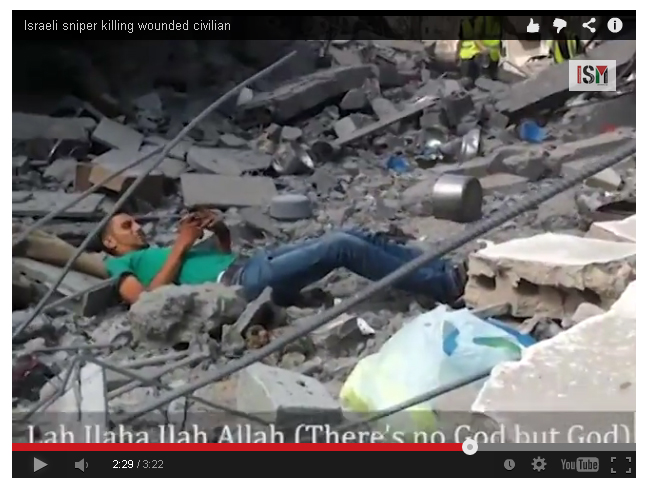 Is this young man a victim of an Israeli sniper?(Screenshot of ISM video)
The International Solidarity Movement, a radical anti-Israel organization that has condoned acts of terror against the Jewish state, is alleging that an Israeli sniper killed a young man in Gaza during the recent fighting between the IDF and Hamas. The ISM posted a video of the alleged sniper attack on its website on July 21, 2014.
Later that day, Newsweek posted an article about the video on its website and quoted ISM activist Joe Catron.
"We all just watched a man murdered in front of us," said Joe Catron, an American ISM activist in Gaza who confirmed his account to Newsweek.

"He was trying to reach his family in Shuja'iya. He had not heard from them and was worried about them. They shot him and then continued to fire as he was on the ground," Catron added.
Catron, who declared an unknown Israeli soldier guilty of murder, is not a disinterested observer, but a radical anti-Israel activist who has appeared a number of times on PressTV, which the ADL describes as "the Iranian government's primary propaganda tool to promote a wide range of pernicious anti-Semitic conspiracy theories in English to a worldwide audience." This ADL report provides extensive background about the hateful antisemitic conspiracy theories that have been broadcast on this network.
According to the ADL report, Catron who appears regularly on PressTV, said the following on the network in 2012: "Well, it appears to me that the United States is, as obviously as we know, co-opted by the Israeli lobby, so is the United Nations and Israel is simply using the United States to buy what it wants..."
Catron's radical anti-Israelism can be seen in a Tweet posted on July 21, 2014:

Continue reading "Did Newsweek Promote Fake Atrocity Video? Will ISM Produce Video for Inspection?"
Posted by dvz at 01:20 PM | Comments (7)
July 21, 2014
The Moral Blindness of the World Council of Churches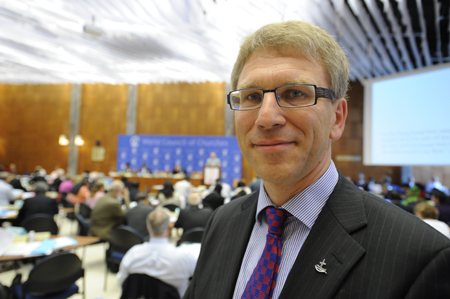 WCC General Secretary Rev. Dr Olav Fykse Tveit
When it comes to interpreting events in relation to Israel, the World Council of Churches consistently demonstrates a mind-boggling moral blindness as it ignores reality, omits facts, and demonizes the Jewish State.
On July 11, 2014 – just four days after Israel commenced Operation Protective Edge in response to the dramatic increase in the number of rockets fired from Gaza at civilian targets in Israel – Rev. Dr. Olav Fykse Tveit, the General Secretary of the WCC, issued a document titled, "Concern over Violence in Gaza."
This declaration begins with the words: "We strongly condemn the indiscriminate attacks by Israeli military on the civilian population in Gaza, as we absolutely condemn the absurd and immoral firing of rockets by militants from Gaza to populated areas in Israel." This opening line uses the egregiously false allegation of "indiscriminate attacks by Israeli military on the civilian population in Gaza" in an attempt to create a non-existent moral equivalency between the actions of Israel and the actions of Hamas.
The Israel Defense Forces have made it very clear: "The operation has one goal: to stop Hamas' incessant rocket attacks against Israel's civilians." In line with that objective, rocket launching sites and buildings containing weapons are targeted for destruction with surgical precision. In order to protect civilian lives, the military gives notice of the intended targets to its enemies through phone calls and text messages, leaflets, and "knocks" on the roof of the targeted building before launching a mission so that civilians have a chance to flee.
One doesn't have to take the word of the Israelis concerning the measures they take to prevent civilian casualties because the Palestinians acknowledge it as well. The Palestinian Representative at the UN Human Rights Council, Ibrahim Khreisheh, said on Palestinian Authority TV on July 9, 2014: "Please note that many of our people in Gaza appeared on TV and said that the Israeli army warned them to evacuate their homes before the bombardment."
Rather than demonstrate concern for the safety of their people, Palestinian leadership has consistently insisted that their civilians ignore the warnings from the IDF and stay in targeted areas. In a statement on Al-Aqsa TV (Hamas) on July 14, 2014, this leadership said:
We call on our Palestinian people, particularly the residents of northwest Gaza, not to obey what is written in the pamphlets distributed by the Israeli occupation army. We call on them to remain in their homes and disregard the demands to leave, however serious the threat may be.
After using all possible means to warn the population, the IDF goes even further. If civilians are spotted in the proximity of a targeted site, the air force abandons air strikes, postponing them until a later date. This video from the cockpits of Israeli planes provides examples of incidents during the current operation in which the personnel involved made the decision to strike particular targets at a later date in order not to endanger civilians.
But these facts are omitted, and as a result, the actions of Israel and the IDF, which are defensive of both Israeli and Palestinian civilians, are demonized.

Continue reading "The Moral Blindness of the World Council of Churches"
Posted by dvz at 02:18 PM | Comments (0)
Palestinians in Hebron Hand Out Pastries in Celebration of "Kidnapping"
Hamas has announced that it has captured an Israeli soldier. Ron Prosser, Israel's Ambassador to the United Nations has denied that a soldier has been captured.
The uncertainty surrounding the alleged capture of an Israeli soldier hasn't stopped Palestinians in the Gaza Strip and the West Bank from celebrating. They fired off fireworks in Hebron last night and (you guessed it) have been handing out pastries. Video of the celebration can be seen above. Below is an image of pastries being handed out in Hebron.
Continue reading "Palestinians in Hebron Hand Out Pastries in Celebration of "Kidnapping""
Posted by dvz at 11:10 AM | Comments (0)
July 19, 2014
Vox Corrects (Which is Good), But, Still...
Vox, whose motto is "Understand the News," recently posted a brief article about the fight between Israel and Hamas in the Gaza Strip. It's titled "The Israel-Gaza Crisis explained in 11 facts."
At the bottom of the article, readers will find the following correction:
This is a pretty big error to have to correct. The author of the article, Zack Beauchamp, somehow got it into his head that there was a bridge between Gaza and the West Bank.
It's a good thing Vox corrected this error, but the fact that such a correction is necessary raises some serious questions about what is going on at Vox, which describes itself as explaining "Everything you need to know, in two minutes."
Before you can explain something, you have to know something about the subject.
Posted by dvz at 03:02 PM | Comments (0)
July 17, 2014
Hamas Instructs Gazans to Lie About Civilian Casualties, Rocket-fire from City Center
The Hamas government in Gaza is instructing Palestinians to lie about civilian casualties and to refrain from sharing images of Palestinians firing rockets from city centers. MEMRI has translated missives from Hamas Interior Ministry's official web site and social media sites that include the following guidelines:
Anyone killed or martyred is to be called a civilian from Gaza or Palestine, before we talk about his status in jihad or his military rank. Don't forget to always add 'innocent civilian' or 'innocent citizen' in your description of those killed in Israeli attacks on Gaza.
Avoid publishing pictures of rockets fired into Israel from [Gaza] city centers.
You can read the rest of the guidelines here
Posted by GI at 05:16 PM | Comments (0)
ABC News Does What CBS Won't: Correct the Record
Jeff Fager, chairman of CBS News and producer for the networks flagship newsmagazine should take a cue from his competitors at ABC News.
On Tuesday, July 8 news anchor Diane Sawyer mistakenly referred to a video of Palestinians trying to recover the belongings from the aftermath of an Israeli air strike as Israelis "trying to salvage what they can" after a missile attack from the Gaza Strip. Two days later, on Thursday July 11, the network issued an statement that read as follows:
On Tuesday night "World News" aired a report on the conflict between the Palestinians and Israelis, including attacks from both sides.

In the introduction to the story, we mistakenly identified a family depicted in a still photo.

They are Palestinian, not Israeli.

We regret the error and will correct it.
Later that day, Sawyer said the following to her audience:
And now a note. On Tuesday evening, we made a mistake and I want to put up these pictures again because during an introduction to a story on the conflict between the Israelis and the Palestinians, I misidentified these powerful images. The people in these photos are Palestinians in Gaza in the aftermath of an air strike by Israel, not Israelis, as I mistakenly described them. And we want you to know we are truly sorry for the error.
Writing for The Washington Post, Erik Wimple took note of the correction, stating that Sawyer's "'note' fills the boxes on the gray-bearded journo's ethical corrections list." He runs down all of the requirements:

Continue reading "ABC News Does What CBS Won't: Correct the Record"
Posted by dvz at 01:17 PM | Comments (1)
Anti-Israel Political Cartoonists Pounce on Israel
No sooner does Israel forcefully defend itself from attacks on its civilians coming from Gaza, than the Israel haters crawl out of the woodwork to spew their condemnation. Witness some of the recent political cartoons that have appeared in various media outlets.
As CAMERA's sister organization CIF-Watch pointed out:
Though the evocation of the 'shooting fish in a barrel' meme is the most obvious element of the narrative, even more telling is the more focused depiction of the Israeli soldier's deranged war lust (note the soldier's face) in contrast with the helpless Palestinians (fish and other small creatures). The latter can be seen in the drop of water spit by the fish, representing it seems the benign, harmless nature of Hamas attacks.

Israel, according Turner, isn't merely the aggressor in the war (note the ceasefire agreement in the soldier's hand which he presumably has ignored), but is represented as bloodthirsty, vengeful, and merciless.
In the US, the Cleveland Plain Dealer too published vitriolic cartoons against Israel. Editorial cartoonist Mike Luckovich portrayed a Israel driving a car over a cliff, with Uncle Sam sitting helplessly in the back seat. The driver labeled "Israel" says, "Just because you provide the car and gas doesn't mean you get to be a backseat driver!"

The implication that the US completely supports Israel and therefore should call the shots, that Israel is driving off a cliff and plunging the region into turmoil, that Israel is defying U.S. orders, belongs squarely in the realm of anti-Israel activists who advocate stopping all US aid and blame Israel for everything wrong in the region. These Israel haters do not see the country as an ally of the U.S., do not value the strong, historical bilateral relations between the two countries and their shared strategic goals in the region. They discount the vigorous domestic U.S. support for Israel and its security. Thus the facts do not matter to them, only the feeling that Israel should be blamed.
It is immaterial to them that 3.1 billion dollars of US aid, which is almost all military assistance accounts for only 23-25% of Israel's military funding. Nor does it matter that much of this aid benefits the U.S.. The fact that every country has the right to protect itself from attacks on its civilians, that Hamas has been raining rockets and missiles down on Israeli cities, that Israel is the lone democratic, moral nation in a region that is unravelling in violence is of no matter.
What is disturbing is that a newspaper like the Plain Dealer willingly publishes such tripe. Perhaps even more disturbing, however, is the other political cartoon, penned by Andy Marlette, that was published by the Plain Dealer on the same day, July 16, 2014.

In this cartoon, Moses labeled "Israel" holds the tablets in his hand with the commandments "Thou Shalt Not Kill... ...Kidnap & Torture Children." The cartoon seems to suggest that "kidnapping and torturing children" is a regular action by the Israelites. Never mind that condemnation, excoriation, revulsion and unprecendented calls to severely punish the Jewish perpetrators of the abductors and murderers of an Arab child have poured in from Israeli politicians across the political spectrum, from rabbis of all stripe, representing all sectors of the Jewish community in Israel and from every segment of Israeli society. Never mind that Palestinian media, broadcasts are filled with invocations to murder Jews and Israelis wherever they may be. The singling out of Israel with the false implication that Israeli society as a whole promotes and tolerates the abduction and torture of children reeks not only of anti-Israel bias but, with the inclusion of Moses and the tablets given to the Jews, of anti-Jewish bias as well .
Posted by RH at 11:18 AM | Comments (0)
July 15, 2014
CBS Report Comes Up Empty on Fuel Claim
On CBS This Morning, Holly Williams reported today from Gaza City that Hamas appeared to reject an Egyptian-proposed ceasefire agreement because it did not include the removal of the security-based naval blockade imposed on Gaza since 2007. She says (at around 1:40 into the video, posted above) that the blockade has disrupted the economy "and deprived Palestinians of necessities like fuel and medical supplies." (The text of the segment can be found here.)
However, it is Williams' assertion that is deprived of accuracy. According to a recent report from COGAT, the Israeli authority responsible for the coordination of humanitarian affairs with Gaza, in the first several days of Operation Protective Edge, "some two hundred truckloads of food and essential supplies were delivered into the Gaza Strip" through the Kerem Shalom crossing, including 187,000 liters of gasoline, 526 tons of gas and 12 medical equipment trucks. And on Sunday and Monday, approximately 140 truckloads of general supplies and over 240 tons of gas were delivered into Gaza. While Hamas and other groups sent thousands of rockets into Israel, including the crossing itself, Israel continued to send goods into the coastal territory.
Such deliveries are not only made in times of crisis. From the start of 2014 through July 5, 21,704 trucks carried 536,481 tons of goods into Gaza.

Continue reading "CBS Report Comes Up Empty on Fuel Claim"
Posted by dvz at 11:47 AM | Comments (0)